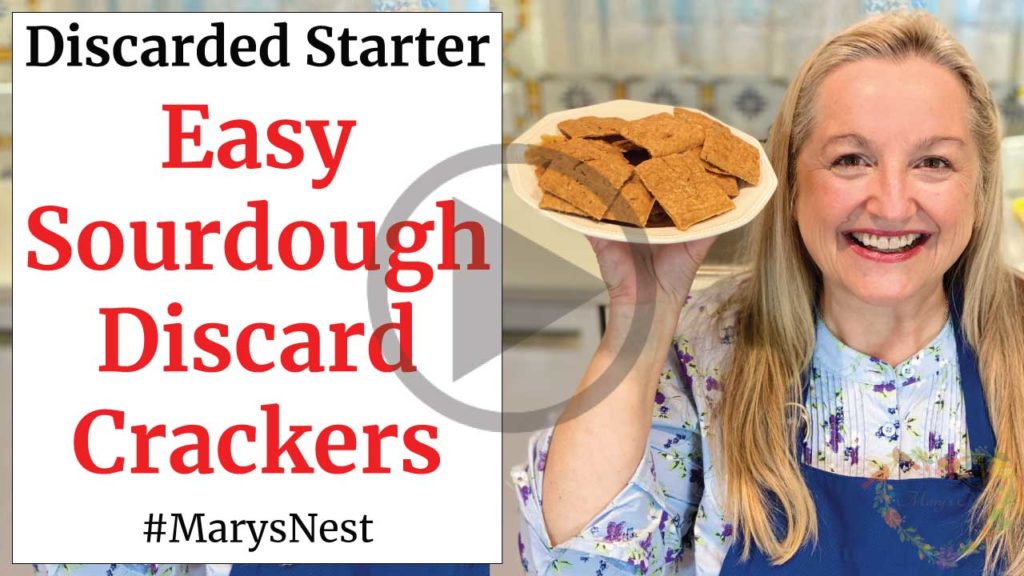 Here is one of the easiest sourdough crackers you will ever make using your sourdough discard. If you are like me, and you don't like to waste anything…including your discard, then this is the recipe for you!
Sourdough Crackers Made with Sourdough Discard
If you like the idea of making sourdough crackers but don't like the idea of having to roll out the dough, this recipe's approach is perfect for you. With your 100% hydration starter, you can use your sourdough discard by simply pouring the batter onto a baking sheet and popping it in the oven to bake. That's it!
Sourdough Crackers, Sourdough Discard, and 100% Hydration! What?
Wait a second. You may be asking, "What does all this mean? Discard? 100% hydration? Help!" If you are new to a sourdough starter and sourdough discard, no problem. I am here to explain everything.
First, once you get your sourdough starter going, you have to feed it every day if you keep it on your kitchen countertop. With each feeding, your starter will grow in volume. Now, unless you want to create the sourdough starter that took over the world 😉, you have to discard (or remove) some of your existing starter before you feed it.
When you remove the discard, you may be wondering what you should do with it. Some folks are shocked to learn that many bakers throw out their starter. If you hate to waste food, you might be thinking…Egad! That is certainly what I thought when I first started making a sourdough starter.
The good news is that you don't have to throw out your discard. You can bake with it. And this sourdough crackers recipe is the perfect way to bake with your sourdough discard!
What If I am Not Ready to Make Sourdough Crackers?
If you are feeding your sourdough starter and you have removed your discard, but you are not ready to make sourdough crackers (or any other recipe) at that moment, no problem. You can store your sourdough discard in your fridge for about a week until you are ready to bake with it.
If you store your discard in your fridge, you can keep adding to your refrigerated discard with the fresh discard you remove from your countertop sourdough starter each day. Just take what you removed—your discard—and add it to the discard in your fridge. In a week's time, you will have a substantial amount of sourdough discard to make multiple batches of crackers or any of the other recipes I show you how to make in my Sourdough Discard Recipes video playlist.
What if My Starter Is in the Fridge?
If you do not keep your sourdough starter on the counter because you bake sourdough bread only occasionally, you'll typically keep your starter in the fridge. You probably only feed your starter once a week while it's in the fridge. The good news is that you can still make these sourdough crackers.
When you take your sourdough starter from the refrigerator, remove the discard and let the discard come up to room temperature before proceeding with the recipe. (After you remove your discard, you can feed your starter and put it back in the fridge.) Your sourdough crackers using the discard will turn out great!
Choosing a Seasoning Blend for Your Sourdough Crackers
In my sourdough crackers recipe video, I show you how to add rosemary to your sourdough crackers. It's easy to customize the herbs or spices that you'd like to add to your crackers. If you'd like to add Herbs de Provence or Italian Seasoning, I show you how to create these flavorful mixtures in my Homemade Seasoning Blends video.
More Discarded Sourdough Starter Recipes
Like the idea of having a no-waste kitchen? Then these videos are for you! I show you three more ways to use your discarded sourdough starter:
Using as a topping for a skillet dinner,
Creating pancakes, and
Baking some of the best flatbread you'll ever have enjoyed.
And the flatbread makes an excellent base for some of your favorite pizza toppings!
How to Make a Sourdough Starter
In case you are just starting out and have not made a sourdough starter yet, I have two videos that walk you through the entire process step-by-step:
In the first video, I show you how to make a starter using rye flour. If you can find rye flour, this is going to be the fastest and easiest way to get a starter going. But don't worry if you can't find rye flour.
In the second video, I show you how to make a starter using all-purpose flour. Plus, I share a host of solutions to problems that you may encounter when making a starter. I've got you covered from start to finish!
How to Make Sourdough Bread
Once you get a successful sourdough starter going, you'll be ready to bake some sourdough bread. I have a variety of sourdough baking recipes for you to try.
The first video shows you how to make a very traditional sourdough bread. If your palette is new to sourdough bread, and you're looking for a more mild, less sour, sourdough bread, the second video shows you how to make a no-knead sourdough bread that has a shorter rise time.
More Cracker Recipes
If you enjoyed making the sourdough crackers, try my easy homemade crackers recipe below, where I show you how to make three easy varieties of slice and bake crackers. You can prepare and store the cracker dough in the freezer and bring it out quickly to bake up whenever unexpected company may arrive. (Or whenever you and your family are craving delicious and healthy crackers! 😊)
Download Your Free 36-Page Pantry List
For an extensive list of the traditional foods you can make and purchase to stock your pantry, be sure to download my free 36-page Traditional Foods Pantry List. This comprehensive eBook is full of links to recipe videos, helpful articles, and more!
Grind Your Own Flour with the Mockmill
When it comes to electric grain mills, after I did A LOT of research, I decided to buy a Mockmill. And am I so happy I did! The Mockmill is a very affordable but beautifully crafted German-made mill that stone grinds grain with settings ranging from 1 to 10—fine to coarse ground grain.
And I have great news! The folks at Mockmill are very kind to offer my viewers and readers a special one-time discount on any of the grain mills that they sell.
You can see me unbox and try out the Mockmill 100 Grain mill in the following video.
Kitchen Academy Videos
Are you looking for more traditional foods videos? I invite you to join the Traditional Foods Kitchen Academy. Members of this optional paid YouTube community get access to exclusive videos, live streams, and other members-only perks.
In the following members-only video, I talk about How to Make Any Baking Recipe a Sourdough Recipe.
Stay in Touch with Mary's Nest
Subscribe to My YouTube Channel for Traditional Foods Videos (Free) - When you subscribe, be sure to click on the notification bell that will let you know each time I upload a new video.
Subscribe to Mary's Traditional Foods Newsletter (Free) - Get a free 36-page eBook for signing up: How to Stock Your Essential Traditional Foods Four-Corners Pantry.
Join the Traditional Foods Kitchen Academy (Optional Paid) - For more detailed videos, live streams, and exclusive members-only perks, join my YouTube membership community.
Order The Modern Pioneer Cookbook (Optional Paid) - Get a printed book of Mary's nourishing recipes from a Traditional Foods Kitchen. This bestselling cookbook is published by Penguin Random House with their DK imprint.
I look forward to having you join me in my Texas Hill Country Kitchen!
Shop for items used in this blog post or video
Favorite Sourdough Discard Kitchen Supplies
Favorite Kitchen Supplies
Use promo code MARYSNST for a one-time 15% off Masontops and Breadsmart products on Amazon.com.
Learn more about Mockmill electric grain mills for making fresh flour and their Flake Lover's Flaker that flakes whole grain in minutes.
Amazon Shop and Shopping Guide
Visit my Shopping Guide page
Get up to 15% off for stocking your Traditional Foods Pantry and equipping your Modern Pioneer Kitchen, including discounts from US Wellness Meats, Farmhouse Teas, Lehman's, Masontops, Cultures for Health, Survival Garden Seeds, Redmond Real Salt, Plan to Eat, and More!
Recommended Reading
**Disclaimer: I am not a medical doctor, a medical professional, a dietician, or a nutritionist. All content found on the MarysNest.com website, including text, images, videos, eBooks or eGuides, social media, or other formats, were created solely for informational purposes only. The content is not intended to be a substitute for professional medical advice, diagnosis, or treatment. Always seek the advice of your physician or other qualified healthcare provider with any questions you may have regarding a medical condition or proper nutritional advice. Never disregard professional medical advice or delay in seeking it because of something you have watched in a video or read on this website. Use caution when following the recipe in this video. The creator and publisher of this video and website will not be held responsible for any adverse effects that may arise from the use of this recipe and method or any other recipe and method on this website or corresponding video channel.