Texas Weather Update From Mary's Nest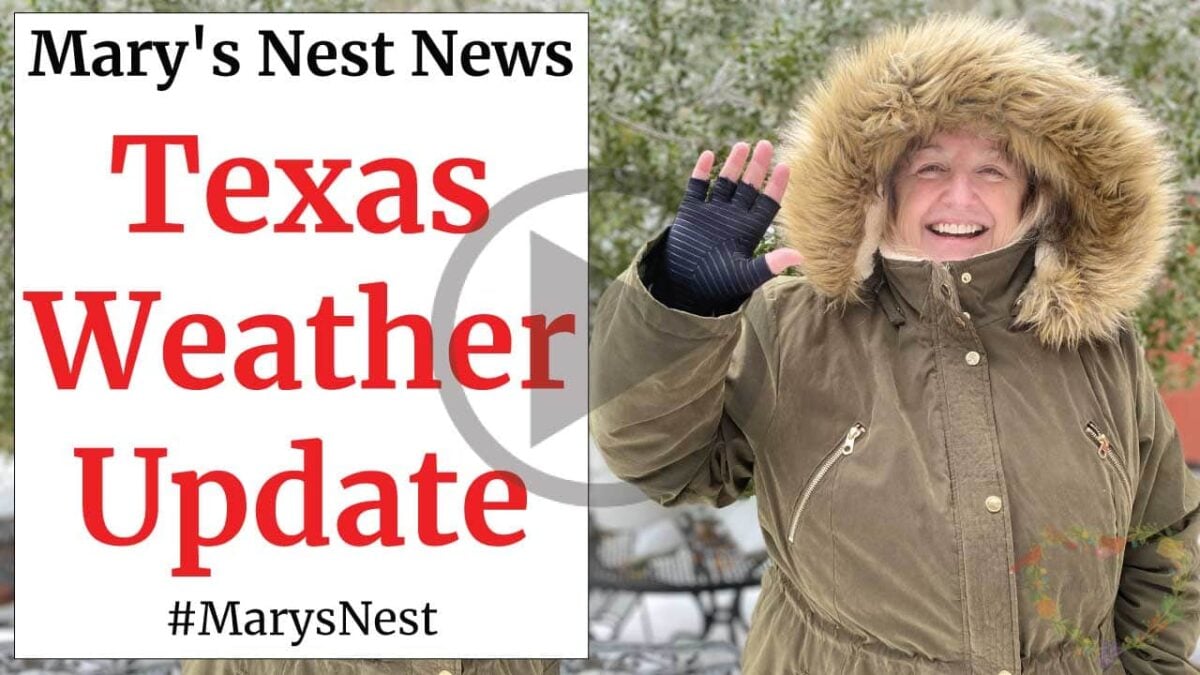 Today, I am sharing a Texas Weather Update from my "Nest" here in the Hill Country. And I'll start by saying…This has been quite a week!
*Affiliates note: As an Amazon Associate I earn from qualifying purchases. My content may contain affiliate links to products and services. If you click through and make a purchase, I'll receive a small commission. It does not affect the price you pay.
Chilly Texas Weather Greetings from the Hill Country
We have had ice, snow, more ice, single-digit temperatures, downed trees, multiple-day extended power outages…the list goes on and on! It has been quite a Texas weather adventure, and one that our weatherman tells us was last seen way back in 1949!
Normally, we would be enjoying our February Texas weather with temperatures in the 60s, but this has been a week for the record books. But we kicked up the fireplaces, pulled out our wool blankets, and enjoyed some ready-to-eat foods from our Prepper Pantry!
The good news is that this will all be behind us in a few days, and we will be enjoying a 70°F day again. Now that's more like the Texas weather I know and love! 😊
Update: Filling Holes in My Prepper Pantry
Update: In my Filling Holes in My Prepper Pantry and Beyond video, I talk about what I learned from our recent Texas storm about emergency preparedness. I also discuss the items that I wish I had in my Prepper Pantry, and the products I recently found to help make sure I'm prepared for the next unexpected event!
Prepper Pantry Videos
As you may know from my videos, I'm the type of person who likes to be prepared and who loves to help others be prepared too. And as our latest Texas weather shows us, we need to be prepared as best as we can be!
If you would like to learn how to be prepared or learn additional ways to improve on your preparedness, check out the videos below where I help you get started creating your own Prepper Pantry. I share why we all need a Prepper Pantry, how to stock your Prepper Pantry with real food, and how to do it on $5 per week.
And as you begin to stock your pantry, I also show you all the best ways to store your food to keep it as fresh as possible for as long as possible.
Get Your Free Pantry List!
If you haven't already done so, be sure to download my free 36-page Essential Traditional Foods Pantry List. This eBook outlines all the real foods you need for your Four Corners Pantry, which includes your:
Main Working Pantry
Refrigerator
Freezer
Extended Pantry (Prepper Pantry)
I show you what real foods you should be stocking for you and your family to prepare traditional foods, including bone broths, ferments, sourdough, and more! And I also share links to my free videos where I show you how to turn all your supplies into delicious and healthy meals.
Ready to Get into the Garden?
If you are longing for when we can all get back into our gardens, you can start a fun indoor project right now. In the following video, I show you 10 vegetables you can regrow from kitchen scraps to create a recurring harvest!
Get your vegetables started in your kitchen now, and once the weather warms up, they'll be ready to plant in your garden. But don't feel left out if you are a city dweller. You can grow many of these vegetables in pots on a patio, balcony, or kitchen window sill.
Last summer, I planted my kitchen scraps in my garden with my son. And yes, this is the same garden that's covered with ice and snow from today's Texas Weather Update video!
For more wonderful gardening inspiration, be sure to visit my sweet friend Kaye over at Late Bloomer. Kaye has an award-winning YouTube channel all about gardening, but she also has even more exciting things in store for us.
Kaye recently moved from California and purchased a lovely homestead in Tennessee. So she is planning lots of homestead videos from gardening to remodeling her home and how to be prepared. She said she was also inspired to make beef bone broth from my recipe video. You might enjoy making that too!
Stay in Touch with Mary's Nest
Subscribe to My YouTube Channel for Traditional Foods Videos (Free) - When you subscribe, be sure to click on the notification bell that will let you know each time I upload a new video.
Subscribe to Mary's Traditional Foods Newsletter (Free) - Get a free 36-page eBook for signing up: How to Stock Your Essential Traditional Foods Four-Corners Pantry.
Join the Traditional Foods Kitchen Academy (Optional Paid) - For more detailed videos, live streams, and exclusive members-only perks, join my YouTube membership community.
Order The Modern Pioneer Cookbook (Optional Paid) - Get a printed book of Mary's nourishing recipes from a Traditional Foods Kitchen. This bestselling cookbook is published by Penguin Random House with their DK imprint.
I look forward to having you join me in my Texas Hill Country Kitchen!
Shop for items used in this blog post or video
Favorite Prepper Pantry Supplies
Favorite Kitchen Supplies
Use promo code MARYSNST for a one-time 15% off Masontops and Breadsmart products on Amazon.com.
Use my Mockmill affiliate link for a special one-time 5% discount on Mockmill Stone Grain Mill products, including the new Flake Lover's Flaker. (The Mockmill discount will appear when you checkout.)
Amazon Shop and Shopping Guide
Visit my Shopping Guide page
Get up to 15% off for stocking your Traditional Foods Pantry and equipping your Modern Pioneer Kitchen, including discounts from Lehman's, Mockmill Grain Mill, Masontops, Cultures for Health, Survival Garden Seeds, Redmond Real Salt, Plan to Eat, US Wellness Meats, and More!
Recommended Reading
**Disclaimer: I am not a medical doctor, a medical professional, a dietician, or a nutritionist. All content found on the MarysNest.com website, including text, images, videos, eBooks or eGuides, social media, or other formats, were created solely for informational purposes only. The content is not intended to be a substitute for professional medical advice, diagnosis, or treatment. Always seek the advice of your physician or other qualified healthcare provider with any questions you may have regarding a medical condition or proper nutritional advice. Never disregard professional medical advice or delay in seeking it because of something you have watched in a video or read on this website. Use caution when following the recipe in this video. The creator and publisher of this video and website will not be held responsible for any adverse effects that may arise from the use of this recipe and method or any other recipe and method on this website or corresponding video channel.