10 Cheap Foods to Stock in Your Prepper Pantry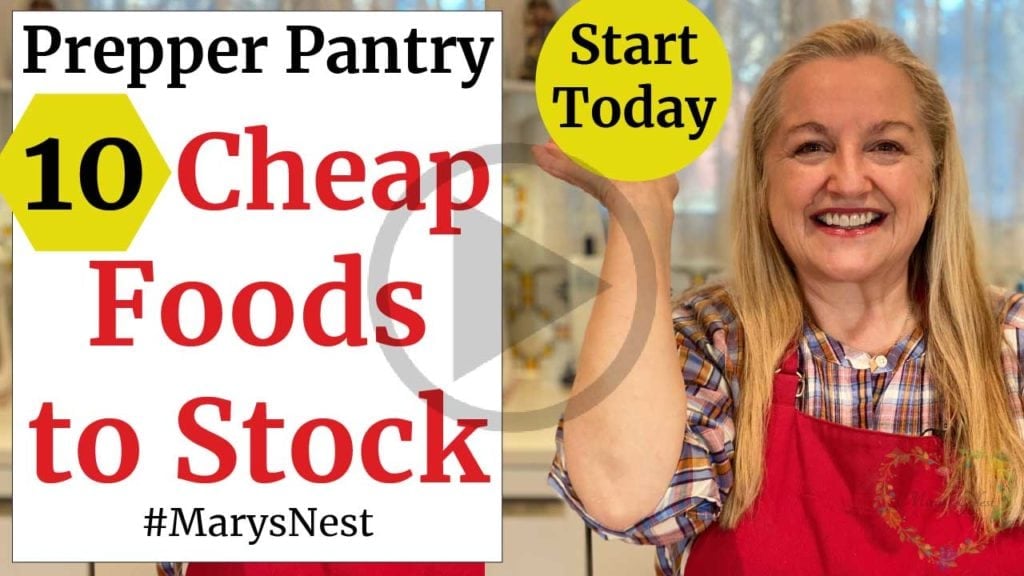 Learn how to stock your Prepper Pantry with cheap foods that are budget-friendly and nutritious. I cover a wide range of non-perishable food categories, from baking items to protein foods. Plus, I share a few bonus items as well.
So be sure to watch my latest video, make your grocery list, and bring it with you on your next visit to the supermarket.
*Affiliates note: As an Amazon Associate I earn from qualifying purchases. My content may contain affiliate links to products and services. If you click through and make a purchase, I'll receive a small commission. It does not affect the price you pay.
Cheap Foods to Stock Your Prepper Pantry
Food prices are rising every day, and many of us are looking for ways to keep our pantries well-stocked and within budget, and this includes our Prepper Pantries. So in today's video, I share with you 10 very reasonably-priced foods that I recently purchased on a trip to Walmart.
Why Did I Shop for Cheap Foods at Walmart?
Now keep in mind that no part of this post or accompanying video is sponsored. I went to Walmart to shop because so many of you have asked me to create a video on cheap yet nutritious foods from Walmart.
Although I love my local H-E-B grocery store, I know that many of you do not have access to that chain. Therefore, I went to Walmart in hopes that most of you have the ability to shop at a Walmart location in your area. Also, since Walmart is a nationwide chain, I hope that the prices and selection you see will be relatively close to what I am sharing today.
And if you don't have a Walmart nearby, this video will give you a good idea of the types of nutrient-dense foods you can get inexpensively (cheap!).
Cheap Foods But Still Nutritious Foods
Even though I classify the foods in my video as cheap foods, these budget-friendly or inexpensive foods are still real foods.
I have not steered you to buy processed or packaged foods that are void of nutrition. And besides, those processed foods usually cost more in the long run. They take a toll on our pocketbooks and our health.
How to Make Sandwich Bread from Cheap Flour
As you are adding these cheap foods to your Prepper Pantry, you will be pleased to know that two of the inexpensive foods in one of the categories are essential for baking:
Unbleached all-purpose flour
Yeast
With these two ingredients in hand, you can make homemade sandwich bread for a fraction of what it costs to buy it. Plus, your homemade bread won't have all those preservatives and less-than-healthy ingredients that the store-bought sandwich bread in the plastic sleeve contains.
Remember, when we're talking about cheap foods, these foods are inexpensive, but they are not low-quality ingredients.
Easiest Sandwich Bread Ever
In the following recipe video, I show you how to make the easiest sandwich bread ever! Even if you have never baked bread before, you can do this. You literally just stir everything together, let it rise, and then bake it. That's it! No kneading and no folding.
You will be surprised at how soft, light, and delicious this bread is. So many of you have shared with me that this recipe is your new go-to for sandwich bread. So be sure to check out the recipe video below that has over 1 million views on YouTube!
How to Cook Your Cheap Dried Beans
I completely understand wanting to buy canned beans. (And I talk about them in the video.) It's so easy when you can just pop the top of a can, and the beans are ready to use. And even though canned beans are pretty affordable at Walmart, buying dried beans is still much more cost-effective.
And by chance, were you the lucky one who bought a big bag of 10 or 25-pounds of dried beans at your grocery store in 2020? But now, are you wondering what to do with them in 2022? 😉 Don't worry!
Dried beans have a long shelf life. However, the longer you keep them, the longer it can take to cook them. So how about scooping out a bunch of those recently purchased or stored dried beans and trying your hand at soaking them and cooking them? I show you how in the following videos.
In addition to cooking your dried beans, maybe I can convince you to sprout them too! I show you how in my how to soak and sprout beans video. The process is easier than you think and makes the beans very digestible.
Recipes for Walmart Foods
Whenever I recommend ingredients or foods to buy at the grocery store, I always want to have recipes to share so you can learn how to use what you purchase and stock in your pantry.
Canned Beans
Earlier in this post, we talked about how to prepare and cook dried beans that you purchased or have stored away.
If you added canned beans to your grocery cart when shopping to stock your Prepper Pantry, try making homemade hummus. In the video below, I show you how easy it is to make hummus from canned chickpeas, and I give you a number of tips to have it come out even better than store-bought.
Cornmeal
If you added budget-friendly cornmeal to your grocery cart, try making my skillet cornbread or hot water cornbread. Both are easy to make and will be welcome at any table, especially if you add a side of pinto beans!
Molasses
I hope you'll also add some reasonably-priced nutrient-dense molasses to your shopping cart. (I talk about how much nutrition molasses gives you in my cheap foods video.) And if so, be sure to make these molasses cookies right away. You will love them! They are chewy and tasty—everything you look for in a molasses cookie.
Canned Protein
Canned protein, such as chicken and fish, are some of the easiest ways to stock cheap foods in your Prepper Pantry. I have lots of recipes to show you how to use these canned foods to create meals that everyone will love.
So don't forget to add canned chicken to your list of cheap foods. It often hovers around $2.00 per can. And you can stretch one can to feed a crowd if you make Chicken Bone Broth Soup.
You can make chicken bone for pennies a jar because it is made with bones and scraps. If you haven't made it before, put chicken bone broth on your kitchen to-do list because it should be an essential part of every traditional foods kitchen.
Bone broth is known as a protein sparer, which means it can help our bodies absorb every little bit of nutrition out of any protein in a meal. So even though you may be feeding a lot of people with one can of chicken, if you use it to make chicken bone broth soup, you will make the most of that protein!
Plus, you can make tasty chicken patties from canned chicken, and no one will know that the chicken came from a can. And the same can be true for canned salmon too!
As to sardines, if you have not had them before, try them once in the following recipe. You'll be surprised at how much you'll like them!
Old Fashioned Oats Recipes
Most grocery stores sell old-fashioned rolled oats, and I always recommend those over buying instant oats. Old-fashioned rolled oats are more nutritious, and even better, they're less expensive!
If you can find whole oat groats in your travels, be sure to buy some. Oat groats are oats in their whole and complete form, which are the most nutritious. Plus, it's easy to turn them into oatmeal, as I show you in the following video.
Want to find ways to use your old-fashioned rolled oats for recipes other than just for making oatmeal? Then be sure to try this delicious and easy-to-make Pantry Oatmeal Bread. I'm confident you have everything in your pantry to whip this up in no time at all!
And of course, if you have old-fashioned rolled oats on hand, you have to make oatmeal cookies. Or even better, make Cowboy Cookies! These are absolutely scrumptious.
And There's Always More!
If you have been with me for a while, you know that I have so many more recommendations for you when it comes to stocking your Prepper Pantry with cheap foods.
This blog post has just touched on some of the cheap foods you can buy to build or restock your Prepper Pantry. In my cheap foods video, you'll find I recommend more than just 10 foods; it's more like 10 categories! So you won't have any trouble finding inexpensive, budget-friendly foods on your next grocery shopping trip to Walmart or your local supermarket.
As always, I recommend real foods—not highly processed foods—that you can use to create nutrient-rich meals for you, your family, and your friends.
And as part of being concerned about rising grocery prices, I also talk about 5 steps to inflation proof your Prepper Pantry in the following video.
Introductory Prepper Pantry Videos
If you are new to the concept of a Prepper Pantry, or simply need a refresher, watch the following videos where I talk about how you can easily get started building your Prepper Pantry today.
Storage Supplies Prepper Pantry Videos
As you stock your Prepper Pantry, you want to make sure that you store your food to extend its shelf life as long as possible. I'll show you the best storage supplies for your Prepper Pantry and how to use oxygen absorbers, silica gel packs, and mylar bags.
Whole Grains for the Prepper Pantry
As you go along further on your journey of stocking your Prepper Pantry, you may decide to stock whole grains rather than flour. Whole grains have a much longer shelf life than flour. Plus, there's nothing like making homemade bread with fresh home-milled flour!
In the video below, I show you how to store your whole grain and the three options you have for grinding your grain into flour.
If you decide to store whole grains, be sure to check out my Mockmill unboxing video to learn how you can use a grain mill to create fresh flour for your baked goods.
Grocery Haul Videos
Who doesn't enjoy a good grocery haul? I focused on cheap foods in this video, but as your budget allows, be sure to check out some of the wonderful nutrient-dense foods offered by the big box stores like Sam's Club and Costco.
Download Your Free 36-Page Pantry List
As you progress on your journey to creating a traditional foods kitchen serving nutrient-dense foods, be sure to download my free 36-Page Essential Traditional Foods Pantry List.
This comprehensive eBook is so much more than a list because I not only share with your what foods you should be buying to stock your traditional foods pantry, I also share lots of links to videos and printable recipes for how to use everything you stock.
Kitchen Academy Videos
Are you looking for more traditional foods videos? If so, I invite you to join the Traditional Foods Kitchen Academy. Members of this optional paid YouTube community get access to exclusive videos, live streams, and other members-only perks. Plus, your YouTube comments include a special members-only badge.
In the following members-only video, I talk about How to Help Vitamin and Mineral Deficiencies.
Stay in Touch with Mary's Nest
Subscribe to My YouTube Channel for Traditional Foods Videos (Free) - When you subscribe, be sure to click on the notification bell that will let you know each time I upload a new video.
Subscribe to Mary's Traditional Foods Newsletter (Free) - Get a free 36-page eBook for signing up: How to Stock Your Essential Traditional Foods Four-Corners Pantry.
Join the Traditional Foods Kitchen Academy (Optional Paid) - For more detailed videos, live streams, and exclusive members-only perks, join my YouTube membership community.
Order The Modern Pioneer Cookbook (Optional Paid) - Get a printed book of Mary's nourishing recipes from a Traditional Foods Kitchen. This bestselling cookbook is published by Penguin Random House with their DK imprint.
I look forward to having you join me in my Texas Hill Country Kitchen!
Trending Posts on Mary's Nest
---
Shop for items used in this blog post or video
Favorite Prepper Pantry Supplies
Favorite Kitchen Supplies
More Kitchen Supplies with Discount Codes
Use my Mockmill affiliate link for a special one-time 5% discount on Mockmill Stone Grain Mill products, including the new Flake Lover's Flaker. (The Mockmill discount will appear when you checkout.)
Use promo code MARYSNST for a one-time 15% off Masontops and Breadsmart products on Amazon.com.
Amazon Shop and Shopping Guide
Visit my Shopping Guide page
Get up to 15% off for stocking your Traditional Foods Pantry and equipping your Modern Pioneer Kitchen, including discounts from Lehman's, Mockmill Grain Mill, Masontops, Cultures for Health, Survival Garden Seeds, Redmond Real Salt, Plan to Eat, US Wellness Meats, and More!
Recommended Reading
**Disclaimer: I am not a medical doctor, a medical professional, a dietician, or a nutritionist. All content found on the MarysNest.com website, including text, images, videos, eBooks or eGuides, social media, or other formats, were created solely for informational purposes only. The content is not intended to be a substitute for professional medical advice, diagnosis, or treatment. Always seek the advice of your physician or other qualified healthcare provider with any questions you may have regarding a medical condition or proper nutritional advice. Never disregard professional medical advice or delay in seeking it because of something you have watched in a video or read on this website. Use caution when following the recipe in this video. The creator and publisher of this video and website will not be held responsible for any adverse effects that may arise from the use of this recipe and method or any other recipe and method on this website or corresponding video channel.