How to Make Hot Water Cornbread – Depression Era Recipe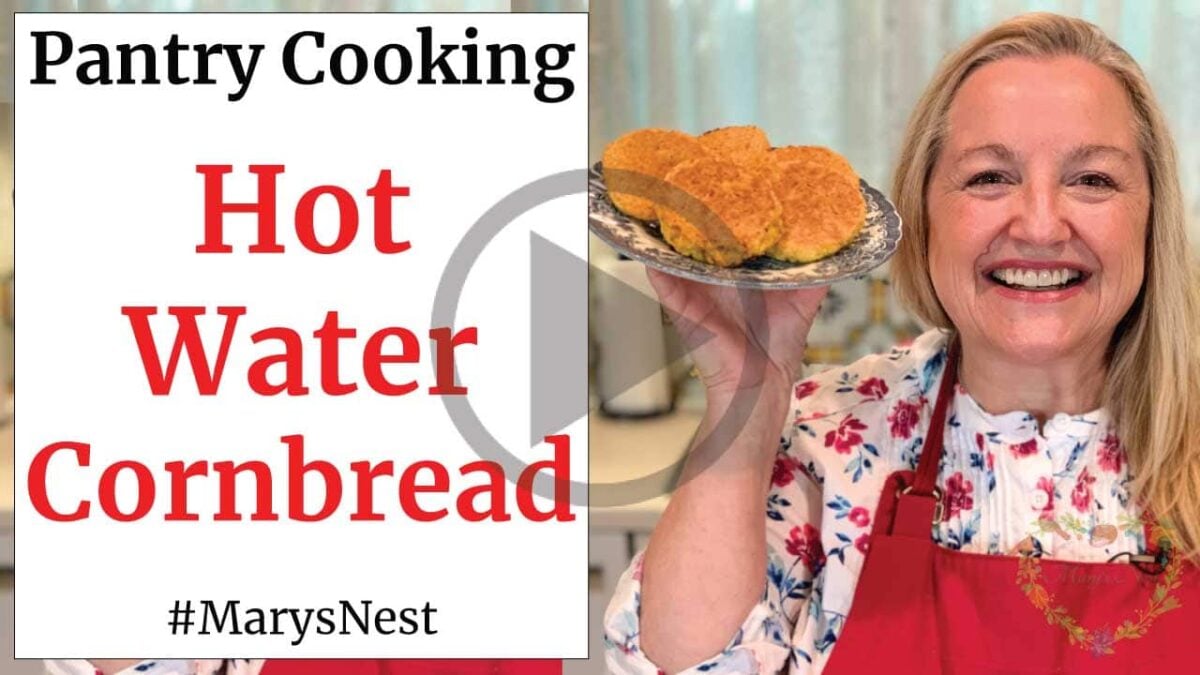 Learn how to make Hot Water Cornbread with this Depression Era Recipe. Learning the techniques of Depression Era Cooking saves you money and makes good use of your pantry staples and food storage.
*Affiliates note: As an Amazon Associate I earn from qualifying purchases. My content may contain affiliate links to products and services. If you click through and make a purchase, I'll receive a small commission. It does not affect the price you pay.
Sweet or Savory Cornbread?
When I first moved to Texas, I was surprised by the cornbread that was served here. Being a Yankee from New York 😉 , I was used to eating a sweetly flavored cake with a light texture. But the first time I tried cornbread in Texas, it was a dense, savory bread with corn kernels. And it had jalapeños in it too! What a surprise that was!
Hot Water Cornbread
In addition to both the sweet and savory cornbreads, there is a third type of cornbread called Hot Water Cornbread. This recipe's origin goes far back in history to the native people of the Americas, and it has had a lasting impact throughout history. Thanks to the recipe's simple list of common and affordable ingredients, many home cooks prepared Hot Water Cornbread during the Great Depression of the 1930s.
A Variety of Preparations
If you talk to home cooks throughout the southern United States, each one will have their own unique recipe for Hot Water Cornbread. Some cooks will add a bit of sugar, while others will add a bit of flour—or sometimes both. Some will use self-rising cornmeal, while others will add a pinch of baking powder to their plain cornmeal.
And then there is the most simple of all recipes, which is a mixture of cornmeal, salt, lard, and of course…hot water! That's what I share with you in my recipe video and printable recipe.
But whatever variation you use to make this cornbread, it will be a tasty treat that is tender on the inside and crunchy on the outside with a rich corn flavor. Eat the plain cornbread right out of the frying pan, or add a dollop of butter, jam, or maple syrup.
Watch Related Videos
Now that you know how to make Hot Water Cornbread, try your hand at more easy meals that use other pantry staples that most of us always have on hand.
If you would like to try a whole grain sweet cornbread, be sure to try my favorite skillet version. It's foolproof and doubles the nutrition by using whole grains!
And if you're looking for ways to reuse and regrow your kitchen scraps for future meals, watch the videos below to help you create a recurring harvest. Regrowing scraps provides you with fresh and nutritious ingredients for your modern-day or Depression Era recipes.
Stay in Touch with Mary's Nest
Subscribe to My YouTube Channel for Traditional Foods Videos (Free) - When you subscribe, be sure to click on the notification bell that will let you know each time I upload a new video.
Subscribe to Mary's Traditional Foods Newsletter (Free) - Get a free 36-page eBook for signing up: How to Stock Your Essential Traditional Foods Four-Corners Pantry.
Join the Traditional Foods Kitchen Academy (Optional Paid) - For more detailed videos, live streams, and exclusive members-only perks, join my YouTube membership community.
Order The Modern Pioneer Cookbook (Optional Paid) - Get a printed book of Mary's nourishing recipes from a Traditional Foods Kitchen. This bestselling cookbook is published by Penguin Random House with their DK imprint.
I look forward to having you join me in my Texas Hill Country Kitchen!
Shop for items used in this blog post or video
Favorite Cooking Supplies
Amazon Shop and Shopping Guide
Visit my Shopping Guide page
Get up to 15% off for stocking your Traditional Foods Pantry and equipping your Modern Pioneer Kitchen, including discounts from US Wellness Meats, Farmhouse Teas, Lehman's, Masontops, Cultures for Health, Survival Garden Seeds, Redmond Real Salt, Plan to Eat, and More!
Recommended Reading
The books in this section help you learn more about cooking economically using pantry staples, food from your long-term storage, and your garden harvest.
Depression Era Cookbooks:
️Vintage Recipes Series:
Nourishing Traditions Series:
**Disclaimer: I am not a medical doctor, a medical professional, a dietician, or a nutritionist. All content found on the MarysNest.com website, including text, images, videos, eBooks or eGuides, social media, or other formats, were created solely for informational purposes only. The content is not intended to be a substitute for professional medical advice, diagnosis, or treatment. Always seek the advice of your physician or other qualified healthcare provider with any questions you may have regarding a medical condition or proper nutritional advice. Never disregard professional medical advice or delay in seeking it because of something you have watched in a video or read on this website. Use caution when following the recipe in this video. The creator and publisher of this video and website will not be held responsible for any adverse effects that may arise from the use of this recipe and method or any other recipe and method on this website or corresponding video channel.