Affiliates note: As an Amazon Associate I earn from qualifying purchases. My content may contain affiliate links to products and services. If you click through and make a purchase, I'll receive a small commission. It does not affect the price you pay.
Homemade Stuffed Shells with 1-Minute Tomato Sauce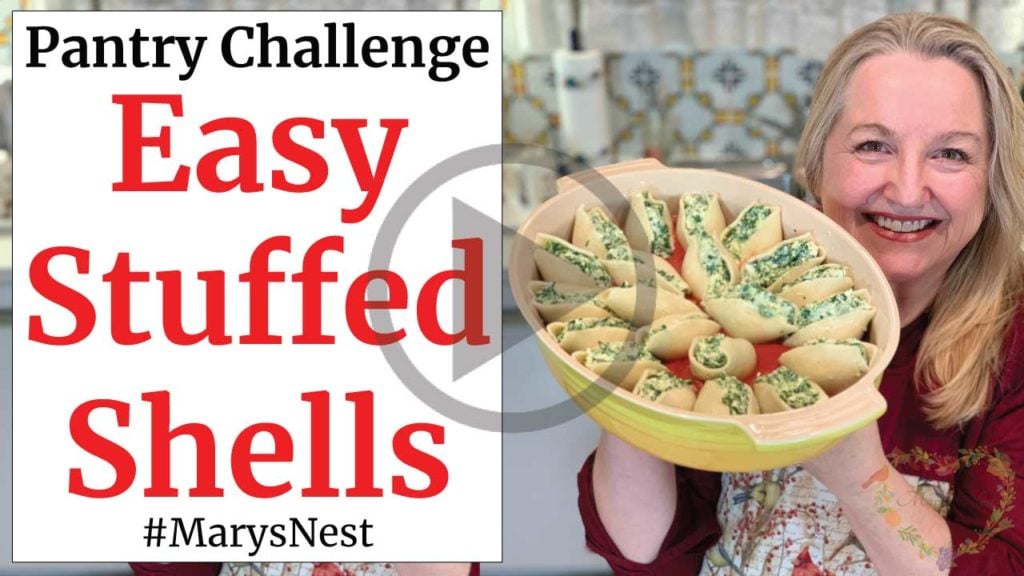 Today, I am sharing a Homemade Stuffed Shells Recipe with a 1-Minute Tomato Sauce. This quick and easy "Pantry Challenge" recipe helps you use items you may already have in your Working Pantry or Extended "Food Storage" Pantry.
A Stuffed Shells Pantry Challenge?
I call this recipe a "Pantry Challenge" because I am using those ingredients that I can easily find in my "4-Corners Pantry." I can make this dish with the items I have on hand without needing to run to the grocery store. Stuffed Shells, and other Pantry Challenge recipes, such as my Chicken Tortilla Soup, are perfect for those days when bad weather hits, your grocery budget it tight, or you're simply too tired to stop at the grocery store!
What Is a 4-Corners Pantry?
If you've been with me for a while, you have probably often heard me use the expression, "The 4-Corners Pantry." Stuffed Shells are a great example of making good use of my 4-Corners Pantry by using dried pasta, homemade ricotta cheese, and home canned tomatoes. But you may be asking, "What exactly does 4-Corners Pantry mean?" Great question!
The 4-Corners Pantry refers to the Refrigerator, the Freezer, the Working Pantry, and the Extended Pantry. The fridge and freezer need no explanation, but what is the difference between the Working Pantry and the Extended Pantry? Another great question!
Working Pantry versus Extended Pantry?
The Working Pantry is that part of your kitchen, which may be a cupboard or closet, where you keep those non-perishable foods that you use on a daily or regular basis. On the other hand, the Extended Pantry is that area in your home that you have designated for storing additional non-perishable goods, including the majority of your home-canned goods.
You would generally store large quantities of goods in your Extended Pantry that are then used to replenish your Working Pantry. The items in your Extended Pantry are often referred to as "Food Storage" or the "Food Storage Pantry."
In my Extended Pantry, I store lots of non-perishable goods, including dried pasta and home-canned tomatoes that are perfect for making Homemade Stuffed Shells!
But Why "Store" Food?
You may not have an Extended Pantry at this time and may be wondering why anyone would want to have an Extended Pantry to store food. Building up your food storage, even if you just start with five dollars worth of canned food you find on sale at your grocery store, can be invaluable.
If difficult circumstances present themselves, such as extended bad weather, job loss, illness, emergencies, or food shortages, having food that goes beyond what you have in your Working Pantry can be reassuring and life-saving. Your food storage will guarantee that should difficult times come, no one will go hungry. It's always smart to be prepared, especially when it comes to food!
Plus, your Extended Pantry can help "extend" your grocery budget because it allows you to stock up on non-perishable items when they go on sale. Stored properly, canned goods, dried goods, as well as paper products and household cleaning products can last a long time in your Extended Pantry. Just remember to keep an inventory of what you keep in your Extended Pantry and—especially when it comes to your food storage—always rotate your inventory so that you use your stored food before it expires.
Stocking the Traditional Foods Pantry
Now that you've learned how to make these easy Homemade Stuffed Shells, watch this other Pantry Challenge on Chicken Tortilla Soup. And if you're ready to start stocking your 4-Corners Pantry, including your Working Pantry and your Extended Pantry, be sure to view these other videos:
How to Make an Easy Homemade Ricotta Cheese
How to Home Can Crushed Tomatoes
How to Make 10 Homemade Seasoning Blends
How to Make Vegetable Bouillon and Dehydrate it
Stay in Touch with Mary's Nest
Subscribe to My YouTube Channel for Traditional Foods Videos (Free) - When you subscribe, be sure to click on the notification bell that will let you know each time I upload a new video.
Subscribe to Mary's Traditional Foods Newsletter (Free) - Get a free 36-page eBook for signing up: How to Stock Your Essential Traditional Foods Four-Corners Pantry.
Join the Traditional Foods Kitchen Academy (Optional Paid) - For more detailed videos, live streams, and exclusive members-only perks, join my YouTube membership community.
Order The Modern Pioneer Cookbook (Optional Paid) - Get a printed book of Mary's nourishing recipes from a Traditional Foods Kitchen. This bestselling cookbook is published by Penguin Random House with their DK imprint.
I look forward to having you join me in my Texas Hill Country Kitchen!
Homemade Stuffed Shells Recipe with 1-Minute Tomato Sauce
Make this quick and easy Stuffed Shells recipe with a handful of ingredients from your pantry.
Ingredients
For Cooking Shells
1

pound

Jumbo pasta shells

1

tbsp

Fine ground sea salt
For Making Tomato Sauce
3

pints

Home canned crushed tomatoes

15 ounce canned tomatoes from the grocery store can be substituted.

1

medium

Yellow onion, peeled and roughly chopped

3

cloves

Fresh garlic, crushed and skins removed

2

tbsp

Extra virgin olive oil

Plus a bit more for greasing the baking dish.

1

tsp

Fine ground sea salt

1/2

tsp

Coarse ground black pepper
For the Cheese Filling
1

pound

Homemade ricotta cheese

Store-bought can be substituted.

8

ounces

Fresh mozzarella cheese, coarsely grated

This is approximately 2 cups.

1

cup

Parmesan Reggiano, coarsely grated

2

10 ounce

Boxes chopped frozen spinach, defrosted and squeezed dry

You can also use fresh spinach, but you will need enough that once it is cooked and chopped, it will measure a tightly-packed cup.

2

large

Eggs, slightly beaten
Instructions
For Cooking Shells
Bring a large pot (at least 4 quarts) of water to a boil.

Once the water reaches a rolling boil, add salt and stir well.

Next, add shells and stir well to make sure none are sticking together

Check package directions for cooking time, but undercook the shells and check at the halfway mark for al dente shells or slightly under al dente. The shells should still be firm but pliable.
For Making Tomato Sauce
Add all ingredients to a blender or food processor and blend/process until the contents are smooth. This will take anywhere from 30 seconds to 1 minute.

If you make this sauce by hand, you will need to finely grate the onion and garlic.
For the Cheese Filling
Mix all ingredients together until well blended.
For Assembling the Shells
Grease baking dish with olive oil. Add approximately 2 cups of the sauce to the baking dish.

One at a time, fill each shell with approximately a heaping tablespoon of the cheese spinach mixture.

Place filled shell on top of sauce in baking dish.

Once the baking dish is filled with stuffed shells, dot each shell with more sauce.

Cover baking dish with aluminum foil and bake at 350°F for 25 minutes. Remove foil and continue baking for an additional 5 minutes until bubbly.

Carefully remove baking dish from oven and place on a heatproof surface. Allow to cool for 5 minutes, then scoop a portion of shells on to a plate to serve. Shells can be topped with grated Parmesan Reggiano and chopped flat-leaf Italian parsley or fresh basil, if desired. Serve remaining sauce, warmed, on the side.
Watch Mary's Nest on YouTube
Shop for items used in this blog post or video
Favorite Baking Dish and Home Canning Supplies
Recommended Reading
Amazon Shop and Shopping Guide
Visit my Shopping Guide page
Get up to 15% off for stocking your Traditional Foods Pantry and equipping your Modern Pioneer Kitchen, including discounts from Lehman's, Mockmill Grain Mill, Masontops, Cultures for Health, Survival Garden Seeds, Redmond Real Salt, Plan to Eat, US Wellness Meats, and More!
*Affiliates note: As an Amazon Associate I earn from qualifying purchases. My content may contain affiliate links to products and services. If you click through and make a purchase, I'll receive a small commission. It does not affect the price you pay.
**Disclaimer: I am not a medical doctor, a medical professional, a dietician, or a nutritionist. All content found on the MarysNest.com website, including text, images, videos, eBooks or eGuides, social media, or other formats, were created solely for informational purposes only. The content is not intended to be a substitute for professional medical advice, diagnosis, or treatment. Always seek the advice of your physician or other qualified healthcare provider with any questions you may have regarding a medical condition or proper nutritional advice. Never disregard professional medical advice or delay in seeking it because of something you have watched in a video or read on this website. Use caution when following the recipe in this video. The creator and publisher of this video and website will not be held responsible for any adverse effects that may arise from the use of this recipe and method or any other recipe and method on this website or corresponding video channel.