Affiliates note: As an Amazon Associate I earn from qualifying purchases. My content may contain affiliate links to products and services. If you click through and make a purchase, I'll receive a small commission. It does not affect the price you pay.
Top 7 Foods to Stock Up on Now for Your Prepper Pantry
With rising prices and grocery shortages becoming more frequent, be sure to learn about the top 7 foods to stock up on now for your Prepper Pantry!
In this blog post, I also include a list of links to grocery and food-related organizations so you can keep up with the latest news on the supply chain shortages.
*Affiliates note: As an Amazon Associate I earn from qualifying purchases. My content may contain affiliate links to products and services. If you click through and make a purchase, I'll receive a small commission. It does not affect the price you pay.
Why Stock Up Now?
Unfortunately, when visiting your local grocery store nowadays, you may notice a lot of bare shelves, and seeing wide empty gaps on previously full shelves can certainly cause concern.
However, if you have been with me for a while, you've hopefully learned about the importance of a Prepper Pantry and have already started to build one. You can use your Prepper Pantry supplies to restock your Working Pantry when those supplies run low.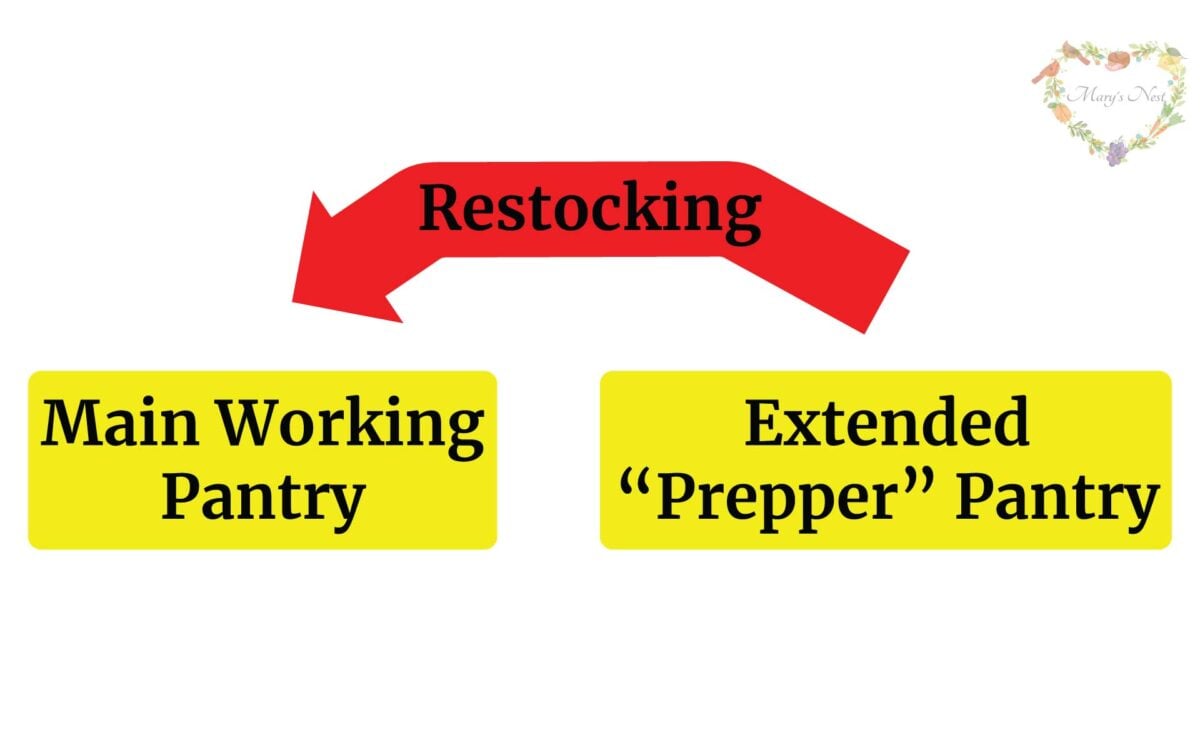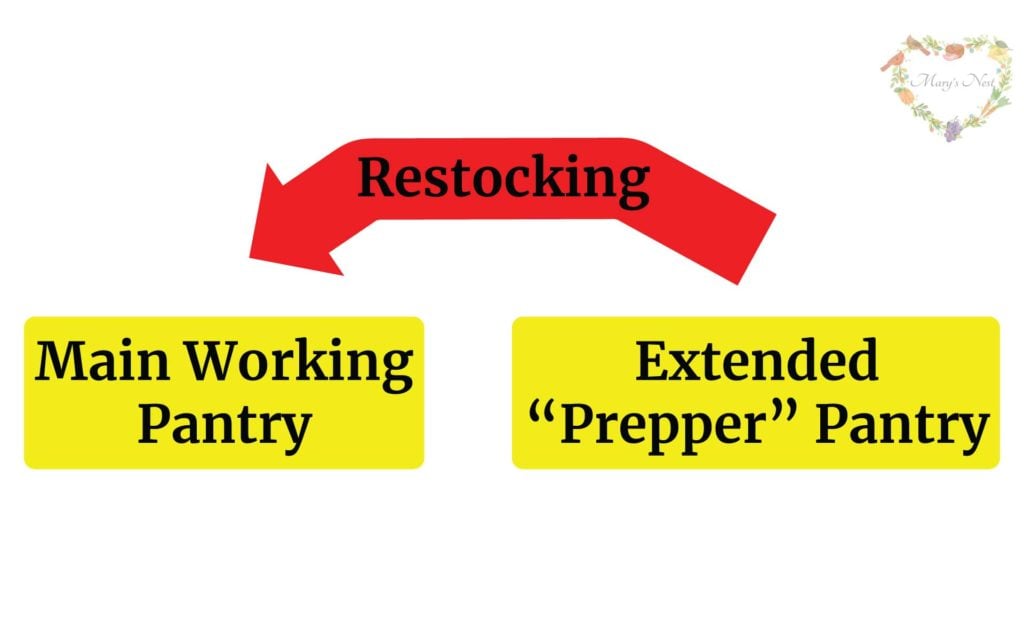 And why might our supplies run low? I cover several reasons in detail in my 7 Foods to Stock Up on Now video, but the basic reasons include:
Labor shortages
Supply chain shortages
It doesn't look like these problems will go away in the near future, so if you haven't started a Prepper Pantry, now is the time.
Remember, you never need to panic. Just follow these basic steps:
Keep a running inventory of what you have on hand and add to those items one or two at a time on each grocery visit.
Find what is in stock, or with prices rising, be sure to look for those items that are on sale and be willing to be flexible. (You don't need to be brand loyal during this extended period of shortages.)
A Note to the Beginner on How to Stock Up
If a Prepper Pantry is new to you, you can start stocking up today little by little. You'll be amazed at how quickly you will be able to build a two-week backup supply of food.
Once you have your two-week supply, you can decide how much more food you want to stock in your Prepper Pantry.
To get started, watch my Prepper Pantry playlist where I share with you:
Why we all need a Prepper Pantry
How to stock your Prepper Pantry with real food
How to stock your Prepper Pantry on as little as $5 per week
Strategies to store food in your Prepper Pantry for maximum freshness
And lots more!
What is the Four Corners Pantry?
If you're new to the term Prepper Pantry, I want to explain that when I use the general term pantry, I am referring to what I call the Four Corners Pantry, which includes your:
Working Pantry – What you access every day
Refrigerator
Freezer
Extended or "Prepper" Pantry – Where you store extra supplies to restock the Working Pantry
This blog post primarily focuses on stocking our Working Pantries and our Extended or Prepper Pantries.
7 Foods to Stock Up On
In my comprehensive video, I share the 7 foods that you want to stock up now when you see them at your local grocery store because these are the 7 categories of foods that right now are in the shortest supply.
Why are these foods in short supply?
There are many reasons as to why these 7 foods, along with others, are in short supply. I explain these reasons in detail in my video, but some of the primary reasons are:
Some of these foods are in short supply because they are affected by labor shortages at processing plants.
Some foods are affected by a host of packaging and material shortages, as well as supply chain shortages. (The supply chain could be affected by transportation delays in getting these foods to a warehouse or distribution center and then to the grocery stores.)
Some of these foods encountered problems during their growing seasons, which creates less availability now.
Stock Up Now on These Foods
These seven foods are presently in short supply:
Canned Goods
Carbonated Beverages
Chocolate
Coffee
Fish, Meat, Poultry (both fresh and canned)
Pasta
Water
Plus, in my video, I share two important BONUS items that are also in short supply. You may need to stock up on these items too, depending on your needs.
What to Expect in the Future
Be sure to watch my video where I explain in detail why these seven foods are in short supply and what we might expect in the future, including why:
Food shortages will continue into the foreseeable future.
Grocery prices will continue to rise.
Certain items or brands may never return to our store shelves.
We need to shop judiciously and take advantage of sales and coupons.
We need to avoid brand loyalty.
Where Can I Learn More About Grocery Shortages?
To learn more and stay on top of the latest news on this ever-evolving topic, be sure to check out the following resources:
And if you are a fan of Taste of Home magazine, you might enjoy their recent article about food shortages.
Looking for Grassfed Beef and Poultry?
If you find that your area is affected by food shortages, including fresh meats and poultry, check out US Wellness Meats for pastured and organic beef and chicken. Be sure to use my discount code to save money too!
Use discount code MARYNEST and my link to save 15% off regular-priced items on your US Wellness Meats order. You can shop for a variety of products, including:
This post is not sponsored. I'm a long-time customer of US Wellness Meats because I have always been impressed by the quality of their products. Check out my US Wellness Meats unboxing video to see the types of products you can get, including bones for beef bone broth!
Looking for Wild Caught Seafood?
If you find that your local grocery is experiencing fresh fish shortages, check out Vital Choice Seafood. They have an expansive selection of flash-frozen fish and shellfish, plus a wide variety of canned fish.
Use discount code MARYSNEST10 and my link to save 10% off regular-priced items on your Vital Choice Seafood order.
You can see me make two recipes with canned and flash-frozen salmon from Vital Choice Seafood in the following videos.
Download Your Free 36-Page Pantry List
For an extensive list of the traditional foods you can make and purchase to stock your Four Corners Pantry, be sure to download my free 36-page Traditional Foods Pantry List. This comprehensive eBook is full of links to recipe videos, helpful articles, and more!
Kitchen Academy Videos
Are you looking for more traditional foods videos? If so, I invite you to join the Traditional Foods Kitchen Academy. Members of this optional paid YouTube community get access to exclusive videos, live streams, and other members-only perks. Plus, your YouTube comments include a special members-only badge.
In the following members-only video series, I talk about how to stock your traditional foods pantry.
Stay in Touch with Mary's Nest
Subscribe to My YouTube Channel for Traditional Foods Videos (Free) - When you subscribe, be sure to click on the notification bell that will let you know each time I upload a new video.
Subscribe to Mary's Traditional Foods Newsletter (Free) - Get a free 36-page eBook for signing up: How to Stock Your Essential Traditional Foods Four-Corners Pantry.
Join the Traditional Foods Kitchen Academy (Optional Paid) - For more detailed videos, live streams, and exclusive members-only perks, join my YouTube membership community.
Order The Modern Pioneer Cookbook (Optional Paid) - Get a printed book of Mary's nourishing recipes from a Traditional Foods Kitchen. This bestselling cookbook is published by Penguin Random House with their DK imprint.
I look forward to having you join me in my Texas Hill Country Kitchen!
Trending Posts on Mary's Nest
---
Shop for items used in this blog post or video
Favorite Kitchen Supplies
More Kitchen Supplies with Discount Codes
Learn more about Mockmill electric grain mills for making fresh flour and their Flake Lover's Flaker that flakes whole grain in minutes.
Use promo code MARYSNST for a one-time 15% off Masontops and Breadsmart products on Amazon.com.
Amazon Shop and Shopping Guide
Visit my Shopping Guide page
Get up to 15% off for stocking your Traditional Foods Pantry and equipping your Modern Pioneer Kitchen, including discounts from US Wellness Meats, Farmhouse Teas, Lehman's, Masontops, Cultures for Health, Survival Garden Seeds, Redmond Real Salt, Plan to Eat, and More!
Recommended Reading
**Disclaimer: I am not a medical doctor, a medical professional, a dietician, or a nutritionist. All content found on the MarysNest.com website, including text, images, videos, eBooks or eGuides, social media, or other formats, were created solely for informational purposes only. The content is not intended to be a substitute for professional medical advice, diagnosis, or treatment. Always seek the advice of your physician or other qualified healthcare provider with any questions you may have regarding a medical condition or proper nutritional advice. Never disregard professional medical advice or delay in seeking it because of something you have watched in a video or read on this website. Use caution when following the recipe in this video. The creator and publisher of this video and website will not be held responsible for any adverse effects that may arise from the use of this recipe and method or any other recipe and method on this website or corresponding video channel.