Affiliates note: As an Amazon Associate I earn from qualifying purchases. My content may contain affiliate links to products and services. If you click through and make a purchase, I'll receive a small commission. It does not affect the price you pay.
Today, I'm excited to share news of a free GIVEAWAY that Survival Garden Seeds is having for their Farmers Seed Vault collection, which includes 100 heirloom varieties of vegetables, herbs, and flowers. You could be 1 of 3 winners!
Survival Garden Seeds is conducting this giveaway in the United States from February 3, 2023, through February 12, 2023, so don't miss out on this opportunity for some outstanding garden seeds.
Also, in this blog post, I talk about the terrible ice storm we had in Central Texas this week and my plans to rebuild my kitchen garden in 2023.
*Affiliates note: As an Amazon Associate I earn from qualifying purchases. My content may contain affiliate links to products and services. If you click through and make a purchase, I'll receive a small commission. It does not affect the price you pay.
Survival Garden Seeds Giveaway
Visit the Survival Garden Seeds Giveaway page to enter their free seeds giveaway, get their official giveaway rules, and learn about their Farmers Seed Vault with 100 heirloom seeds!
I first introduced you to Survival Garden Seeds in my The 3 Best Survival Garden Seed Collections to Buy Now video. I like their heirloom seeds because they are open-pollinated, non-GMO, and non-hybrid. They also have a shelf life of 3 to 8 years, so you can store them in your Prepper Pantry for planting later if you're not ready to use them during your next growing season.
Best of all, the seeds are available now, and if you decide you want one of their special seed collections, they've provided my viewers with a special MARYSNEST discount code to be able to get 10% off any of the three following products:
Although I'm an affiliate with Survival Garden Seeds, this is not a sponsored post. I am happy to let you know about their products, because I think they are high-quality. I will be using their seeds to restart my kitchen garden, especially after the terrible winter storm we just had. Let me tell you about that!
Terrible Texas Ice Storm of 2023
Wow! A terrible ice storm walloped our Central Texas area and home this week. Austin recorded an accumulation of 0.64 inches of ice, which made the area treacherous for traveling and downed many power lines and tree limbs.
Fortunately, our power stayed on this time, but we know a lot of folks in the Austin area who are still without power. Areas with above-ground utilities were especially susceptible to power outages because of the weight of icy tree limbs breaking and falling on the power lines. The electric companies servicing central Texas have been busy working to get the power back on.
Unfortunately, we lost a lot of tree limbs as they fell one by one during the freezing rain and over two days of freezing temperatures. It's going to take us several days to clean up around our house, but we'll never see some of the majestic live oaks again, as they are just sad tall trunks without limbs. Regrettably, this is true across much of central Texas.
We were ready with our emergency food supply and the equipment we bought after the terrible winter storm of 2021, and we were able to provide help to our friends and neighbors. Having an emergency pantry and backup power gave us comfort whenever we heard tree limbs snapping outside or the lights flickering inside. You can learn more about the essential Prepper Pantry equipment and food we stocked in the following videos.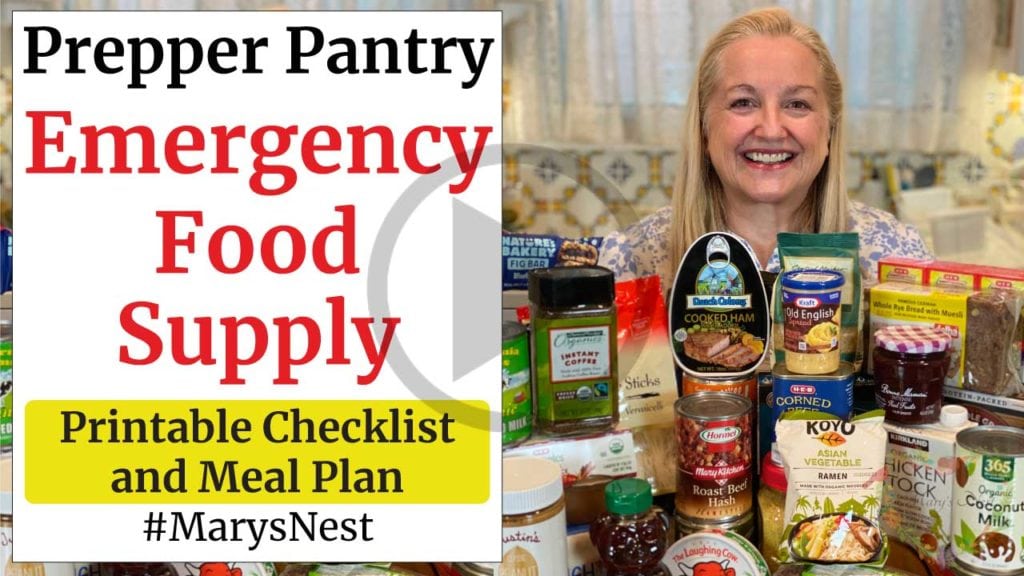 Rebuilding the Kitchen Garden in 2023
This terrible ice storm will be a memory soon, and we'll look to the warmer weather and spring to bring life back again to our garden. Just as with our rebuilding after the winter storm of 2021, I look forward to bringing you along with me as we plant our kitchen garden in 2023.
So get your garden seeds ready, update your kitchen garden library, and gather up those items from your local thrift store, junk shop, and (ahem!) garbage, so we'll be ready to start our gardens this spring!
Download Your Free 36-Page Pantry List
For an extensive list of the traditional foods you can make and purchase to stock your pantry, be sure to download my free 36-page Traditional Foods Pantry List. This comprehensive eBook is full of links to recipe videos, helpful articles, and more!
Kitchen Academy Videos
Are you looking for more traditional foods videos? If so, I invite you to join the Traditional Foods Kitchen Academy. Members of this optional paid YouTube community get access to exclusive videos, live streams, and other members-only perks. Plus, your YouTube comments include a special members-only badge.
In the following replay of my members-only live stream, I talk about how to fight rising grocery prices with new foods.
Stay in Touch with Mary's Nest
Subscribe to My YouTube Channel for Traditional Foods Videos (Free) - When you subscribe, be sure to click on the notification bell that will let you know each time I upload a new video.
Subscribe to Mary's Traditional Foods Newsletter (Free) - Get a free 36-page eBook for signing up: How to Stock Your Essential Traditional Foods Four-Corners Pantry.
Join the Traditional Foods Kitchen Academy (Optional Paid) - For more detailed videos, live streams, and exclusive members-only perks, join my YouTube membership community.
Order The Modern Pioneer Cookbook (Optional Paid) - Get a printed book of Mary's nourishing recipes from a Traditional Foods Kitchen. This bestselling cookbook is published by Penguin Random House with their DK imprint.
I look forward to having you join me in my Texas Hill Country Kitchen!
Trending Posts on Mary's Nest
---
Shop for items used in this blog post or video
Favorite Prepper Pantry Supplies
Shop for items used in this blog post or video
More Kitchen Supplies with Discount Codes
Use my Mockmill affiliate link for a special one-time 5% discount on Mockmill Stone Grain Mill products, including the new Flake Lover's Flaker. (The Mockmill discount will appear when you checkout.)
Use promo code MARYSNST for a one-time 15% off Masontops and Breadsmart products on Amazon.com.
Amazon Shop and Shopping Guide
Visit my Shopping Guide page
Get up to 15% off for stocking your Traditional Foods Pantry and equipping your Modern Pioneer Kitchen, including discounts from Lehman's, Mockmill Grain Mill, Masontops, Cultures for Health, Survival Garden Seeds, Redmond Real Salt, Plan to Eat, US Wellness Meats, and More!
Recommended Reading
**Disclaimer: I am not a medical doctor, a medical professional, a dietician, or a nutritionist. All content found on the MarysNest.com website, including text, images, videos, eBooks or eGuides, social media, or other formats, were created solely for informational purposes only. The content is not intended to be a substitute for professional medical advice, diagnosis, or treatment. Always seek the advice of your physician or other qualified healthcare provider with any questions you may have regarding a medical condition or proper nutritional advice. Never disregard professional medical advice or delay in seeking it because of something you have watched in a video or read on this website. Use caution when following the recipe in this video. The creator and publisher of this video and website will not be held responsible for any adverse effects that may arise from the use of this recipe and method or any other recipe and method on this website or corresponding video channel.