I review a wide variety of salts, from common table salt to the more gourmet versions, in my latest video. Most importantly, I share which salts are essential for your Prepper Pantry because these essential salts have the least amount of microplastics. And you'll be surprised to learn which two are the best!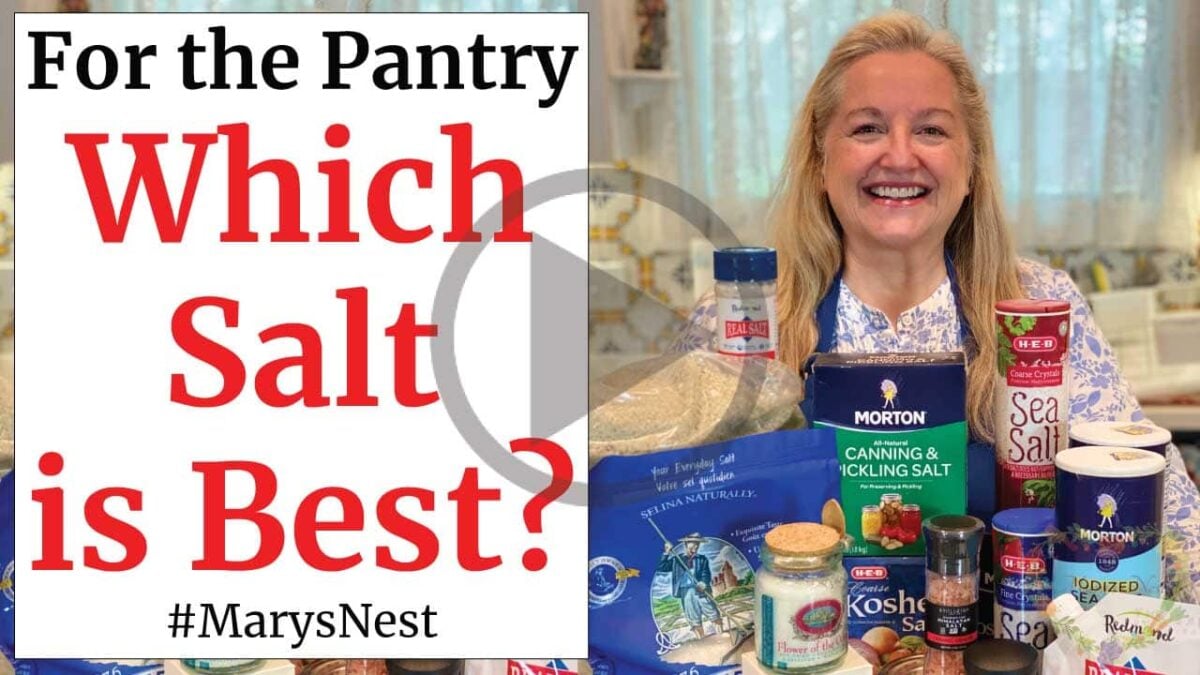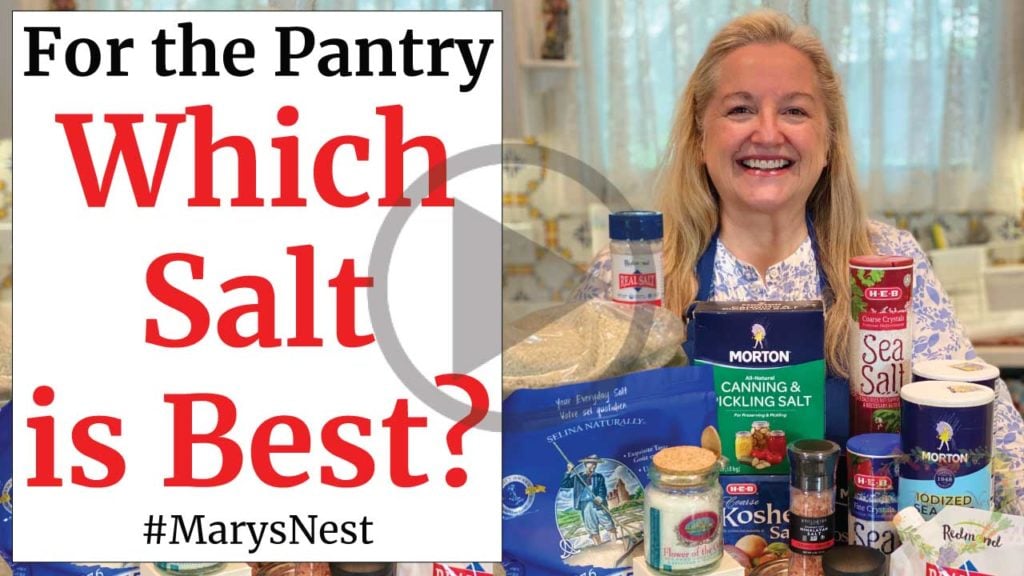 Which Salt is Best for the Traditional Foods Pantry?
When it comes to stocking your traditional foods pantry, be sure to choose pure salts. You want to avoid salts with added ingredients, such as those with anti-caking agents.
When you use salts with anti-caking agents, you are limiting the recipes where you can use these salts in traditional foods cooking. Yes, you can use salts with these added ingredients for cooking and seasoning, but you cannot use them when making ferments.
What are Anti-Caking Agents in Salt?
Anti-caking agents are additives in salt that prevent the salt from clumping. The agents absorb moisture, but those same additives can interfere with the fermentation process.
During fermentation, you do not want additives that will absorb moisture, because moisture is exactly what your ferment needs! So when it comes to the fermentation process, steer clear of salts with these agents to guarantee that you will have a successful ferment.
What are Microplastics?
Microplastics are small particles of plastic—no larger than 5mm—which unfortunately come from the plastics that pollute our oceans. Over time, these plastics degrade into smaller microplastic particles that enter into our food supply through salt, seafood, and other foods as well.
But why does this matter? Microplastics contain chemicals that are detrimental to our health. Our bodies can handle some of these chemicals by flushing them out of our system through our waste products and our sweat. However, whenever possible, we want to help our body's systems by preventing or reducing the amount of unnecessary chemicals in our diet.
Reference Sources
Which Salts have Microplastics?
Unfortunately, most salt contains some percentage of microplastics. In my essential salts video, I talk about the salts with the highest amount of microplastics and those with the lowest.
When it comes to microplastics in salts, studies have found that approximately 90% of all table salt contains microplastics. Table salts contain a higher percentage of microplastics than other salts.
Salts with the Least Amount of Microplastics
On the other end of the salt continuum, the same studies showed that these salts contained the least amounts of microplastics:
Discount code: For Redmond Real Salt and other products from the Redmond Real Life website use this link and discount code MARYSNEST for 15% off your purchase. (Discount will appear at checkout.)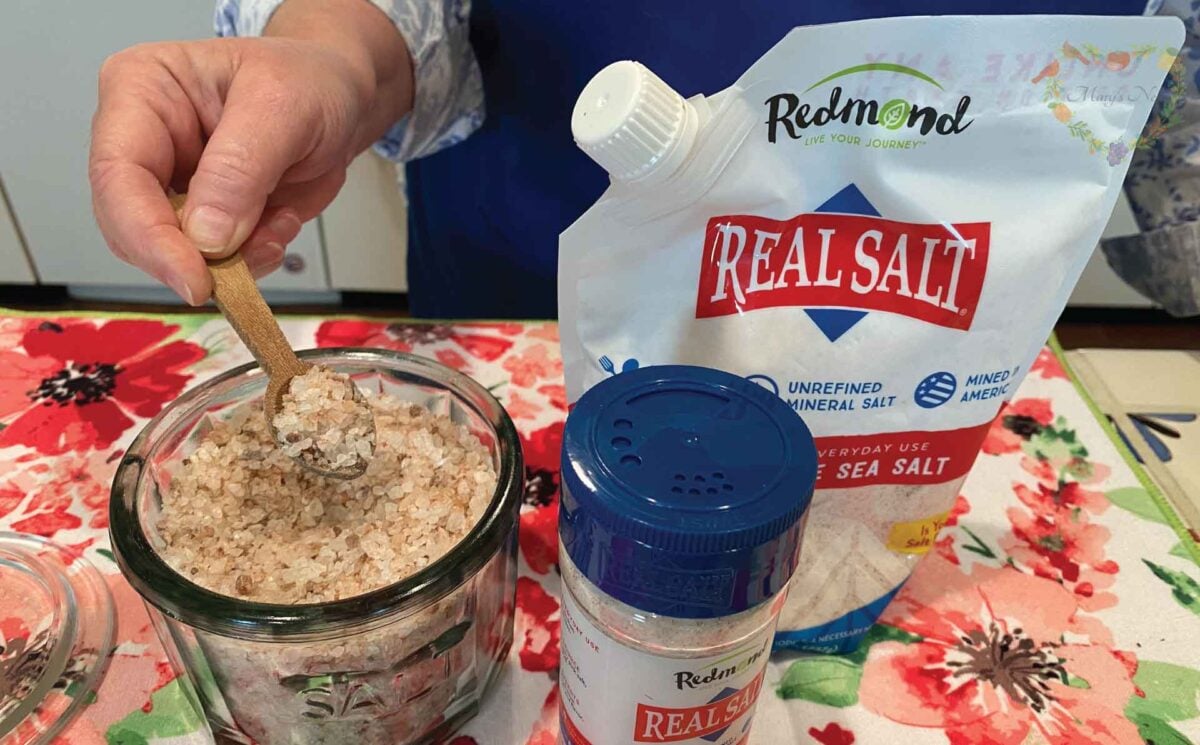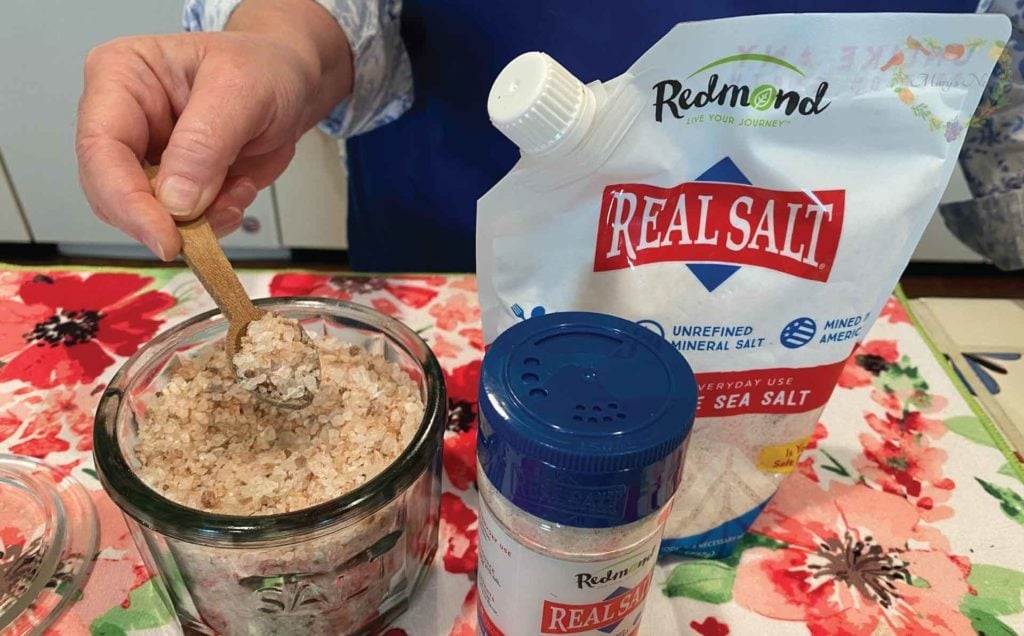 Be sure to watch my essential salts video to learn more about these salts and others. You'll be quite surprised to learn that a particular kind of mined salt actually contains one of the highest amounts of microplastics!
Reference Sources
In addition to these scientific studies, you might also enjoy this informative website article that reviewed the Anthropogenic contamination study. The Ascent to Health article breaks the research down into simple English with an easy-to-read chart.
What Can You Do to Avoid Microplastics?
Avoiding microplastics in today's world is next to impossible, whether you eat salt or not. These tiny particles are found in a variety of foods, including seafood, milk, beer, and many other processed and packaged food.
Sometimes, in the case of milk and processed food, the microplastics enter these foods during the packaging process. So what are we to do?
Since microplastics are prevalent in much of our food supply. To avoid microplastics, all we can do is the best we can do, and this includes:
Avoid a processed food diet whenever possible
Search out whole real foods, such as:

Meat and eggs from pasture-raised animals
Raw milk in glass bottles
Locally-grown fruits, vegetables, and grains

And when it comes to salt, search out those varieties that have been scientifically tested to contain the least amount of microplastics
Which Salts Are Best for Fermentation?
I am often asked which are the best salts to use when it comes to making ferments? The answer is any pure salt, which is a salt that does not contain any anti-caking agents or other added chemicals.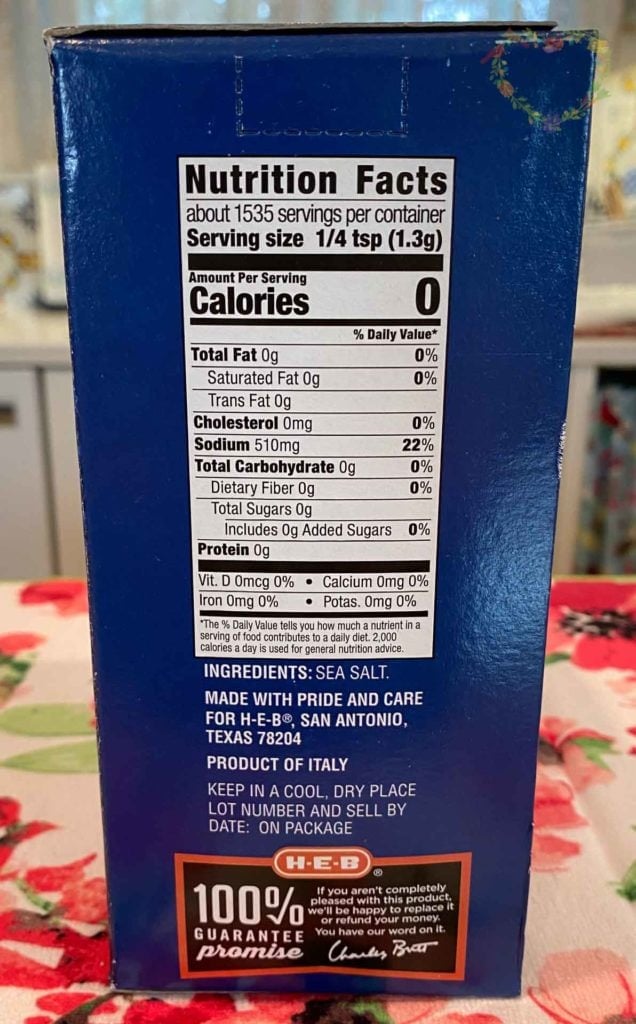 Take a look at the salt that you're planning to use. The package ingredients should simply read "salt" or "sea salt." Nothing else. We still have to deal with the problem of microplastics in salt, but we can at least search out those with the lowest amounts, as I described earlier.
Do You Need to Use Salt in Fermentation?
Many of you have asked me, do you need to use salt at all in vegetable fermenting? And the answer is no. You can ferment without using salt and instead use whey or seeds, such as celery seeds.
However, salt provides some assurance of a successful ferment, as well as a tasty one! Salt helps the fermentation process by keeping the bad bacteria at bay while allowing the good bacteria to proliferate. So when it comes to ferments, salt is my number one choice.
Why is My Ferment So Salty?
If you are new to fermenting, you may be wondering why your ferment tastes so salty at the beginning of the fermentation process. Not to worry! That's normal.
In my tutorial video below, I go over all details to reassure you that when your ferment is ready, it will taste great.
Get Started with Fermentation
If you are completely new to fermentation, try making sauerkraut as your first ferment. It's easy to do, and in the video below, I walk you through the entire process step-by-step. This tutorial video is the perfect class for the beginner on fermentation. Plus, I share a little secret ingredient that I always like to use when making cabbage ferments to guarantee their success!
Once you master sauerkraut, be sure to try your hand at fermented carrots. These are not only rich in probiotics, but they are also delicious!
What is the Best Salt for Water Bath Canning?
When it comes to certain types of water bath canning, such as canning pickles, you will want to use salt for flavor. Salt packaged as canning and pickling salt is generally recommend. This type of salt is pure salt with no anti-caking agents or other added chemicals.
Can you use other salts instead of those labeled as canning salts? Definitely, but just make sure they are pure plain salt. You want to use plain salt because the extra ingredients, such as anti-caking agents, that are added to some salts may negatively affect the canning process.
In my Water Bath Canning 101 video series, I talk about the different canning salts, spices, and pectin that you can choose from.
Get Started with Water Bath Canning
Are you new to water bath canning? If so, I have a series of videos that will help you learn this excellent skill that every traditional foods cook should know. Check out my videos below, where I walk you through everything you need to get started.
Once you have your supplies on hand, give these bread and butter pickles a try. You'll never buy them at the store again!
Essential Pantry Videos
Want more ideas for how to stock your Prepper Pantry? Watch the following videos where I share detailed information on how to stock your pantry with:
And if you are on your journey to transitioning from a processed foods kitchen to a Traditional Foods Kitchen, don't miss this video where I share the 10 must-have foods you definitely want to have in your pantry!
Download Your Free 36-Page Pantry List
Need help determining what you should be adding to your traditional foods pantry? I have you covered with this free 36-page pantry list eBook that walks you through what to buy and how to turn those ingredients into delicious and nutritious meals!
More Salt Recipes
Once you decide what salt you want to stock in your pantry, try out the following special recipe videos to create herb salts and homemade citrus salts and sugars.
Kitchen Academy Videos
Are you looking for more traditional foods videos? I invite you to join the Traditional Foods Kitchen Academy. Members of this optional paid YouTube community get access to exclusive videos, live streams, and other members-only perks. Plus, your YouTube comments include a special members-only badge.
In the following members-only video, I talk about How to Make Salt Part of a Healthy Diet.
I chat about why it was important for me to create this comprehensive curriculum for students in grades K-12.
I share upcoming recipes and what I have planned for my Mary's Nest YouTube channel in 2024.
During this month's members-only live stream, we talked about a variety of topics, including a preview of upcoming videos.
Stay in Touch with Mary's Nest
Subscribe to My YouTube Channel for Traditional Foods Videos (Free) - When you subscribe, be sure to click on the notification bell that will let you know each time I upload a new video.
Subscribe to Mary's Traditional Foods Newsletter (Free) - Get a free 36-page eBook for signing up: How to Stock Your Essential Traditional Foods Four-Corners Pantry.
Join the Traditional Foods Kitchen Academy (Optional Paid) - For more detailed videos, live streams, and exclusive members-only perks, join my YouTube membership community.
Order The Modern Pioneer Cookbook (Optional Paid) - Get a printed book of Mary's nourishing recipes from a Traditional Foods Kitchen. This bestselling cookbook is published by Penguin Random House with their DK imprint.
I look forward to having you join me in my Texas Hill Country Kitchen!
---
Shop for items used in this blog post or video
Best Salts
Discount code: For Redmond Real Salt and other products from the Redmond Real Life website use this link and discount code MARYSNEST for 15% off your purchase. (Discount will appear at checkout.)
Favorite Prepper Pantry Supplies
Favorite Kitchen Supplies
More Kitchen Supplies with Promo Codes
Use promo code MARYSNST for a one-time 15% off Masontops and Breadsmart products on Amazon.com.
Learn more about Mockmill electric grain mills for making fresh flour and their Flake Lover's Flaker that flakes whole grain in minutes.
Amazon Shop and Shopping Guide
Visit my Shopping Guide page
Get up to 15% off for stocking your Traditional Foods Pantry and equipping your Modern Pioneer Kitchen, including discounts from US Wellness Meats, Farmhouse Teas, Lehman's, Masontops, Cultures for Health, Survival Garden Seeds, Redmond Real Salt, Plan to Eat, and More!
Recommended Reading
**Disclaimer: I am not a medical doctor, a medical professional, a dietician, or a nutritionist. All content found on the MarysNest.com website, including text, images, videos, eBooks or eGuides, social media, or other formats, were created solely for informational purposes only. The content is not intended to be a substitute for professional medical advice, diagnosis, or treatment. Always seek the advice of your physician or other qualified healthcare provider with any questions you may have regarding a medical condition or proper nutritional advice. Never disregard professional medical advice or delay in seeking it because of something you have watched in a video or read on this website. Use caution when following the recipe in this video. The creator and publisher of this video and website will not be held responsible for any adverse effects that may arise from the use of this recipe and method or any other recipe and method on this website or corresponding video channel.