Top 10 Foods You Need to Buy Now at Aldi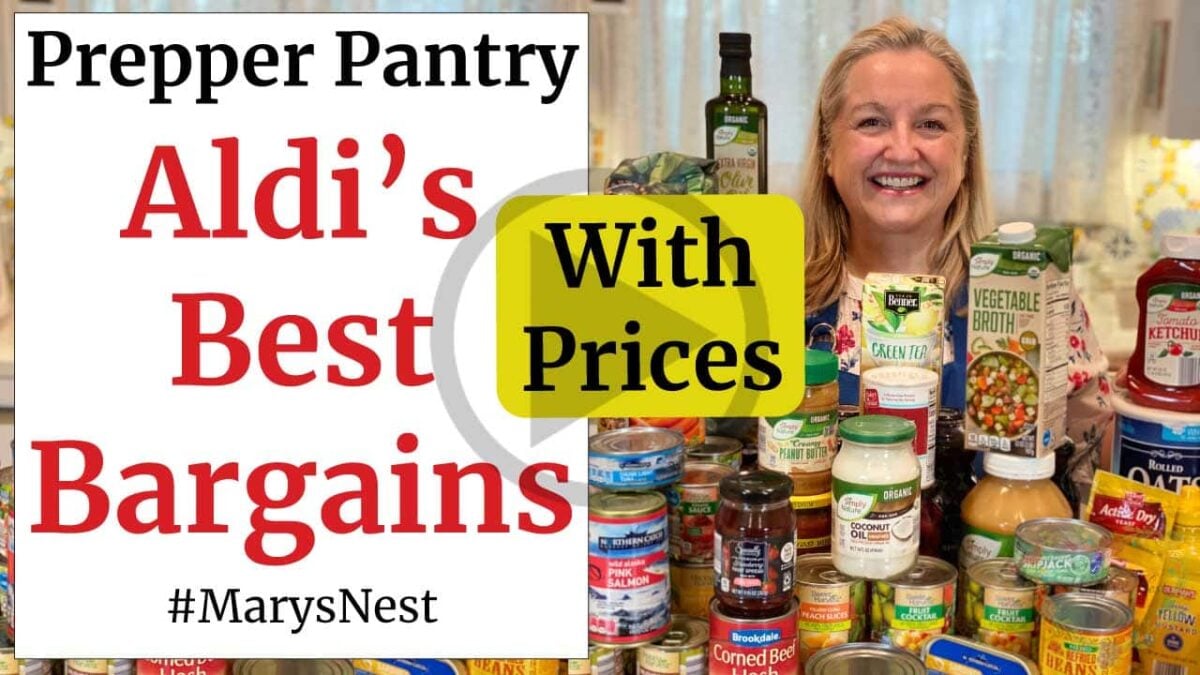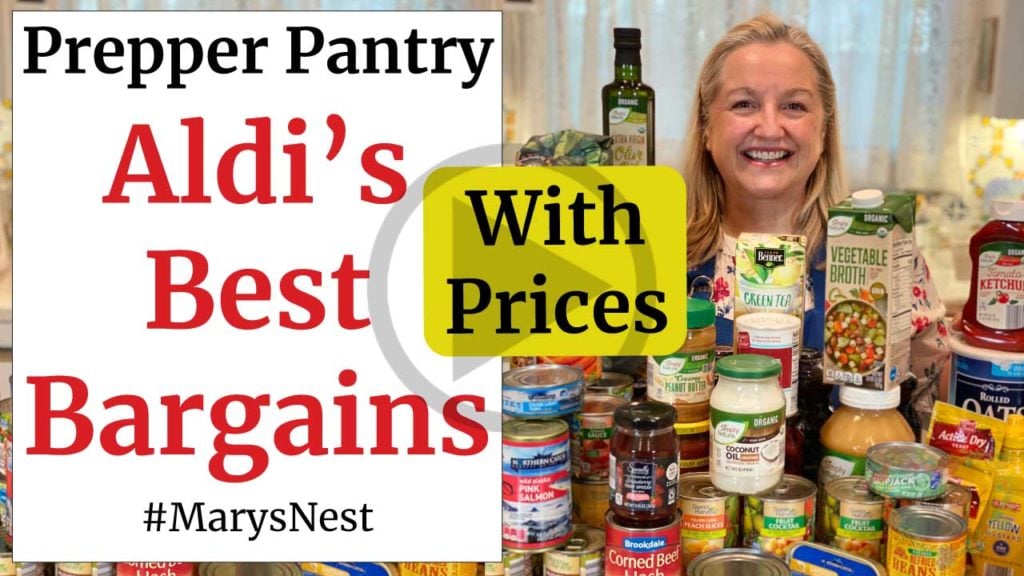 Today, I'm excited to take you with me to shop for the top 10 bargain foods you should be buying now at Aldi for your pantry.
I found some real foods that were cheaper than my local grocery store and price competitive with Walmart. And rest assured, I am going to share more than just 10 items. I have 10 categories of foods and all the prices. (And some bonus items too!)
So come join me as I share everything from breakfast foods to quick meals, all at bargain prices!
*Affiliates note: As an Amazon Associate I earn from qualifying purchases. My content may contain affiliate links to products and services. If you click through and make a purchase, I'll receive a small commission. It does not affect the price you pay.
Shopping for Real Foods at Aldi
As prices continue to soar, our quest to find real food at low prices takes on even greater importance at our local grocery stores, Walmart, Trader Joe's, and Aldi too!
We want to focus on buying whole foods that we can use to prepare nutritious meals. We certainly don't want to want to squander our limited grocery budget on pricey prepackaged foods that are only full of empty calories. Instead, we want to find inexpensive real foods that will provide excellent nutrition to ourselves and our families.
Great Bargains at Aldi
So many of you have shared with me that I had to check out Aldi for exceptional real foods and excellent prices. And you were right!
I was impressed with the high quality of real foods at Aldi and their bargain prices. Even though the Aldi stores in Central Texas are a good distance from where I live, I will shop there whenever I'm traveling to that area. It's definitely worth it!
Note: This is not a sponsored post. I bought everything in this video and blog post.
Multiple Streams of Food
If you have a garden and home can (water bath or pressure) your produce, or even if you have chickens and possibly other livestock, you have a fairly reliable source of food.
However, keep in mind that sometimes things can happen—beyond our control—that may limit our food supply.
That is why we always want to make sure that we have what I call Multiple Streams of Food. What I mean by this term is that even though some of us may have the ability to produce some or a lot of food on our homesteads, no matter how large or small, we always want to make sure that we have plenty of backup food. You always want to have a plan B and beyond.
We never know what the future holds, so be sure to stock up on canned goods and dried goods from a store like Aldi or another grocery outlet. These foods will not only come in handy for our own families, but they may also allow us to be able to bless others with food who might be in need.
I found lots of real foods at Aldi that are perfect for any pantry. These foods included canned goods, such as vegetables, fruits, and protein like tuna fish. I also found reasonably-priced dried goods, including rice and pasta. So be sure to watch my Aldi bargain foods video to see everything I purchased and discover what I paid for it.
USDA Opinion on Canned, Jarred, and Packaged Dried Goods
Speaking of foods for our pantry, the good news is that according to the United States Department of Agriculture (USDA), canned, jarred, and packaged dried goods basically never go bad. Here is what they say:
The "best by" date on food packaging simply is a recommendation from the manufacturer that a particular item will be at peak quality before the specified date. However, the good news is that you may not notice a stale or off-flavor until well past the "best by" date.
More Foods to Stock Up on at Aldi for Your Pantry
To do our best against inflation, getting real food bargains while shopping at Aldi is an excellent idea. And while you are there, keep an eye out for the 7 foods to stock now for your Prepper Pantry.
No Aldi near you? No problem. You will easily be able to find these items at your local grocery store, just as I did.
And don't forget that as you go through your Aldi or local grocery store aisles, there are lots of hidden gems that are actually superfoods! So make sure that you are stocking most or all of these top 10 superfoods in your everyday Working Pantry and your Extended or Prepper Pantry.
As the price of prepared baked goods continues to increase, make sure you are honing your home baking skills and stocking your pantry with all the supplies you'll need. Aldi had lots of baking supplies, including yeast, at very affordable prices.
In the following video, I show you how to stock your baking pantry with the best ingredients. After that, you'll be ready to bake anything, including Gluten-Free items.
As you shop for baking supplies at Aldi or your local grocery store, you might also wonder which whole sweeteners are best to stock. Not to worry! In the video below, I go over pretty much every sweetener—and then some—that you might encounter. I also share which ones you should be stocking in your traditional foods kitchen.
Stretching Your Meals with Old Fashioned Rolled Oats
In my Aldi video, I share the bargain foods I found in my latest real foods shopping visit. One of the food items includes Old Fashioned Rolled Oats, which isn't just for breakfast.
In my top 7 favorite meal extenders video, I show you how rolled oats and other meat and meal extenders can stretch your food to help lower the price but not the quantity!
As part of the meal extenders post, you can print out a recipe to extend meatballs with rolled oats. Then, use them to make the delicious spaghetti and meatballs meal I show below.
Using Applesauce as an Ingredient Substitution
Yes. That was a huge jar of applesauce that I found at Aldi. In addition to being a delicious treat, you can also use applesauce as an ingredient substitute.
For example, if you are short on eggs, you can substitute a 1/4 cup of applesauce for each egg in a recipe. Learn this kitchen trick and more in one of my favorite kitchen handbooks titled Substituting Ingredients. This book should be on every traditional home cooks kitchen bookshelf!
Can You Make Yogurt from Milk?
Milk was a fantastic bargain at Aldi. And as I shared in my video, they even posted a sign limiting how many gallons you could buy at a time.
If you are new to creating a traditional foods kitchen, one of the easiest things to learn how to make is homemade yogurt from milk. And you do not need any fancy equipment. In the video below, learn how simple this is to do with just a bowl!
Recipes Using Products Like Those From Aldi
Want to pull together a quick soup with some of the items you picked up from Aldi? Be sure to try this 10-Minute Chicken Tortilla Soup. When you need to get a real dinner on the table fast, this is the perfect meal since all you have to do is open up a few cans or jars. You'll love this soup!
If you decide to start stocking canned fish in your pantry, be sure to pick up at least one can of sardines at Aldi and try the following recipe. If you thought you didn't like sardines, you might be pleasantly surprised at how delicious they can be.
More Grocery Hauls
In case you've missed them, be sure to check out my other grocery and bargain food hauls, including at Costco, Sam's Club, Trader Joe's, and Walmart. In each video, I share with you how I look for real foods and avoid processed foods at grocery and big box stores where I shop.
Costco
Sam's Club
Trader Joe's
Walmart
And More Walmart!
How to Start Your Prepper Pantry
If you are new to the concept of creating an Extended Pantry (or what we nickname the Prepper Pantry), watch the video series below where I share:
What is a Four Corners Pantry, and why we need a Prepper Pantry
How to stock a Prepper Pantry with real foods readily available at most local grocery stores
How to do this on as little as an extra $5.00 per week added to your grocery budget
If you are in a rush to stock your Four Corners Pantry, including your Prepper Pantry, so that you can stay ahead of inflation, I hear you!
Watch the video below, where I show you how to stock your pantry quickly and not bust your grocery budget. And be sure to print out the helpful Inventory Lists and Grocery List, which will streamline the process of accelerating the stocking of your Prepper Pantry!
Cast Iron Trivet for Your Prepper Pantry
As you stock your Prepper Pantry, you'll want to carve out a small but essential area that is designated as your Emergency Pantry or what some folks call their Survival Pantry.
You'll want to store what I call Forever Foods—foods that basically last indefinitely—in your emergency pantry.
Along with these foods, you also want to make sure that you stock supplies that can help you prepare what you have stored in the event that you are without running water or electricity.
In the following picture, I show a nice-sized cast iron trivet with tea lights that can really come in handy for warming up water to make a cup of instant coffee or a can of soup or beans.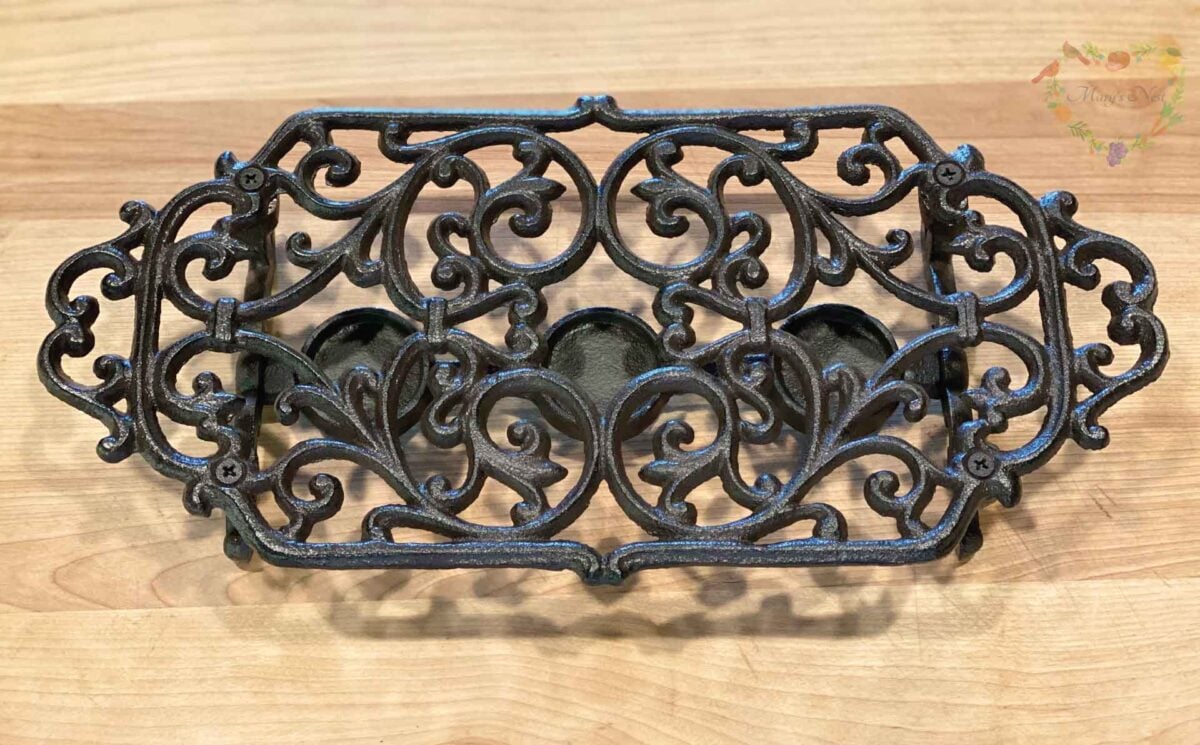 Safety Note: Make sure that you use this cast iron trivet on a steady heatproof surface out of reach of children and pets. And never leave it unattended.
Creating Your Emergency Pantry
If you are new to creating an Emergency Pantry, watch the following video where I walk you through step-by-step everything you'll need.
And don't miss the video below where I talk about the 10 best Forever Foods and how they are perfect for your Emergency Pantry!
I also want to share with you what I discovered when my family and I struggled through the terrible Texas Storms of early 2021. Overall, we were well prepared to cope with freezing temperatures and no electricity, but I quickly discovered where I had holes in my preps.
Learn what I missed so you can take action now and make sure that you are never unprepared when bad weather strikes!
Download Your Free 36-Page Pantry List
Don't worry if all of this seems overwhelming. It's actually very easy to stock a Four Corners Pantry as you create your traditional foods kitchen. And I'm here to help by sharing what you can make homemade and what are the best foods to buy.
For an extensive list of the traditional foods you can make and purchase to stock your pantry, be sure to download my free 36-page Traditional Foods Pantry List. This comprehensive eBook is full of links to recipe videos, helpful articles, and more!
Kitchen Academy Videos
Are you looking for more traditional foods videos? If so, I invite you to join the Traditional Foods Kitchen Academy. Members of this optional paid YouTube community get access to exclusive videos, live streams, and other members-only perks. Plus, your YouTube comments include a special members-only badge.
In the following members-only live stream video replay, we talk about the best way to make bone broth and how to store beans and other foods for the long term in your pantry.
Stay in Touch with Mary's Nest
Subscribe to My YouTube Channel for Traditional Foods Videos (Free) - When you subscribe, be sure to click on the notification bell that will let you know each time I upload a new video.
Subscribe to Mary's Traditional Foods Newsletter (Free) - Get a free 36-page eBook for signing up: How to Stock Your Essential Traditional Foods Four-Corners Pantry.
Join the Traditional Foods Kitchen Academy (Optional Paid) - For more detailed videos, live streams, and exclusive members-only perks, join my YouTube membership community.
Order The Modern Pioneer Cookbook (Optional Paid) - Get a printed book of Mary's nourishing recipes from a Traditional Foods Kitchen. This bestselling cookbook is published by Penguin Random House with their DK imprint.
I look forward to having you join me in my Texas Hill Country Kitchen!
Trending Posts on Mary's Nest
---
Shop for items used in this blog post or video
Favorite Pantry Supplies
Favorite Kitchen Supplies
More Kitchen Supplies with Discount Codes
Learn more about Mockmill electric grain mills for making fresh flour and their Flake Lover's Flaker that flakes whole grain in minutes.
Use promo code MARYSNST for a one-time 15% off Masontops and Breadsmart products on Amazon.com.
Amazon Shop and Shopping Guide
Visit my Shopping Guide page
Get up to 15% off for stocking your Traditional Foods Pantry and equipping your Modern Pioneer Kitchen, including discounts from US Wellness Meats, Farmhouse Teas, Lehman's, Masontops, Cultures for Health, Survival Garden Seeds, Redmond Real Salt, Plan to Eat, and More!
Recommended Reading
**Disclaimer: I am not a medical doctor, a medical professional, a dietician, or a nutritionist. All content found on the MarysNest.com website, including text, images, videos, eBooks or eGuides, social media, or other formats, were created solely for informational purposes only. The content is not intended to be a substitute for professional medical advice, diagnosis, or treatment. Always seek the advice of your physician or other qualified healthcare provider with any questions you may have regarding a medical condition or proper nutritional advice. Never disregard professional medical advice or delay in seeking it because of something you have watched in a video or read on this website. Use caution when following the recipe in this video. The creator and publisher of this video and website will not be held responsible for any adverse effects that may arise from the use of this recipe and method or any other recipe and method on this website or corresponding video channel.