Affiliates note: As an Amazon Associate I earn from qualifying purchases. My content may contain affiliate links to products and services. If you click through and make a purchase, I'll receive a small commission. It does not affect the price you pay.
How to Make Bone Broth the Right Way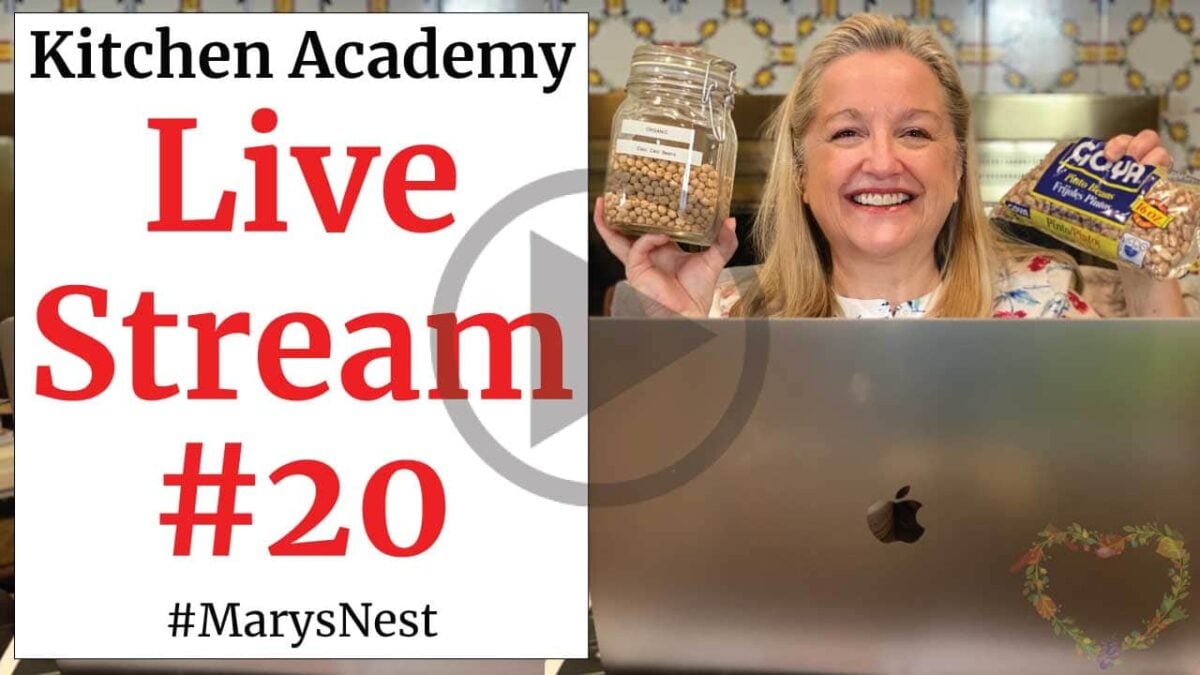 I was happy to chat with my sweet Kitchen Pioneers during last month's live stream on April 21, 2022. The number one topic we talked about was how to make bone broth the right way! We discussed how long to simmer bone broth and how to prevent the animal fats in bone broth from becoming rancid.
This live stream replay is available to Kitchen Pioneers who have joined my YouTube membership community—The Traditional Foods Kitchen Academy.
*Affiliates note: As an Amazon Associate I earn from qualifying purchases. My content may contain affiliate links to products and services. If you click through and make a purchase, I'll receive a small commission. It does not affect the price you pay.
Simmer Bone Broth for 12, 24, or 48 Hours?
Many years ago, we would hear home cooks say that they simmered their beef bone broth for 24 or 48 hours. Some would even brag that they simmered their bone broth for 72 hours. That's three days!
When I first started making bone broth, I used to be part of the three-day simmer crowd, as were many other traditional cooks. But after a bit of research, I learned that beef bone broth really only benefits from a 12-hour simmer.
Keep Your Bone Broth Gelatinous
If you simmer bone broth for more than 12 hours, your bone broth can begin to degrade. You can, in essence, "break" the gelatin with a long simmer time. For example, if you chill a beef bone broth that you have simmered for three days, you may discover it is no longer gelatinous.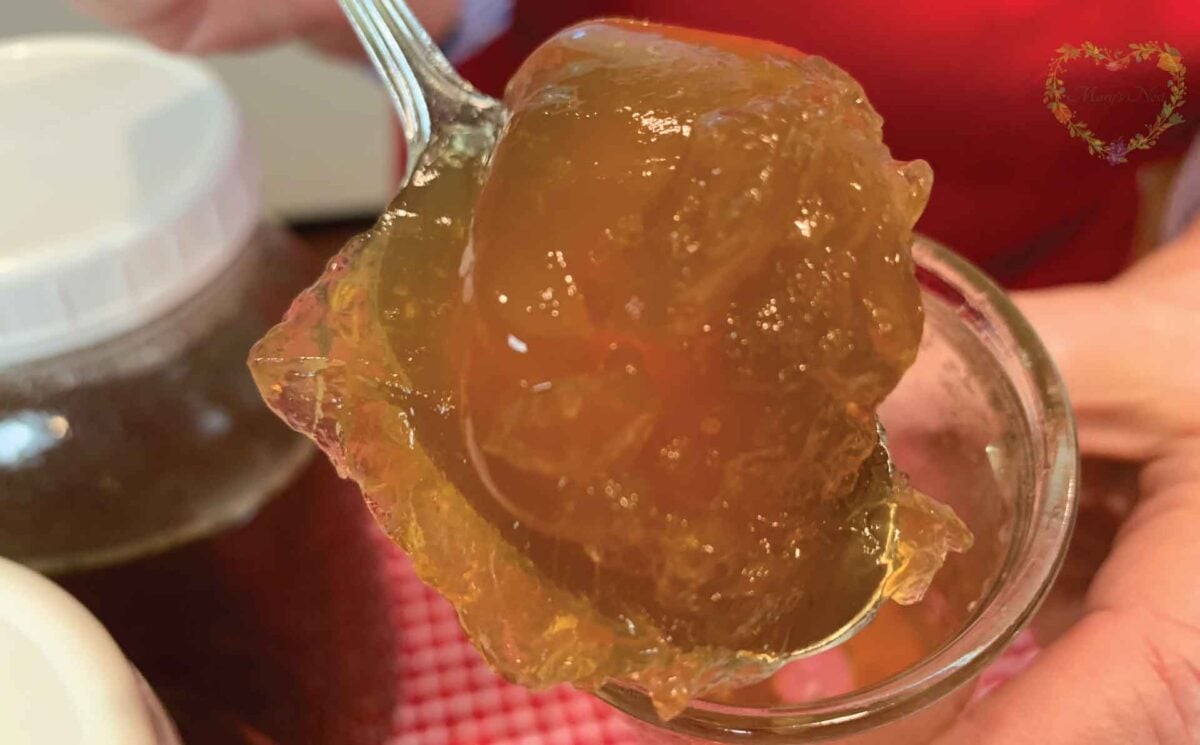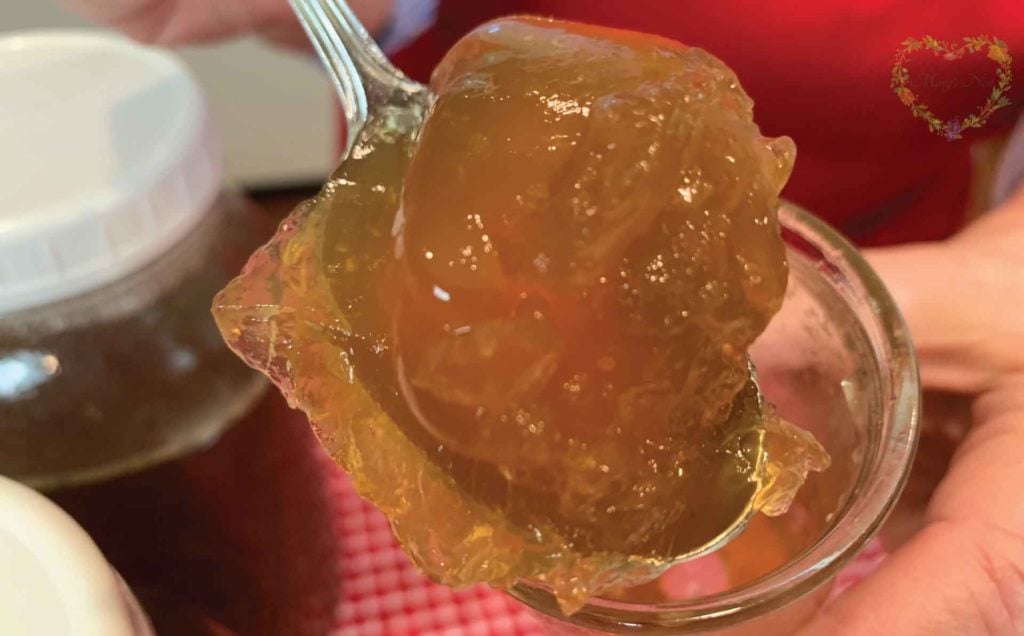 So it's best to strain your beef bone broth after 12 hours, and if the bones still have "life" to them, you can reuse the bones to make another batch of bone broth. (Bones still have life in them if they contain cartilage that has not yet dissolved.)
In the following video, I talk about how to reuse beef bones to help you make a perpetual beef bone broth.
Importance of the Fat in Bone Broth
Another reason for not over-simmering your bone broth is that a long simmer can cause the fat in the bone broth to become rancid. And the last thing we want to do is ruin that nutritious fat that can be mixed in with the broth when sipping or saved for later to use to cook with.
Monitoring your simmering time is especially important when making chicken bone broth because chicken fat is more susceptible to spoilage than beef fat.
As a matter of fact, when it comes to making chicken bone broth, a 6-hour simmer is all you need. Your broth will be nutritious and gelatinous, and your chicken fat will still be fresh and ready to use in your broth or to cook with.
Cheap Ways to Make Bone Broth
To help with your grocery budget, here are some cheap ways you can make chicken or beef bone broth.
More Topics on Our Live Stream
Continuing the discussion from our previous month's live stream, we talked more about how to deal with grocery prices that seem to be spiraling out of control.
Stocking up on Dried Beans
One of the best tips we learned was that maybe we should all be stocking up on dried beans and storing them in mylar bags with an oxygen absorber.
Why? Because researches found that dried beans stored in this way and then opened many years later cooked up beautifully. And the best part? Taste testers thought the beans were rather good, making beans the ultimate survival food!
In the following video, I'll show you how to seal mylar bags in just seconds so you can store beans or other foods for long-term storage.
And for a recap of the different types of food storage supplies you can use for your Prepper Pantry, be sure to watch the following video.
Traditional Foods Kitchen Academy Live Stream
These live streams and live stream replays are available to members of the Traditional Foods Kitchen Academy, who we call Kitchen Pioneers. You can learn more about my optional YouTube membership community, including members-only videos and exclusive perks.
This membership community is optional. I'm still publishing my weekly detailed instructional cooking videos on my public YouTube channel that you can watch for free. (Thanks so much for being a Sweet Friend and subscriber!)
In addition to links to the latest Kitchen Academy vodcasts, this blog post lists some of the public videos that I talk about in my live stream.
Join My Next Traditional Foods Live Stream
These live streams are a lot of fun, and I enjoy getting to know more about you, my wonderful Kitchen Pioneers. 😊
Be sure to bring your questions for me to our live streams. You can also get to know the other members in our Kitchen Pioneers community. You'll find a lot of fellow Kitchen Pioneers who are working on sourdough starters, ferments, and more traditional foods recipes, just like you!
Remember that you're always welcome to post questions and comments on my videos at any time, and I'm glad to reply.
More Kitchen Pioneer Videos
In addition to live streams, I publish exclusive videos for my membership community. In case you have missed any of my past videos, be sure to catch up with the videos below.
Here are a few of my previous member videos:
Trending Posts on Mary's Nest
Stay in Touch with Mary's Nest
Subscribe to My YouTube Channel for Traditional Foods Videos (Free) - When you subscribe, be sure to click on the notification bell that will let you know each time I upload a new video.
Subscribe to Mary's Traditional Foods Newsletter (Free) - Get a free 36-page eBook for signing up: How to Stock Your Essential Traditional Foods Four-Corners Pantry.
Join the Traditional Foods Kitchen Academy (Optional Paid) - For more detailed videos, live streams, and exclusive members-only perks, join my YouTube membership community.
Order The Modern Pioneer Cookbook (Optional Paid) - Get a printed book of Mary's nourishing recipes from a Traditional Foods Kitchen. This bestselling cookbook is published by Penguin Random House with their DK imprint.
I look forward to having you join me in my Texas Hill Country Kitchen!
---
Shop for items used in this blog post or video
Favorite Bone Broth Making Supplies
Favorite Kitchen Supplies
More Kitchen Supplies with Promo Codes
Use my Mockmill affiliate link for a special one-time 5% discount on Mockmill Stone Grain Mill products, including the new Flake Lover's Flaker. (The Mockmill discount will appear when you checkout.)
Use promo code MARYSNST for a one-time 15% off Masontops and Breadsmart products on Amazon.com.
Amazon Shop and Shopping Guide
Visit my Shopping Guide page
Get up to 15% off for stocking your Traditional Foods Pantry and equipping your Modern Pioneer Kitchen, including discounts from Lehman's, Mockmill Grain Mill, Masontops, Cultures for Health, Survival Garden Seeds, Redmond Real Salt, Plan to Eat, US Wellness Meats, and More!
Recommended Reading