Sam's Club Haul with Prices for the Traditional Foods Kitchen
Join me today as I share with you my recent Sam's Club grocery haul with prices for the traditional foods kitchen.
I'll show you all the traditional foods products that I look for at Sam's Club, and I share my two favorite items that I make a point to buy every time I shop there.
*Affiliates note: As an Amazon Associate I earn from qualifying purchases. My content may contain affiliate links to products and services. If you click through and make a purchase, I'll receive a small commission. It does not affect the price you pay.
A Sam's Club Haul for Traditional Foods
If you have been with me for a while, you know that I love to shop at my local Texas grocery store H-E-B. But about once a week, my husband and I head into Austin to run errands.
Generally, we'll stop in at a Costco or Sam's Club and shop for traditional foods—real foods. I always comparison price shop at the big box stores to make sure that I am getting the most for my dollar.
There are some especially good bargains that I find at Sam's Club, and I want to share my latest haul with you to help you save and stock your pantry too.
How to Shop for Traditional Foods at Sam's Club
When it comes to shopping for traditional foods at Sam's Club or any of the big box stores, focus on obtaining real food. When it comes to canned or packaged foods, look for those with limited ingredients.
For example, I am a fan of Sam's Club's canned chicken because they just have three ingredients: chicken, water, and sea salt.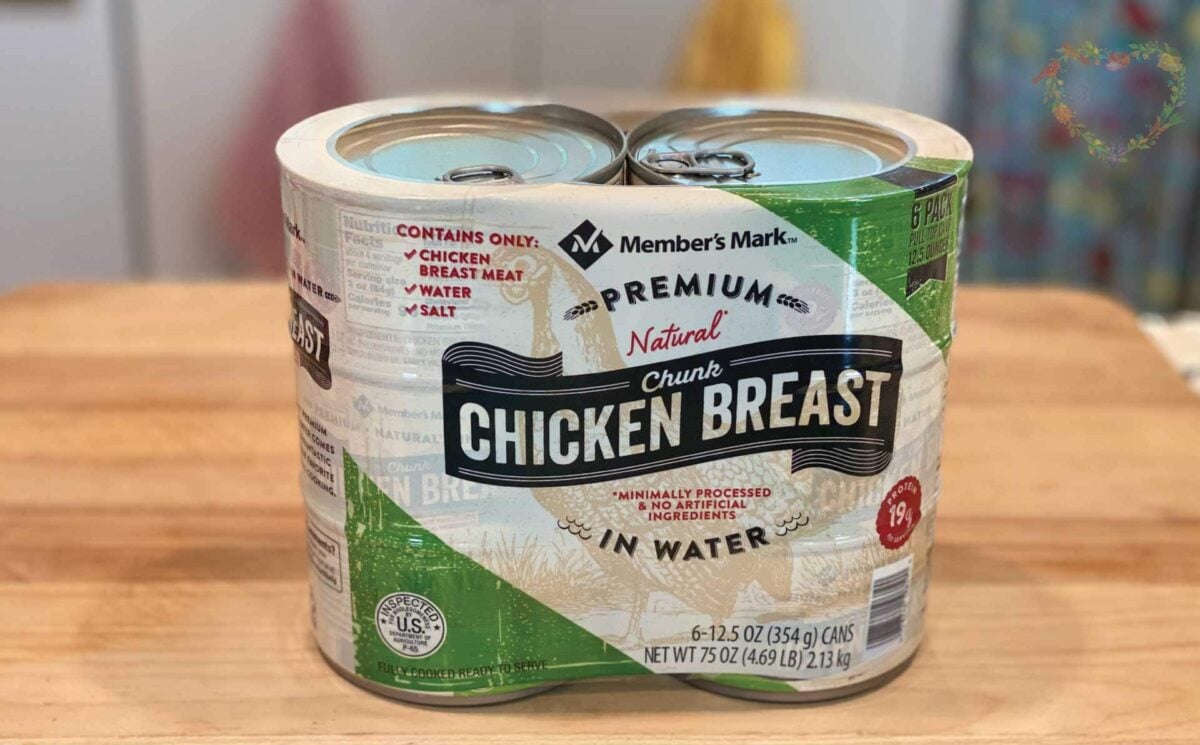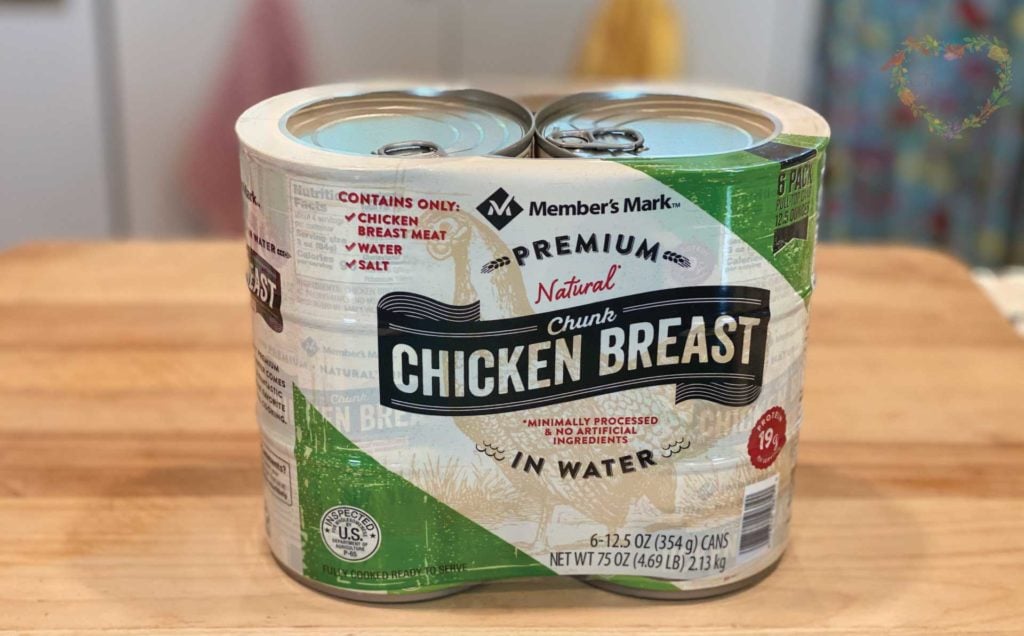 Next, focus on those items you can buy in bulk, like rice, beans, and flour. The price per pound is often considerably lower than what you would find at your local grocery store.
Other items that are often priced well at Sam's Club include a variety of cheeses, naturally cured sandwich meats, butter, and eggs. And you can't go wrong in the produce aisle. Their selection of inexpensive fruits and vegetables is often quite abundant!
A Little Side Trip to Costco
While we were in Austin, we made a quick stop at Costco because my sweet husband wanted to check on something he needed for the computer. Of course, I took the opportunity to quickly scan the aisles to see if there was anything I needed.
In the produce section, I found some cherry tomatoes. I always enjoy having some tomatoes on hand until the ones in my garden are ripe. And I also picked up a package of Campari tomatoes, which are one of our favorites!
The Campari tomatoes are a little bigger than cherry tomatoes. You can easily cut them in half and place the cut halves in a skillet with some olive oil. I like to cook them until tender and then top them with toasted bread crumbs. They make a wonderful summer side dish!
Costco Haul
In case you would like to see the traditional foods that I shop for at Costco, be sure to check out the video below.
Canned Chicken Recipes
Need some ideas for how to use canned chicken? Both the recipes below are easy and quick, but most importantly, they are delicious and nutritious.
Earlier in this blog post, I highlighted the Member's Mark canned chicken with only three ingredients from Sam's Club, but you can use these recipes with any canned chicken.
How to Water Bath Can Fresh Fruit
I love to keep fresh pineapple as well as store-bought canned pineapple on hand. (You can see both types in my Sam's Haul video.). But I also like to can my own fruit. You can easily water bath can your fruit too.
If you are new to canning, water bath canning is a great place to start. In the following video, I walk you through the entire process step-by-step by showing you how to water bath can pears without adding sugar.
Water Bath Canning Basics
If you are new to water bath canning and want to know what supplies you'll need, watch the videos below, where I show you all the basics. I even share my favorite canning books!
Coffee at Sam's Club
I recently found my new favorite coffee at Sam's Club. And if you are like me and love coffee, you may also be looking for a tasty but healthy coffee creamer.
Unfortunately, so many of the ones at the grocery store contain a lot of unhealthy ingredients. Not to mention that they are often expensive! But I'm here to help with the video below where I show you how to make a healthy coffee creamer that is also shelf-stable.
And if you follow the Keto diet, I also have a video on how to make a coffee creamer that will meet your dietary needs and still taste great.
Sugars at Sam's Club
Like Costco, Sam's Club offers a wide variety of sweeteners. If you sometimes find the variety at these big box stores (or even just your local grocery store) overwhelming, not to worry.
In the video below, I walk you through a large variety of the sweeteners that you can buy at your grocery store or online, and I also share my favorites with you.
If you ever check your pantry and discover you are out of brown sugar, did you know you can make it homemade? It's easier than you think!
In the following video, I walk you through how to make light brown sugar, dark brown sugar, and even a Sucanat copycat sugar!
Honey Recipes
As you've seen in my latest grocery haul video, I show you some of the local Texas honey that I picked up at my Sam's Club. If you've seen many of my traditional foods videos, you know that I always have a lot of honey on hand.
If you are like me and want to find different ways to use the honey stored in your pantry, be sure to check out the videos below.
Buying in Bulk at Sam's Club for Your Prepper Pantry
When it comes to stocking your Prepper Pantry, the big box stores like Sam's Club can be an affordable place to buy the bulk items that you use regularly.
Are you looking to learn more about how to start a Prepper Pantry and how to stock yours with real food? In the videos below, I show you how to create and shop for your Prepper Pantry, as well as how to best store your food to extend its shelf life.
Download Your Free 36-Page Pantry List
If you are in the process of transitioning from a processed foods kitchen to a traditional foods kitchen, be sure to download your free copy of my 36-Page Essential Traditional Foods Pantry List.
My comprehensive eBook walks you through what you need and how to use the foods in your Four Corners Pantry (which includes your Prepper Pantry) to create delicious and nutritious meals.
Kitchen Academy Videos
Are you looking for more traditional foods videos? I invite you to join the Traditional Foods Kitchen Academy. Members of this optional paid YouTube community get access to exclusive videos, live streams, and other members-only perks. Plus, your YouTube comments include a special members-only badge.
In the following members-only video, I talk about How to Stock Your Traditional Foods Pantry.
Stay in Touch with Mary's Nest
Subscribe to My YouTube Channel for Traditional Foods Videos (Free) - When you subscribe, be sure to click on the notification bell that will let you know each time I upload a new video.
Subscribe to Mary's Traditional Foods Newsletter (Free) - Get a free 36-page eBook for signing up: How to Stock Your Essential Traditional Foods Four-Corners Pantry.
Join the Traditional Foods Kitchen Academy (Optional Paid) - For more detailed videos, live streams, and exclusive members-only perks, join my YouTube membership community.
Order The Modern Pioneer Cookbook (Optional Paid) - Get a printed book of Mary's nourishing recipes from a Traditional Foods Kitchen. This bestselling cookbook is published by Penguin Random House with their DK imprint.
I look forward to having you join me in my Texas Hill Country Kitchen!
---
Shop for items used in this blog post or video
Favorite Prepper Pantry Food Storage Supplies
Favorite Kitchen Supplies
Use promo code MARYSNST for a one-time 15% off Masontops and Breadsmart products on Amazon.com.
Use my Mockmill affiliate link for a special one-time 5% discount on Mockmill Stone Grain Mill products, including the new Flake Lover's Flaker. (The Mockmill discount will appear when you checkout.)
Amazon Shop and Shopping Guide
Visit my Shopping Guide page
Get up to 15% off for stocking your Traditional Foods Pantry and equipping your Modern Pioneer Kitchen, including discounts from Lehman's, Mockmill Grain Mill, Masontops, Cultures for Health, Survival Garden Seeds, Redmond Real Salt, Plan to Eat, US Wellness Meats, and More!
Recommended Reading
**Disclaimer: I am not a medical doctor, a medical professional, a dietician, or a nutritionist. All content found on the MarysNest.com website, including text, images, videos, eBooks or eGuides, social media, or other formats, were created solely for informational purposes only. The content is not intended to be a substitute for professional medical advice, diagnosis, or treatment. Always seek the advice of your physician or other qualified healthcare provider with any questions you may have regarding a medical condition or proper nutritional advice. Never disregard professional medical advice or delay in seeking it because of something you have watched in a video or read on this website. Use caution when following the recipe in this video. The creator and publisher of this video and website will not be held responsible for any adverse effects that may arise from the use of this recipe and method or any other recipe and method on this website or corresponding video channel.