Top 7 Meal Extenders for Budget Meals and How to Use Them
Here are the top 7 must-have meal extenders for your Prepper Pantry. I share how to use these meal extenders, including meat extenders, and I make a meal using three of them. This meal only costs between $5.00 to $6.00, but it will feed a crowd!
*Affiliates note: As an Amazon Associate I earn from qualifying purchases. My content may contain affiliate links to products and services. If you click through and make a purchase, I'll receive a small commission. It does not affect the price you pay.
What Are Meal Extenders?
Meal extenders are shelf-stable ingredients you can stock in your Working Pantry and your Extended or Prepper Pantry. You can use these ingredients as a substitute in place of other expensive ingredients.
Using these meal multitaskers lowers the overall cost of the meal you are preparing, but they won't decrease the quantity of food you are serving. The good news is that no one will notice that you have used a meal extender!
Categories of Meal Extenders
In my video, I talk about seven categories of meal extenders, including:
Beans
Lentils
Mushrooms
Old-Fashioned Rolled Oats
Pasta
Potato Flakes
Rice
Plus, a few bonus surprise items you may not have thought of!
I discuss each of these meal extenders in detail and, most importantly, how to use them to extend a meal. Plus, I share lots of tips and tricks on how you can utilize these meal extenders in a variety of ways, not just to extend a meal.
For example, did you know that you can add about a tablespoon of potato flakes to a large glass of warm water and use that water to feed your sourdough starter? (It's true. You can!)
You will see your starter bubble like never before. Potato water is high in starch, and the yeast in your sourdough starter will gobble it right up!
Beans as Meal Extenders
Beans are one of the best meal extenders because they are so versatile. For example, you can add beans to soups and stews to decrease the amount of meat you might typically use.
Beans also make ideal meat extenders. You can easily mash beans and mix them with ground beef when making hamburgers, meatballs, or a meat filling for a casserole.
Today's video highlights canned beans as one of the top seven meal extenders. Canned beans are easy to open and add to your recipe without much advanced planning. However, if you have more time to plan your meals, preparing and using dried beans will almost always be cheaper than purchasing canned beans.
To give you multiple streams of food, I always advocate buying and storing both dried and canned beans. And if you have dried beans, I show you the best way to cook dried beans so you can enjoy them by themselves or use them as meal extenders.
And if you have even more time to prepare for your meal, I also show you how to soak and sprout beans. Sprouted beans will be easier on your digestive system and provide you with additional nutrients too.
Recipes Using Beans
Beans are such a versatile ingredient for recipes. You can cook up some of the best pinto beans you've ever had with your Instant Pot. They make a great side dish to any meal.
You can also use beans as part of soup recipes, as I show you with my ham and bean soup, as well as my chickpea and pork rib soup. (The latter is a Northern Italian specialty!)
Extend Your Soups with Bone Broth
As I talk about in my video, bone broth is the perfect meal extender since you can use it as the base for soups. You can also increase the nutrition of rice by using bone broth instead of water to cook rice.
Bone broth is a Protein Sparer because it increases your body's ability to absorb the protein that's part of the recipe using bone broth. In the following videos, I show you how to make chicken and beef bone broth.
Mushrooms As Meal Extenders
I like to use a variety of mushrooms as meal extenders. Canned mushrooms work well with many recipes, including hamburger patties. They add wonderful flavor, texture, and moisture to the meat.
If you like to buy very lean ground beef, which can tend to be on the drier side because it contains less fat, canned mushrooms are an excellent meat extender. You'll avoid the problem of dry ground beef when you add mushrooms to your hamburger mix.
I also like using different types of dried mushrooms to give texture to recipes. They rehydrate very easily, enabling you to use less meat and more mushrooms in recipes like soups and beef stew.
For example, try using more mushrooms instead of beef the next time you make the best beef stew.
Old Fashioned Rolled Oats Recipes
Old fashioned rolled oats are better than instant oats because they are less processed and contain more nutrition. Those are two attributes we definitely want in a meal extender, especially when we are using oats to replace some of the meat in a recipe.
Of course, any type of oats is essential to making oatmeal. In the following video, I show you how to make soaked oatmeal using oat groats. Soaked oatmeal is better than regular oatmeal because the soaking process deactivates some of the phytic acid contained in the grain.
Phytic Acid in Oats
Phytic acid can prevent us from absorbing all the nutrients contained in oats, and it can also strip some nutrients from our bodies. So we want to soak our oats before using them when we can to decrease the amount of phytic acid.
But don't worry if you can't deactivate all of the phytic acid. You wouldn't want to because it actually has a good side too. Phytic acid contains antioxidants, which helps our bodies fend off free radicals. These free radicals can cause damage to our bodies, so anything we can do to thwart them, all the better!
Substituting Oats for Flour in Recipes
If you want to use oats as a substitute for some of the flour in bread recipes, I show you how to make a pantry oatmeal bread in the following video.
You can also use oats in place of some of the flour that's part of my easy soda bread recipe. (Just use one cup of old-fashioned rolled oats in place of one cup of flour.)
Breadcrumbs as Meal Extenders
As I talk about in today's video, homemade breadcrumbs and croutons are excellent meal extenders. You can learn how to make both ingredients in the following videos.
Equipment Used in Meal Extenders Video
When I've used my portable cooktop and spice grinder in previous recipe videos, I've always received lots of questions about where I purchased these kitchen appliances. I use these items in my meal extenders video too, and I talk about them in more detail in the following sections.
Cuisinart Countertop Burner
My Cuisinart Countertop Burner helps me make my recipes away from my stovetop and on my kitchen island. It's very handy and reliable, although it sometimes heats up quickly.
You can set the warming settings from 1 to 5. However, I recommend that you start low before you work your way up to setting 5 to see what temperature works best for your cooking.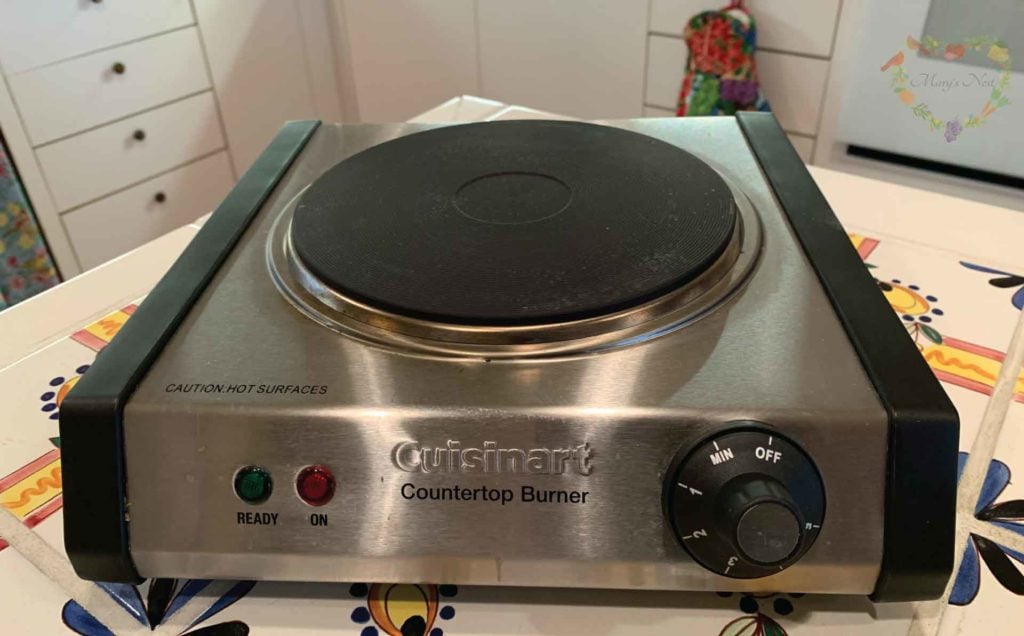 KitchenAid Spice and Coffee Grinder
I love my spice and coffee grinder. It helps me quickly pulverize anything from a mixture of spices to seeds. As I show you in my meal extenders video, I use my grinder to turn old-fashioned rolled oats into oat flour that I use to make meatballs.
I purchased the KitchenAid grinder (model number BCG100WH1) in the picture below many years ago, and I haven't been able to find the exact one for sale. However, I did find a similar KitchenAid coffee grinder that will help you create oat flour, blend spices, and grind coffee!
How to Make Homemade Seasoning
I love adding herbs and spices to my recipes. Not only do they add flavor, but most herbs and spices offer lots of other benefits too! And many contain anti-inflammatory, anti-viral, and anti-bacterial properties.
I add Italian spices to make the meatballs in my meal extenders recipe. You can make many seasonings homemade, including Herbs de Provence, Italian Seasoning, Onion Soup mix, and more. I show you how easy it is to make shelf-stable seasonings in the following recipe videos.
And I even share how to make a nutrient-dense and all-purpose house seasoning. You can use this seasoning mix on almost everything for a powerhouse of added nutrition.
When holiday time rolls around, and you are ready to make the stuffing for your turkey, but you can't find the famous Bell's Poultry Seasoning, no problem. I have an excellent copycat version that is actually better than the original, thanks to a few special additions!
Meal Extenders Versus Substitutions
A meal extender helps you reduce the cost of a meal without sacrificing quantity. However, what if you just need a substitution for an ingredient you're out of?
In the following conversational video, I share one of my favorite books on substituting ingredients. This Substituting Ingredients book is so popular that I have lost count of how many editions have been printed! You'll definitely want this book on your kitchen cookbook shelf.
To get you started making substitutions and give you a glimpse of what you can expect to find in the Substituting Ingredients book, I show you how to make a whole host of buttermilk substitutions in the following video.
What is Grass-Fed and Grass-Finished Beef?
In today's meal extenders recipe, I use ground beef from grass-fed and grass-finished cattle. So what is the difference?
Animals that are grass-fed spend most of their life out on pasture, enjoying fresh growing green grasses. But toward the end of their life, they may be fed grain to fatten them up a bit so that their meat will be more marbled.
Animal fat is high in a compound known as conjugated linoleic acid (CLA), which is beneficial to us. CLA naturally occurs in a cattle's milk fat and meat. And best of all, scientists tell us that CLA might have potent cancer-fighting properties.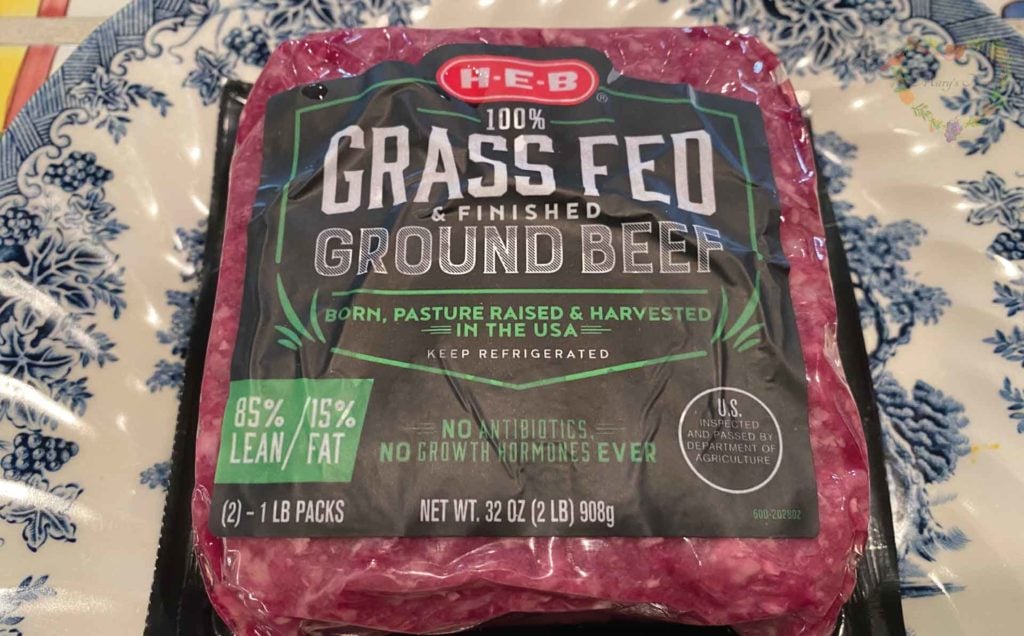 However, a problem with the late-stage feeding of cattle is that their fat changes when they eat grain or other types of food other than grass and hay. And unfortunately, when cattle are fed a diet that excludes grass and hay, their meat has a reduced concentration of CLA.
So whenever you can find beef that states the cattle has been grass-fed and grass-finished, this beef is your best choice.
Looking for Grass-Fed/Grass Finished Beef?
If you can't find beef that is both grass-fed and grass-finished in your neighborhood supermarket or farmer's market, check out US Wellness Meats. They have a wide variety of 100% pastured beef and chicken for sale.
Use discount code MARYNEST and my link to save 15% off regular-priced items on your US Wellness Meats order. You can shop for a variety of products, including:
This post is not sponsored. I'm a long-time customer of US Wellness Meats because I have always been impressed by the quality of their products. Check out my US Wellness Meats unboxing video to see the types of products you can get, including bones for beef bone broth!
Grind Your Own Flour with the Mockmill
I use my spice/coffee grinder to pulverize my old-fashioned rolled oats to make oat flour as part of my meal extenders recipe. But what if you have whole grain and want to make fresh flour? You'll want to use a grain mill and not a mini-grinder.
When it comes to electric grain mills, after I did A LOT of research, I decided to buy a Mockmill. And am I so happy I did! The Mockmill is a very affordable but beautifully crafted German-made mill that stone grinds grain with settings ranging from 1 to 10—fine to coarse ground grain.
And I have great news! The folks at Mockmill are very kind to offer my viewers and readers a special one-time discount on any of the grain mills that they sell.
You can see me unbox and try out the Mockmill 100 Grain mill in the following video.
And in my how to make all-purpose einkorn flour at home, I show you how to use the Mockmill and my favorite grain setting.
Download Your Free 36-Page Pantry List
As you proceed on your Traditional Foods journey, you'll want to make sure that you are stocking your pantry with real food that you can buy at the store and those you can make homemade.
For an extensive list of the traditional foods you can make and purchase to stock your pantry, be sure to download my free 36-page Traditional Foods Pantry List. This comprehensive eBook is full of links to recipe videos, helpful articles, and more!
Kitchen Academy Videos
Are you looking for more traditional foods videos? If so, I invite you to join the Traditional Foods Kitchen Academy. Members of this optional paid YouTube community get access to exclusive videos, live streams, and other members-only perks. Plus, your YouTube comments include a special members-only badge.
In the following members-only video, I talk about How to Deal with the Rising Grocery Prices of Real Foods.
Stay in Touch with Mary's Nest
Subscribe to My YouTube Channel for Traditional Foods Videos (Free) - When you subscribe, be sure to click on the notification bell that will let you know each time I upload a new video.
Subscribe to Mary's Traditional Foods Newsletter (Free) - Get a free 36-page eBook for signing up: How to Stock Your Essential Traditional Foods Four-Corners Pantry.
Join the Traditional Foods Kitchen Academy (Optional Paid) - For more detailed videos, live streams, and exclusive members-only perks, join my YouTube membership community.
Order The Modern Pioneer Cookbook (Optional Paid) - Get a printed book of Mary's nourishing recipes from a Traditional Foods Kitchen. This bestselling cookbook is published by Penguin Random House with their DK imprint.
I look forward to having you join me in my Texas Hill Country Kitchen!
Trending Posts on Mary's Nest
Shop for items used in this blog post or video
Favorite Kitchen Supplies
More Kitchen Supplies with Discount Codes
Use my Mockmill affiliate link for a special one-time 5% discount on Mockmill Stone Grain Mill products, including the new Flake Lover's Flaker. (The Mockmill discount will appear when you checkout.)
Use promo code MARYSNST for a one-time 15% off Masontops and Breadsmart products on Amazon.com.
Amazon Shop and Shopping Guide
Visit my Shopping Guide page
Get up to 15% off for stocking your Traditional Foods Pantry and equipping your Modern Pioneer Kitchen, including discounts from Lehman's, Mockmill Grain Mill, Masontops, Cultures for Health, Survival Garden Seeds, Redmond Real Salt, Plan to Eat, US Wellness Meats, and More!
Recommended Reading
**Disclaimer: I am not a medical doctor, a medical professional, a dietician, or a nutritionist. All content found on the MarysNest.com website, including text, images, videos, eBooks or eGuides, social media, or other formats, were created solely for informational purposes only. The content is not intended to be a substitute for professional medical advice, diagnosis, or treatment. Always seek the advice of your physician or other qualified healthcare provider with any questions you may have regarding a medical condition or proper nutritional advice. Never disregard professional medical advice or delay in seeking it because of something you have watched in a video or read on this website. Use caution when following the recipe in this video. The creator and publisher of this video and website will not be held responsible for any adverse effects that may arise from the use of this recipe and method or any other recipe and method on this website or corresponding video channel.