How to Make the Best Homemade Tomato Soup with 5 Tips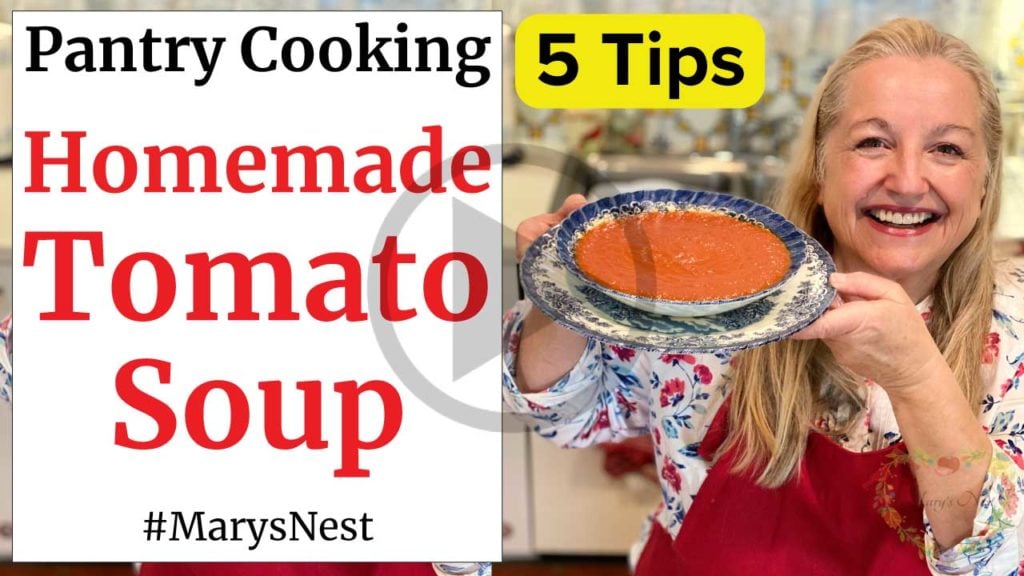 Learn how to make homemade tomato soup with these 5 tips. You'll have delicious soup every time!
*Affiliates note: As an Amazon Associate I earn from qualifying purchases. My content may contain affiliate links to products and services. If you click through and make a purchase, I'll receive a small commission. It does not affect the price you pay.
Homemade Tomato Soup
Tomato soup is one of those soups that is so comforting no matter what time of the year, and this easy-to-make soup is especially welcome when the temperatures start to dip.
In its simplest form, you can make tomato soup with just three ingredients:
Oh, and yes, you will need water, so technically, that would be a fourth ingredient.
But why not add just a few more ingredients to make your tomato soup really special? I share these additional ingredients and tips with you in this recipe. And the added ingredients are pantry staples, so chances are you already have them on hand.
Tip #1 – Don't Skimp on the Butter
When making tomato soup, you can use olive oil, but nothing will give you the smooth taste and mouthfeel that butter will provide. Using butter is especially important to help cut the acidic flavor of the tomatoes.
Tip #2 – Onions Are a Must for Tomato Soup
To make sure that you have a sweet tomato soup and not one that is tart and acidic in flavor, use plenty of onions. Vidalia or Texas Sweet onions are excellent choices, but any yellow onion variety will work. And while we are focused on the aromatics, be sure to add some garlic too!
Both the onions and the garlic will soften and melt in the soup pot and create a rich sweetness that will provide a delightful flavor to your soup.
If you are hesitant to add garlic, please try it once. Trust me. The garlic will mellow to a special sweetness that will raise the flavor of your soup from ordinary to extraordinary!
Tip #3 – A Little Sweetener Goes a Long Way
Although the butter helps soften the acidic flavor of the tomatoes, and the onions and garlic add a nice bit of sweetness to the tomato soup, a little bit more sweetener can go a long way to achieving the perfect flavor.
What's the best way to sweeten tomato soup? I like to use a whole sugar, like sucanat, which is dried sugar cane juice. Unlike white sugar, sucanat still contains all its vitamins and minerals. But don't worry. If you are at the beginning of your journey from transitioning from a processed foods kitchen to a traditional foods kitchen, you can certainly use white sugar.
Now keep in mind, you don't need much. A tablespoon of your sweetener will be perfect.
Tip #4 – Use Bone Broth as the Liquid Base for Tomato Soup
Yes, you can certainly use water as the base liquid for making tomato soup. But you can improve both the flavor and the nutrition of your soup by using bone broth as your liquid.
Bone broth is high in gelatin, which is another benefit for using it when you make any soup, but especially tomato soup. Gelatin is very soothing to the digestive tract, and using it in your homemade tomato soup will give you a corresponding soothing soup instead of a highly acidic one.
Tip #5 – Choose Italian Plum Tomatoes
When it comes to making homemade tomato soup, you can use fresh or canned tomatoes. Whatever you choose, you'll want to use Italian Plum Tomatoes for your best tomato soup.
Why Italian Plum Tomatoes Are Best
When it comes to red tomatoes, Italian plum tomatoes, such as the Roma variety, are the best for making homemade tomato soup because:
They are exceptionally flavorful.
They are often lower in acidity than other varieties of tomatoes. (A tomato lower in acid will make a smoother, less sharp-flavored tomato soup.)
If you decide to use fresh tomatoes instead of canned tomatoes to make your tomato soup, there is another reason that choosing a variety of Italian plum tomatoes will work best. Italian plum tomatoes have very thin skins, so you will not need to peel the tomatoes if you plan to make a pureed tomato soup. The skins will basically dissolve into your soup.
Also, Italian plum tomatoes have fewer seeds than most other varieties of tomatoes. Once you puree your soup, the seeds will most likely disintegrate.
A Bone Broth Base for Tomato Soup
Bone broth is easy to make, and as I described earlier, it's the perfect liquid for making homemade tomato soup. If you want to use chicken bone broth, you can literally make it for pennies, as I show you in my how to make roast chicken bone broth video.
You can use different types of broth or bone broth for your tomato soup:
Beef broth
Beef bone broth
Chicken broth
Chicken bone broth
Vegetable broth
Not sure how broth and bone broth are different? In the following video, I talk about the difference between broth, stock, and bone broth.
Using a Vegetarian Broth for Tomato Soup
If you would like to keep your tomato soup on the vegetarian side, be sure to watch my video to learn how to make super mineral broth on the stovetop. As the name implies, this recipe is not just any vegetable broth. Instead, this mixture guarantees that your vegetable broth will be exceptionally mineral-rich!
And if you have an Instant Pot, you can make a mineral broth using that device too!
If you want to make sure that you always have a vegetable broth at the ready, try making this Easy Homemade Vegetable Bouillon. You can even dehydrate it in the oven to have a shelf-stable homemade bouillon powder that is always handy.
Download Your Free 36-Page Pantry List
If you are just starting out making more foods homemade and moving away from a processed foods kitchen, be sure to download my FREE 36-page Essential Traditional Foods Pantry List.
This guide will help you know what to stock in your pantry and give you tips and links on how to create nutritious and delicious meals with what you stock in your traditional foods kitchen.
More Tomato Recipes
Are you looking for more ways to work nutritious tomatoes into your diet? Then be sure to check out the videos below!
And are you wondering what to do with all those tomato skins after making homemade marinara sauce? I've got the perfect solution: tomato powder. It couldn't be easier to make!
New to home canning? No problem! In the video below, I show you how to can tomatoes start to finish with this detailed water bath canning video that walks you through the entire process step-by-step.
Don't miss out on the delicious taste of fermented cherry tomatoes and fresh basil. And not only is this fermented combination tasty, but it's also rich in probiotics, which are the good bacteria that keep our digestive system healthy. Check out the fermented tomatoes recipe video below, which is perfect for beginners who are new to fermenting.
Want a sweet treat with no added sugar? If so, you have to try these candied tomatoes. They are so scrumptious it really is a challenge to eat just one!
Kitchen Academy Videos
Are you looking for more traditional foods videos? If so, I invite you to join the Traditional Foods Kitchen Academy. Members of this optional paid YouTube community get access to exclusive videos, live streams, and other members-only perks. Plus, your YouTube comments include a special members-only badge.
In the following members-only video, I talk about Getting to Know Vitamin D and Vitamin K.
Stay in Touch with Mary's Nest
Subscribe to My YouTube Channel for Traditional Foods Videos (Free) - When you subscribe, be sure to click on the notification bell that will let you know each time I upload a new video.
Subscribe to Mary's Traditional Foods Newsletter (Free) - Get a free 36-page eBook for signing up: How to Stock Your Essential Traditional Foods Four-Corners Pantry.
Join the Traditional Foods Kitchen Academy (Optional Paid) - For more detailed videos, live streams, and exclusive members-only perks, join my YouTube membership community.
Order The Modern Pioneer Cookbook (Optional Paid) - Get a printed book of Mary's nourishing recipes from a Traditional Foods Kitchen. This bestselling cookbook is published by Penguin Random House with their DK imprint.
I look forward to having you join me in my Texas Hill Country Kitchen!
Trending Posts on Mary's Nest
Shop for items used in this blog post or video
Favorite Kitchen Supplies
More Kitchen Supplies with Discount Codes
Use my Mockmill affiliate link for a special one-time 5% discount on Mockmill Stone Grain Mill products, including the new Flake Lover's Flaker. (The Mockmill discount will appear when you checkout.)
Use promo code MARYSNST for a one-time 15% off Masontops and Breadsmart products on Amazon.com.
Amazon Shop and Shopping Guide
Visit my Shopping Guide page
Get up to 15% off for stocking your Traditional Foods Pantry and equipping your Modern Pioneer Kitchen, including discounts from Lehman's, Mockmill Grain Mill, Masontops, Cultures for Health, Survival Garden Seeds, Redmond Real Salt, Plan to Eat, US Wellness Meats, and More!
Recommended Reading
**Disclaimer: I am not a medical doctor, a medical professional, a dietician, or a nutritionist. All content found on the MarysNest.com website, including text, images, videos, eBooks or eGuides, social media, or other formats, were created solely for informational purposes only. The content is not intended to be a substitute for professional medical advice, diagnosis, or treatment. Always seek the advice of your physician or other qualified healthcare provider with any questions you may have regarding a medical condition or proper nutritional advice. Never disregard professional medical advice or delay in seeking it because of something you have watched in a video or read on this website. Use caution when following the recipe in this video. The creator and publisher of this video and website will not be held responsible for any adverse effects that may arise from the use of this recipe and method or any other recipe and method on this website or corresponding video channel.