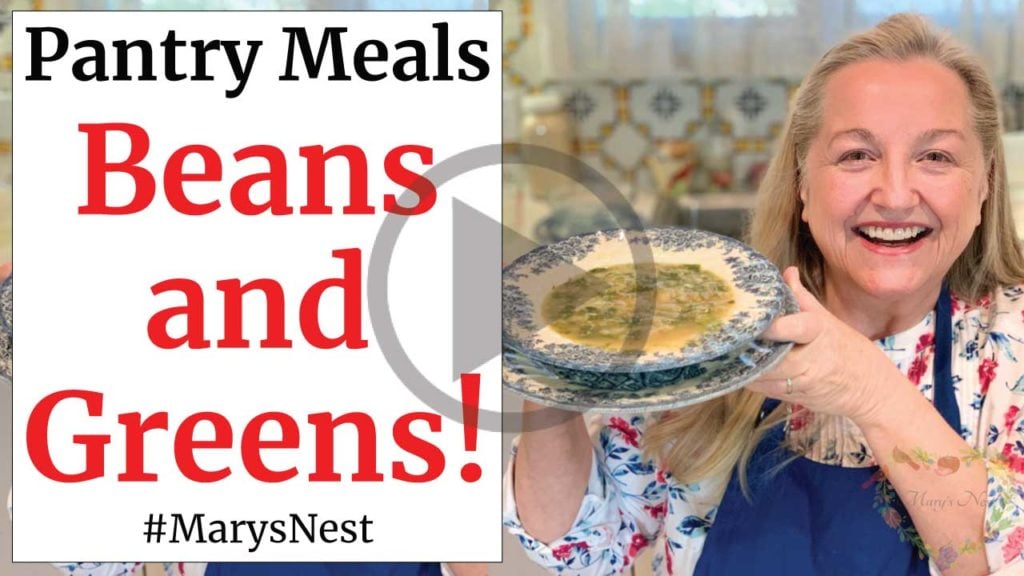 Join me today as we make Minestra, an Italian soup commonly made with Beans and Greens. This traditional soup is easy to make, and it's packed with nutrition and flavor!
What Does Minestra Mean?
You might chuckle when you learn that the meaning of the Italian word Minestra simply means soup! But if you know a little Italian, you might be saying, "Hold on there, Mary. Zuppa means soup in Italian!" And you would be right.
The term Minestra is actually quite a bit older—linguistically speaking—than the word Zuppa. And while I say quite a bit older, I mean by a few centuries! The word Minestra is from the Latin word Ministrare which means "to administer." It referred to a meal that was served—administered—out of one bowl or one pot by the head of the household. In essence, it was a one-pot meal. Centuries ago, while the wealthy of Italy might have had multiple course meals, the poor had a one-course meal, and it was often a Minestra.
Many Households, Many Minestras!
Today, the term Minestra can refer to many different types of soups. And often after the word Minestra, you might see another word tagged on to give you some idea of what type of soup it is. An example of this is Minestra Maritata—or Italian Wedding Soup—which is similar to the basic Minestra but with the addition of little meatballs.
Throughout Italy, every region (and actually quite often every household) has its own version of Minestra. But even though there are many versions, the soups commonly referred to as Minestra are made with some type of white bean and tender bitter green. Given that this is an Italian soup, the beans are often cannellini beans, and the greens are escarole.
Thanks to all the variations, Minestra is the type of soup that can be served hot, warm, or at room temperature. You can even serve it cold, making Minestra the perfect four-season soup!
Where Does Zuppa Fit In?
The term Zuppa, which also translates to mean soup, refers more to a broth than a hearty soup. To serve Zuppa, cooks usually place a piece of bread in a bowl and ladle the soup over it. Often, a stale piece of bread will do. This Zuppa or brothy soup never contains pasta or rice. And just like the linguistic history of Minestra, Zuppa has its own history. It is derived from the word suppa, which means "soaked bread."
I have to share a little bit of food history—which you know I love! But be warned, this history might offend our modern-day sanitary sensibilities!
During the Middle Ages, servants would serve food to the nobility on pieces of bread, known in English as "trenches." The bread absorbed the juices of the food placed on them. After the nobles finished their meals, the servants would use these trenches, which were often soaked with meat juices, as the bread for their zuppas!
So as you can see, both Minestra and Zuppa were "Cucina Povera." Technically, Cucina Povera means "poor cooking," but it is generally translated as "peasant cooking."
If this simple Italian home cooking is something you are interested in learning more about, be sure to read one of my favorite cookbooks on the subject titled Italian Country Cooking: The Secrets of Cucina Povera by Loukie Werle.
The Minestra I Grew Up With
Having a mom of Northern Italian heritage, we ate a lot of Italian food. And specifically the foods of Northern Italy, including:
Mostarda di Frutta
Panettone
Polenta
Risotto
Torrone
And more!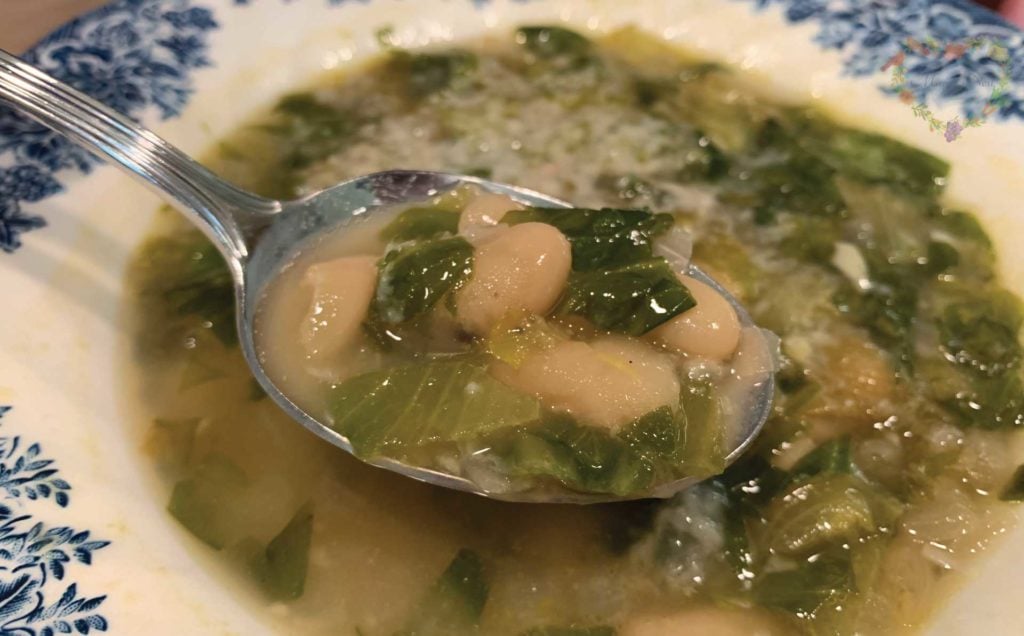 Although the original Minestra most likely originated as a southern Italian dish, my mom, like most Italians, had a version of Minestra she liked best. Her version consisted of the simple combination of cannellini beans and escarole in a rich chicken broth. She flavored her soup with onions, garlic, and butter, topped off with a healthy grating of Parmigiano-Reggiano.
This Minestra recipe is truly simple and nutritious home cooking at its best. And it is very budget-friendly—Cucina Povera!
Easy Minestra Recipe Substitutions
In my recipe video where I show you how to make Minestra, I share some options for the type of beans and the kind of greens you can use. So don't worry if you don't have the specific ingredients on hand.
As I described earlier, Minestra has many variations from region to region in Italy as well as from household to household. Being of Northern Italian heritage, my mom used A LOT of butter in her cooking. (Julia Child would have loved her!) But in the version I share here, I go all-in with the Mediterranean Diet and use olive oil. But either fat will work.
And don't worry if you don't have any beans on hand! Even my mom occasionally substituted rice (a Northern Italian twist) when she forgot to soak her beans! So use what you have, and you will enjoy a very flavorful and comforting soup.
How to Make Beans VERY Digestible!
If you have been hesitant to eat beans because you have difficulty digesting them, I have two important tips to share with you. First, if you are starting with dry beans, soaking them for an extended period can significantly increase their digestibility.
In my How to Cook Dried Beans video, I show you how you can soak any type of bean and then how to cook it—the right way—for maximum digestibility.
Second, you can go one step further to increase the digestibility of your beans and maximize their nutrient absorption. In the following tutorial video, I show you how to soak and sprout beans. I also share a little tip as to why it really makes a difference as to what season you choose to try and sprout your beans.
Using Chicken Bone Broth in Your Recipe
As I show you in my recipe video, you can make your Beans and Greens Soup with a base of Chicken Bone Broth. Check out the videos below where I show you three different ways to make Chicken Bone Broth with nothing more than chicken scraps in the slow cooker, on the stovetop, or in the Instant Pot.
Using a Mineral Broth instead of Chicken Broth
If you would like to keep your Minestra vegetarian, watch my recipe video on how to create a tasty and nutritious vegetable mineral broth. I also have a version you can make in the Instant Pot.
Make Home Baked Bread for Your Soup
When it comes to Minestra, you have to bake some delicious, fresh bread to serve alongside it! So why not try a simple Batter Bread that can be ready in 90 minutes from start to finish? This no-knead, yeast-risen bread is wonderful hot right out of the oven or toasted later for a delicious crunch.
Learn about the cake that fed millions during the Great Depression and both World Wars.
Learn to bake quick breads just like a homemaker in the 1930s.
Use this technique to create a light and airy sourdough bread.
More Italian Recipes
If you would like to learn how to make two traditional Northern Italian classics, check out the videos below where I share how to make an easy Polenta and a hearty show stopper Chickpea and Pork Rib Soup. Your family and friends will be clamoring for more!
Here are some more of the Italian recipes that I grew up with and that I am so happy to share with you:
Download Your Free 36-Page Pantry List
For an extensive list of the traditional foods you can make and purchase to stock your pantry, be sure to download my free 36-page Traditional Foods Pantry List. This comprehensive eBook is full of links to recipe videos, helpful articles, and more!
The Modern Pioneer Cookbook
And if you're looking for a printed book full of my traditional foods recipes and that shows you how to create a traditional foods kitchen, be sure to preorder your copy of my new book, The Modern Pioneer Cookbook.
Kitchen Academy Videos
Are you looking for more traditional foods videos? If so, I invite you to join the Traditional Foods Kitchen Academy. Members of this optional paid YouTube community get access to exclusive videos, live streams, and other members-only perks. Plus, your YouTube comments include a special members-only badge.
In the following members-only video, I talk about How to Shop for Vintage Cookbooks with Traditional Recipes.
In today's vodcast, I answer all the questions I received from you about making L. reuteri cultured dairy.
Come join us and learn about my favorite old…and new…cookbooks!
Discover what it was like to have a photographer and food stylist in my kitchen to bring my essential cookbook to you.
Stay in Touch with Mary's Nest
Subscribe to My YouTube Channel for Traditional Foods Videos (Free) - When you subscribe, be sure to click on the notification bell that will let you know each time I upload a new video.
Subscribe to Mary's Traditional Foods Newsletter (Free) - Get a free 36-page eBook for signing up: How to Stock Your Essential Traditional Foods Four-Corners Pantry.
Join the Traditional Foods Kitchen Academy (Optional Paid) - For more detailed videos, live streams, and exclusive members-only perks, join my YouTube membership community.
Preorder The Modern Pioneer Cookbook (Optional Paid) - Get a printed book of Mary's nourishing recipes from a Traditional Foods Kitchen. This cookbook will be published by Penguin Random House with their DK imprint.
I look forward to having you join me in my Texas Hill Country Kitchen!
Shop for items used in this blog post or video
Favorite Soup Making Supplies
Favorite Kitchen Supplies
Use promo code MARYSNST for a one-time 15% off Masontops and Breadsmart products on Amazon.com.
Use my Mockmill affiliate link for a special one-time 5% discount on Mockmill Stone Grain Mill products, including the new Flake Lover's Flaker. (The Mockmill discount will appear when you checkout.)
Amazon Shop and Shopping Guide
Visit my Shopping Guide page
Get up to 15% off for stocking your Traditional Foods Pantry and equipping your Modern Pioneer Kitchen, including discounts from US Wellness Meats, Mockmill Grain Mill, Masontops, Cultures for Health, Survival Garden Seeds, Redmond Real Salt, Plan to Eat, and More!
Recommended Reading
**Disclaimer: I am not a medical doctor, a medical professional, a dietician, or a nutritionist. All content found on the MarysNest.com website, including text, images, videos, eBooks or eGuides, social media, or other formats, were created solely for informational purposes only. The content is not intended to be a substitute for professional medical advice, diagnosis, or treatment. Always seek the advice of your physician or other qualified healthcare provider with any questions you may have regarding a medical condition or proper nutritional advice. Never disregard professional medical advice or delay in seeking it because of something you have watched in a video or read on this website. Use caution when following the recipe in this video. The creator and publisher of this video and website will not be held responsible for any adverse effects that may arise from the use of this recipe and method or any other recipe and method on this website or corresponding video channel.