Affiliates note: As an Amazon Associate I earn from qualifying purchases. My content may contain affiliate links to products and services. If you click through and make a purchase, I'll receive a small commission. It does not affect the price you pay.
If you shop at ALDI, be sure to pick up these 10 healthy foods that you can use to prepare any meal, including holiday meals. These non-perishable foods will also give you a nutritious supply of food for the New Year!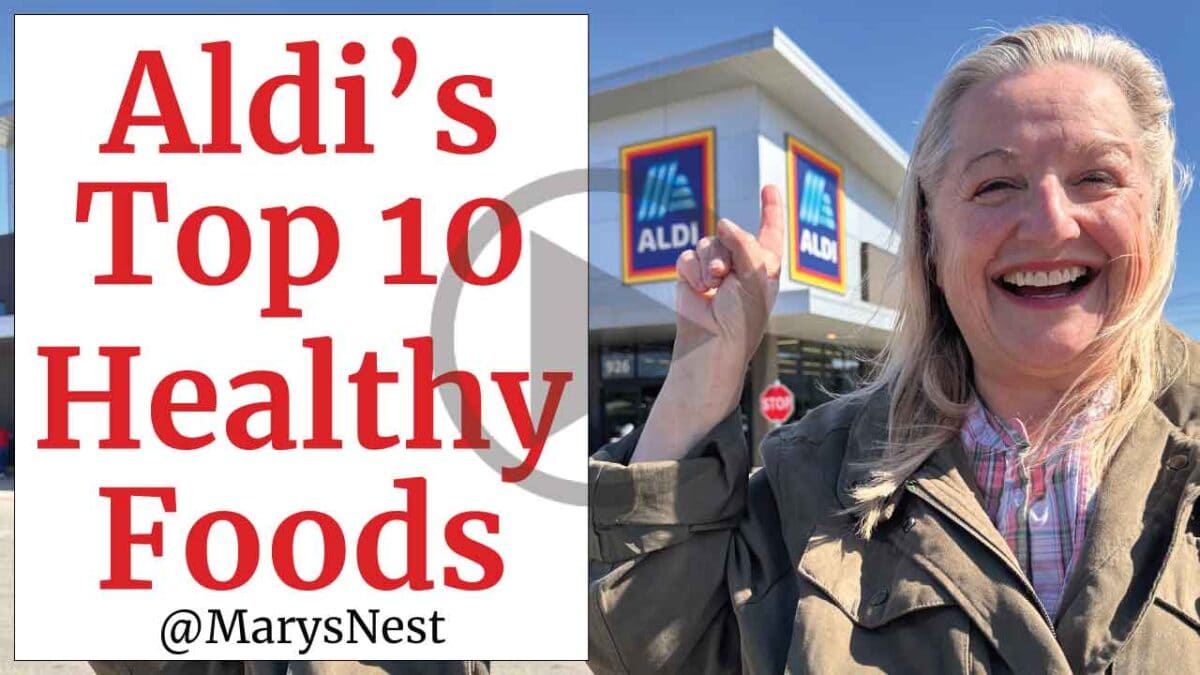 The Top 10 Healthy Foods at ALDI
Here is a quick overview of the Top 10 Healthy Foods sold by ALDI, but be sure to watch my accompanying video and read this post for helpful details as to why you should include these foods in every healthy traditional foods pantry.
Olives and Olive Oil
Coconut Milk
Figs
Canned Fish and Chicken
Mushrooms
Pineapple
Tomato Products
Coffee and Tea
Artichoke Hearts
Beans, Lentils, and Peas
Plus, watch the bonus items I also include in my Top 10 Aldi Healthy Foods to Buy NOW video.
Disclaimer
Note: I am not a doctor or medical professional. This information is provided for informational purposes only and is not intended to treat or diagnose any type of illness. If you are not feeling well, please seek professional medical attention and medicine. And if you are thinking of supplementing your treatment with home remedies, be sure to talk to your medical professional about them. It's important that you get the medicine and treatments you need to get back to good health.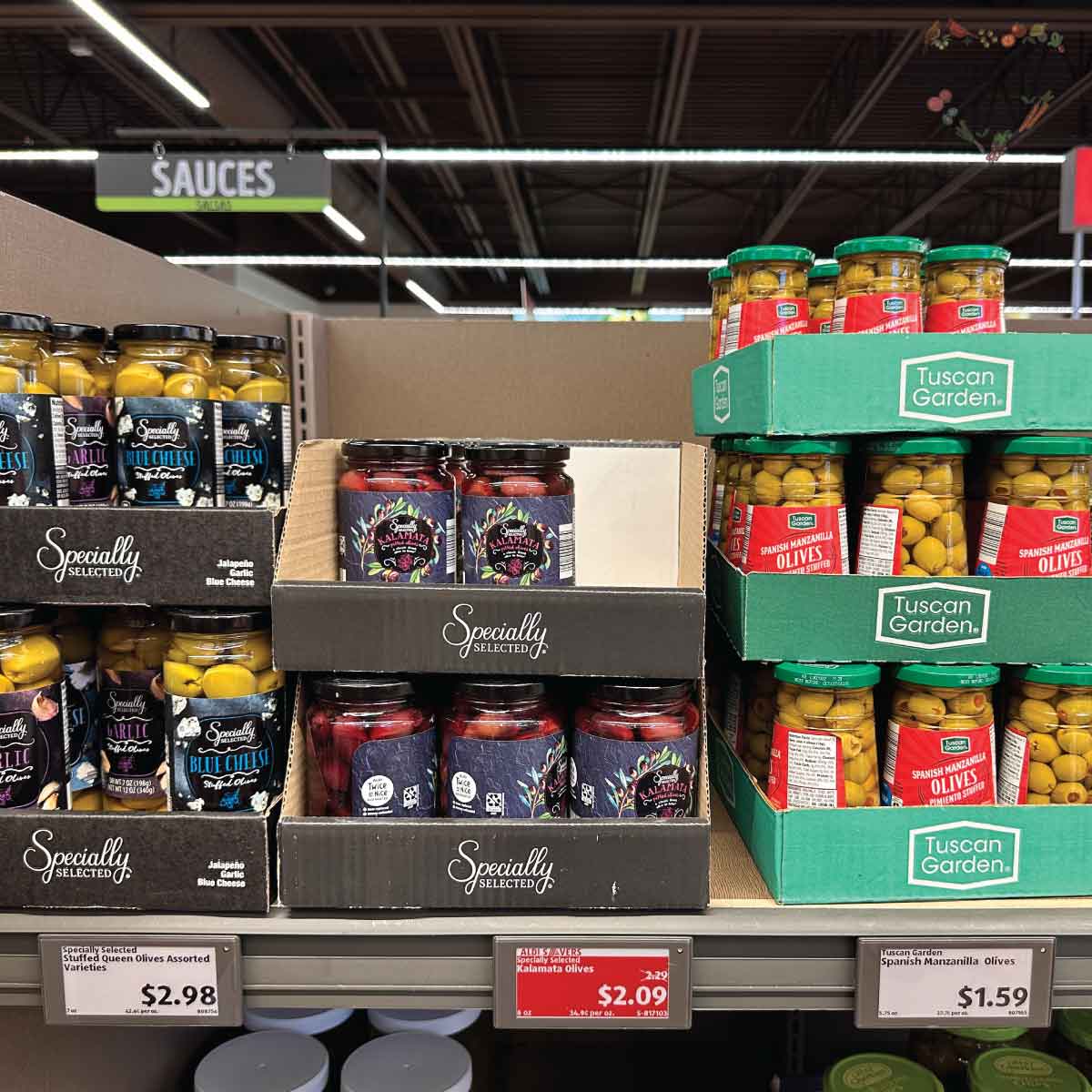 Olives and Olive Oil
We are often inundated with information about how good olive oil is. And whole olives, by their nature, are included as well. Olive oil is concentrated in its benefits, but olives also provide fiber that aids digestion. But why are olives and olive oil so good for us?
Why is Olive Oil So Good for us?
Scientists have extensively studied olive oil. Research studies studies have demonstrated that olive oil contains strong anti-inflammatory properties. This is important because one of the best things we can do for our health is to tamp down inflammation naturally through good nutrition.
Incorporating olive oil into our diets can help lower inflammation in our bodies. Olive oil may also have anti-cancer and neurodegenerative protective properties, which means it may help protect us against diseases affecting our brains. And best of all, olive oil is tasty!
Coconut Milk
Coconut milk and coconut cream are a boon to people who can't enjoy dairy. You can use coconut milk and cream in many applications that call for dairy milk. This makes recipe substitutions easy in sauces, baked goods, and smoothies.
What Are the Benefits of Coconut Milk?
Coconut milk contains a substance called lauric acid. This is a medium-chain triglyceride saturated fat and is also contained in human breast milk. Lauric acid may promote brain development, and it is also an antioxidant that may help prevent stroke and heart disease.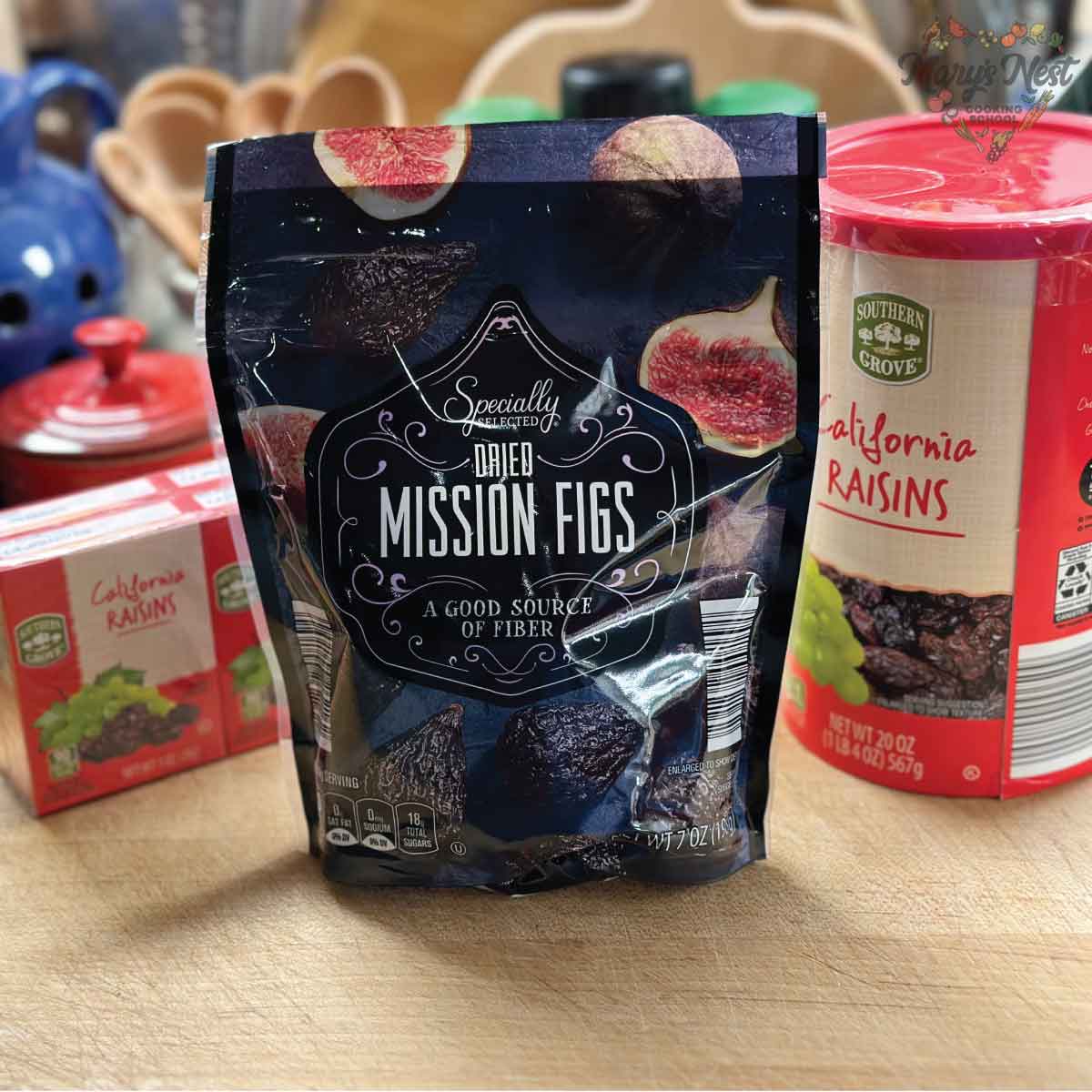 Dried Figs
Dried figs and other types of dried fruit are highly concentrated sources of vitamins and minerals. They make ideal snacks in place of sweet treats made with highly processed sugar that has been stripped of its nutrients.
What Are the Nutritional Benefits of Figs?
Figs contain high bioactive compounds, and these compounds may play a vital role against various diseases, including cancer, diabetes, constipation, cardiovascular disease, and disturbances of the gastrointestinal tract.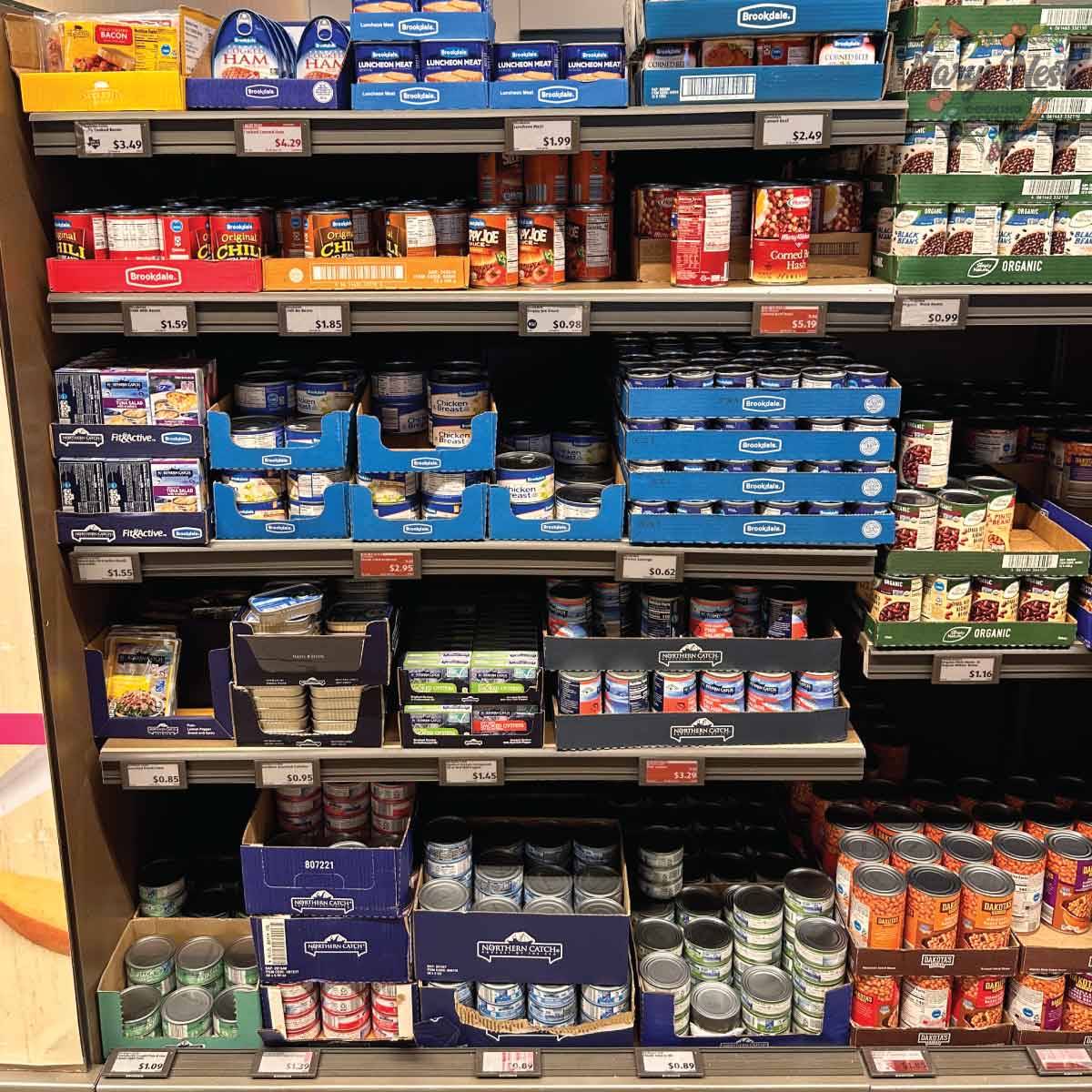 Canned Fish and Chicken
Consuming sufficient protein is essential to maintain healthy muscles and to support skin renewal. However, with the rising prices of fresh fish, poultry, and meats, purchasing high-protein foods can put a major dent in our food budget. That's where canned fish and chicken can come to the rescue. These foods are high in protein, but they are often significantly lower in price, making them the perfect foods to stock in our pantry.
Why Is Canned Fish a Healthy Food?
Canned chicken comes in handy for making a quick soup or casserole. It's not only convenient, it's also high in protein. But canned fish is truly the star of the show! As a general rule, canned fish is rich in protein and has numerous vitamins and minerals, including omega-3 fatty acids, which may contribute to heart and brain health.
Most of us are familiar with tuna fish, but we often hear about concerns relating to its mercury content. It's good to be aware of how much mercury may be in your food. According to the Environmental Defense Fund, our safest bet when it comes to tuna is to enjoy the chunk light varieties that are the lowest in mercury.
However, when it comes to stocking your pantry with canned fish, you have many more options—and more nutritious options—than tuna. You can choose from canned anchovies, Alaskan wild salmon, and sardines. Sardines are one of my favorite forms of canned fish. Not only are they rich in protein, sardines contain calcium, potassium, magnesium, zinc, and iron. In combination with other nutrients, these elements tamp down inflammation often observed in cardiovascular disease.
And I firmly believe that whenever we can get our nutrients from real food instead of bottled supplements, all the better!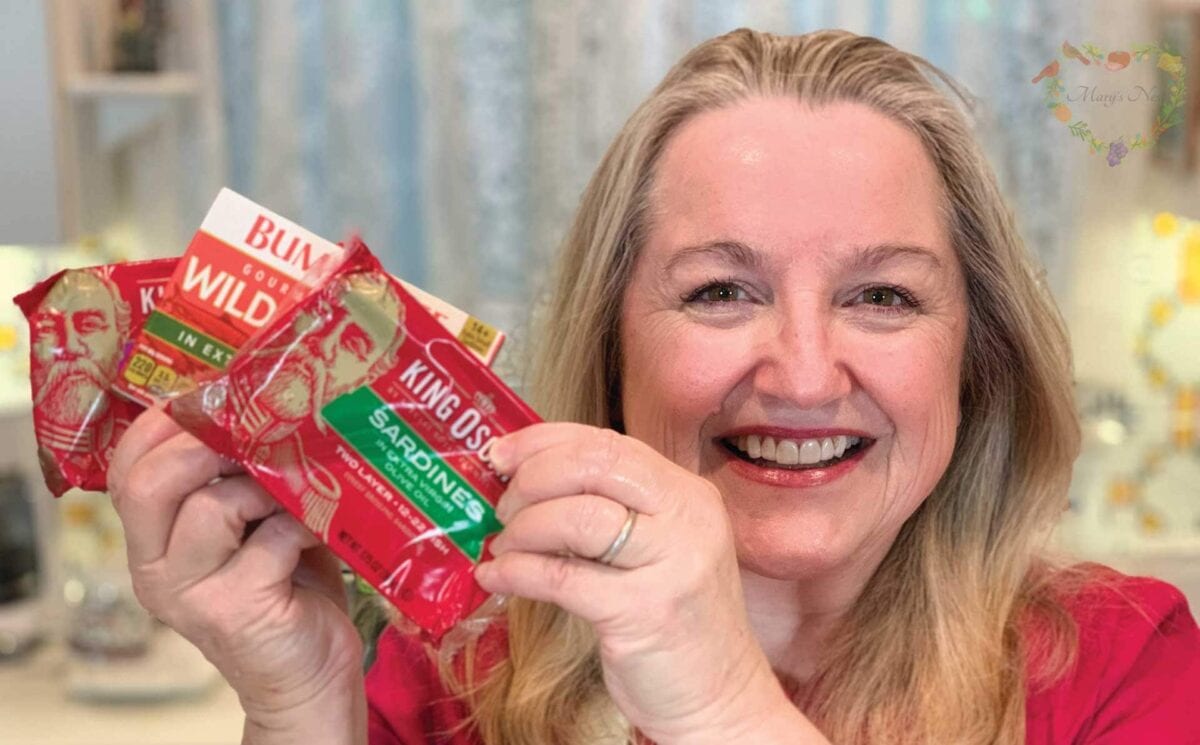 Easy Canned Fish Recipes
And take heart, if you think you don't like sardines, you will be surprised how delicious they can be when prepared in the way that I show you. I also include other canned fish recipes you'll enjoy.
Mushrooms
Whether fresh, dried, or canned, mushrooms are a powerhouse of nutrition. Even the common button mushroom is loaded with nutrients! Plus, if you are feeding vegetarians, mushrooms provide a meaty, toothsome bite not commonly found in other non-animal foods. And better yet, mushrooms provide that umami flavor that our palate craves.
Why Are Mushrooms a Healthy Food?
Mushrooms, even the humble white button mushroom, have been studied extensively by scientists. Their studies indicate mushrooms may improve our gut health because they act as a prebiotic that feeds the probiotics (or good bacteria) in our digestive system.
There is even more good news about mushrooms. Mushrooms are rich in a whole host of nutrients, many of which are often lacking in our modern diets, such as selenium and copper. As I share with you in today's Aldi healthy foods video, copper can help with maintaining healthy hair.
In addition to selenium and copper, mushrooms are rich in:
Choline
Niacin
Phosphorus
Potassium
Riboflavin
Zinc
Pineapple
We often think of fruit as a healthy food, and berries are often touted as one of the healthiest foods. That may be true, but pineapple is not far behind! The good news is that you do not need to eat fresh pineapple to reap its benefits. Canned pineapple is also an excellent source of nutrition.
The Health Benefits of Pineapple
Here are just some of the health benefits that pineapple has to offer:
As you can see, pineapple is more than just a tasty fruit. It is a powerhouse of nutrients! ALDI has a wide selection of canned pineapple, so be sure to pick up some to stock on your pantry shelves. And if by chance you have fresh pineapple on hand, don't throw away the rind. Instead, make Pineapple Scrap Vinegar!
Tomato Products
The Italian in me always has tomato products on hand, including fresh, jarred, canned, and in any form, whether whole, diced, or puréed. Tomatoes help you pull together quick and easy meals, but I don't limit myself to just tomatoes. I also enjoy keeping a variety of salsas, many of which include tomatoes, in my pantry.
The Health Benefits of Tomatoes
Tomatoes are rich in the potent antioxidant lycopene. Scientists discovered the dietary intake of tomatoes and tomato products with lycopene has helped to decrease the risk of many chronic diseases, such as cancer and cardiovascular disease.
Coffee and Tea
If you have been with me for a while, you know I love a good cup of coffee. Now, don't get me wrong, I don't overdo on caffeine, but a warm cup of freshly brewed coffee in the morning is so comforting. But if you ask my husband what his favorite beverage is, he will surely respond…tea. And not just any tea, but freshly brewed unsweet iced tea.
So, when it comes to stocking my pantry with beverages from ALDI, I always like to pick up a few bags of their various coffee varieties and a couple of boxes of their tea. These are staples in our home, so I like to make sure I never run out!
Which is Healthier: Coffee or Tea?
The good news is that both coffee and tea contain healthful properties. If you are a coffee drinker like me, you will be pleased to learn that epidemiological* data supports the health benefits of coffee, including:
Reduced cardiovascular disease
Reduction in the development of Type 2 diabetes
A protective effect against some neurodegenerative conditions
A favorable effect on liver function
A protective effect against certain cancers
*Epidemiology is the study of the determinants, occurrence, and distribution of health and disease in a defined population.
And what about tea? No matter what type of tea you enjoy drinking (black, green, or white), they all offer health benefits, including helping to prevent the following diseases:
Cancer
Diabetes
Arthritis
Cardiovascular disease
Stroke
Learn more about the benefits of coffee and tea in these research studies:
Artichoke Hearts
I love artichoke hearts. However, getting at them by pealing away all the outer leaves of an artichoke can be a bit of a chore. Luckily, jarred artichokes have come to the rescue. And best of all, ALDI offers artichokes packed in water.
These delicious little gems are perfect topped on a salad, added to a charcuterie platter, or simply eaten straight out of the jar as is!
Artichoke Hearts are Heart Healthy!
Artichokes are rich in antioxidants and fiber. Specifically, the fiber attributed to artichokes is inulin, which is a prebiotic that feeds the probiotics in our digestive system and keeps our system in a healthy balance. Artichokes may also play a role in lowering cholesterol.
Beans, Lentils, and Peas
Whether dried or canned, you can never go wrong when it comes to stocking your pantry with beans, lentils, and peas. Buying and soaking dried beans overnight before using them in a recipe helps you save money, but in case you forget, make sure you have a collection of these pantry staples in cans to help make your life easier.
No matter which variety you choose to stock, you can turn them into quick soups, stews, or side dishes that are tasty and exceptionally nutritious. These foods offer a great source of protein that is exceptionally easy on the wallet!
The Health Benefits of Beans, Lentils, and Peas
Any variety of bean, lentil, or pea (or legume by their proper name) offers a wide range of nutrients, including:
Fiber
B vitamins
Iron
Copper
Magnesium
Manganese
Phosphorous
Zinc
The importance of sufficient magnesium and phosphorus in our diet can't be underestimated. These two minerals work closely with calcium to keep our bones strong. Without them, calcium alone can't do its job efficiently.
And magnesium works to help our bodies absorb Vitamin D. Better absorption of Vitamin D may be linked to lower cancer rates.
Plus, a diet rich in legumes has been found to lower risks for heart disease and Type 2 diabetes.
Don't let the cost of shopping for real foods strain your grocery budget. Be sure to get these real foods at bargain prices at your local Aldi.
You know about bringing your own quarter and grocery bags, but do you know about these seven tips?
Discover the cheap real foods I found along with Easter goodies and some unusual items.
Download Your Free 36-Page Pantry List
For an extensive list of the traditional foods you can make and purchase to stock your pantry, be sure to download my free 36-page Traditional Foods Pantry List. This comprehensive eBook is full of links to recipe videos, helpful articles, and more!
And if you're looking for a printed book full of my traditional foods recipes that shows you how to create a traditional foods kitchen, be sure to order your copy of my new bestselling book, The Modern Pioneer Cookbook.
Join the Traditional Foods Kitchen Academy
Are you looking for more traditional foods videos? If so, I invite you to join the Traditional Foods Kitchen Academy. Members of this optional paid YouTube community get access to exclusive videos, live streams, and other members-only perks. Plus, your YouTube comments include a special members-only badge.
I share upcoming recipes and what I have planned for my Mary's Nest YouTube channel in 2024.
During this month's members-only live stream, we talked about a variety of topics, including a preview of upcoming videos.
I talk about the people I met at this year's conference and share some behind-the-scenes of my new cookbook.
Stay in Touch with Mary's Nest
Subscribe to My YouTube Channel for Traditional Foods Videos (Free) - When you subscribe, be sure to click on the notification bell that will let you know each time I upload a new video.
Subscribe to Mary's Traditional Foods Newsletter (Free) - Get a free 36-page eBook for signing up: How to Stock Your Essential Traditional Foods Four-Corners Pantry.
Join the Traditional Foods Kitchen Academy (Optional Paid) - For more detailed videos, live streams, and exclusive members-only perks, join my YouTube membership community.
Order The Modern Pioneer Cookbook (Optional Paid) - Get a printed book of Mary's nourishing recipes from a Traditional Foods Kitchen. This bestselling cookbook is published by Penguin Random House with their DK imprint.
I look forward to having you join me in my Texas Hill Country Kitchen!
---
Shop for items used in this blog post or video
Favorite Kitchen Supplies
Amazon Shop and Shopping Guide
Visit my Shopping Guide page
Get up to 15% off for stocking your Traditional Foods Pantry and equipping your Modern Pioneer Kitchen, including discounts from US Wellness Meats, Farmhouse Teas, Lehman's, Masontops, Cultures for Health, Survival Garden Seeds, Redmond Real Salt, Plan to Eat, and More!
Recommended Reading
**Disclaimer: I am not a medical doctor, a medical professional, a dietician, or a nutritionist. All content found on the MarysNest.com website, including text, images, videos, eBooks or eGuides, social media, or other formats, were created solely for informational purposes only. The content is not intended to be a substitute for professional medical advice, diagnosis, or treatment. Always seek the advice of your physician or other qualified healthcare provider with any questions you may have regarding a medical condition or proper nutritional advice. Never disregard professional medical advice or delay in seeking it because of something you have watched in a video or read on this website. Use caution when following the recipe in this video. The creator and publisher of this video and website will not be held responsible for any adverse effects that may arise from the use of this recipe and method or any other recipe and method on this website or corresponding video channel.