Affiliates note: As an Amazon Associate I earn from qualifying purchases. My content may contain affiliate links to products and services. If you click through and make a purchase, I'll receive a small commission. It does not affect the price you pay.
Learn how to make these tasty and easy Breakfast Egg Muffins for the perfect busy morning Grab-and-Go treat!
Grab-and-Go Breakfast Egg Muffins
These breakfast egg muffins are so tasty, and best of all, you can make these muffins in advance and easily reheat them on busy mornings.
If you're working towards a traditional foods, no-waste kitchen, these muffins make ideal use of the vegetables in your crisper, especially those veggies that might be getting a little close to their prime. And as I show you in my recipe video, you can also add more of the nutritious vegetables, like kale and spinach, that you want to get into your diet. (You won't even notice their taste!)
Flexible Breakfast Recipe
In addition to their delicious flavor, I love these breakfast egg muffins because of how flexible this recipe is. You need to start with a base of eggs, but you can be as creative as you want after that.
For example, you can customize the following ingredients for your breakfast egg muffins:
Different types of liquids
Various meats and cheeses (I used bacon from my crispy bacon recipe below)
Various seasonings (Dried or fresh)
Any vegetables that you'd like
With all these options, you'll never grow tired of these delicious morsels!
Easy Add-Ins for Your Breakfast Egg Muffins
Bacon is the perfect add-in for these breakfast egg muffins. In my crispy bacon recipe video, I show you the easiest way to bake bacon in the oven! No splatters, no mess, and easy cleanup.
To add a bit of crunch to the top of your breakfast egg muffins, try a sprinkling of homemade breadcrumbs. It's almost like topping the muffin with a bit of toast. In my homemade bread crumbs recipe video, I show you three ways to make breadcrumbs, including a mock panko breadcrumb!
More Breakfast Recipes
Want more ideas to wow your family and friends with tasty breakfast and brunch treats? I'll show you how to make Hash Brown Breakfast Cups and a classic brunch strata (breakfast casserole) that uses up pretty much anything you have in your fridge…even scraps. And no one will know! It's the perfect addition to your traditional foods, no-waste kitchen.
For another delicious yet simple to make grab-and-go breakfast idea, watch my superfood smoothies recipe video. (And don't forget to download the printable checklist to add to your kitchen recipe journal.). These smoothies are packed with so much nutrition. They truly are a nutrient-dense traditional food in an easy-to-make drink!
Are you a sourdough baker? If so, don't throw out your sourdough discard! Instead, make these scrumptiously light sourdough starter pancakes.
And speaking of pancakes, have you always wanted to make whole-grain pancakes from freshly ground flour, but you didn't have a grain mill? No problem. This clever blender batter pancake recipe allows you to put the actual whole grain into your blender—any blender—and create a batter that will make light and delicious pancakes or waffles.
Want to Grind Your Own Flour?
If you love cooking and baking with whole grains and would like to start grinding your own flour, watch my video where I share an unboxing of my Mockmill grain mill with you. I did a lot of research before buying a grain mill, and I couldn't be happier with my Mockmill.
And best of all, I have a discount code for you if you decide you want to add this grain mill to your traditional foods kitchen.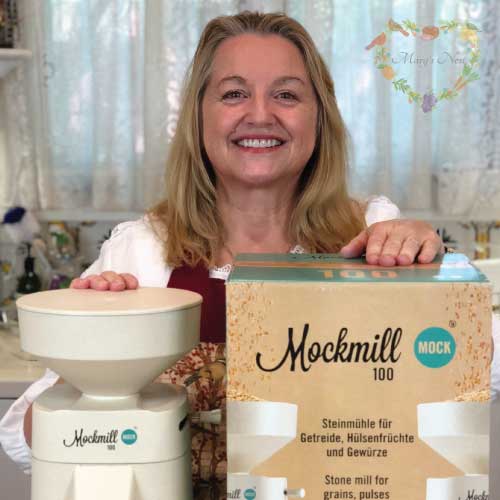 Looking for Natural Bacon?
If you can't find natural bacon in your neighborhood supermarket or farmer's market, check out US Wellness Meats for bacon and other meats to add to your breakfast egg muffins.
Use discount code MARYNEST and my link to save 15% off regular-priced items on your US Wellness Meats order. You can shop for:
This is not a sponsored post. I'm a long-time customer of US Wellness Meats because I have always been impressed by the quality of their products. Check out my US Wellness Meats unboxing video to see the types of products you can get, including bones for beef bone broth!
Download Your Free 36-Page Pantry List
If you enjoy making homemade food and stocking your Four Corners Pantry, be sure to download my free 36-page Traditional Foods Pantry List. This comprehensive eBook gives you an extensive list of the traditional foods you can make and purchase to stock your pantry. You'll also find links to recipe videos, helpful articles, and more!
Kitchen Academy Videos
Are you looking for more traditional foods videos? Then, I invite you to join the Traditional Foods Kitchen Academy. Members of this optional paid YouTube community get access to exclusive videos, live streams, and other members-only perks. Plus, your YouTube comments include a special members-only badge.
In the following members-only video, I talk about how to Mix and Match for Easy Weeknight Meals.
During this month's members-only live stream, we talked about a variety of topics, including a preview of upcoming videos.
I talk about the people I met at this year's conference and share some behind-the-scenes of my new cookbook.
Get ready to harness the power of gluten-free buckwheat to help a healthy diet.
Stay in Touch with Mary's Nest
Subscribe to My YouTube Channel for Traditional Foods Videos (Free) - When you subscribe, be sure to click on the notification bell that will let you know each time I upload a new video.
Subscribe to Mary's Traditional Foods Newsletter (Free) - Get a free 36-page eBook for signing up: How to Stock Your Essential Traditional Foods Four-Corners Pantry.
Join the Traditional Foods Kitchen Academy (Optional Paid) - For more detailed videos, live streams, and exclusive members-only perks, join my YouTube membership community.
Order The Modern Pioneer Cookbook (Optional Paid) - Get a printed book of Mary's nourishing recipes from a Traditional Foods Kitchen. This bestselling cookbook is published by Penguin Random House with their DK imprint.
I look forward to having you join me in my Texas Hill Country Kitchen!
Breakfast Egg Muffins
Learn how to make these tasty and easy Breakfast Egg Muffins for the perfect busy morning Grab-and-Go treat!
Equipment
12 cup or 6 cup muffin pan

Muffin pan liners, optional
Ingredients
3

tbsp

Butter or other cooking fat

I used a combination of butter and bacon grease. Other options are ghee or olive oil.

1

Onion, chopped

You can use any size or variety of onion. This is not an exact science.

1

large

Russet potato, peeled and cubed

You can use 3-4 small red-skinned potatoes or Yukon Gold potatoes if you prefer not to peel them. Alternatively, you can shred the potatoes, but I think they work best if cubed.

8

large

Eggs

1/2

cup

Half and half

You can also use heavy cream, whole milk, or low-fat milk. You can also use fat-free milk or alternative non-dairy milks, but the texture of the egg muffins will be slightly less creamy.

1 1/2

cups

Mild cheese, shredded

I used a Colby Monterey Jack mix. A mild cheddar, provolone, or mozzarella will also work well.

1

tsp

Salt

1/2

tsp

Black pepper, optional

1/2

tsp

Red pepper flakes, optional

2 1/2

cups

Chopped vegetables

Use any vegetables you like. I used a mix of baby kale, baby spinach, and sweet red bell pepper. The vegetables do not need to be cooked. However, if you have cooked leftover veggies, you can use them.

12

ounces

Bacon, cooked and crumbled

You can also use cooked sausage, cooked ground beef, or chopped Canadian bacon or deli ham. You can also use leftover cooked chicken or turkey. You will need approximately 1 cup.
Instructions
Preheat the oven to 375°F.

To prepare your muffin pan: If you are using a non-stick muffin pan, you do not have to line your muffin pan with muffin pan liners. If you are using a muffin pan that is not non-stick, you will want to use muffin pan liners or grease your muffin pan very well.

Place a skillet on the stovetop set to medium heat, and add the butter (or other fat) to the skillet. Add the chopped onions and saute for a few minutes until they appear softened. This process should take 2 minutes.

Add the cubed potatoes to the skillet and saute until golden brown and crisp. This process should take 8-10 minutes.

Once the potatoes are golden and crisp, remove the mixture from the stovetop and transfer them to a medium bowl to cool. Set aside.

In a large bowl, whisk together the 8 eggs, and then add in the half and half (or other liquid), the salt and peppers (if using), and mix well.

Next, add the cheese to the large bowl and stir well to fully incorporate the cheese.

At this point, if you are using some cooked crumbled sausage, cooked crumbled ground beef, or chopped Canadian bacon or deli ham, you can mix it into the large bowl. If you are using bacon, you can also mix it in, but keep in mind that it will lose some of its crispness. I prefer to reserve the bacon to use as a topping for the egg muffins. (See video.)

Add all the chopped vegetables to the large bowl.

Add the potato and onion mixture to the large bowl and mix everything thoroughly until well distributed and completely coated with the egg mixture.

Distribute the egg mixture evenly between the muffin pan cups.

Distribute the bacon evenly over each muffin, and then evenly distribute the cheese on top of the bacon over each muffin.

Place the muffin pan on the middle rack of the oven and bake for 20 minutes. If you are using the large muffin pan with only 6 muffin cups, bake for 30 minutes.

Check the muffins at the specified baking time to see if the cheese has melted and turned golden brown. Insert a toothpick in the middle of one muffin and make sure that it comes out clean. If not, continue baking the muffins for an additional 2-3 minutes.

Once done, remove the muffin pan from the oven and place the pan on a heatproof surface. Allow it to cool for a few minutes, and then remove the muffins and place them on a cooling rack. You can serve the muffins immediately or store them.

If you want to store the egg muffins in the refrigerator, place them in an airtight container. They will stay fresh for 3-4 days. If you want to reheat them, you can do so in an oven set to 350°F for 15-20 minutes.

If you want to store the egg muffins in the freezer, wrap them individually in plastic wrap, and then place them in an airtight container. They will stay fresh for 2 months. If you want to reheat them, defrost the muffins overnight in the refrigerator. The next day unwrap them, place them on a baking sheet, and warm them in an oven set to 350°F for 15-20 minutes.

You can also warm these egg muffins in the microwave for approximately 1 minute on high.
Notes
Find this recipe and video at https://marysnest.com/how-to-make-breakfast-egg-muffins/
Copyright © 2021 Mary's Nest, LLC, All Rights Reserved
Nutrition
Calories:
237
kcal
|
Carbohydrates:
13
g
|
Protein:
16
g
|
Fat:
14
g
|
Saturated Fat:
7
g
|
Polyunsaturated Fat:
1
g
|
Monounsaturated Fat:
4
g
|
Trans Fat:
0.1
g
|
Cholesterol:
151
mg
|
Sodium:
958
mg
|
Potassium:
306
mg
|
Fiber:
2
g
|
Sugar:
1
g
|
Vitamin A:
2418
IU
|
Vitamin C:
6
mg
|
Calcium:
160
mg
|
Iron:
1
mg
Watch Mary's Nest on YouTube
Shop for items used in this blog post or video
Favorite Kitchen Supplies
More Kitchen Supplies with Discount Codes
Use my Mockmill affiliate link for a special one-time 5% discount on Mockmill Stone Grain Mill products, including the new Flake Lover's Flaker. (The Mockmill discount will appear when you checkout.)
Use promo code MARYSNST for a one-time 15% off Masontops and Breadsmart products on Amazon.com.
Amazon Shop and Shopping Guide
Visit my Shopping Guide page
Get up to 15% off for stocking your Traditional Foods Pantry and equipping your Modern Pioneer Kitchen, including discounts from Lehman's, Mockmill Grain Mill, Masontops, Cultures for Health, Survival Garden Seeds, Redmond Real Salt, Plan to Eat, US Wellness Meats, and More!
Recommended Reading
**Disclaimer: I am not a medical doctor, a medical professional, a dietician, or a nutritionist. All content found on the MarysNest.com website, including text, images, videos, eBooks or eGuides, social media, or other formats, were created solely for informational purposes only. The content is not intended to be a substitute for professional medical advice, diagnosis, or treatment. Always seek the advice of your physician or other qualified healthcare provider with any questions you may have regarding a medical condition or proper nutritional advice. Never disregard professional medical advice or delay in seeking it because of something you have watched in a video or read on this website. Use caution when following the recipe in this video. The creator and publisher of this video and website will not be held responsible for any adverse effects that may arise from the use of this recipe and method or any other recipe and method on this website or corresponding video channel.