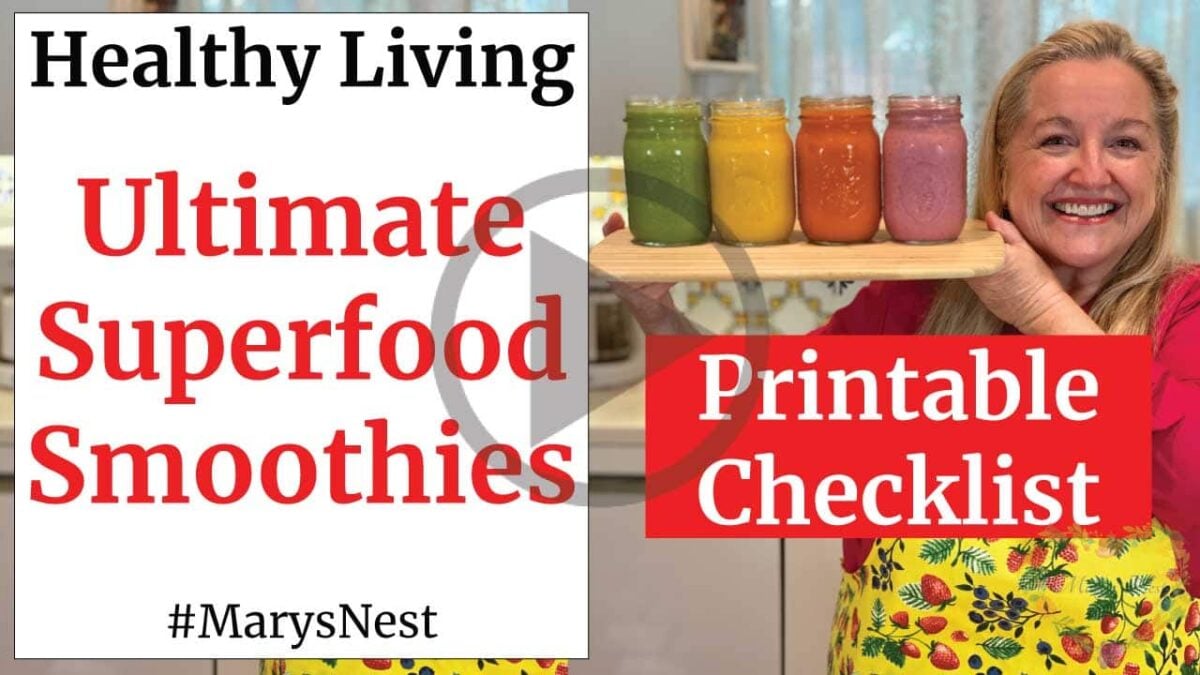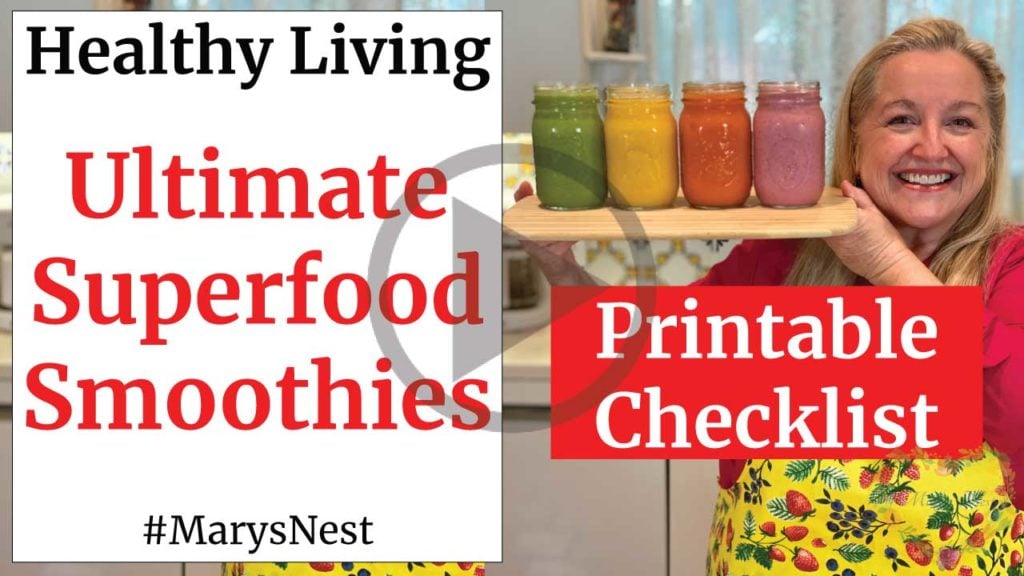 Learn how to make the Ultimate Superfood Smoothies with this simple formula. And be sure to download my free Superfood Smoothie checklist, too, so you can customize and make your own Ultimate Superfood Smoothies!
Superfood Smoothies Are a Complete Meal
Superfood Smoothies are a complete meal because they include protein, carbohydrates, and fats. Plus, they also contain fiber and various superfoods that add a whole host of benefits, including anti-inflammatory, anti-viral, anti-bacterial, and anti-microbial properties!
In my printable recipe, I'll show you the ingredients you need to make the following Superfood Smoothies:
Heart Healthy Berry Superfood Smoothie
Immune Boosting Green Superfood Smoothie
Anti-inflammatory Pineapple Turmeric Superfood Smoothie
Eye Health Carrot Ginger Smoothie
The FREE Superfood Smoothie Checklist
In my video, I share with you a simple formula for how to make a Superfood Smoothie. And to make this process super simple 😉, be sure to download your FREE Superfood Smoothies Checklist (no email required).
The checklist includes a selection of recommended ingredients to choose from so that your Superfood Smoothie will contain all the components needed to be a complete meal. Plus, the checklist also includes instructions for assembling your smoothie ingredients so that everything blends up perfectly.
My checklist contains an extensive list of ingredient combinations, but I also include a notes section where you can list other ingredients that you want to add. When it comes to making Superfood Smoothies, the combinations are endless!
And if you've created a combination that you love for your Superfood Smoothie, share them in the comments below. 😊
Homemade Protein Ingredients for Superfood Smoothies
You can choose from a variety of proteins to add to your Superfood Smoothie, and many of your protein choices can be homemade. For example, did you know that you can easily make yogurt without a machine? And as I show you in the following sections, it's even easy to make homemade cottage cheese!
Milk-Based Protein Recipes
Whole milk and dairy products made from whole milk bring protein, fat, and some carbohydrates to your smoothie. Plus, if you use dairy products that have been cultured, such as homemade yogurt, you can make your Superfood Smoothie rich in probiotics, which promotes good gut health.
Once you learn how to make your own homemade yogurt, you can strain it to create a thick Greek-style yogurt. And when you strain yogurt, you are left with a liquid called whey. Whey is rich in probiotics and perfect to use in your Superfood Smoothies.
Cottage cheese makes a great source of protein for your Superfood Smoothie, and it is a much more natural option than using a high-priced processed protein powder. As you'll discover from the following recipe video, you will learn how easy it is to make homemade cottage cheese.
If you would like to make a Superfood Smoothie that tastes like drinking cheesecake through a straw, try using ricotta cheese. As with cottage cheese, you can make homemade ricotta cheese quickly and easily, and I share the recipe with you in the following video.
For a super probiotic boost for your Superfood Smoothie, try adding some kefir. This probiotic-rich beverage is easy to make and has a delightful effervescent tang. Hence its nickname…the champagne of milk! And you will be surprised at how easy it is to make milk kefir. All you need are some grains and a jar. No heating is involved. It couldn't be easier.
Nut, Pea, and Bean Protein Recipes
You can also soak nuts to make them easier to digest and add them to your smoothie mix. Nuts are rich in protein and fats. Plus, they provide a wonderful texture to Superfood Smoothies.
If you don't have nuts on hand, try using nut butters. Just like whole nuts, nut butters also bring a rich source of fat and protein to your smoothie.
Peas also make an excellent source of protein for your smoothie. And in my humble opinion, it's much better to use a whole food source, such as using real peas, than spending lots of money to buy pea protein powder.
When it comes to finding beneficial protein sources to add to your smoothies, you can't go wrong with beans. Yes, beans! White beans such as navy beans or cannellini beans are excellent ingredients in any Superfood Smoothie. And red kidney beans are superb when you want to make berry smoothies.
To make your beans easier to digest, you can soak and sprout your beans before adding them to your smoothie. In the following videos, I show you how to soak your beans and nuts to make them easier on your digestive system.
Homemade Flavor Boosters for Superfood Smoothies
If you combine some ricotta cheese and vanilla extract when making a Superfood Smoothie, you will think you are drinking a dessert! (Don't tell anyone! 😉) I show you how to make homemade vanilla extract in the following recipe video. It's just delightful!
As you'll read in the following article, a side benefit of using vanilla extract in your smoothie recipe is that it is advantageous for thyroid health.
If you want to experiment with a variety of flavored extracts, watch the following recipe video where I share how to make 10 homemade flavored extracts, including cinnamon, coffee, and mint-flavored extracts.
Adding Ginger to Your Superfood Smoothies
If you want to add ginger to your Superfood Smoothie, it's easy to do by adding some fresh ginger or powdered ginger. But if you also want to add a probiotic boost to your smoothie, try adding a bit of a ginger bug. And don't worry. It has nothing to do with the type of bugs we think of as pests!
Instead, a ginger bug is an easy-to-make probiotic-rich base used for making homemade ginger ale. The "bugs" are the good probiotics contained within the base liquid, which are outstanding for improving our gut health. So adding a teaspoon or two of a ginger bug to your smoothie will not only kick up the flavor but will also increase the probiotics in your Superfood Smoothie.
Homemade Liquids for Superfood Smoothies
When you want to add a bit of zing to your Superfood Smoothie along with a good dose of probiotics, be sure to add about a tablespoon of raw apple cider vinegar.
You'll be surprised to learn that you can even add the brine from one of your ferments to a Superfood Smoothie. You will never notice the taste, and the amount of probiotics in a tablespoon of ferment brine outshines those expensive capsules any day!
For an easy recipe to learn how to ferment foods, try making homemade sauerkraut and using the sauerkraut brine in your next smoothie.
In need of electrolyte minerals? No problem. I've got you covered. Just use this homemade electrolyte powder to make an energy drink to use as the liquid in your Superfood Smoothie.
And if you like the idea of adding anti-inflammatory spices to your smoothie, check out my video where I show you how to make turmeric tea. This tea can serve as a healthy base for the liquid in your Superfood Smoothie.
Adding Bone Broth to Superfood Smoothies
I know what you're thinking when you read that heading…"Mary, are you kidding?" But let me tell you, bone broth in Superfood Smoothies is a marvelous way to add a gelatin (collagen) rich liquid into your smoothie without having to buy those expensive powders. And you will never notice the taste!
Beef Bone Broth
Beef bone broth is ideal for using in green Superfood Smoothies, as well as any smoothie made with cacao powder, cacao nibs, or coffee. Depending on the type of kitchen equipment you like to use, I show you how to make beef bone broth in your slow cooker, stovetop, or Instant Pot.
Chicken Bone Broth
When it comes to Superfood Smoothies, chicken bone broth is your all-purpose liquid. This type of broth works well in green, chocolate, or coffee smoothies, and thanks to its lighter color and flavor, chicken bone broth is perfect for adding to any smoothie made with a variety of fruits.
As with making beef bone broth, you can also make chicken bone broth in your slow cooker, stovetop, or Instant Pot.
Fish Bone Broth
I know you might be thinking that I am pushing the envelope with this one! But fish bone broth works wonderfully in a green Superfood Smoothie, especially those made with spirulina and seaweed.
Fish bone broth only takes 45 minutes to make, and like chicken bone broth, it has a mild flavor that you will never notice. Plus, fish bone broth is wonderful for thyroid health thanks to the bountiful Iodine it contains.
As the following article from the National Institutes of Health (NIH) describes, Iodine may even play a role in the function of our immune system.
Iodine (National Institutes of Health)
Should You Add Protein Powder to Smoothies?
When adding protein to our Superfood Smoothies, should we add foods high in protein, like cottage cheese or nut butters? Or should we just add protein powders? If you've known me for a while, I think you know my answer.
I am not a fan of protein powders, and my reasons are twofold:
Protein powders are expensive.
More importantly, the protein in protein powders may have become damaged during the manufacturing process. And the last thing we want to put in our bodies are damaged proteins!
For me, the bottom line is, do we really need all that concentrated protein in a protein powder? I don't think so. The amount of protein in protein powders might be hard on our bodies to process, especially our kidneys. For more information, read the following article from the Weston A Price Foundation.
Should You Add Fruit Juice to Smoothies?
When it comes to adding fruit juice to smoothies, I generally don't recommend it. We are already adding a lot of fruit to our Superfood Smoothie, so it's unnecessary to add fruit juice. Better to simply add some very ripe fruit if you are looking for a bit of the added sweetness that the juice would bring to the smoothie.
A nice feature about always focusing on whole fruit for your smoothie is that you also get all the added fiber. The fiber will help keep you full and deter you from snacking in between meals.
Should You Add Sweeteners to Smoothies?
I generally don't recommend adding sweeteners to Superfood Smoothies. Instead, try to rely on whole fruits for your sweetness. It's in our best interest to try to ween ourselves off the overly sweet tastes that many of us have become accustomed to in our modern-day diets. The more we can learn to enjoy the sweetness of fruit in its natural state, the better.
However, if you find you really do need a touch of sweetness in your smoothies, try adding a date or two. You might be surprised at how sweet dates are and what a delightful flavor they will add to your smoothie.
If you find that dates simply do not give you the flavor you are looking for, try to rely on whole sweeteners, such as:
Honey
Maple syrup
Molasses
Sucanat (Dried whole cane juice)
I talk about these sweeteners and more in my essential sugars for your prepper pantry video.
Should You Add Fiber to Smoothies?
In addition to the fibers that are part of your fruits and vegetables, you can also include additional fiber to your Superfood Smoothie to help keep you feeling full.
Certain added fibers can also be rich in other nutrients, including Omega-3 essential fatty acids that assist in brain and heart health. Here are just a few of the ingredients you can choose to add fiber to your smoothies:
Flax seeds
Psyllium husks
Chia seeds
SuperFood Smoothie Checklist Examples
In addition to downloading your Superfood Smoothie Checklist, you can also download the following optional files. These files give you examples of how I used the checklist to create the smoothies in my Four Superfood Smoothie Recipes.
Make Your Kitchen Journal
Once you download your Superfood Smoothie Checklist and use it to make a smoothie, be sure to save it. Print out as many copies as you want so that as you put your smoothies together, you have a record of those homemade recipes that you liked and those that might need a bit of tweaking.
And the best place to save those completed smoothie checklists is in your Kitchen Journal. But don't worry if you don't have one yet. In the video below, I share my kitchen journal with you to help give you some ideas for how to set up one of your own.
Download my free Great Depression Pantry Shopping Guide to identify the Depression Era Foods you need to stock to weather difficult times.
Learn about the herbs, spices, and supplies you need to create an extensive set of healing preparations.
Time to do an inventory and restock your Prepper Pantry.
Download Your Free 36-Page Pantry List
For a comprehensive list of the traditional foods you can make and purchase to stock your pantry, be sure to download my free 36-page Traditional Foods Pantry List. This comprehensive eBook is full of links to recipe videos, helpful articles, and more!
More Healthy Drink Recipes
When you are looking for some ideas for nutrient-dense liquids to add to your Superfood Smoothies, check out the following beverage recipes. Of course, you can drink them on their own, but they are also well suited for adding to smoothies.
Beet Kvass works well for a berry smoothie. Kombucha and water kefir are perfect to use in any smoothie.
Kitchen Academy Videos
Are you looking for more traditional foods videos? I invite you to join the Traditional Foods Kitchen Academy. Members of this optional paid YouTube community get access to exclusive videos, live streams, and other members-only perks. Plus, your YouTube comments include a special members-only badge.
In the following members-only live stream replay, I talk about Our New Family Member and If Protein Powders Are Good For Us.
Stay in Touch with Mary's Nest
Subscribe to My YouTube Channel for Traditional Foods Videos (Free) - When you subscribe, be sure to click on the notification bell that will let you know each time I upload a new video.
Subscribe to Mary's Traditional Foods Newsletter (Free) - Get a free 36-page eBook for signing up: How to Stock Your Essential Traditional Foods Four-Corners Pantry.
Join the Traditional Foods Kitchen Academy (Optional Paid) - For more detailed videos, live streams, and exclusive members-only perks, join my YouTube membership community.
Order The Modern Pioneer Cookbook (Optional Paid) - Get a printed book of Mary's nourishing recipes from a Traditional Foods Kitchen. This bestselling cookbook is published by Penguin Random House with their DK imprint.
I look forward to having you join me in my Texas Hill Country Kitchen!
---
Recipe and Downloads
In addition to the recipe, be sure to download and print out your free copies of:
Shop for items used in this blog post or video
Favorite Smoothie-Making Kitchen Supplies
More Kitchen Supplies with Promo Codes
Use promo code MARYSNST for a one-time 15% off Masontops and Breadsmart products on Amazon.com.
Learn more about Mockmill electric grain mills for making fresh flour and their Flake Lover's Flaker that flakes whole grain in minutes.
Amazon Shop and Shopping Guide
Visit my Shopping Guide page
Get up to 15% off for stocking your Traditional Foods Pantry and equipping your Modern Pioneer Kitchen, including discounts from US Wellness Meats, Farmhouse Teas, Lehman's, Masontops, Cultures for Health, Survival Garden Seeds, Redmond Real Salt, Plan to Eat, and More!
Recommended Reading
**Disclaimer: I am not a medical doctor, a medical professional, a dietician, or a nutritionist. All content found on the MarysNest.com website, including text, images, videos, eBooks or eGuides, social media, or other formats, were created solely for informational purposes only. The content is not intended to be a substitute for professional medical advice, diagnosis, or treatment. Always seek the advice of your physician or other qualified healthcare provider with any questions you may have regarding a medical condition or proper nutritional advice. Never disregard professional medical advice or delay in seeking it because of something you have watched in a video or read on this website. Use caution when following the recipe in this video. The creator and publisher of this video and website will not be held responsible for any adverse effects that may arise from the use of this recipe and method or any other recipe and method on this website or corresponding video channel.