How to Make Water Kefir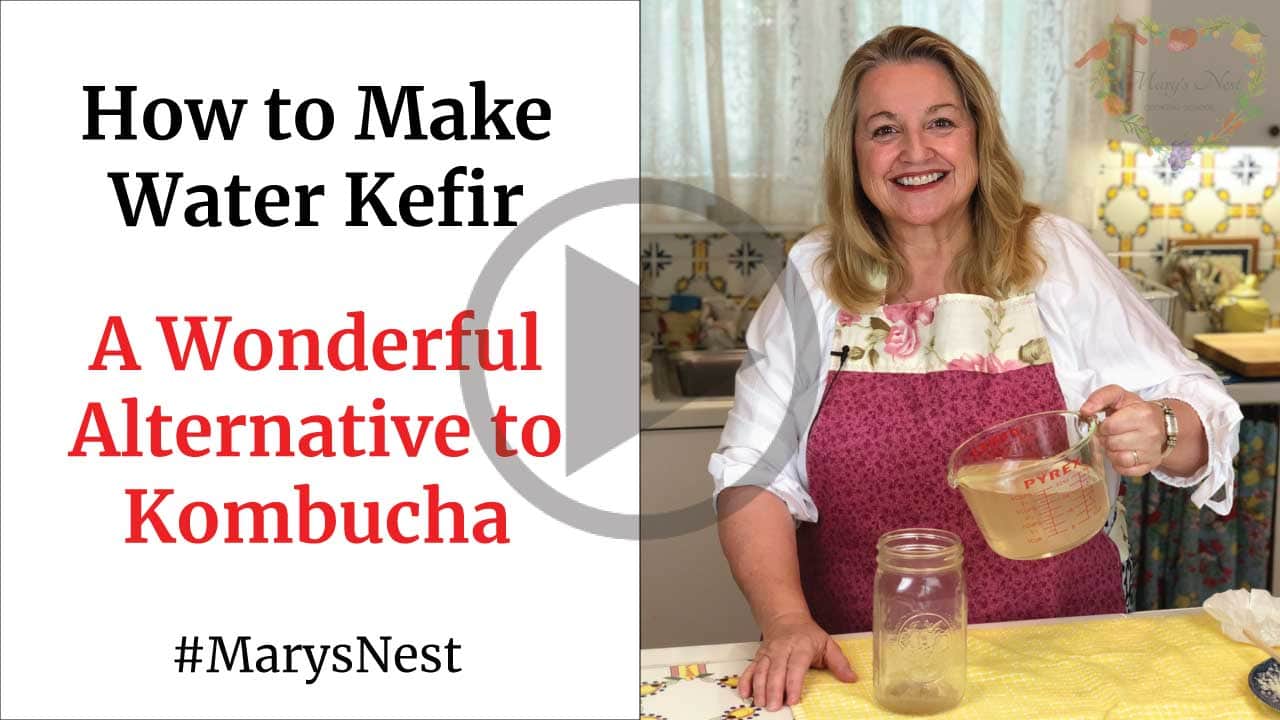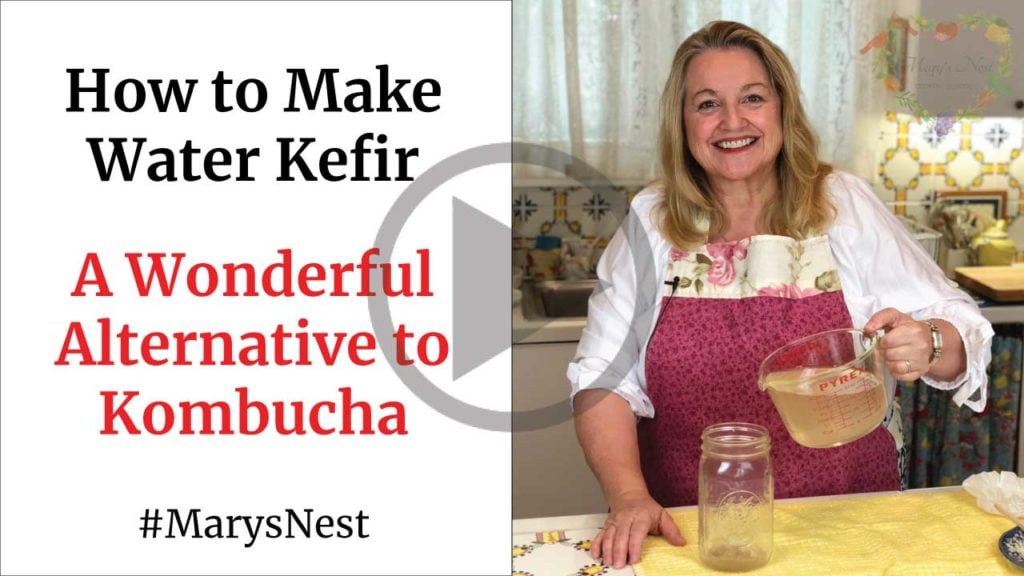 Hi Sweet Friends,
Water Kefir is a delicious, probiotic-rich fermented beverage, offering you a perfect alternative drink when you grow tired of Kombucha.  It's easy to make and involves preparing a solution of sugar and water and pouring it into a jar over your grains.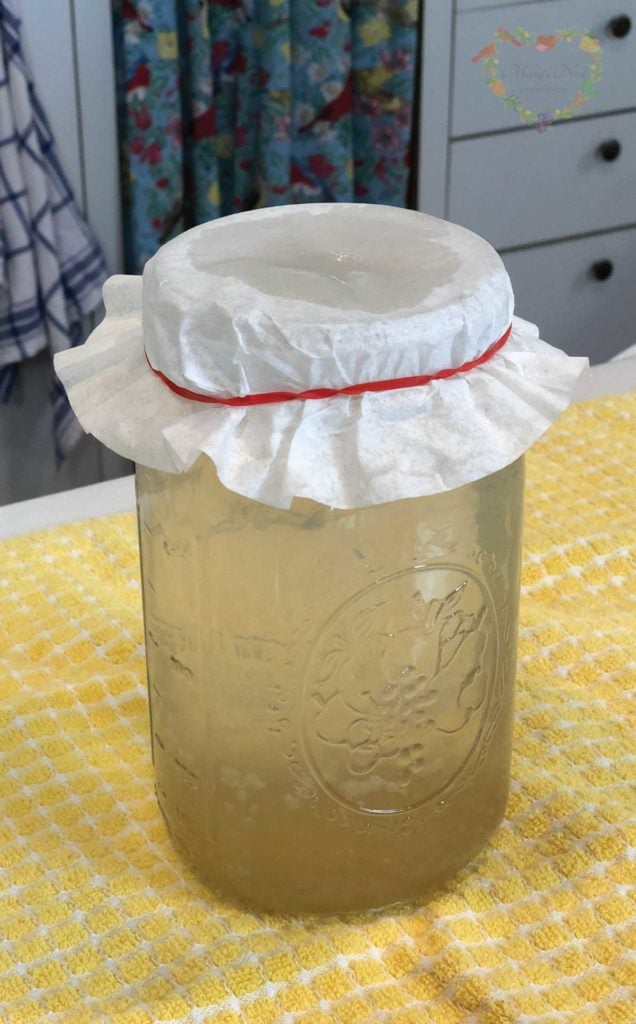 Get ready to enjoy fermented water
After you pour the water, let the kefir grains in the sugar water sit for 24-48 hours in a warm place at about 75 degrees Fahrenheit. Then drain off the grains and enjoy a delightfully effervescent, slightly tangy fermented water!
Try a second ferment with fruit
If you like, you can perform a second ferment.  Take your strained water kefir (minus the grains), add some fruit, and ferment overnight.  Now you have fruit-flavored water kefir.  It couldn't be easier!
And now try more fermented and cultured beverages
Now that you have mastered Water Kefir, be sure to check out my other videos for fermented and cultured beverages:
Step-by-step instructions
So be sure to watch this YouTube video as I walk you through the step-by-step process of making Water Kefir.  Start making fermented beverages today!
Stay in Touch with Mary's Nest
Subscribe to My YouTube Channel for Traditional Foods Videos (Free) - When you subscribe, be sure to click on the notification bell that will let you know each time I upload a new video.


Subscribe to Mary's Traditional Foods Newsletter (Free) - Get a free eBook for signing up: How to Stock Your Essential Traditional Foods Four-Corners Pantry.


Join the Traditional Foods Kitchen Academy (Optional Paid) - For more detailed videos, live streams, and exclusive members-only perks, join my YouTube membership community.
I look forward to having you join me in my Texas Hill Country Kitchen!
Love,
Mary
♥
You can print the recipe below.
Print Recipe
How to Make Water Kefir
Water Kefir is easy to make once you have some water kefir grains. It makes a wonderful effervescent and probiotic-rich drink.  It's also an economical beverage to make because other than the grains, all you need is water and sugar.
Ingredients
1

pkg

Water kefir grains

4

tbsp

Cane sugar

4

cups

Filtered water
Instructions
Place water kefir grains in a 1-quart jar.

Mix water and sugar in a 4-cup measuring cup until the sugar has dissolved.

Pour the sugar water into the 1-quart jar over the water kefir grains.

Cover the filled 1-quart jar with a coffee filter or clean cloth and secure with a rubber band.

After 24 hours, taste the water kefir using a clean spoon. If it is to your liking, drain off the grains and use them to make a second batch of water kefir. If you would like the water kefir to be less sweet, let it ferment for another 24 hours for a total of 48 hours.

Once the water kefir is to your liking, drain off the grains as mentioned above. You can now decant your water kefir and refrigerate it.
Notes
If you wish, you can make a fruit-flavored water kefir.  Put your strained water kefir into a clean jar without any kefir grains and add a small amount of fruit. Cover the jar with a coffee filter or clean cloth and secure with a rubber band.  Allow the water kefir and fruit to ferment for 12-24 hours. Once the taste is to your liking, strain the fruit (or you can leave it in the water kefir), decant the fruit-flavored water kefir, and refrigerate.
Shop for items used in this blog post or video
Visit my Shopping Guide page
Learn where I buy my Beef Bones, Wild-Caught Fish, Sprouted Grains, and more...and learn about Special Discounts for Mary's Nest visitors, including from US Wellness Meats, Vital Choice, Masontops, and Breadsmart.
*Affiliates note: As an Amazon Associate I earn from qualifying purchases. My videos and blog posts may contain affiliate links to products and services. If you click through and make a purchase, I'll receive a small commission. It does not affect the price you pay.
**Disclaimer: I am not a medical doctor, a medical professional, a dietician, or a nutritionist. All content found on the MarysNest.com website, including text, images, videos, eBooks or eGuides, social media, or other formats, were created solely for informational purposes only. The content is not intended to be a substitute for professional medical advice, diagnosis, or treatment. Always seek the advice of your physician or other qualified healthcare provider with any questions you may have regarding a medical condition or proper nutritional advice. Never disregard professional medical advice or delay in seeking it because of something you have watched in a video or read on this website. Use caution when following the recipe in this video. The creator and publisher of this video and website will not be held responsible for any adverse effects that may arise from the use of this recipe and method or any other recipe and method on this website or corresponding video channel.