How to Make a Homemade Electrolyte Drink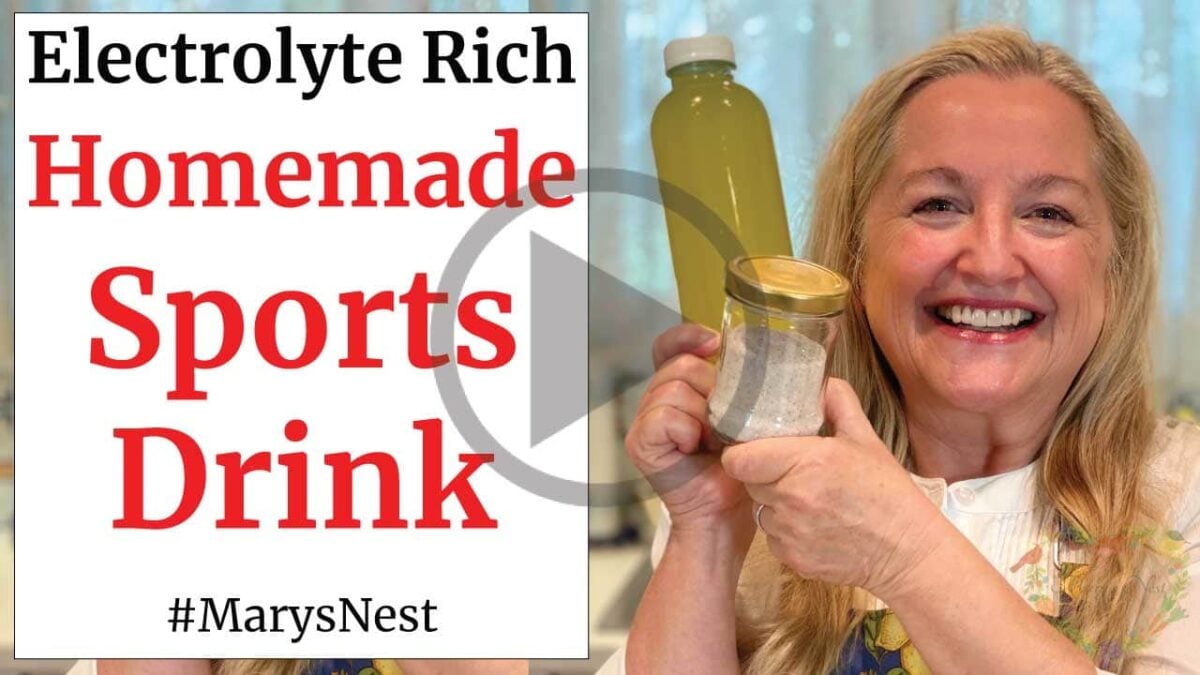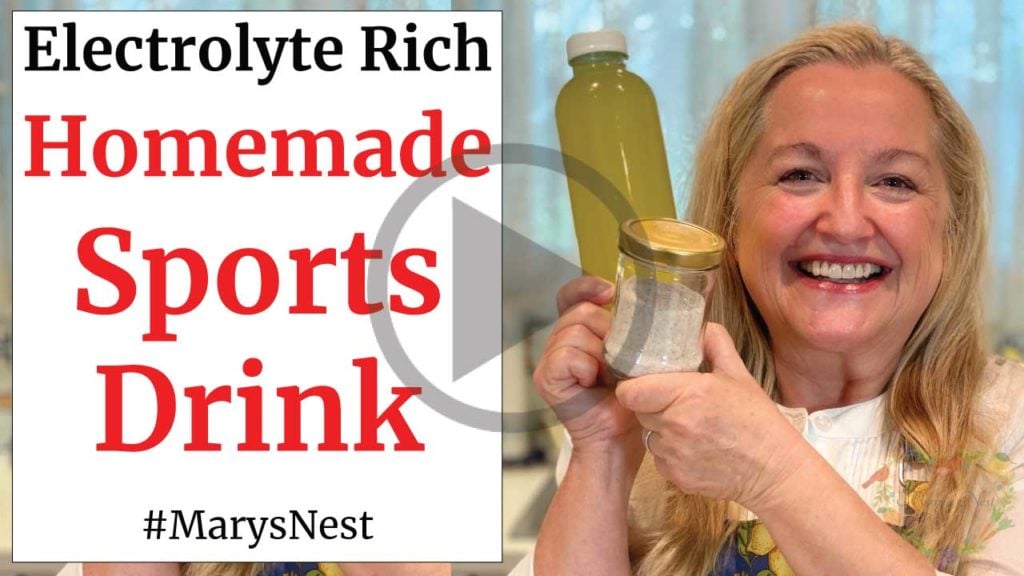 Learn the easy way to make a homemade electrolyte drink that you can turn into a refreshing sports drink or an elegant spa water.
*Affiliates note: As an Amazon Associate I earn from qualifying purchases. My content may contain affiliate links to products and services. If you click through and make a purchase, I'll receive a small commission. It does not affect the price you pay.
What is an Electrolyte Drink?
An electrolyte drink is a water that has been fortified with minerals. These minerals help balance the minerals—the electrolytes—in our bodies.
You can add the following minerals in specific ratios to water to make an electrolyte drink:
Sodium Chloride (salt)
Potassium Chloride
Magnesium Glycinate
Don't worry if you're not familiar with the last two ingredients. In my electrolyte drink recipe video, I show you how to find these common ingredients at any grocery store.
Sports Drinks Replenish Your Lost Electrolytes
When our electrolytes are balanced, our bodies can function at peak performance. Common electrolyte drinks are often referred to as sports drinks.
Athletes can lose minerals and create an electrolyte imbalance in their bodies when they perspire. Consuming sports drinks help athletes to quickly replenish their lost electrolytes, keep them hydrated, and feeling their best.
Even if we're not into sports, many of us can have our electrolytes out of balance too. This electrolyte imbalance can occur when we are ill, take certain medications, or simply as we age. So electrolyte drinks are not just for athletes. They are actually for all of us!
How Can Electrolytes Help You Lose Weight?
Electrolyte imbalances are more common than you may think. If you are trying to lose weight and your electrolytes are out of balance, it can be challenging for you to stick to your diet.
Dr. James DiNicolantonio is a research scientist at St. Luke's Mid America Heart Institute and author of The Salt Fix. He has studied electrolyte imbalances, specifically the minerals sodium chloride, potassium chloride, and magnesium glycinate in our bodies.
From his research, Dr. DiNicolantonio discovered that when our electrolytes are out of balance, we can begin to feel hungry and tired and develop a headache. When we experience this electrolyte imbalance, we can also develop cravings and start to eat (overeat!) because our body is trying to get the nutrients it needs.
But if we give our body the minerals it needs through an electrolyte drink, we can help to stave off hunger, tiredness, headaches, and most of all, cravings. Electrolyte drinks can aid our weight loss efforts by deterring our desire to overeat and even binge eat.
The Role of Salt in Weight Loss
The bulk of the mineral you will be adding to your electrolyte drink is Sodium Chloride, also known as salt. As described in the research studies in this section, scientists discovered that salt decreases levels of the hormone cortisol in our bodies. Reduced levels of cortisol help to lower our stress.
When we lower stress, those of us who need to lose weight can do so easier. And best of all, scientists believe that for some of us, depending on our genetics, when we lower our cortisol levels, it's our belly fat that goes first!
Research Studies
How do Electrolyte Drinks Affect Blood Pressure?
When deciding if you should make and consume electrolyte drinks, you may wonder if the salt in the drinks will raise your blood pressure. This is a valid concern, and you will want to talk to your doctor about any questions that you may have before consuming electrolyte drinks.
But I want to share some interesting information that you can discuss with your doctor. Dr. George Barkris, Director of the Comprehensive Hypertension Center at the University of Chicago, explains that our bodies need sodium. Any extreme is not good, so if you completely cut salt from your diet, you can have problems with your health, as Dr. Barkris discusses in the following podcast: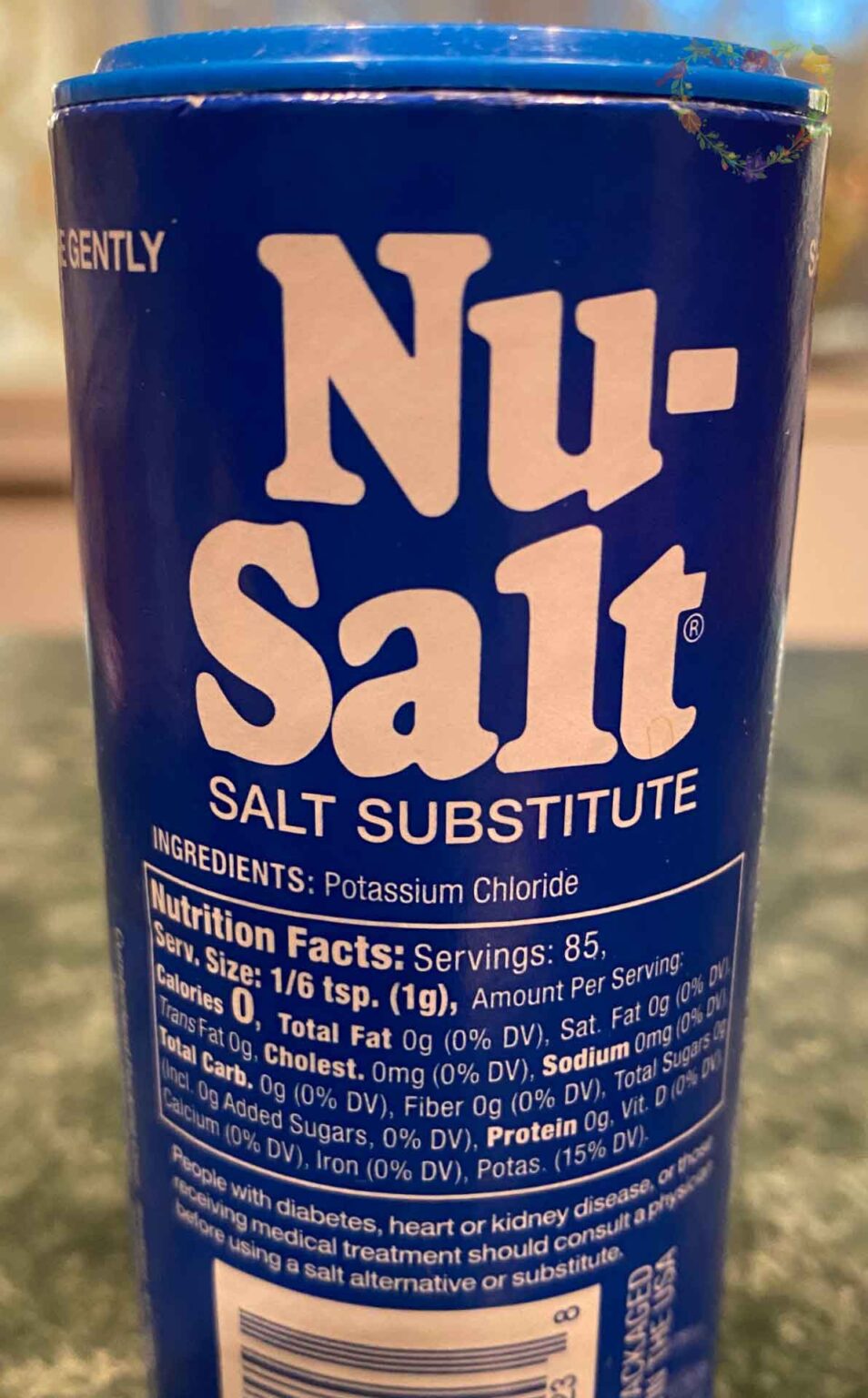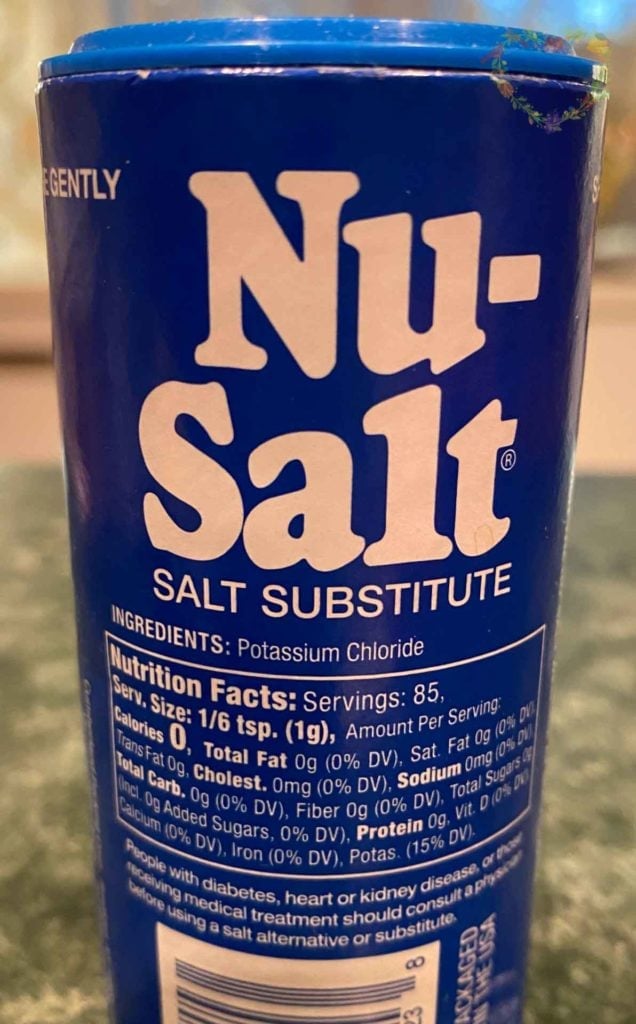 Also, although we are using basic ingredients in our electrolyte drink, some of the ingredients may have additional cautions. For example, Nu-Salt provides our drink with Potassium Chloride, but the product label also recommends that you talk with your medical professional before using a salt alternative or substitute.
So check with your doctor to see if an electrolyte drink is right for you and if the ingredients in your homemade sports drink or spa water would help provide an appropriate amount of salt and minerals into your diet.
And if you are worried that you have an electrolyte imbalance, your doctor can order a sodium blood test to measure the amount of sodium in your blood.
Which Salt to Add to Your Electrolyte Drink?
To make an electrolyte drink, you want to use a pure salt. By pure, I mean a salt that has nothing else added to it. So when you look at the ingredients, you want the packaging to simply say "salt" or "sea salt."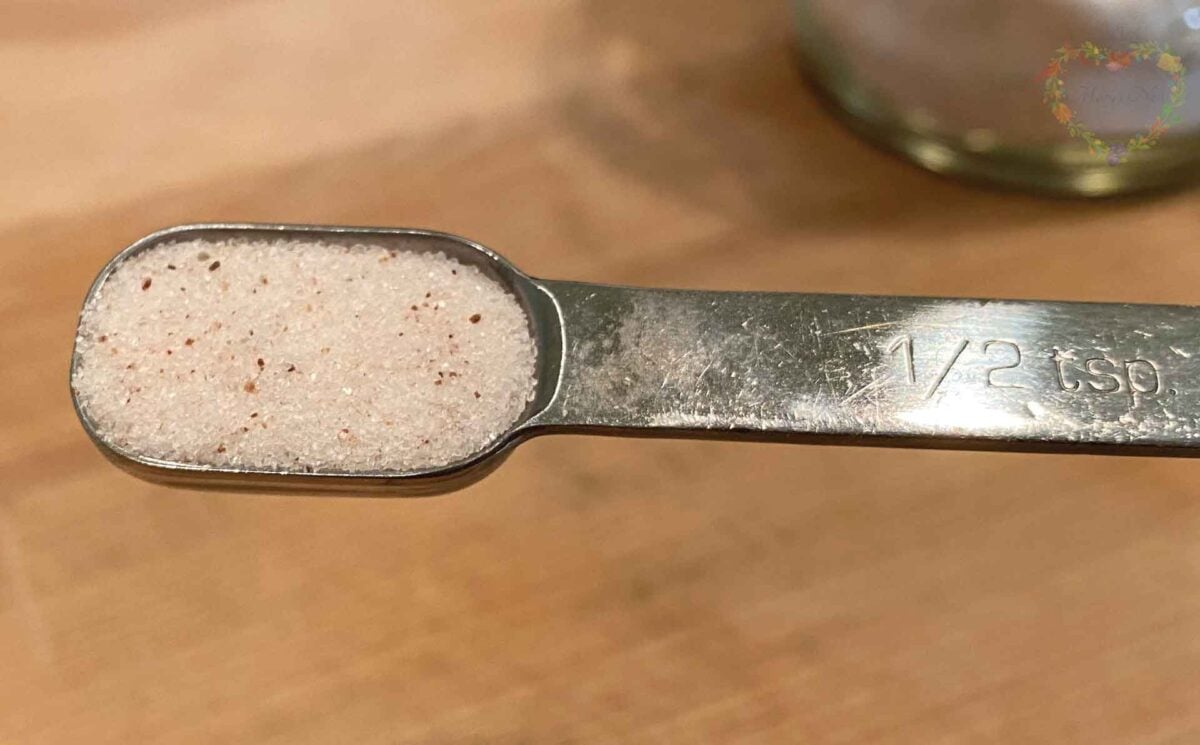 We don't want to add chemicals to our sports drink that our body doesn't need, such as anti-caking agents. When we want to balance the electrolytes in our body, we want nourishing minerals, not chemicals!
My favorite salts to use when making electrolyte drinks are:
Both brands are just pure salt. Plus, both are low in microplastics. To learn why we want salts that are low in microplastics, watch the following video. In my Best Salts video, I also review a wide variety of salts and where they are rated on the microplastics scale.
Which Sugar to Add to Your Electrolyte Drink?
I like to keep my electrolyte drinks very simple, but if you want to sweeten your sports drink, non-caloric Stevia can be a tasty addition. Stevia is a dried herb that has been ground into a powder. Just a pinch of this powder will sweeten your drink.
You can also choose from other whole sweeteners for your electrolyte drink, including:
Coconut syrup
Date syrup
Honey
Maple syrup
Molasses
Although these whole sweeteners add a few additional calories, they also add additional nutrients to your drink.
To learn more about all the whole sweeteners that you should stock in your traditional foods kitchen, check out my Best Sugars video.
More Discussion of Sugars for Your Coffee
If you love coffee, like me, then you might enjoy learning how to make your own sweetened and healthy powdered coffee creamers. These creamers are easy-to-make, delicious, and shelf-stable. And don't worry, I even have Keto coffee creamer recipes with a non-caloric natural sweetener!
Download Your Free 36-Page Pantry List
If you haven't had a chance to download my Essential Traditional Foods Pantry List, you need to do this today! This free 36-page pantry list helps you know the best real foods you should be stocking in your Four Corners Pantry, which consists of your:
The Working Pantry
The Refrigerator
The Freezer
The Extended Pantry (or Prepper Pantry)
And this pantry list is so much more than just a list of foods. This eBook is chockfull with links to videos and printable recipes for how to turn the listed foods into delicious and nutritious meals. This pantry list is also filled with lots of helpful tips and tricks to create a smoothly running traditional foods kitchen.
Super Mineral Recipes
Looking to work more mineral-rich foods into your diet? Be sure to check out these videos where I share how to make:
Kitchen Academy Videos
Are you looking for more traditional foods videos? I invite you to join the Traditional Foods Kitchen Academy. Members of this optional paid YouTube community get access to exclusive videos, live streams, and other members-only perks. Plus, your YouTube comments include a special members-only badge.
In the following members-only video, I talk about How to Make Salt Part of a Healthy Diet.
Stay in Touch with Mary's Nest
Subscribe to My YouTube Channel for Traditional Foods Videos (Free) - When you subscribe, be sure to click on the notification bell that will let you know each time I upload a new video.
Subscribe to Mary's Traditional Foods Newsletter (Free) - Get a free 36-page eBook for signing up: How to Stock Your Essential Traditional Foods Four-Corners Pantry.
Join the Traditional Foods Kitchen Academy (Optional Paid) - For more detailed videos, live streams, and exclusive members-only perks, join my YouTube membership community.
Order The Modern Pioneer Cookbook (Optional Paid) - Get a printed book of Mary's nourishing recipes from a Traditional Foods Kitchen. This bestselling cookbook is published by Penguin Random House with their DK imprint.
I look forward to having you join me in my Texas Hill Country Kitchen!
Shop for items used in this blog post or video
Best Salts and Ingredients
Favorite Kitchen Supplies
More Kitchen Supplies with Promo Codes
Use promo code MARYSNST for a one-time 15% off Masontops and Breadsmart products on Amazon.com.
Use my Mockmill affiliate link for a special one-time 5% discount on Mockmill Stone Grain Mill products, including the new Flake Lover's Flaker. (The Mockmill discount will appear when you checkout.)
Amazon Shop and Shopping Guide
Visit my Shopping Guide page
Get up to 15% off for stocking your Traditional Foods Pantry and equipping your Modern Pioneer Kitchen, including discounts from Lehman's, Mockmill Grain Mill, Masontops, Cultures for Health, Survival Garden Seeds, Redmond Real Salt, Plan to Eat, US Wellness Meats, and More!
Recommended Reading
**Disclaimer: I am not a medical doctor, a medical professional, a dietician, or a nutritionist. All content found on the MarysNest.com website, including text, images, videos, eBooks or eGuides, social media, or other formats, were created solely for informational purposes only. The content is not intended to be a substitute for professional medical advice, diagnosis, or treatment. Always seek the advice of your physician or other qualified healthcare provider with any questions you may have regarding a medical condition or proper nutritional advice. Never disregard professional medical advice or delay in seeking it because of something you have watched in a video or read on this website. Use caution when following the recipe in this video. The creator and publisher of this video and website will not be held responsible for any adverse effects that may arise from the use of this recipe and method or any other recipe and method on this website or corresponding video channel.