Affiliates note: As an Amazon Associate I earn from qualifying purchases. My content may contain affiliate links to products and services. If you click through and make a purchase, I'll receive a small commission. It does not affect the price you pay.
Learn about the latest offerings from Survival Garden Seeds, from their drought-tolerant collections to swag that makes gardening fun. Plus, in today's video, I talk about some of my favorite YouTube gardening channels that you may enjoy too.
Note: This is not a sponsored post. I love this family-owned company and their seeds.
Multiple Streams of Foods
As part of having multiple streams of food, you'll want to plant a kitchen garden to help prevent you from running out of food. You can supplement the food you store in your Four Corners Pantry with a supply of fresh vegetables, herbs, and more from your garden. However, how can you rely on your garden if you live in an area with a lingering drought?
You can do some research, such as with your local extension service, to find out which plants grow the best in your area and which are drought-tolerant. In our state, the Texas A&M AgriLife Extension service provides a wide variety of information to help all growers, from local gardeners to larger farms.
Drought Tolerant Seeds
Fortunately, Survival Garden Seeds has helped us do the research by identifying the best heirloom seeds that do well when there's not much water:
In my Survival Garden Seeds to the Rescue video, I review their drought-tolerant vegetable seed collection, which includes:
Bell Pepper, Rainbow
Carrot, Scarlet Nantes
Chard, Fordhook Swiss
Eggplant, Long
Green Bean, Contender
Kale, Red Russian Kale
Melon, Hale's Best (cantaloupe)
Sorrel
Tomato, Cherokee Purple
Watermelon, Sugar Baby
I was surprised to see watermelon and cantaloupe in this collection, but they're smaller versions of the melons, and these varieties hold onto the water they can get.
Additionally, I talk about how sorrel has done well for me in the hot and cold extremes we can get in central Texas. I also always enjoy planting green beans, and I show you how to make crisp pickled green beans in my step-by-step water bath canning tutorial video.
Survival Garden Seeds Selection
If you have regular rainfall or access to abundant water where you live, be sure to check out their other seeds, especially their value-priced seed collections. I talk about their three best seed collections to use now or stock in your Prepper Pantry for your next growing season.
So browse Survival Garden Seeds' drought-tolerant seed collections and all the other high-quality seeds they offer. I'm sure you'll find some seeds you can use now or store for your next growing season in your Prepper Pantry.
Survival Garden Seeds Discount Code
In my research into the best vegetable seeds, I discovered Survival Garden Seeds and their extensive collection of heirloom seeds. If you're looking for high-quality, open-pollinated, non-GMO, and non-hybrid garden seeds, be sure to use my special MARYSNEST discount code to be able to get 10% off any of the three following products: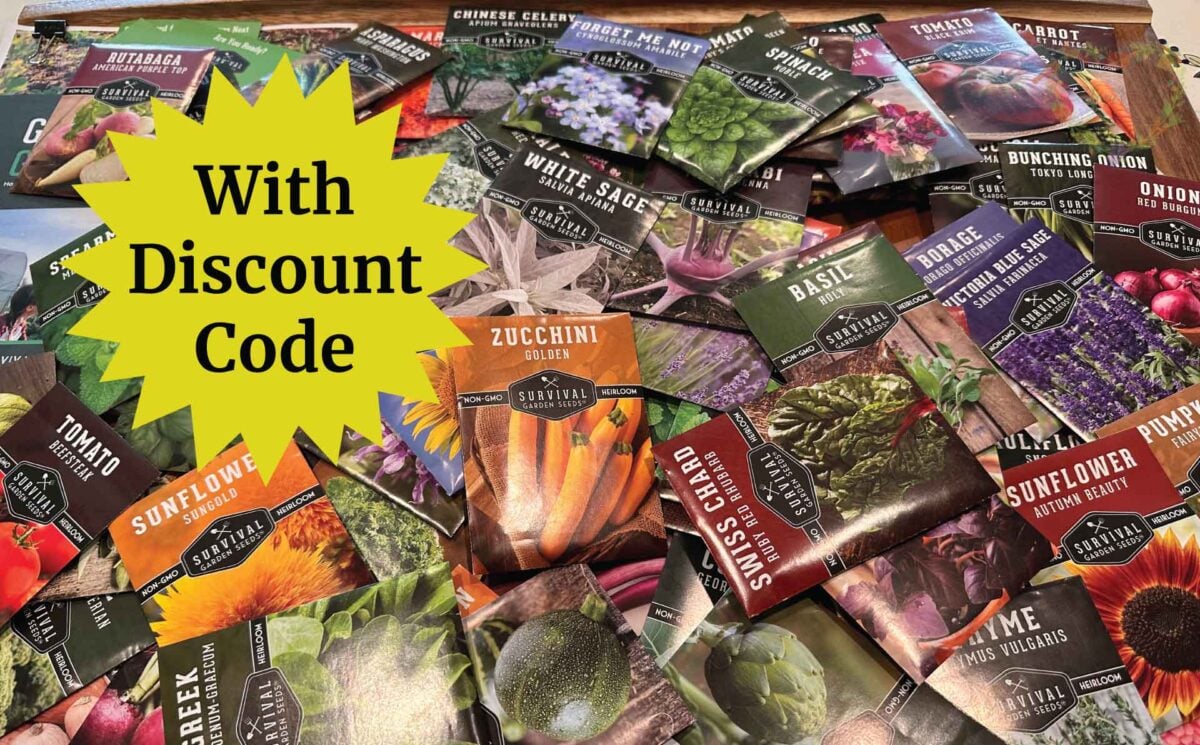 Download Your Free 36-Page Pantry List
For an extensive list of the traditional foods you can make and purchase to stock your pantry, be sure to download my free 36-page Traditional Foods Pantry List. This comprehensive eBook is full of links to recipe videos, helpful articles, and more!
And if you're looking for a printed book full of my traditional foods recipes that shows you how to create a traditional foods kitchen, be sure to preorder your copy of my new book, The Modern Pioneer Cookbook.
Join the Traditional Foods Kitchen Academy
Are you looking for more traditional foods videos? If so, I invite you to join the Traditional Foods Kitchen Academy. Members of this optional paid YouTube community get access to exclusive videos, live streams, and other members-only perks. Plus, your YouTube comments include a special members-only badge.
During this month's members-only live stream, we talked about a variety of topics, including a preview of upcoming videos.
I talk about the people I met at this year's conference and share some behind-the-scenes of my new cookbook.
Get ready to harness the power of gluten-free buckwheat to help a healthy diet.
Favorite Gardening Supplies
Amazon Shop and Shopping Guide
Visit my Shopping Guide page
Get up to 15% off for stocking your Traditional Foods Pantry and equipping your Modern Pioneer Kitchen, including discounts from Lehman's, Mockmill Grain Mill, Masontops, Cultures for Health, Survival Garden Seeds, Redmond Real Salt, Plan to Eat, US Wellness Meats, and More!