Affiliates note: As an Amazon Associate I earn from qualifying purchases. My content may contain affiliate links to products and services. If you click through and make a purchase, I'll receive a small commission. It does not affect the price you pay.
Are you tight on space? Then the GreenStalk Vertical Planter system might just be the perfect solution to help you create your BEST kitchen garden ever!
I share my experience setting up the GreenStalk vertical planter in today's blog post and video. You'll learn what I liked, the best soil to choose, and how to use GreenStalk's add-ons. Note that this is not a sponsored post. I bought all the products that I show you. (However, if you decide to buy a GreenStalk vertical planter, be sure to use the discount code and link available to my sweet friends.)
What is a Vertical Planter?
A vertical planter is a structure that grows plants upward instead of horizontally outward. These planters come in a variety of heights and widths, but they generally range up to a maximum of 6 feet high by 4 feet wide. The most common vertical planters measure 4 1/2 feet high by 1 1/2 feet wide.
What are the Advantages of a Vertical Planter?
If you have a limited area to garden, vertical planters have a distinct advantage over other gardening methods because they are specifically designed for small-space gardening. You can use these planters on small patios and balconies to grow an abundance of vegetables, fruits, herbs, or flowers.
However, just because vertical planters are designed for small-space gardening doesn't mean they are limited to small spaces. Even if you have a large kitchen garden, having one or more vertical planters can significantly expand your gardening space!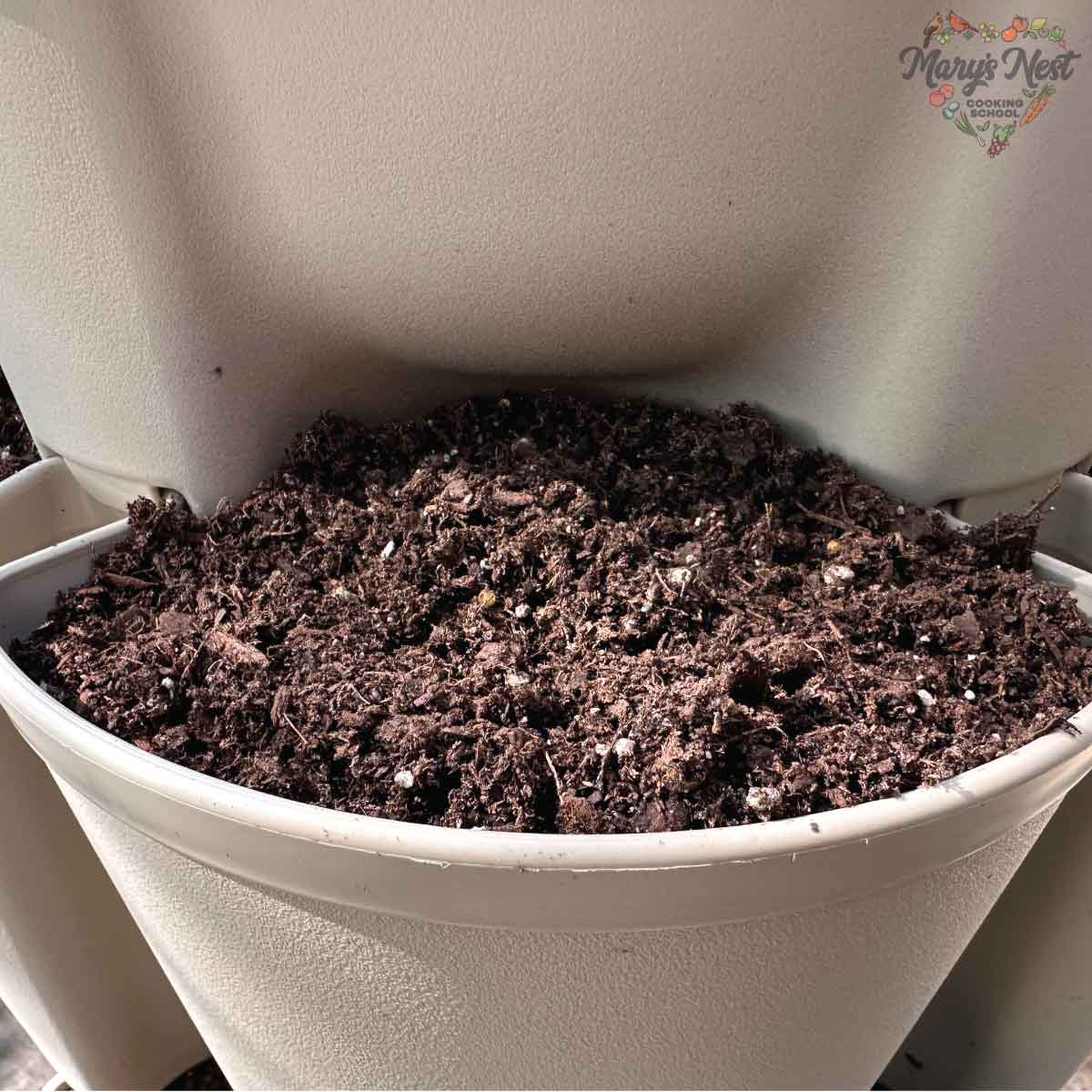 What are the Disadvantages of a Vertical Planter?
To ensure your planters work successfully, you need to make sure that you use the right soil. Vertical planters use reservoirs in the center of the planter to distribute water. Using dense, heavy soil will only serve to clog these watering reservoirs.
Also, vertical planters tend to have smaller areas dedicated to growing plants. Think of a vertical planter as a group of flower pots. You'll have the most success with these planters if you dedicate them to growing plants that do well in pots.
Generally, vertical gardening conserves water. However, like all container gardening or high-rise raised bed gardening, your vertical planter may require more frequent watering than your in-ground plants or plants in shallow raised beds, depending on your climate.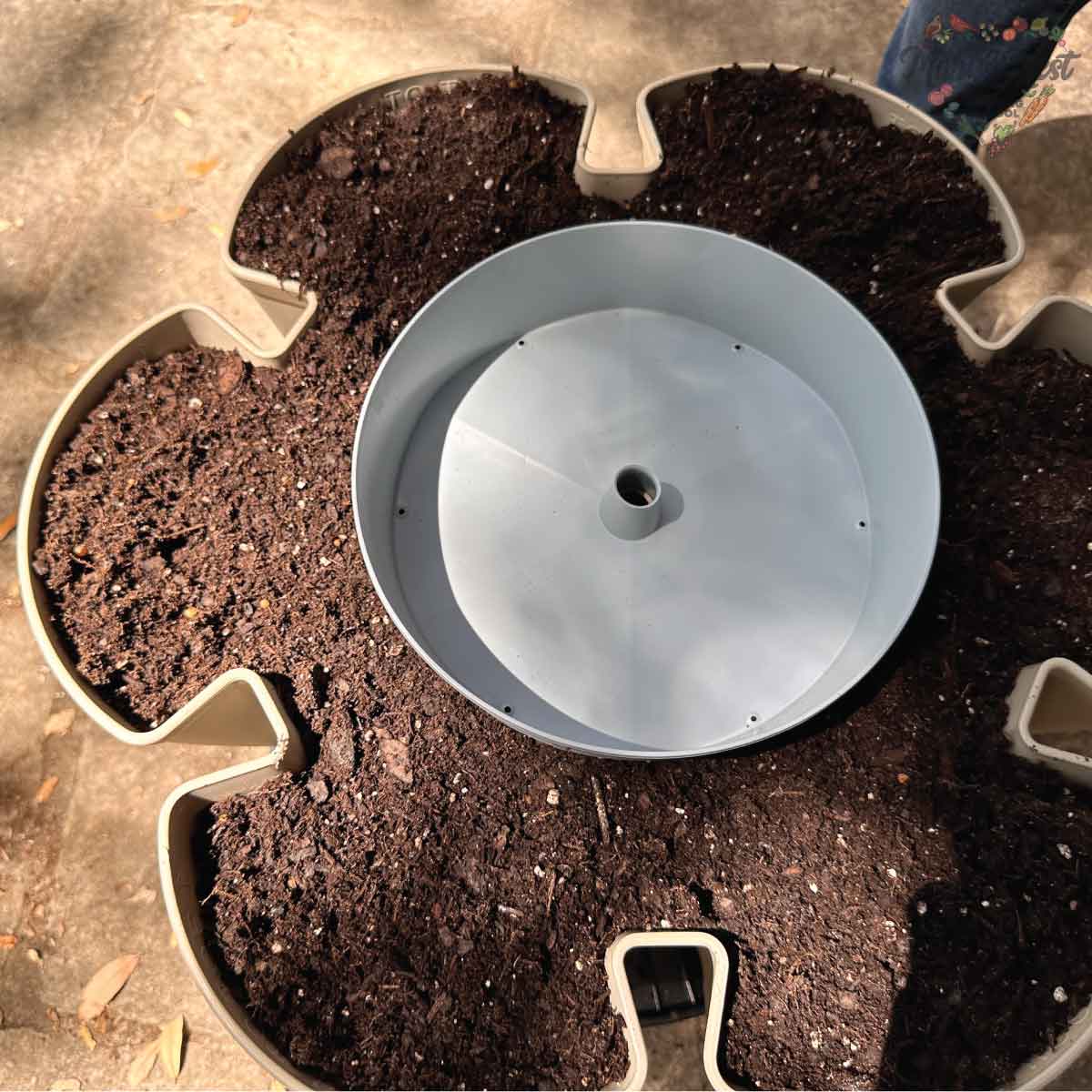 What Can You Grow in a Vertical Planter?
The plants that do best in a vertical planter include:
Cucumbers
Herbs
Summer Squash and Zucchini
Tomatoes
Variety of Greens
But root vegetables also do exceptionally well in vertical planters, including:
Beets
Carrots
Onions
Parsnips
Potatoes, including Sweet Potatoes
Turnips
If you're planning on planting a fall garden, be sure to watch my 7 Best Vegetables You Can Plant in August for a Fall Garden video.
What is the Best Soil to Use in a Vertical Planter?
The best soil to use in a vertical planter is a garden potting soil specifically made for pots or vertical planters. You DO NOT want to use any "in-ground" soil labeled topsoil or garden soil. You do not even want to use any soil labeled raised bed soil.
Topsoils, garden soils, and raised bed soils will be too dense, and as I shared earlier, it will only serve to clog the watering reservoirs of your vertical planters. Look for garden soil labeled potting soil, potting mix, or container mix.
Can You Directly Sow Seeds into a Vertical Planter?
Yes, you can directly sow seeds right into a vertical planter. You can also place small plants in your vertical planter, but having the flexibility to directly sow seeds makes starting your garden easy.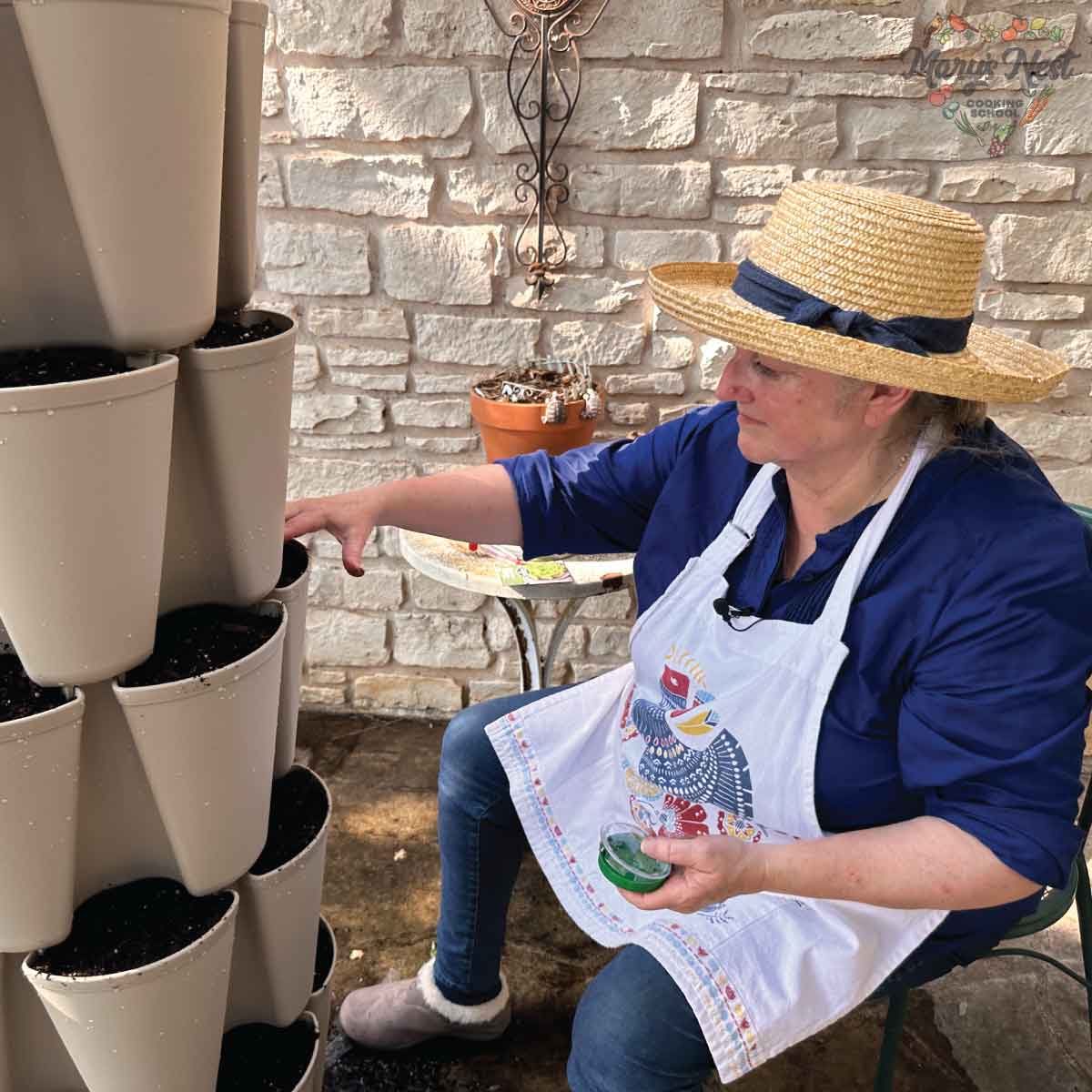 If you directly sow seeds into your planters, remember to keep the soil in your vertical planter moist with direct watering, as opposed to only relying on the central watering reservoirs. This strategy will give your seeds the optimal environment for germination.
How Often Do You Water a Vertical Planter?
How often you water a vertical planter depends on the weather conditions in your area. Generally, you will need to fill your watering reservoir approximately every 3 days, and if you directly sowed seeds, you may also need to give them a gentle spritz of water. This schedule will work well if temperatures are mild and you are blessed periodically with some rain.
However, If you live in an exceptionally hot or dry climate, you may need to fill your watering reservoir daily during your hottest months, such as July and August. You will also want to spritz your sowed seeds or young growing plants daily as well.
Note that this summer in Central Texas has been especially hot, with 69 days over 100°F (38°C), but thankfully, it looks like our rainless and sizzling summer days are coming to an end.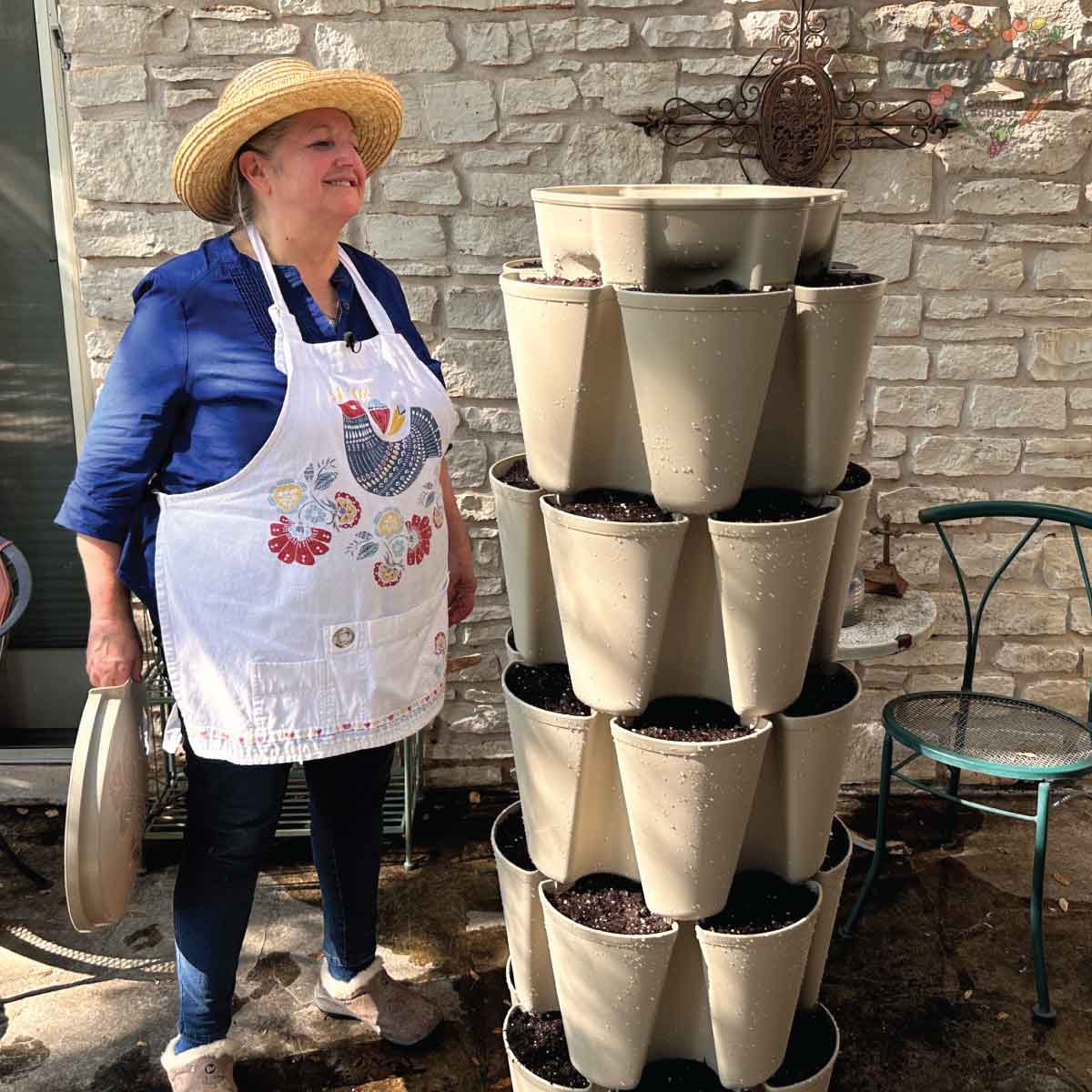 What is the Best Fertilizer to Use in a Vertical Planter?
When it comes to fertilizing the plants you are growing in your vertical planter, you first want to test your soil. If you are using a high-quality soil, you may not need any fertilizer initially.
However, as your plants grow and you are watering them regularly, you will want to test your soil to make sure your plants have the nutrients to thrive. Testing your soil periodically to determine what your plants need enables you to target the right amount of fertilizer to add and to not over fertilize. (I show you some inexpensive garden soil test strips in today's video.)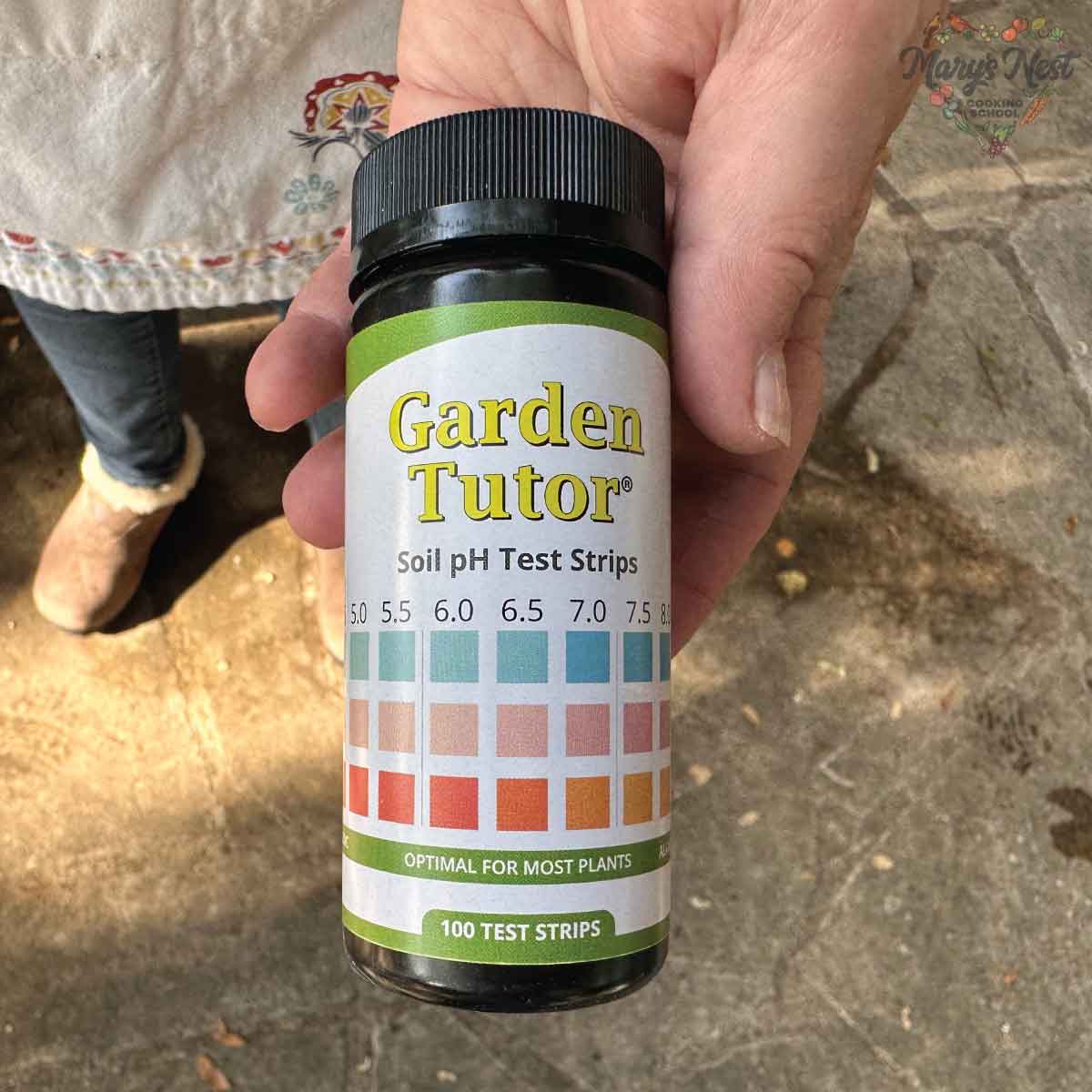 There are numerous ways to make homemade fertilizer, as you'll learn from Jerry Baker's excellent book, Terrific Garden Tonics. But when your plants need a bit of commercially-made fertilizer, you also can't go wrong with a basic general option, such as Fox Farms Grow Big liquid concentrate fertilizer.
What Makes GreenStalk Vertical Planters So Great?
Although you have a wide variety of vertical planters to choose from, my favorites are those manufactured by GreenStalk. This small, family-owned company in Tennessee makes their vertical planters in the United States.
In today's video, I show you step-by-step how to assemble your GreenStalk vertical planter and get started with seeds and accessories. You can watch my video to help you decide on the type of vertical planter you'd like for your kitchen garden. (You can also have my video handy to help you assemble your GreenStalk after it gets delivered to your home.)
Your GreenStalk will arrive well-packaged in a sturdy box with a note from the person who packed it. Plus, GreenStalk has an excellent website filled with a whole host of information pertaining to their vertical planters.
Note that if you decide to get a GreenStalk, be sure to use the discount coupon and link they provided to my sweet friends.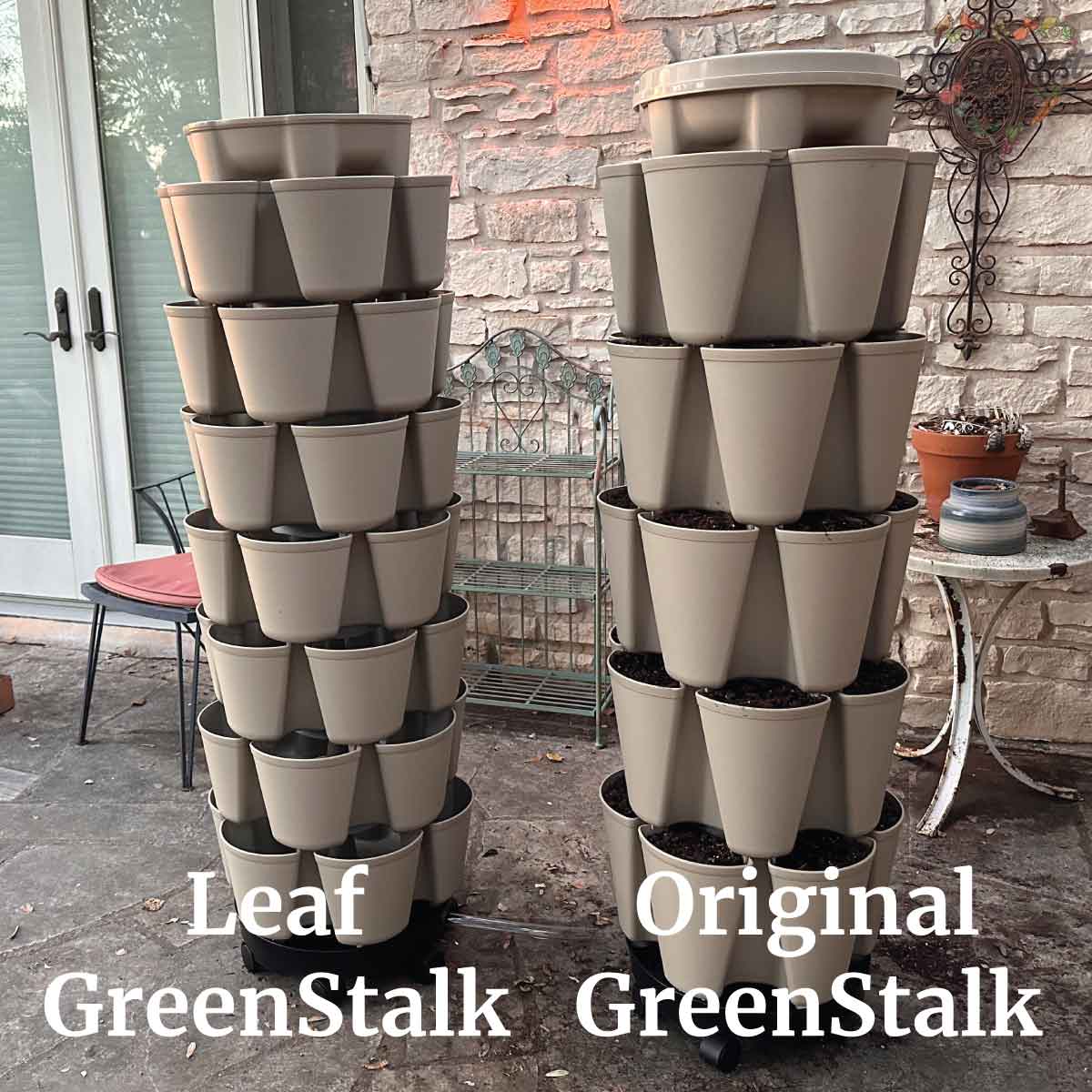 What is the Difference Between the Original GreenStalk and the Leaf GreanStalk?
GreenStalk offers two types of vertical planters: the Original GreenStalk and the Leaf GreenStalk. Both are quite similar, and you'll assemble them in the same way. The manufacturer states that anything you can grow in the Original, you can also grow in the Leaf.
Each vertical planter consists of several levels of planter containers stacked on top of each other, and each planter contains pockets where you can grow your plants. The Original GreenStalk has five levels of planter containers, and the Leaf GreenStalk has seven levels of planter containers. Since the assembled GreenStalk planters have similar heights, the pockets in the Leaf GreenStalk are smaller than the ones in the Original GreenStalk.
With its additional planter container levels, the Leaf allows you to grow more plants on one vertical planter. However, even though you can use the Original and the Leaf to grow the same plants, you may find that large plants with deep roots grow better in the Original while smaller plants with slightly shorter roots can grow well in the Leaf.
Here are the specifications for both types of GreenStalk vertical Planters:
The Original GreenStalk
5 Tiers of planter containers, with each container having 6 planting pockets
19" wide x 55" tall
30 total planting pockets, with each pocket having a 10" depth
Capacity of approximately 40 gallons of potting mix
The Leaf GreenStalk
7 Tiers of planter containers, with each container having 6 planting pockets
19" wide x 56" tall
42 total planting pockets, with each pocket having a 7" depth
Capacity of approximately 42 gallons of potting mix
How Many Bags of Soil Does it Take to Fill a GreenStalk?
According to the GreenStalk manufacturer, the Original GreenStalk vertical planter requires 40 gallons of potting soil, while the Leaf requires 42 gallons.
As I filled both my Original GreenStalk and my Leaf GreenStalk, I found that they both took slightly less soil than recommended by the manufacturer. As I show in my video, I can't specifically account for this difference, but I did not want to pack the soil down to make the required amount of soil fit in each tier. You want to keep the soil light and non-compacted in your GreenStalk to allow the watering reservoirs to function properly.
Does GreenStalk Offer Add-Ons for the Vertical Planter?
GreenStalk offers various add-ons for both their Original Planter and their Leaf Planter to help you succeed with your vertical gardening based on your environment and what plants you choose to grow.
Be sure to watch my GreenStalk video, where I show you how to use many of the following add-ons:
Ultimate Spinner Base – This makes it easy for you to spin your GreenStalk for watering and proper sun exposure.
GreenStalk Mover – This handy base gives you wheels to move your GreenStalk.
GreenStalk Lid – Use it to cover the water reservoir at the top of your GreenStalk to prevent the build-up of debris.
GreenStalk Plant Support – You'll need this to give your planter (and plants) the support they need for growing more vine-like plants, such as tomatoes, squash, and cucumbers.
Automatic Watering System
Insect Protection Cover
Frost Protection Cover
Plant Markers
GreenStalk DISCOUNT Coupon Code
To help you get started, GreenStalk has been so kind to offer a discount to my readers!

Survival Garden Seeds
SPECIAL: Survival Garden Seeds has a fantastic sale going on right now. Use my link and discount code FALLSALE10 during checkout to get an extra 10% off your purchase. And that's on top of their 15% off sale through September 9, 2023. Supplies are limited!
In my research into the best vegetable seeds, I discovered Survival Garden Seeds and their extensive collection of heirloom seeds. If you're looking for high-quality, open-pollinated, non-GMO, and non-hybrid garden seeds, be sure to use my special MARYSNEST discount code to be able to get 10% off any of the three following products: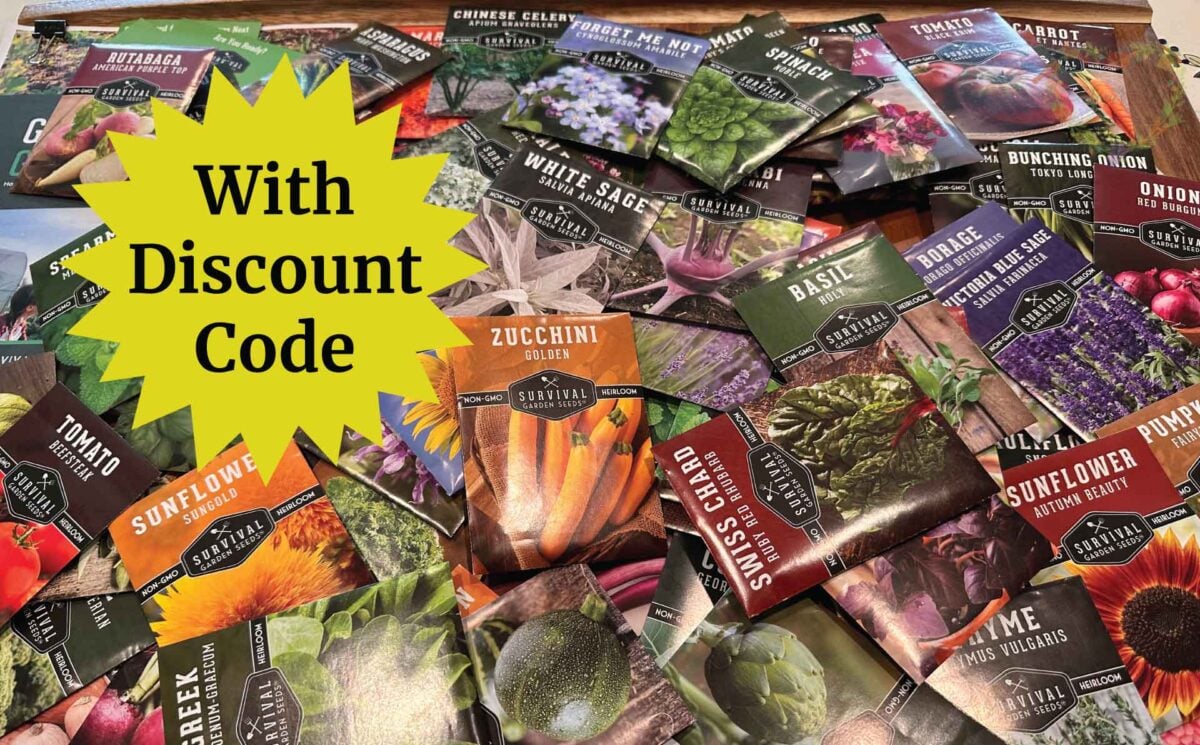 Prepare your fall garden with these vegetables for an abundant autumn harvest.
Learn about the best seeds to grow if drought-conditions linger in your area.
Did you have sticker shock when trying to buy herbs? What's a gardener to do?
Download Your Free 36-Page Pantry List
For an extensive list of the traditional foods you can make and purchase to stock your pantry, be sure to download my free 36-page Traditional Foods Pantry List. This comprehensive eBook is full of links to recipe videos, helpful articles, and more!
And if you're looking for a printed book full of my traditional foods recipes that shows you how to create a traditional foods kitchen, be sure to order your copy of my new book, The Modern Pioneer Cookbook.
Join the Traditional Foods Kitchen Academy
Are you looking for more traditional foods videos? If so, I invite you to join the Traditional Foods Kitchen Academy. Members of this optional paid YouTube community get access to exclusive videos, live streams, and other members-only perks. Plus, your YouTube comments include a special members-only badge.
During this month's members-only live stream, we talked about a variety of topics, including a preview of upcoming videos.
I talk about the people I met at this year's conference and share some behind-the-scenes of my new cookbook.
Get ready to harness the power of gluten-free buckwheat to help a healthy diet.
Stay in Touch with Mary's Nest
Subscribe to My YouTube Channel for Traditional Foods Videos (Free) - When you subscribe, be sure to click on the notification bell that will let you know each time I upload a new video.
Subscribe to Mary's Traditional Foods Newsletter (Free) - Get a free 36-page eBook for signing up: How to Stock Your Essential Traditional Foods Four-Corners Pantry.
Join the Traditional Foods Kitchen Academy (Optional Paid) - For more detailed videos, live streams, and exclusive members-only perks, join my YouTube membership community.
Order The Modern Pioneer Cookbook (Optional Paid) - Get a printed book of Mary's nourishing recipes from a Traditional Foods Kitchen. This bestselling cookbook is published by Penguin Random House with their DK imprint.
I look forward to having you join me in my Texas Hill Country Kitchen!
---
Shop for items used in this blog post or video
Favorite Gardening Supplies
Recommended Reading