Top 10 Kitchen Treasures from Thrift Stores, Junk Shops, and the Garbage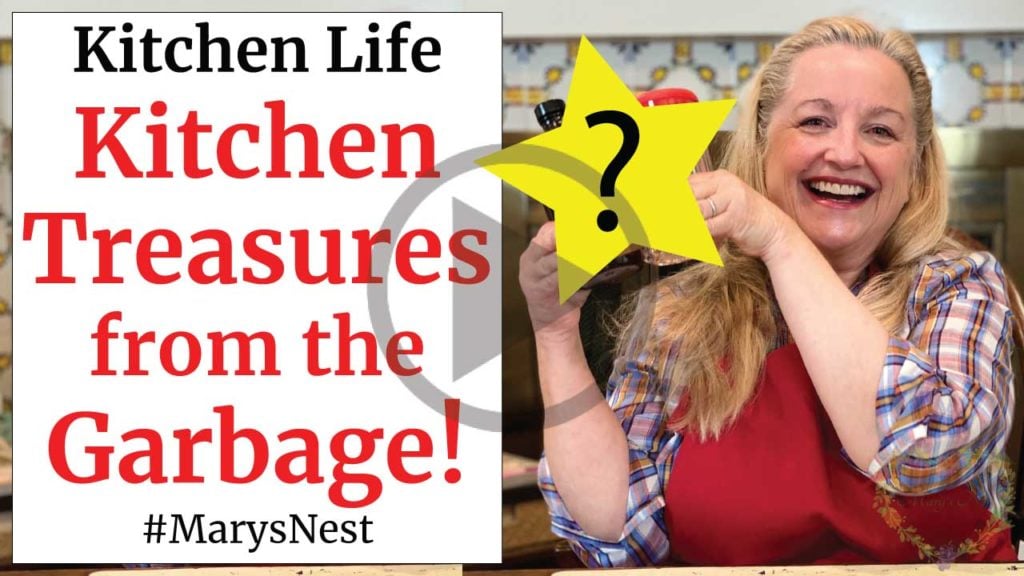 Ready to learn all about My Top 10 Kitchen Treasures to Hunt for at the Thrift Store, the Junk Shop, and even from the Garbage? Well, you're in luck because I am sharing all my favorites, including some of the best kitchen treasures that are often found in the garbage!
*Affiliates note: As an Amazon Associate I earn from qualifying purchases. My content may contain affiliate links to products and services. If you click through and make a purchase, I'll receive a small commission. It does not affect the price you pay.
Where Can You Find Kitchen Treasures?
When it comes to finding what I like to call kitchen treasures, there are a number of great places to shop as alternatives to buying these items new:
Thrift Stores – Generally neat and clean with a large selection
Junk Shops – A bit cluttered and often dusty, but offering great bargains
Garbage – Overlooked useful items for free
In this blog post, I sampling of some of my favorite thrift store, junk shop, and garbage finds! For all 10 of my top kitchen items to hunt for, watch my in-depth kitchen treasures video, where I go into lots of detail about the places to find these kitchen treasures.
Thrift Store Kitchen Treasures – Crocks
One of my favorite items to hunt for at thrift stores are the old cheese crocks in which port wine cheese used to be sold. Sadly, these cheeses are now sold in plastic containers, but the charming vintage crocks are often easy to find at thrift stores. Online they might be highly-priced, but I have often seen crocks for anywhere from $1.99 to $3.99 at mainstream thrift shops.
If you have a crock similar to what I show in my video or have any small vessel with a tight lid, try making my cheese crock recipe. It's one of the most fun and delicious hors d'oeuvres you'll ever make. No cheese, wine, or vinegar that you have on hand will ever go to waste!
Plus, I also share an easy homemade cracker recipe that does not require you to roll out any dough. Just slice and bake! So next time you want crackers to enjoy with your Cheese Crock, or if you have unexpected guests stop by, you'll be all set with an exceptional—yet easy to prepare—snack of cheese and crackers.
Junk Shop Kitchen Treasures – Stainless Steel
If you have never been in a junk shop, you must look for one in your area as soon as possible! If you love to thrift, you will adore junking. Junk shops are a step-down, so to speak, from the neat and orderly appearance of a mainstream thrift shop, but that works to our advantage.
Junk shops, as the name implies, often sell a lot of junk, but as the saying goes, "one man's trash is another man's treasure." The items sold are often very reasonable because they may be broken, missing parts, or just in need of quite a bit of love…otherwise known as elbow grease! 😉
But I have found many a gem at junk shops, including stainless steel bowls that make wonderful double boilers when making home remedies, like salves. These bowls may be scratched and dented, but they are excellent for melting beeswax when you would rather not use one of your regular, good-quality kitchen bowls.
Garbage Kitchen Treasures – Glass Jars
Some of my favorite kitchen treasures are those that I rescue from going to the recycling plant. Now keep in mind, in most jurisdictions, you are not free to go rummaging around in your neighbor's recycling bin. It's actually against local ordinances! But if you are out for a walk and you start to notice some kitchen treasures being thrown out in your neighborhood, be sure to ask your neighbors if they can save some for you next time. Most folks are happy to!
One of my all-time favorite kitchen treasures that come from the garbage are used glass bottles and jars. And if the glass is dark-colored, all the better! These brown, amber, and other dark-colored glass containers make some of the best vessels for storing home remedies.
And speaking of home remedies, be sure to check out some of my videos where I show you how to make elderberry syrup and a delightful nourishing cream from beef tallow!
Remove Labels from Your Kitchen Treasures
If you find kitchen treasures, such as glass jars or other containers with sticky labels or other guck on them, my father-in-law showed me an easy way to remove labels, slime, and other unpleasant substances from surfaces using the Goo Gone spray. I keep my Goo Gone spray bottle handy under my kitchen sink, and it's part of my cleaning process after I bring home treasures from thrift stores, junk shops, and the garbage.
How to Get Started with Water Bath Canning
If you make jam and don't need to can them for long-term storage, the glass jars you find in the garbage (and then thoroughly wash) make for excellent containers. However, if you want to learn how to follow the process of water bath canning to store your jam or other canned vegetables, I show you how in the following tutorial videos.
Water Bath Canning Recipe Videos
These recipe videos give you step-by-step instructions on how to water bath can crushed tomatoes, bread and butter pickles, and fruit jam, including marmalade and strawberry.
Download Your Free 36-Page Pantry List
You'll find a lot of useful containers as you hunt for goodies at thrift stores, junk shops, and the garbage. Once you sanitize and clean them thoroughly, you'll be able to use the containers in your four corners pantry, which consists of your:
Working pantry
Refrigerator
Freezer
Extended pantry (also known as your Prepper Pantry)
If you'd like to learn about the types of foods you can (and should!) store in your four corners pantry, download my free 36-page "How to Stock Your Essential Traditional Foods Four-Corners Pantry" eBook.
More Thrifting Videos
If you are like me and love to run a No-Waste Kitchen, then be sure to check out the video below, where I share some of my best thrifty kitchen tips. And don't forget to regrow your kitchen scraps to create a reoccurring harvest with tasty meals for you and your family.
As I have shared with you, I live in the Texas Hill Country between Austin and San Antonio. And one of the wonderful things about the Hill Country is that it is dotted with lots of Antique shops and Junk shops. Come join me and my sweet husband as we take you on a thrifting adventure through Wimberley and the prettiest part of Texas that we call home.
Kitchen Academy Videos
Are you looking for more traditional foods videos? I invite you to join the Traditional Foods Kitchen Academy. Members of this optional paid YouTube community get access to exclusive videos, live streams, and other members-only perks.
In the following members-only videos, I talk about how to equip your traditional foods kitchen:
Stay in Touch with Mary's Nest
Subscribe to My YouTube Channel for Traditional Foods Videos (Free) - When you subscribe, be sure to click on the notification bell that will let you know each time I upload a new video.
Subscribe to Mary's Traditional Foods Newsletter (Free) - Get a free 36-page eBook for signing up: How to Stock Your Essential Traditional Foods Four-Corners Pantry.
Join the Traditional Foods Kitchen Academy (Optional Paid) - For more detailed videos, live streams, and exclusive members-only perks, join my YouTube membership community.
Order The Modern Pioneer Cookbook (Optional Paid) - Get a printed book of Mary's nourishing recipes from a Traditional Foods Kitchen. This bestselling cookbook is published by Penguin Random House with their DK imprint.
I look forward to having you join me in my Texas Hill Country Kitchen!
---
Shop for items used in this blog post or video
Favorite Kitchen Thrift Finds
Favorite Kitchen Supplies
Use promo code MARYSNST for a one-time 15% off Masontops and Breadsmart products on Amazon.com.
Use my Mockmill affiliate link for a special one-time 5% discount on Mockmill Stone Grain Mill products, including the new Flake Lover's Flaker. (The Mockmill discount will appear when you checkout.)
Amazon Shop and Shopping Guide
Visit my Shopping Guide page
Get up to 15% off for stocking your Traditional Foods Pantry and equipping your Modern Pioneer Kitchen, including discounts from Lehman's, Mockmill Grain Mill, Masontops, Cultures for Health, Survival Garden Seeds, Redmond Real Salt, Plan to Eat, US Wellness Meats, and More!
Recommended Reading
**Disclaimer: I am not a medical doctor, a medical professional, a dietician, or a nutritionist. All content found on the MarysNest.com website, including text, images, videos, eBooks or eGuides, social media, or other formats, were created solely for informational purposes only. The content is not intended to be a substitute for professional medical advice, diagnosis, or treatment. Always seek the advice of your physician or other qualified healthcare provider with any questions you may have regarding a medical condition or proper nutritional advice. Never disregard professional medical advice or delay in seeking it because of something you have watched in a video or read on this website. Use caution when following the recipe in this video. The creator and publisher of this video and website will not be held responsible for any adverse effects that may arise from the use of this recipe and method or any other recipe and method on this website or corresponding video channel.