Kitchen Garden Tour – My Potager Garden is Blooming!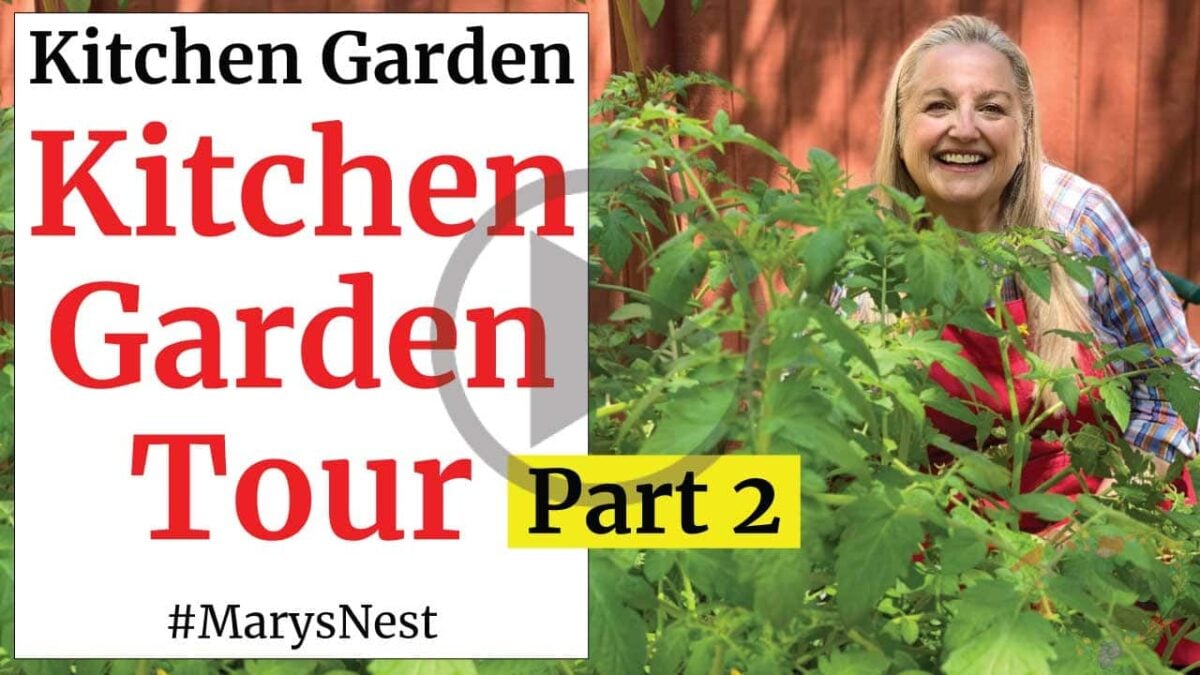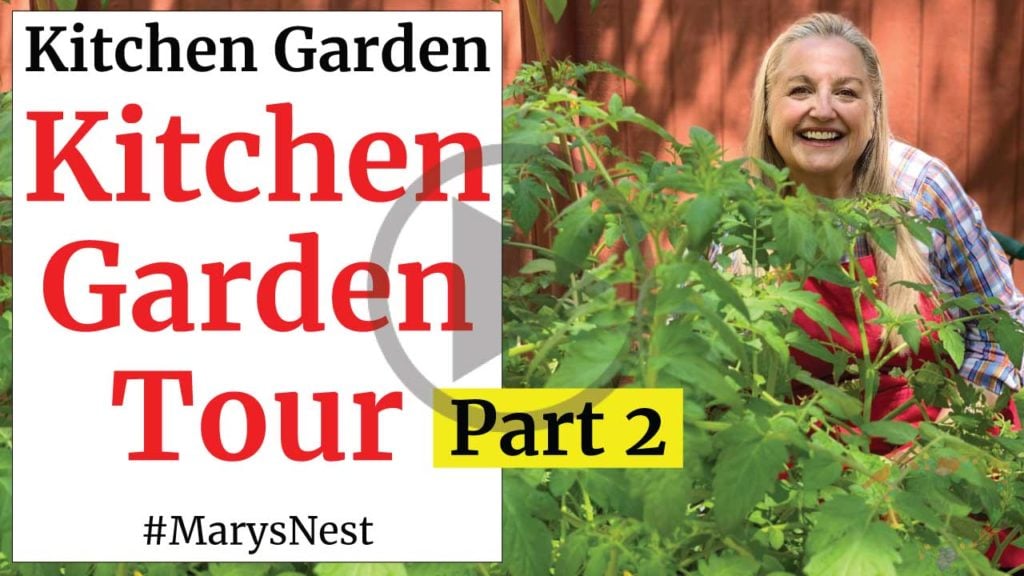 Here's Part 2 of my Kitchen Garden Tour. I've been rebuilding my kitchen garden (also known as a Potager garden) after our terrible winter storm, and everything is starting to come into bloom. I can't wait to give you a tour!
*Affiliates note: As an Amazon Associate I earn from qualifying purchases. My content may contain affiliate links to products and services. If you click through and make a purchase, I'll receive a small commission. It does not affect the price you pay.
Catch Up on my Kitchen Garden Tour
In case you missed Part 1 of my Kitchen Garden Tour, be sure to watch the video below where I show you the plants I'm going to use to rebuild my Potager garden after our terrible Texas winter storm in February. You will be surprised how much has changed between parts 1 and 2 of my garden tour videos.
My Potager Garden is Blooming!
I am so excited to take you on the latest video tour of my Potager garden. What a difference from just a month ago! Everything is growing beautifully, including my:
Sweet 100 Cherry Tomatoes
Italian Plum Tomatoes
String Beans
Patty Pan Squash
Pickling Cucumbers
Hot Peppers
French Breakfast Radish
Beets
Herbs
Edible Flowers
And More!
Spring has sprung in the Texas Hill Country, and it is such a relief after the strong winter storms we suffered under back in February. Now, our temperatures range from a balmy and breezy 70°F to downright summer temps topping out at 90°F, but with plenty of dappled sun to protect my more tender plants. My Potager garden is loving this weather! And we have had some of the nicest and gentlest rains I can ever remember. Yes, my kitchen garden is loving this time of the year indeed!
Books to Create Your Kitchen Garden
If you are like me and you both like to read, garden, and cook, I have the Top 10 Best Gardening Books—many with garden fresh recipes—to help you start creating your own kitchen garden or Potager. And if you already have a kitchen garden, you'll find some delightful surprises to add to your kitchen garden library.
Grow Medicinal Herbs in Your Garden
Is one of your health goals to make your own medicinal herbal remedies? You can certainly purchase dried herbs for this purpose, but you may find growing your own herbs to be more enjoyable and satisfying! If you don't have a kitchen garden of your own, you can start with just a sunny windowsill. In the two videos below, I share with you My Top 15 (10+5) Essential Herbs that you can start growing now, so you can make herbal home remedies in no time.
Preserve Your Harvest with Water Bath Canning
Once you start growing your own vegetables, you may not be able to consume them all at once. What better way to stock your Prepper Pantry than by learning how to home can your harvest? I show you how to get started with the water bath canning process, which is the best way to learn about the canning process for the beginning home canner. I take you from start to finish with detailed step-by-step tutorials. You'll be a confident water bath canner by the end of the process!
Ferment Your Harvest with Step-by-Step Videos
If you are like me and you're devoted to making traditional nutrient-dense foods, check out the videos below where I show you how to make naturally fermented pickles and fermented salsa. You can use store-bought vegetables or the bounty from your own Potager garden. And like with all my videos (425 and counting!), I provide you with complete detailed step-by-step instructions so that you will be successful with your fermentations!
Pickle Your Harvest with Tutorial Videos
Think you don't like beets? Try my pickled beets recipe, and I am confident you are going to find that you love beets! (My husband wasn't keen on beets until he had the chance to enjoy my homemade pickled beets. Now he's their biggest fan!)
In a hurry? I've got you covered with this quick pickle recipe that can be used to pickle basically any vegetable…in about 1 hour!
More Garden videos
Here are a few more garden videos to help you discover how easy it is to regrow your vegetable scraps and create a recurring harvest. I also give you a tour of the Potager garden that my son helped me build last year.
Kitchen Academy Videos
Are you looking for more traditional foods videos? I invite you to join the Traditional Foods Kitchen Academy. Members of this optional paid YouTube community get access to exclusive videos, live streams, and other members-only perks.
In the following members-only video, I talk about Ten Staples for the Traditional Foods Kitchen.
Stay in Touch with Mary's Nest
Subscribe to My YouTube Channel for Traditional Foods Videos (Free) - When you subscribe, be sure to click on the notification bell that will let you know each time I upload a new video.
Subscribe to Mary's Traditional Foods Newsletter (Free) - Get a free 36-page eBook for signing up: How to Stock Your Essential Traditional Foods Four-Corners Pantry.
Join the Traditional Foods Kitchen Academy (Optional Paid) - For more detailed videos, live streams, and exclusive members-only perks, join my YouTube membership community.
Order The Modern Pioneer Cookbook (Optional Paid) - Get a printed book of Mary's nourishing recipes from a Traditional Foods Kitchen. This bestselling cookbook is published by Penguin Random House with their DK imprint.
I look forward to having you join me in my Texas Hill Country Kitchen!
---
Shop for items used in this blog post or video
Favorite Gardening Supplies
Favorite Kitchen Supplies
Use promo code MARYSNST for a one-time 15% off Masontops and Breadsmart products on Amazon.com.
Learn more about Mockmill electric grain mills for making fresh flour and their Flake Lover's Flaker that flakes whole grain in minutes.
Amazon Shop and Shopping Guide
Visit my Shopping Guide page
Get up to 15% off for stocking your Traditional Foods Pantry and equipping your Modern Pioneer Kitchen, including discounts from US Wellness Meats, Farmhouse Teas, Lehman's, Masontops, Cultures for Health, Survival Garden Seeds, Redmond Real Salt, Plan to Eat, and More!
Recommended Reading
**Disclaimer: I am not a medical doctor, a medical professional, a dietician, or a nutritionist. All content found on the MarysNest.com website, including text, images, videos, eBooks or eGuides, social media, or other formats, were created solely for informational purposes only. The content is not intended to be a substitute for professional medical advice, diagnosis, or treatment. Always seek the advice of your physician or other qualified healthcare provider with any questions you may have regarding a medical condition or proper nutritional advice. Never disregard professional medical advice or delay in seeking it because of something you have watched in a video or read on this website. Use caution when following the recipe in this video. The creator and publisher of this video and website will not be held responsible for any adverse effects that may arise from the use of this recipe and method or any other recipe and method on this website or corresponding video channel.