Fire Cider Tonic Recipe – The Master Tonic for Colds and Flu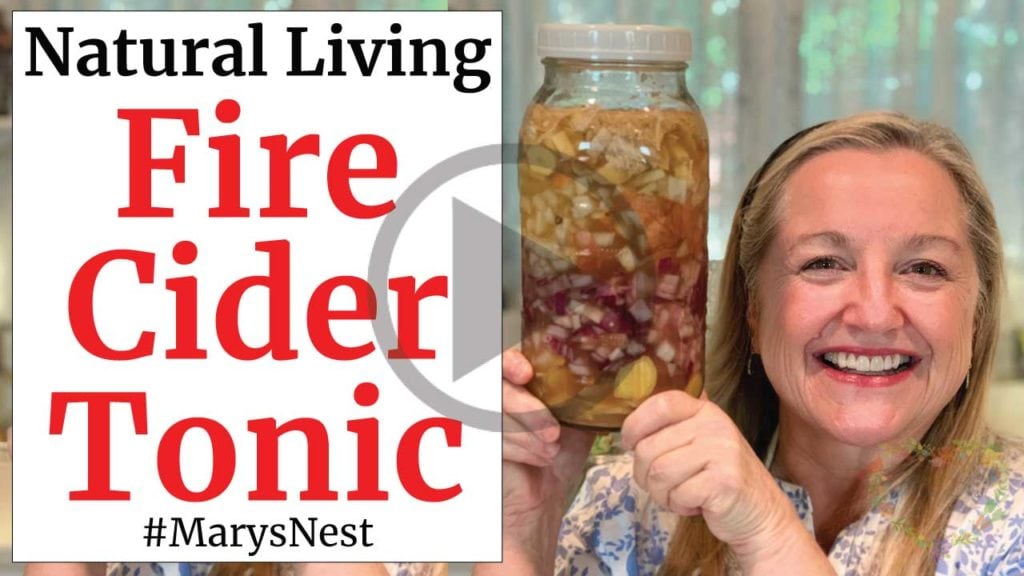 Learn how to make this Master Tonic for colds and flu with this Fire Cider Tonic Recipe. This recipe is easy to make and uses common pantry staples that you probably already have on hand in your kitchen.
Fire Cider and Master Tonics
What exactly is a Master Tonic? Great question! A Master Tonic refers to an all-encompassing home remedy that helps to ease a myriad of symptoms. And Fire Cider is known as the original Master Tonic. You can make the original recipe with simple pantry staples, but you can tailor it to suit various conditions by adding additional herbs and spices.
What is in Fire Cider?
The basic ingredients in this wonderful elixir include:
Garlic
Onions
Ginger
Cayenne pepper
Horseradish
Apple cider vinegar
Your horseradish should generally be fresh (but not required – see more about this below), and you'll top your mixture off with apple cider vinegar. If possible, use raw apple cider vinegar, which is sometimes labeled "with the mother." The "mother" represents the good bacteria that is rich in probiotics and is excellent for gut health. And of course, you can certainly use your own homemade apple cider vinegar to make this tonic.
All you have to do is steep your ingredients in the apple cider vinegar for about three to four weeks, then strain and decant it and you're all set. You'll have your Fire Cider ready to get you through cold and flu season. (So be sure to make it now with my printable recipe so it will be prepared in time once the fall season rolls around!)
Fresh Horseradish? That's Not Common!
Don't worry if you don't have fresh horseradish on hand. This ingredient can be hard to find at many local grocery stores, and it's often not even found at specialty stores. But as I mentioned earlier…you need "generally" fresh horseradish to make Fire Cider, but not exclusively. (And in some recipes, it's even left out.)
The good news is that an easy fix for fresh horseradish is bottled horseradish, which is usually sold at most grocery stores. Just make sure to look for a brand that contains just horseradish with nothing added other than vinegar and salt. Avoid any horseradish sold with cream. (I show you the horseradish that I use in my recipe video.)
Can I Modify the Recipe?
Keep in mind that this Fire Cider Recipe is for the Master Tonic Recipe, which means that all recipe variations stem from this basic recipe. If the basic recipe contains ingredients you don't like, leave them out.
If you want to add certain herbs and spices, such as turmeric (fresh or dried) for its anti-inflammatory properties, you can easily modify the recipe. You can tailor this basic recipe in any way you like.
Refer to Rosemary Gladstar for More
If you want to learn how to tailor your Fire Cider Recipe to help you with certain conditions, be sure to refer to the book Fire Cider! by Rosemary Gladstar. Rosemary developed the original Fire Cider Master Tonic, and she shares many variations in her book.
And if you enjoy making Master Tonics and other herb and spice-based home remedies, be sure to check out Rosemary's other book, Medicinal Herbs: A Beginner's Guide: 33 Healing Herbs to Know, Grow, and Use. This book is absolutely outstanding and definitely of value, even to those experienced at making herbal remedies. I refer to it often and have found it to be indispensable. I based my Homemade Thyme Cough Medicine on a recipe from this book.
More Natural Living Recipes
Now that you know how to make the Master Tonic Fire Cider, be sure to watch these other videos where I show how to make a variety of home remedies, including an easy cold and flu remedy that only uses four ingredients and is ready in 5 minutes! Plus, I show you how to make an immune-boosting mineral broth, your own homemade elderberry syrup, and more!
Homemade Syrup Recipes
Try making these easy syrup recipes to store in your pantry.
Make Your Own Ingredients
You can make your own Apple Cider Vinegar to use in your Fire Cider. I show you the easy recipe in this step-by-step video.
Stay in Touch with Mary's Nest
Subscribe to My YouTube Channel for Traditional Foods Videos (Free) - When you subscribe, be sure to click on the notification bell that will let you know each time I upload a new video.


Subscribe to Mary's Traditional Foods Newsletter (Free) - Get a free eBook for signing up: How to Stock Your Essential Traditional Foods Four-Corners Pantry.


Join the Traditional Foods Kitchen Academy (Optional Paid) - For more detailed videos, live streams, and exclusive members-only perks, join my YouTube membership community.
I look forward to having you join me in my Texas Hill Country Kitchen!
Love,
Mary
♥
Shop for items used in this blog post or video
Favorite Home Remedy Making Supplies
Recommended Reading
Amazon Shop and Shopping Guide
Visit my Shopping Guide page
Learn where I buy my beef bones, electric grain mills, sprouted grains, and more…and get special discounts for Mary's Nest visitors, including from US Wellness Meats, Mockmill, Masontops, and Cultures for Health.
*Affiliates note: As an Amazon Associate I earn from qualifying purchases. My videos and blog posts may contain affiliate links to products and services. If you click through and make a purchase, I'll receive a small commission. It does not affect the price you pay.
**Disclaimer: I am not a medical doctor, a medical professional, a dietician, or a nutritionist. All content found on the MarysNest.com website, including text, images, videos, eBooks or eGuides, social media, or other formats, were created solely for informational purposes only. The content is not intended to be a substitute for professional medical advice, diagnosis, or treatment. Always seek the advice of your physician or other qualified healthcare provider with any questions you may have regarding a medical condition or proper nutritional advice. Never disregard professional medical advice or delay in seeking it because of something you have watched in a video or read on this website. Use caution when following the recipe in this video. The creator and publisher of this video and website will not be held responsible for any adverse effects that may arise from the use of this recipe and method or any other recipe and method on this website or corresponding video channel.