How to Make Natural Food Coloring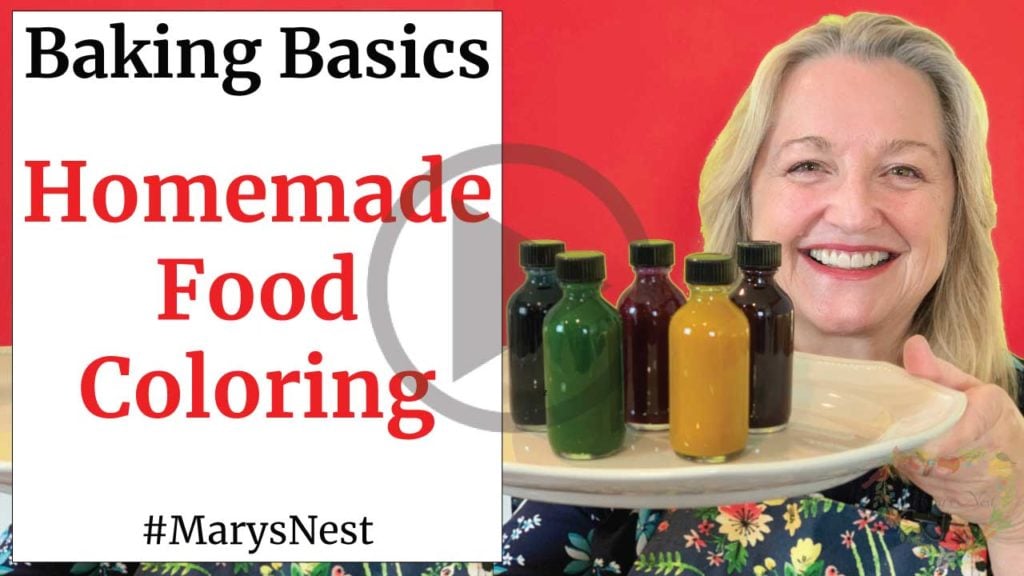 Today, I am sharing How to Make Natural Food Coloring with just a few simple ingredients that you can find in your pantry or at your local grocery store.
All-Natural Food Coloring Ingredients
These homemade food colorings are the perfect pantry staple for the Traditional Foods Kitchen because they are made from 100% natural ingredients, including fruits, veggies, and spices.
And the nice thing about making natural food colorings is that the process is very easy and literally takes just minutes.
What Natural Food Colors Can We Make?
In this video, I keep things very simple so you can make these natural food colors with ingredients you probably already have in your pantry or can easily get from your grocery store. I also use equipment that is found in most kitchens. The colors we'll make include yellow, purple, red (pink), green, and blue.
What Ingredients Will I need?
The ingredients that you'll need to make all these colors are simple. Gather up a can of beets, a bit of the spice turmeric, fresh spinach, frozen blueberries, and red cabbage. And the only other thing you'll need is a pinch of baking soda. (See my printable recipe later in this blog post for the full list of steps.)
Creating Yellow, Purple, Red, and Green
Once you gather up your ingredients, the next steps are simple. I show you how to make each of these colors, step-by-step, in my How to Make Natural Food Coloring video. Here's a short overview of the process:
But What About Creating Blue?
Blue is easy to make, but it just takes an extra step. You'll simmer your red cabbage in water until it's soft. Once softened, you'll strain off the red cabbage and find that you're left with a lovely lavender shade. But don't be fooled. That lovely lavender can also be used as a purple food coloring because it can easily turn into other colors when exposed to certain ingredients.
The good news is that's how we can turn lavender into blue. A pinch of baking soda added to that lovely lavender liquid will produce a deep blue food coloring.
Where Is the Orange Food Coloring?
I didn't cover how to make orange food coloring in the video because I wanted to keep things very simple. But you can make orange. It just takes a more specialized ingredient or a piece of equipment that not every kitchen has.
First, the easiest way to make orange is to use freeze-dried carrots. Take a handful, puree them with some water, and then strain out the solids. Voilà…you have orange! Note that dehydrated carrots can work too, but the orange color is not as vibrant.
How About Fresh Carrots to Make Orange?
Now, if you would prefer to create the orange color with fresh carrots, you will get your best color if you use a juicer to obtain the carrot juice. That juice will now be your orange food coloring.
Another option is to use a high-speed blender such as a Vita-Mix to puree fresh carrots with the tiniest bit of water. After you strain out the solids, you will have orange.
Experiment with Mixing Food Colors
But what about just mixing our natural red food coloring with our yellow one? Great question! This may or may now work with the homemade colors that you've created, so you will have to experiment.
Turmeric can be a bit unpredictable when mixed with other ingredients, and because of its variable nature, you are not always guaranteed a strong orange color if you mix it with a color made from beets or other red-pigmented fruit or veggie. But it's certainly worth a try!
More Baking Basics Videos and Recipes
Now that you've learned How to Make Natural Food Coloring, be sure to check out the other videos in my Baking Basics series:
Stay in Touch with Mary's Nest
Subscribe to My YouTube Channel for Traditional Foods Videos (Free) - When you subscribe, be sure to click on the notification bell that will let you know each time I upload a new video.


Subscribe to Mary's Traditional Foods Newsletter (Free) - Get a free eBook for signing up: How to Stock Your Essential Traditional Foods Four-Corners Pantry.


Join the Traditional Foods Kitchen Academy (Optional Paid) - For more detailed videos, live streams, and exclusive members-only perks, join my YouTube membership community.
I look forward to having you join me in my Texas Hill Country Kitchen!
Love,
Mary
♥
Print Recipe
Homemade Food Coloring
Make these natural food colorings in minutes with simple ingredients.
Servings:
5
2 ounce bottles
Ingredients
Red/Pink Food Coloring
4

Canned Beets

1/2

cup

Beet juice from canned beets
Yellow Food Coloring
1

teaspoon

Turmeric

1/2

cup

Water
Purple Food Coloring
1/2

cup

Frozen blueberries

1/3

cup

Filtered water
Green Food Coloring
1

cup

Fresh spinach

1/2

cup

Water
Blue Food Coloring
2

cups

Shredded Red Cabbage

1 1/2

cups

Water

1/4

teaspoon

Baking soda
Instructions
Red/Pink Food Coloring
Puree beets and beet juice in a blender and then strain through a mesh strainer to remove solids. Decant liquid and refrigerate.
Yellow Food Coloring
Mix turmeric and water together in a small saucepan, and simmer for a few minutes until the turmeric dissolves. Decant liquid and refrigerate.
Green Food Coloring
Simmer spinach and water in a small saucepan for a few minutes. Allow to cool slightly, then puree spinach and water in a blender. Strain through a mesh strainer to remove solids. Decant liquid and refrigerate.
Purple Food Coloring
Puree blueberries and water in a blender. Strain through a mesh strainer to remove solids. Decant liquid and refrigerate.
Blue Food Coloring
In a medium saucepan, simmer cabbage and water for approximately 15 minutes until cabbage is softened. Strain mixture through a mesh strainer to remove cabbage. Begin adding baking soda to the liquid, a pinch at a time, until it turns blue. Decant liquid and refrigerate.
Shop for items used in this blog post or video
Favorite food coloring supplies:
*Affiliates note: As an Amazon Associate I earn from qualifying purchases. My videos and blog posts may contain affiliate links to products and services. If you click through and make a purchase, I'll receive a small commission. It does not affect the price you pay.
**Disclaimer: I am not a medical doctor, a medical professional, a dietician, or a nutritionist. All content found on the MarysNest.com website, including text, images, videos, eBooks or eGuides, social media, or other formats, were created solely for informational purposes only. The content is not intended to be a substitute for professional medical advice, diagnosis, or treatment. Always seek the advice of your physician or other qualified healthcare provider with any questions you may have regarding a medical condition or proper nutritional advice. Never disregard professional medical advice or delay in seeking it because of something you have watched in a video or read on this website. Use caution when following the recipe in this video. The creator and publisher of this video and website will not be held responsible for any adverse effects that may arise from the use of this recipe and method or any other recipe and method on this website or corresponding video channel.