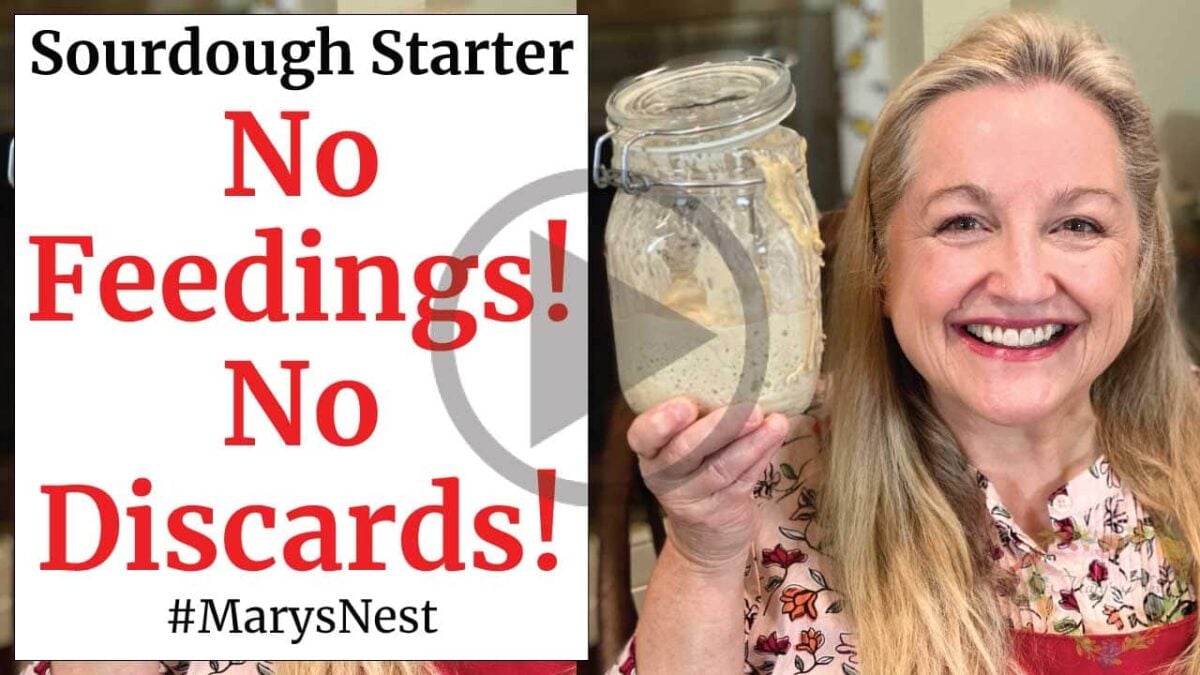 Get to know the different ways to maintain a sourdough starter in my latest blog post and video, including a new and clever way that I learned about with no feedings and no discards!
Maintain a Sourdough Starter
Before exploring this new way of maintaining a starter, let's review some of the traditional methods that we can maintain a sourdough starter:
Daily Sourdough Starter Feedings
If you like to leave your sourdough starter out on the counter and bake sourdough bread on a regular basis, then the daily feeding method is for you.
On most days, you'll scoop out a cup of our sourdough starter and use it as the rising agent to bake your sourdough bread. Then you'll feed your remaining starter with flour and water and let it sit on our counter until the next day, when you'll use it again to bake bread.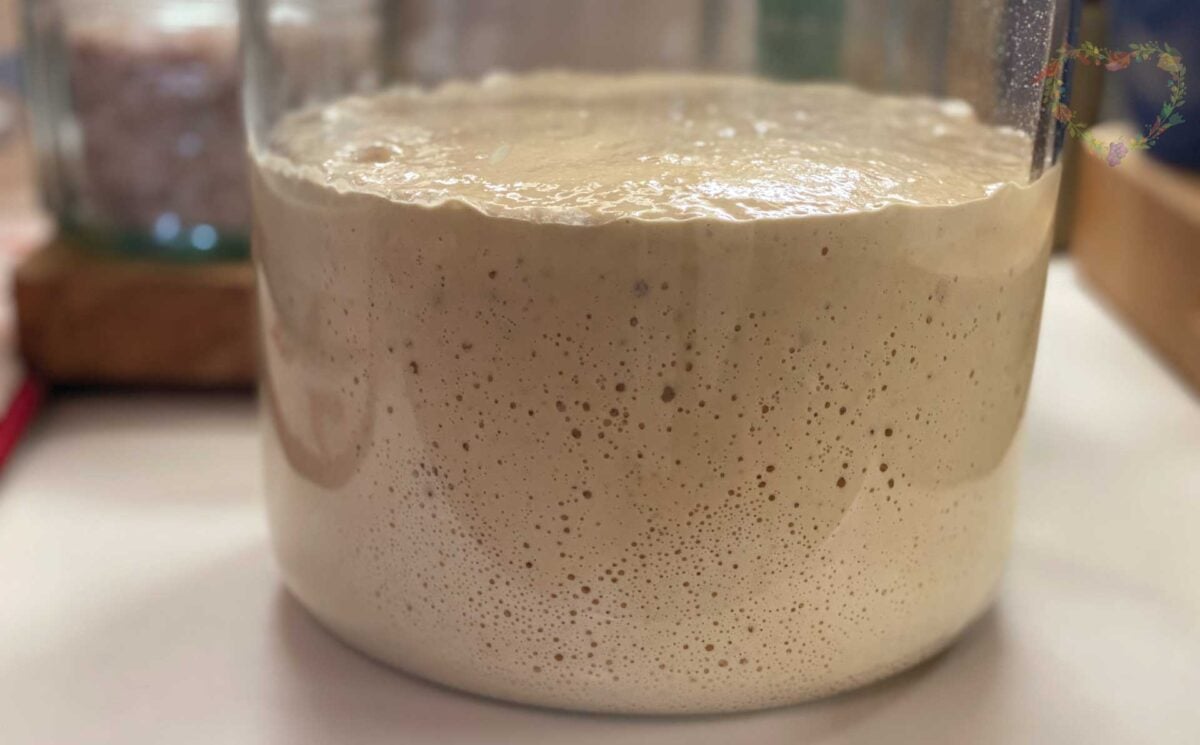 Sometimes you'll decide not to bake bread for a day. In this case, you'll still need to feed your sourdough starter, so it doesn't go hungry.
You'll need to remove some of your starter first. The sourdough starter you remove but don't use to bake sourdough bread is referred to as the discard. Now, you don't have to actually discard this. As I show you in my sourdough starter discard recipe videos, you can use your discard in various recipes so that it does not go to waste.
But what if all this feeding and discarding is something that you simply don't want to do because you don't bake sourdough bread regularly, and you don't want to incorporate sourdough discard recipes into your meal plans? No problem. The refrigerator method may work for you.
Refrigerating Your Sourdough Starter
Another option to maintain a sourdough starter is to refrigerate it. This method is a good choice if you only bake sourdough bread once a week or every other week.
You can feed your sourdough starter and then put it in the refrigerator, where it will go dormant. Once it is asleep, it needs less food to survive, so it no longer needs daily feedings. But you can't let it go hungry!
On a weekly basis, you will need to:
Take the container with your sourdough starter from your refrigerator.
Remove some of the starter (your discard) from your container.
Add fresh flour and water to the starter to feed it.
Return the container to the refrigerator if you are not ready to bake sourdough bread.
When you are ready to bake sourdough bread, you'll want to:
Take the container with your sourdough starter out of the refrigerator.
Remove some of your starter.
Add fresh flour and water to the starter to feed it.
Leave the container with the sourdough starter on the counter overnight to allow the starter to "wake up" by the morning. That way, when you "wake up" in the morning too, your starter will be ready to use to bake sourdough bread.
When you have removed however much sourdough starter you need to bake bread, simply feed what's left and return your container to the refrigerator to allow it to go dormant until you are ready to bake sourdough bread again!
Now, what if you rarely bake sourdough bread, but you have a great bubbly starter? The next option to maintain a sourdough starter might be for you!
Dehydrating Your Sourdough Starter
If you have a nice bubbly sourdough starter, but you find that you really don't make sourdough bread very often, dehydrating your sourdough starter might be the perfect option for you.
The process to dehydrate your sourdough starter is very easy, especially when it is a 100% hydration starter. This type of starter is equal parts flour and water, so it has a somewhat thin—almost watery—consistency.
All you have to do is spread your sourdough starter out very thinly on some parchment paper and allow it to dry at room temperature. You can also use a dehydrator or an oven. (Note that if you use an oven, make sure it is turned off with only the pilot light or electric light on.) Your sourdough starter will dry in no time, and once it's dry, you can break it into pieces and store it away.
When you are ready to reactivate your sourdough starter, you can break up some of the dehydrated pieces of starter into a jar and add some flour and water. You may have to repeat these flour and water feedings over the course of a few days to reactivate your starter. But within a few days, your starter should be bubbly and active again and ready for you to bake bread.
Once you reactivate your starter, you can now maintain it on your counter with daily feedings or weekly feedings if you prefer to refrigerate it.
Watch the following recipe video to learn how to dehydrate sourdough starter.
How to Store Your Dehydrated Sourdough Starter
Your extended or Prepper Pantry is an excellent place to store jars with your dehydrated or sourdough starter. In the following videos, you can learn more about the other items you can keep in your Prepper Pantry, as well as download a free 36-page pantry list. This comprehensive eBook lists all the items you'll want to store in your Four Corners Pantry, which includes your working pantry, refrigerator, freezer, and extended pantry.
A New Way To Maintain a Sourdough Starter
A sweet friend of mine named Anja has a very clever way of maintaining her sourdough starter that really caught my eye and so I wanted to share her method with you.
In my how to maintain a sourdough starter video that accompanies this blog post, I share with you how I followed Anja's directions and maintained my sourdough starter in my fridge for six weeks…with no feedings and no discards!
After six weeks, I removed my sourdough starter from my refrigerator and reactivated it just as Anja instructed me. (And you'll see how it grew in the video!) Next, I baked a loaf of sourdough bread, and I show you how it turns out.
So join me on this fun adventure and learn a new way to maintain a sourdough starter with no feedings and no discards.
Sourdough Starter Recipes
If you don't have a sourdough starter yet, but you're ready to try your hand at making one, the following videos give you a variety of ways to get started. In each video, I walk you through the process with detailed step-by-step instructions that will guarantee you success!
If you want to get your starter growing faster and you're okay with not having a pure sourdough starter (at least not at the beginning), watch the Busy Mother's Sourdough Secret video.
Sourdough Starter Discard Recipes
Hate to waste? Me too! That's why I never throw out my sourdough starter discard. Instead, I use it in a variety of recipes that I share below.
Sourdough Bread Recipes
Ready to make sourdough bread with your starter? I have a variety of recipes for you to choose from, including a fast version that is less sour than the traditional sourdough. This Fast No Knead Sourdough Bread recipe is excellent for home cooks who are at the beginning of transitioning from a processed foods kitchen to a traditional foods kitchen. Your baked sourdough bread will have a mild flavor, and it's a delicious introduction to sourdough bread for any palate.
And when you are ready to jump in and get started making a traditional sourdough bread, my recipe video below will walk you through the whole process with easy-to-follow, step-by-step instructions.
Oh, and when it comes to making pizza, you can't beat this sourdough pizza crust!
Kitchen Academy Videos
Are you looking for more traditional foods videos? I invite you to join the Traditional Foods Kitchen Academy. Members of this optional paid YouTube community get access to exclusive videos, live streams, and other members-only perks.
In the following members-only video, I talk about How to Make Any Baking Recipe a Sourdough Recipe.
Stay in Touch with Mary's Nest
Subscribe to My YouTube Channel for Traditional Foods Videos (Free) - When you subscribe, be sure to click on the notification bell that will let you know each time I upload a new video.
Subscribe to Mary's Traditional Foods Newsletter (Free) - Get a free 36-page eBook for signing up: How to Stock Your Essential Traditional Foods Four-Corners Pantry.
Join the Traditional Foods Kitchen Academy (Optional Paid) - For more detailed videos, live streams, and exclusive members-only perks, join my YouTube membership community.
Order The Modern Pioneer Cookbook (Optional Paid) - Get a printed book of Mary's nourishing recipes from a Traditional Foods Kitchen. This bestselling cookbook is published by Penguin Random House with their DK imprint.
I look forward to having you join me in my Texas Hill Country Kitchen!
Shop for items used in this blog post or video
Favorite Bread Making Supplies
Favorite Kitchen Supplies
Use promo code MARYSNST for a one-time 15% off Masontops and Breadsmart products on Amazon.com.
Use my Mockmill affiliate link for a special one-time 5% discount on Mockmill Stone Grain Mill products, including the new Flake Lover's Flaker. (The Mockmill discount will appear when you checkout.)
Amazon Shop and Shopping Guide
Recommended Reading
**Disclaimer: I am not a medical doctor, a medical professional, a dietician, or a nutritionist. All content found on the MarysNest.com website, including text, images, videos, eBooks or eGuides, social media, or other formats, were created solely for informational purposes only. The content is not intended to be a substitute for professional medical advice, diagnosis, or treatment. Always seek the advice of your physician or other qualified healthcare provider with any questions you may have regarding a medical condition or proper nutritional advice. Never disregard professional medical advice or delay in seeking it because of something you have watched in a video or read on this website. Use caution when following the recipe in this video. The creator and publisher of this video and website will not be held responsible for any adverse effects that may arise from the use of this recipe and method or any other recipe and method on this website or corresponding video channel.