Learn How to Make Bread with Step-by-Step Instructions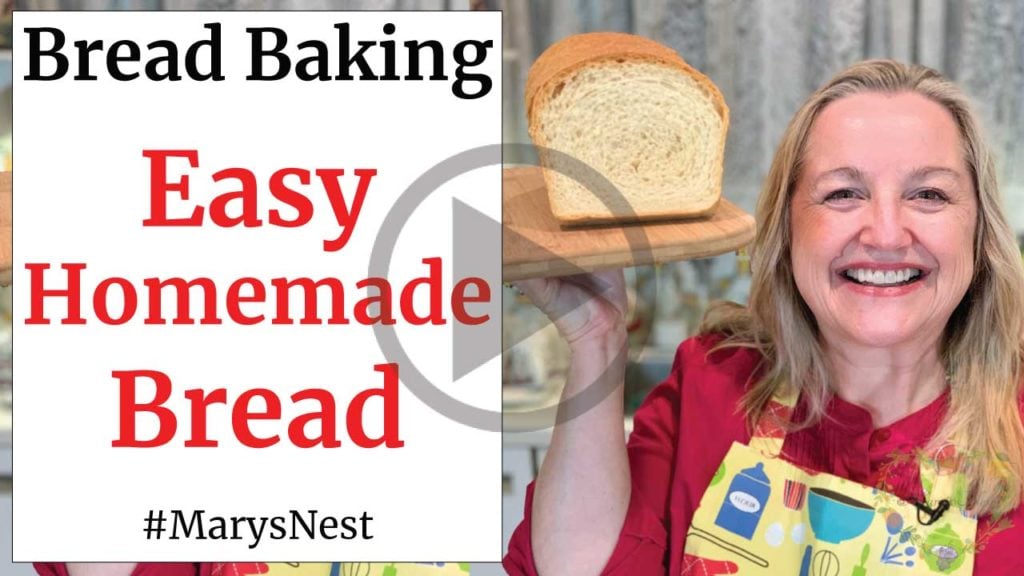 Learn how to make bread with these easy to follow, yet detailed step-by-step instructions. And there is no machine required!
Homemade Bread
There is something exceptional about being able to make homemade bread. You get such a feeling of accomplishment when you bake your own bread, and no one can resist a hot loaf that's fresh from your oven!
Unfortunately, for many people, the skill of baking bread has eluded them for one reason or another. Maybe their mom wasn't a baker, or their high school had long ago relegated home economics classes, sadly, to the trash heap. But baking bread is not a mystery. Nor is it difficult. It's actually quite easy. And with the step-by-step instructions that I walk you through in my recipe video, you'll be baking your own homemade bread in no time!
With my printable recipe, I give you the ingredients and steps to bake a loaf of traditional hand-kneaded bread. And with my recipe video, I show you how to make bread by hand, so don't worry if you don't have a stand mixer with a dough hook.
Besides, even if you have a variety of kitchen equipment to use at some point in your life, knowing how to bake bread by hand is what I call a life skill. We should all know how to do more things (cook, repair, and more) by hand. Having these skills can be very empowering because once you know how to do something by hand, everything else is a lot easier!
White or Whole Grain?
In my recipe video, I walk you through the steps for making basic white bread. However, you can easily convert this recipe to use whole grain flour. But keep in mind that if your or your family's palate are new to whole grains, I recommend you start by using half all-purpose or bread flour and half whole grain flour.
Using 100% whole grain flour can create a somewhat dense texture and unpleasant taste to those that are used to eating white sandwich bread. It's best to ease into whole grains gradually to help your family successfully transition from processed foods to traditional foods.
And as far as whole-grain substitutions go, you can use modern whole wheat or any of the ancient grains, including einkorn or spelt. In my printable recipe, I explain the adjustments you need to make if you decide to incorporate some whole grains into this bread dough recipe. (Also, in my Wheat Berries FAQ about Einkorn, Spelt, and More blog post and video, I show you the variety of wheat berries that you can use for traditional foods cooking.)
Don't feel bad about not using all whole grains in your recipe right from the start. Even our ancestors sifted out some of the bran and germ from their flour after milling their grain to create a lighter, more digestible loaf of bread.
So, even when you decide to start adding whole grains to your baking repertoire, I often recommend allowing for at least one-half cup or one full cup of all-purpose or bread flour in your recipe. You'll still get the nutritional benefits of the whole grain flour, but your final product will be more palatable.
More Bread Recipe Videos
Now that you've learned how to knead dough by hand (congratulations!), you can learn about all the tips and tricks of making bread without hand kneading.
In the following videos, I'll show you how to make a quick and easy No Knead Sandwich bread—both with white flour and whole wheat flour. And if you want to get fancy, you can try your hand at my No Knead Crusty Artisan Bread. It sounds elaborate, but it's perfect for beginners.
And if you don't have any yeast, don't worry. Try these recipes for making breads that don't require any yeast to rise.
If you're ready to start making sourdough bread, watch my complete sourdough starter guide, and you'll be baking sourdough bread in no time!
Bonus Bread Topping Videos
In case you need something to top your bread with, be sure to try your hand at making homemade Marmalade and Low Sugar Strawberry Jam.
And speaking of learning how to make things homemade without any special equipment…the marmalade recipe does not require any special ingredients, such as in store-bought pectin. I show you how to make marmalade the old-fashioned way. Another life skill! Once you learn how to make marmalades and jams without any added store-bought pectin, everything else is easier! Enjoy!
Stay in Touch with Mary's Nest
Subscribe to My YouTube Channel for Traditional Foods Videos (Free) - When you subscribe, be sure to click on the notification bell that will let you know each time I upload a new video.


Subscribe to Mary's Traditional Foods Newsletter (Free) - Get a free eBook for signing up: How to Stock Your Essential Traditional Foods Four-Corners Pantry.


Join the Traditional Foods Kitchen Academy (Optional Paid) - For more detailed videos, live streams, and exclusive members-only perks, join my YouTube membership community.
I look forward to having you join me in my Texas Hill Country Kitchen!
Love,
Mary
♥
Shop for items used in this blog post or video
Favorite Bread Making Supplies
Favorite Baking Yeast Supplies
Recommended Reading
Amazon Shop and Shopping Guide
Visit my Shopping Guide page
Learn where I buy my beef bones, electric grain mills, sprouted grains, and more…and get special discounts for Mary's Nest visitors, including from US Wellness Meats, Mockmill, Masontops, and Cultures for Health.
*Affiliates note: As an Amazon Associate I earn from qualifying purchases. My videos and blog posts may contain affiliate links to products and services. If you click through and make a purchase, I'll receive a small commission. It does not affect the price you pay.
**Disclaimer: I am not a medical doctor, a medical professional, a dietician, or a nutritionist. All content found on the MarysNest.com website, including text, images, videos, eBooks or eGuides, social media, or other formats, were created solely for informational purposes only. The content is not intended to be a substitute for professional medical advice, diagnosis, or treatment. Always seek the advice of your physician or other qualified healthcare provider with any questions you may have regarding a medical condition or proper nutritional advice. Never disregard professional medical advice or delay in seeking it because of something you have watched in a video or read on this website. Use caution when following the recipe in this video. The creator and publisher of this video and website will not be held responsible for any adverse effects that may arise from the use of this recipe and method or any other recipe and method on this website or corresponding video channel.