Affiliates note: As an Amazon Associate I earn from qualifying purchases. My content may contain affiliate links to products and services. If you click through and make a purchase, I'll receive a small commission. It does not affect the price you pay.
How to Make Banana Bread with Step by Step Instructions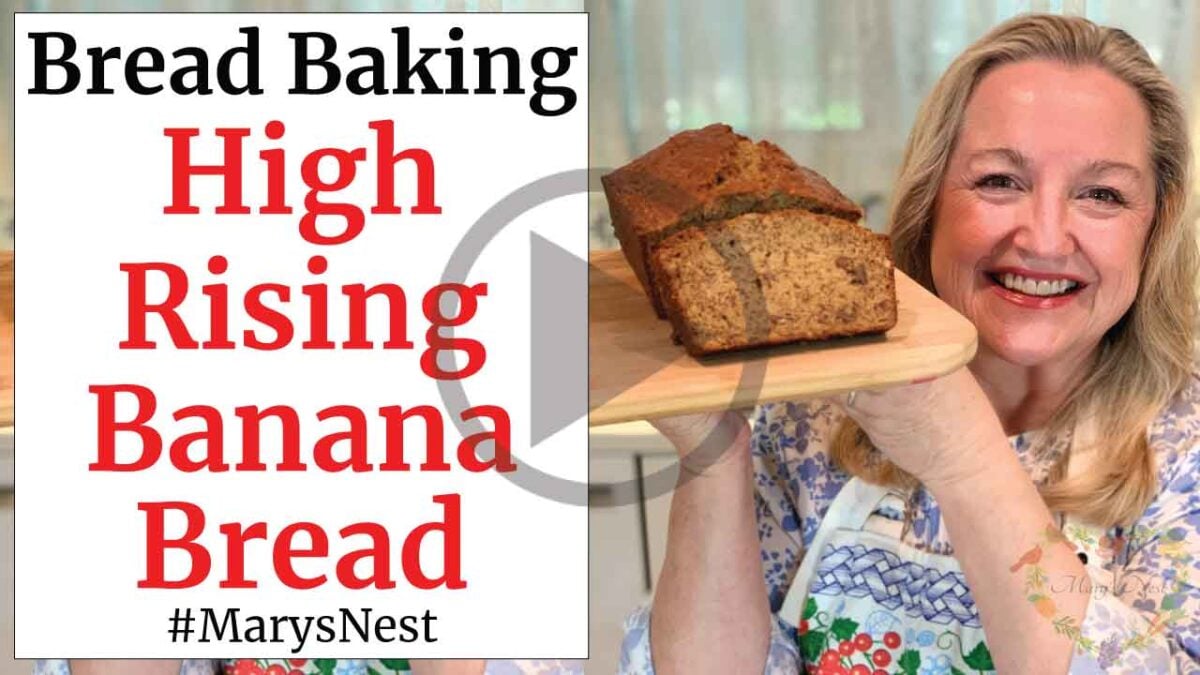 Learn How to Make Banana Bread—a High Rising Banana Bread—with these Step-by-Step Instructions that are perfect for beginners. This Easy Banana Bread Recipe is foolproof and will create a beautiful rise with a golden brown top.
The Best of the Quick Breads
Banana Bread is a quick bread and probably one of the most favorite among quick breads. If you are new to baking, you might be wondering what the term "quick bread" means. Well, a quick bread is a bread that can be sweet or savory, and you'll make the bread with one or both of the chemical leavening agents baking soda and baking powder as the rising agent instead of yeast.
And the best thing about a quick bread—as the name implies—is that it is quick to make. There is no rise time involved as with yeast breads. So you can literally have fresh bread on the table in little more than an hour!
Why Use Baking Soda for Banana Bread?
When it comes to making a Banana Bread, baking soda is a great choice for creating a nice rise in this type of quick bread. Generally, baking soda is used in quick breads that contain an acidic ingredient, such as buttermilk or lemon juice. But Banana Bread also benefits from using baking soda because most recipes call for using very ripe bananas. And very ripe bananas are mildly acidic.
Time to Bake!
So be sure to watch my recipe video where I walk you through—Step-by-Step—How to Make a High Rising Banana Bread that will come out perfect every time!
More Recipe Videos
Now that you've mastered Banana Bread, learn how to make more quick breads by trying out these recipes below.
And if you're ready to experiment with making breads with yeast, try your hand at these two easy No-Knead Sandwich Breads. One is made with all-purpose flour, and the other contains some added whole wheat flour to increase the nutritional value!
Stay in Touch with Mary's Nest
Subscribe to My YouTube Channel for Traditional Foods Videos (Free) - When you subscribe, be sure to click on the notification bell that will let you know each time I upload a new video.
Subscribe to Mary's Traditional Foods Newsletter (Free) - Get a free 36-page eBook for signing up: How to Stock Your Essential Traditional Foods Four-Corners Pantry.
Join the Traditional Foods Kitchen Academy (Optional Paid) - For more detailed videos, live streams, and exclusive members-only perks, join my YouTube membership community.
Order The Modern Pioneer Cookbook (Optional Paid) - Get a printed book of Mary's nourishing recipes from a Traditional Foods Kitchen. This bestselling cookbook is published by Penguin Random House with their DK imprint.
I look forward to having you join me in my Texas Hill Country Kitchen!
Easy Banana Bread Recipe with Step-by-Step Instructions for Beginners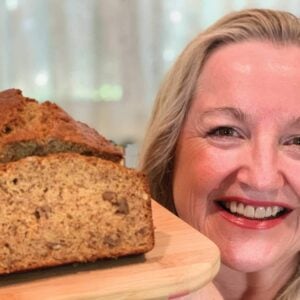 This high rising Banana Bread comes out perfect every time with a beautiful golden crust.
Equipment
One 9"x5" loaf pan, well greased
Ingredients
1 1/2

cups

All-purpose flour

See recipe notes for additional information.

1/2

cup

Whole wheat flour

See recipe notes for additional information.

1

cup

Sugar

You can use white sugar or a whole sugar such a dried cane juice (Sucanat), maple sugar, date sugar, etc. See recipe notes below for substituting liquid sweeteners such as honey.

1

teaspoon

Baking soda

1/2

teaspoon

salt

1/2

cup

Nuts, any variety, chopped

3

large

Bananas, very ripe, peeled

1/4

cup

Sour cream

Can substitute with yogurt, buttermilk, or buttermilk substitute.

2

large

Eggs

1

teaspoon

Vanilla extract

1

stick

Butter, melted

Can substitute with ghee, coconut oil, or mild-flavored olive oil or avocado oil.
Instructions
Set oven rack in the lower third of the oven.

In a large bowl, add all the the flours, sugar, baking soda, and salt. Whisk together well and then toss in nuts to coat. Set aside.

In a separate bowl, gently mash the peeled bananas.

Add two slightly beaten eggs to the bananas along with the sour cream and vanilla and mix well.

Add the melted butter to the banana mixture and mix well.

Make a well in the center of the flour mixture, and pour the banana mixture into the well. Mix gently until the dry ingredients are incorporated with the wet and the flour is no longer visible. Do this gently and DO NOT over mix. Batter will be lumpy.

Pour batter into greased loaf pan and transfer to oven. Bake for 50-60 minutes or until a toothpick inserted in the center of the banana bread comes out clean. If at anytime the banana bread appears to be over browning, you can cover it with aluminum foil as it continues to bake.

Once the banana bread is finished baking, transfer loaf pan to a wire cooling rack. Allow pan to cool slightly and then remove the banana bread from the pan to a wire cooling rack to allow the banana bread to cool completely. Slice and enjoy!
Notes
SUBSTITUTIONS:
You can use any combination of flours in this recipe. You can make this banana bread with just all-purpose flour (plain) or bread flour.  You can also substitute part or all of the all-purpose or bread flours with whole grain flours.  In addition to using whole wheat flour, you can also use spelt flour or einkorn flour.  Just keep in mind, if you use all whole grain flour, your banana bread will be slightly denser. 
If you choose to use a liquid sweetener, such as honey or maple syrup, instead of sugar, you will only use 1/2 cup of your selected sweetener.  You will also need to decrease the amount of bananas in the recipe to only 2 large bananas. 
***
You can find this recipe and accompanying video at https://marysnest.com/how-to-make-banana-bread-with-step-by-step-instructions/
Copyright © 2020 Mary's Nest, LLC, All Rights Reserved
Watch Mary's Nest on YouTube
Shop for items used in this blog post or video
Favorite Quick Bread Making Supplies
Recommended Reading
Amazon Shop and Shopping Guide
Visit my Shopping Guide page
Get up to 15% off for stocking your Traditional Foods Pantry and equipping your Modern Pioneer Kitchen, including discounts from US Wellness Meats, Farmhouse Teas, Lehman's, Masontops, Cultures for Health, Survival Garden Seeds, Redmond Real Salt, Plan to Eat, and More!
*Affiliates note: As an Amazon Associate I earn from qualifying purchases. My content may contain affiliate links to products and services. If you click through and make a purchase, I'll receive a small commission. It does not affect the price you pay.
**Disclaimer: I am not a medical doctor, a medical professional, a dietician, or a nutritionist. All content found on the MarysNest.com website, including text, images, videos, eBooks or eGuides, social media, or other formats, were created solely for informational purposes only. The content is not intended to be a substitute for professional medical advice, diagnosis, or treatment. Always seek the advice of your physician or other qualified healthcare provider with any questions you may have regarding a medical condition or proper nutritional advice. Never disregard professional medical advice or delay in seeking it because of something you have watched in a video or read on this website. Use caution when following the recipe in this video. The creator and publisher of this video and website will not be held responsible for any adverse effects that may arise from the use of this recipe and method or any other recipe and method on this website or corresponding video channel.