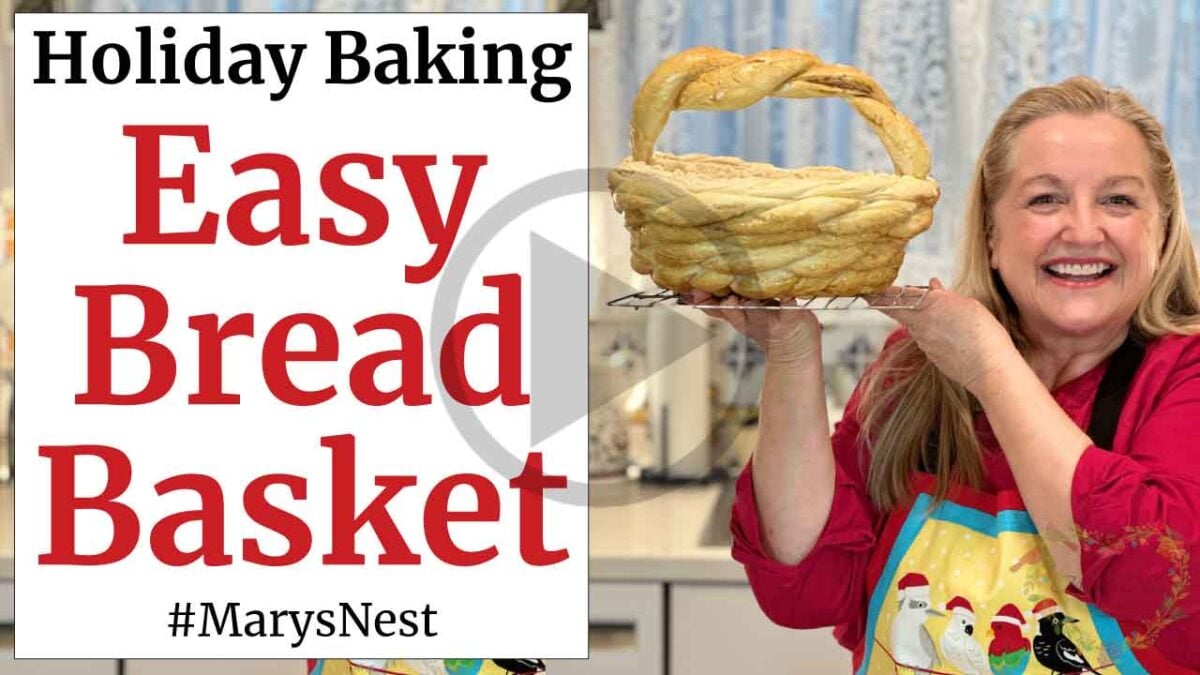 As a treat for this holiday season, I'm excited to share with you how to make a bread basket the easy way. You'll make it with a simple twist method instead of having to create a complicated braid. And best of all, this bread basket is edible!
*Affiliates note: As an Amazon Associate I earn from qualifying purchases. My content may contain affiliate links to products and services. If you click through and make a purchase, I'll receive a small commission. It does not affect the price you pay.
How to Make a Bread Basket
As I was flipping through a used cookbook titled A Yankee Christmas, I came across a recipe for a bread basket. I was so intrigued, but it looked challenging.
However, when I read through the recipe, I realized I didn't need to make fancy braids or loop all the braids together. Instead, the method described in the recipe simply relied on twisting two strands of dough together and then using a bowl turned upside down as a mold. I had to try this!
Show-Stopping Bread Basket for Your Holiday Table Centerpiece
This bread basket, which you may have also heard referred to as a dough basket or edible dough basket, came together easily and baked up to a beautiful golden brown. It's going to make the perfect centerpiece for my Christmas dinner tablescape filled with my Easy Yeast Dinner Rolls.
You can also serve the bread basket alongside a charcuterie platter, such as my giant party platter. (Be sure to download the free printable guide that accompanies the platter.)
More Options to Fill Your Bread Basket
You can make this bread basket at any time of the year for a special occasion and fill the basket with:
Breadsticks
Or a little bit of everything!
Holiday Dessert Recipes
If you are looking for more holiday dessert recipes that are easy to make and are always welcome at any dinner table, be sure to try my recipe for old-fashioned gingerbread cake, chocolate truffles, and my personal favorite—Italian ricotta cookies!
Christmas Gift Ideas
If you need some inspiration for homemade Christmas gifts, check out the video below, where I share a whole host of great ideas that are easy to make and delicious. (Your homemade bread basket would be a wonderful Christmas gift too!)
And in the following video, I share my seven best kitchen tools for the Modern Pioneer Kitchen. You'll find some delightful surprises you can get for yourself or your favorite traditional foods cook.
Finding Vintage Cookbooks at Used Book Stores
In today's video, I share with you where I found the book, A Yankee Christmas. We enjoy visiting used bookstores, such as Half Price Books and Recycled Reads in Austin, Texas, to find old cookbooks. Here are a few videos where I talk about some of my vintage finds and why these books intrigued me.
Grind Your Own Flour with the Mockmill
If you do a lot of baking and like to store whole grains in your extended or Prepper Pantry, you'll need a manual or electric grain mill to turn your whole grains into fresh flour.
When it comes to electric grain mills, after I did A LOT of research, I decided to buy a Mockmill. And am I so happy I did! The Mockmill is a very affordable but beautifully crafted German-made mill that stone grinds grain with settings ranging from 1 to 10—fine to coarse ground grain.
And I have great news! The folks at Mockmill are very kind to offer my viewers and readers a special one-time discount on any of the grain mills that they sell.
Note: You can also get the new Flake Lover's Flaker from Mockmill. Using this device, you can flake whole grain in minutes.
You can see me unbox and try out the Mockmill 100 Grain mill in the following video. (This is not a sponsored post, I bought the Mockmill products that I show you, and I'm a happy user of their devices in my kitchen.)
Download Your Free 36-Page Pantry List
For an extensive list of the traditional foods you can make and purchase to stock your pantry, be sure to download my free 36-page Traditional Foods Pantry List. This comprehensive eBook is full of links to recipe videos, helpful articles, and more!
Kitchen Academy Videos
Are you looking for more traditional foods videos? If so, I invite you to join the Traditional Foods Kitchen Academy. Members of this optional paid YouTube community get access to exclusive videos, live streams, and other members-only perks. Plus, your YouTube comments include a special members-only badge.
In the following members-only video, I talk about whole grain baking. If you liked making today's edible bread basket or enjoy baking in general, this video provides you with more detail on using whole grains.
Stay in Touch with Mary's Nest
Subscribe to My YouTube Channel for Traditional Foods Videos (Free) - When you subscribe, be sure to click on the notification bell that will let you know each time I upload a new video.
Subscribe to Mary's Traditional Foods Newsletter (Free) - Get a free 36-page eBook for signing up: How to Stock Your Essential Traditional Foods Four-Corners Pantry.
Join the Traditional Foods Kitchen Academy (Optional Paid) - For more detailed videos, live streams, and exclusive members-only perks, join my YouTube membership community.
Order The Modern Pioneer Cookbook (Optional Paid) - Get a printed book of Mary's nourishing recipes from a Traditional Foods Kitchen. This bestselling cookbook is published by Penguin Random House with their DK imprint.
I look forward to having you join me in my Texas Hill Country Kitchen!
Trending Posts on Mary's Nest
Shop for items used in this blog post or video
Favorite Bread Making Supplies
Favorite Kitchen Supplies
More Kitchen Supplies with Discount Codes
Learn more about Mockmill electric grain mills for making fresh flour and their Flake Lover's Flaker that flakes whole grain in minutes.
Use promo code MARYSNST for a one-time 15% off Masontops and Breadsmart products on Amazon.com.
Amazon Shop and Shopping Guide
Visit my Shopping Guide page
Get up to 15% off for stocking your Traditional Foods Pantry and equipping your Modern Pioneer Kitchen, including discounts from US Wellness Meats, Farmhouse Teas, Lehman's, Masontops, Cultures for Health, Survival Garden Seeds, Redmond Real Salt, Plan to Eat, and More!
Recommended Reading
**Disclaimer: I am not a medical doctor, a medical professional, a dietician, or a nutritionist. All content found on the MarysNest.com website, including text, images, videos, eBooks or eGuides, social media, or other formats, were created solely for informational purposes only. The content is not intended to be a substitute for professional medical advice, diagnosis, or treatment. Always seek the advice of your physician or other qualified healthcare provider with any questions you may have regarding a medical condition or proper nutritional advice. Never disregard professional medical advice or delay in seeking it because of something you have watched in a video or read on this website. Use caution when following the recipe in this video. The creator and publisher of this video and website will not be held responsible for any adverse effects that may arise from the use of this recipe and method or any other recipe and method on this website or corresponding video channel.