How to Make Chopped Chicken Livers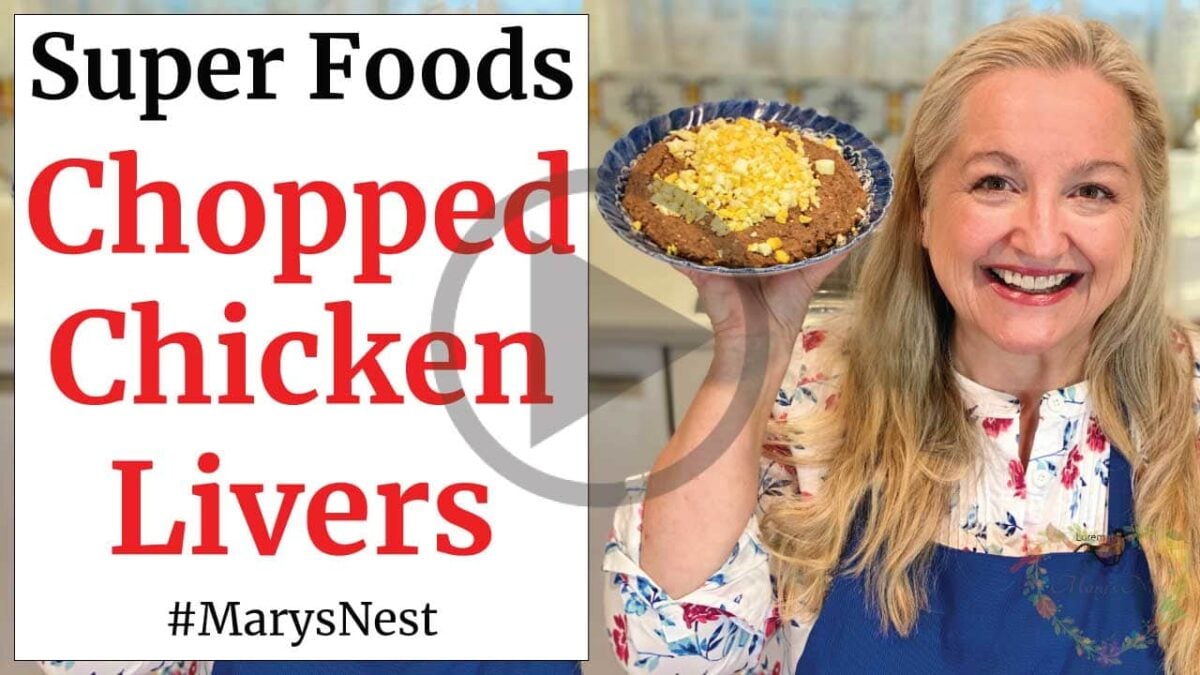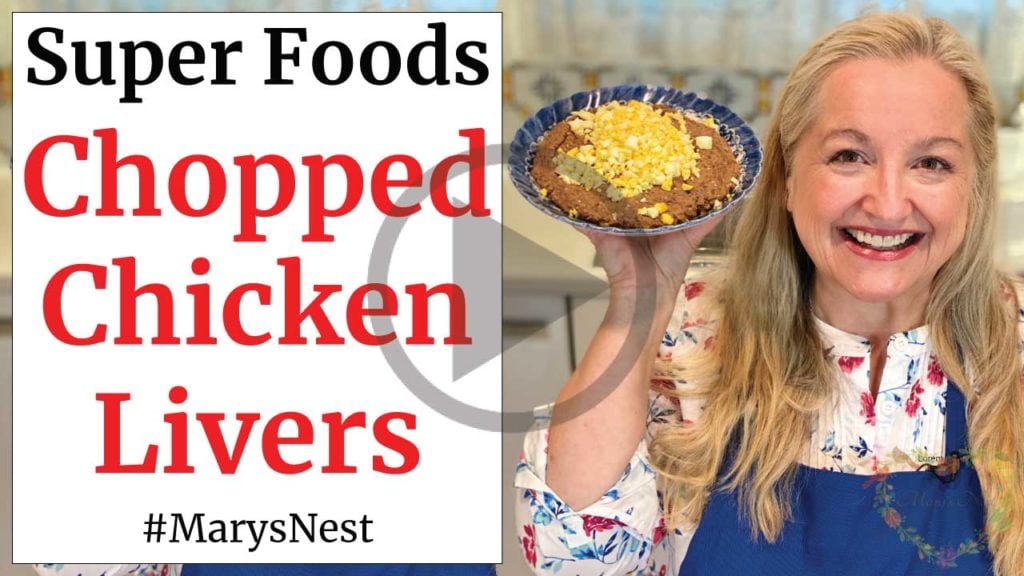 Learn how to make chopped chicken livers. This chopped livers recipe is a delicious and nutritious nutrient-dense food.
*Affiliates note: As an Amazon Associate I earn from qualifying purchases. My content may contain affiliate links to products and services. If you click through and make a purchase, I'll receive a small commission. It does not affect the price you pay.
Chopped Chicken Livers = Nutrient Dense
Adding liver to your meals is one of the best ways to increase the amount of nutrient-dense foods in your diet. Unfortunately, liver can be an acquired taste, but that's where chicken livers can save the day.
Unlike beef liver, chicken liver has a milder taste. Plus, when you prepare the livers in the traditional chopped liver fashion, the chicken livers take on a bit of a sweet and savory flavor, thanks to the added caramelized onions.
Chopped Chicken Livers Are Easy to Make
If you haven't previously prepared liver recipes, you are going to be surprised at how quick and easy chopped chicken livers are to make. I walk you through the whole 30-minute process, start to finish, in my recipe video and printable recipe.
To make chopped chicken livers, you'll need rendered chicken fat, also known as schmaltz. I show you how to make schmaltz in my accompanying recipe video. And in addition to enjoying the crispy bits of gribenes that you make as part of the process of rendering chicken fat, you can use your homemade schmaltz in other recipes too.
Chopped Chicken Livers Are the Perfect Appetizer
Delicious pâtés can liven the appetizer tray of any dinner party or special occasion, but fancy pâtés can be very expensive. In contrast, chicken livers are quite affordable.
The next time you plan on entertaining, prepare some chopped chicken livers and add them to your selection of hors d'oeuvres. I'm confident that your guests will enjoy your delicious treat and be very impressed with your culinary acumen when you tell them that you made the pâté yourself! 😉
A Liver Recipe Perfect for Children
Want to incorporate more liver into your meals? Be sure to try my Fried Beef Liver. This recipe is a delicious and child-friendly way to introduce kids to liver. When my son was young, I would serve this to him with some fermented ketchup. The first time I served it, he asked what it was. I said, "They're nuggets, and they are delicious." He gobbled them right up!
But this recipe isn't just for kids. These tasty little nuggets are for all of us. And my husband says that when I share this recipe, I shouldn't just say it is child-friendly. I should also add that it's husband-friendly too! 😊
Looking for Chicken Livers?
If you can't find chicken livers in your neighborhood supermarket or farmer's market, check out US Wellness Meats for pasture-raised chicken livers. If you order from them, be sure to use my special discount code:
Use discount code MARYNEST and my link to save 15% off regular-priced items on your US Wellness Meats order.
This post is not sponsored. I'm a long-time customer of US Wellness Meats because I have always been impressed by the quality of their products. Check out my US Wellness Meats unboxing video to see the types of products you can get, including bones for beef bone broth!
More Healthy Recipes
In my recipe video, I enjoy chopped chicken livers on a regular saltine cracker. I also talk about how you can make homemade crackers to pair with your chopped chicken livers for a delightful appetizer or main meal.
Here are two recipes for homemade crackers. The first is a slice and bake cracker, and the second is a sourdough cracker. Both are so easy that you will wonder why you have never tried to make crackers before!
And if you're buying whole chickens, be sure to save the bones to make chicken bone broth. This broth makes any recipe healthier, from soup to rice. In the following videos, I show you how to make chicken bone broth in the Instant Pot, slow cooker, and stovetop. Choose the one that's easiest for you!
More Super "Nutrient Dense" Foods
Want to add more nutrient-dense foods to your recipe repertoire? Then you have to add roasted bone marrow! Roasting beef marrow bones is easy to do, and they will create the most luscious treat you have ever had.
Like butter? Like grilled steak? Well, if I had to describe roasted bone marrow to you, I would call it steak butter. Spread on a slice of toasted baguette, it's the perfect bite of creamy, salty, and meaty flavors all in one.
So if you really want to wow your friends and family, the next time you are together, serve chopped chicken livers and roasted bone marrow. Everyone will think you have become a gourmet chef!
Kitchen Academy Videos
Are you looking for more traditional foods videos? I invite you to join the Traditional Foods Kitchen Academy. Members of this optional paid YouTube community get access to exclusive videos, live streams, and other members-only perks. Plus, your YouTube comments include a special members-only badge.
In the following members-only video, I talk about the Surprising Differences Between Mainstream and Traditional Super Foods.
Stay in Touch with Mary's Nest
Subscribe to My YouTube Channel for Traditional Foods Videos (Free) - When you subscribe, be sure to click on the notification bell that will let you know each time I upload a new video.
Subscribe to Mary's Traditional Foods Newsletter (Free) - Get a free 36-page eBook for signing up: How to Stock Your Essential Traditional Foods Four-Corners Pantry.
Join the Traditional Foods Kitchen Academy (Optional Paid) - For more detailed videos, live streams, and exclusive members-only perks, join my YouTube membership community.
Order The Modern Pioneer Cookbook (Optional Paid) - Get a printed book of Mary's nourishing recipes from a Traditional Foods Kitchen. This bestselling cookbook is published by Penguin Random House with their DK imprint.
I look forward to having you join me in my Texas Hill Country Kitchen!
Shop for items used in this blog post or video
Favorite Kitchen Supplies
More Kitchen Supplies with Promo Codes
Use promo code MARYSNST for a one-time 15% off Masontops and Breadsmart products on Amazon.com.
Use my Mockmill affiliate link for a special one-time 5% discount on Mockmill Stone Grain Mill products, including the new Flake Lover's Flaker. (The Mockmill discount will appear when you checkout.)
Amazon Shop and Shopping Guide
Visit my Shopping Guide page
Get up to 15% off for stocking your Traditional Foods Pantry and equipping your Modern Pioneer Kitchen, including discounts from Lehman's, Mockmill Grain Mill, Masontops, Cultures for Health, Survival Garden Seeds, Redmond Real Salt, Plan to Eat, US Wellness Meats, and More!
Recommended Reading
**Disclaimer: I am not a medical doctor, a medical professional, a dietician, or a nutritionist. All content found on the MarysNest.com website, including text, images, videos, eBooks or eGuides, social media, or other formats, were created solely for informational purposes only. The content is not intended to be a substitute for professional medical advice, diagnosis, or treatment. Always seek the advice of your physician or other qualified healthcare provider with any questions you may have regarding a medical condition or proper nutritional advice. Never disregard professional medical advice or delay in seeking it because of something you have watched in a video or read on this website. Use caution when following the recipe in this video. The creator and publisher of this video and website will not be held responsible for any adverse effects that may arise from the use of this recipe and method or any other recipe and method on this website or corresponding video channel.