How to Dry Apples in the Oven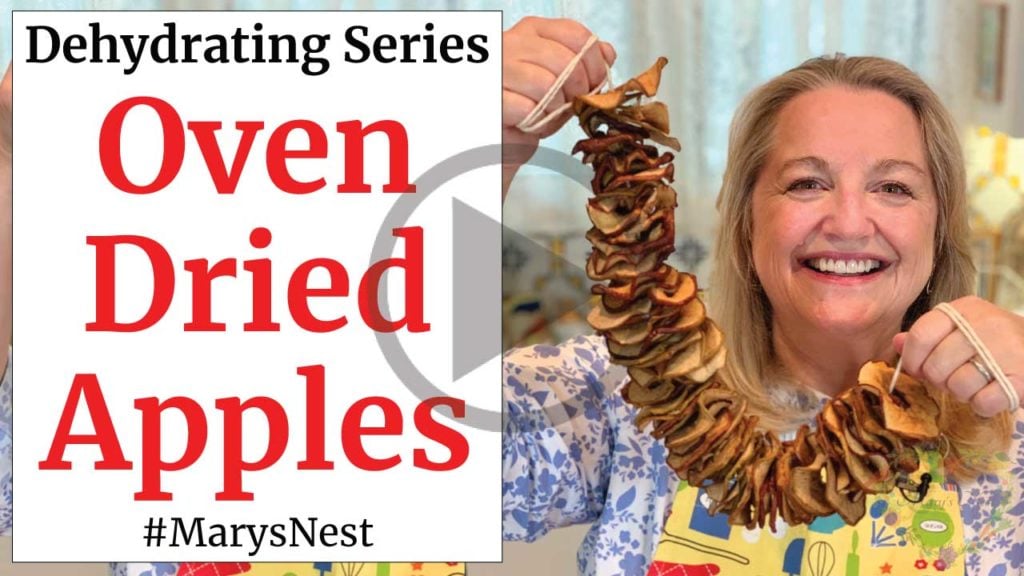 In today's video, I'm sharing How to Dry Apples in the Oven. This recipe is so easy to do! They make a great snack and can even be used for a craft!
Ideas for Snacking
Place dried apples in jar and store in the pantry for snacking at any time. But it can be especially fun to make an apple ring by threading the rings through some kitchen twine. Place the ring on a plate and leave the twine untied so that folks can slip off apples as they wish.
Natural Is Best
Drying apples in your oven allows you to avoid additives like sulfur dioxide, which are commonly found on dried fruit purchased at the grocery store. Instead of chemicals, I'll show you how to use a simple solution of vinegar and water to help your apple slices retain an appetizing color once dried.
Ideas for Entertaining
Oven-dried apples are perfect to snack on, but they offer so many more possibilities. When entertaining, if you have guests who avoid gluten, these apple rings are a great option to top with cheese in place of crackers.
Craft Ideas
Dried apples are exceptionally aromatic, so they are wonderful for turning into a kitchen wreath. You can string them on a wire on their own, or intermingle herbs, such as rosemary or lavender, to make a delightfully fragrant combination.
More Ideas for Dehydrating
Once you've tried this recipe, be sure to check out these other dehydrating videos:
Subscribe to my channel for more easy recipes
And while you're visiting my Mary's Nest YouTube channel, be sure to subscribe and click on the notification bell that will let you know each time I upload a new video.
I look forward to having you join me in my Texas Hill Country Kitchen!
Love,
Mary
♥
Print Recipe
Oven Dried Apples
Ingredients
12

Apples, assorted varieties

1/2

cup

Apple cider vinegar

Water
Instructions
Pre-heat oven to 200 degrees Fahrenheit.

Fill a large bowl with water and add vinegar. This will make a solution of "acidulated" water.

Core apples one at a time and then peel or leave unpeeled.

Slice apples 1/4" thick and place into acidulated water.

When all the apples are sliced and placed into the acidulated water, remove apples in groups and blot between two clean dish towels to remove excess water.

Once the apple slices are blotted, place them on a lined baking sheet or on top of a drying rack that is placed into a baking sheet. Fill three baking sheets with apple slices.

Place baking sheets into oven and close door.

After two hours, rotate baking sheets to different oven racks. Check to make sure that no apples are sticking to their surface. If they are sticking, turn them over.

After 4 hours, check on apple slices. If any are dry, remove them. Continue to dry the remaining apple slices. It can 6 hours to dry apples to a malleable consistency. Once all apple slices are dried to the desired consistency, allow to cool.

Once completely cool, apple slices can now be placed into an airtight container with an oxygen absorber pack and stored in a cool dry place, such as a pantry. The shelf life is 2-3 months. Or, apple slices can be strung on a string if they are to be eaten within a few days.
Video
Shop for items used in this blog post or video
Visit my Shopping Guide page
Learn where I buy my Beef Bones, Wild-Caught Fish, Sprouted Grains, and more...and learn about Special Discounts for Mary's Nest visitors, including from US Wellness Meats, Vital Choice, Masontops, and Breadsmart.
Favorite fruit drying supplies:
***
*A Note About Affiliates: My videos, video descriptions, and blog posts may contain affiliate links to various products. As an Amazon Associate I earn from qualifying purchases. If you click through and make a purchase, I'll receive a small commission. It does not affect the price you pay.
**Disclaimer: I am not a medical doctor, a medical professional, a dietician, or a nutritionist. All content found on the MarysNest.com website, including text, images, videos, eBooks or eGuides, social media, or other formats, were created solely for informational purposes only. The content is not intended to be a substitute for professional medical advice, diagnosis, or treatment. Always seek the advice of your physician or other qualified healthcare provider with any questions you may have regarding a medical condition or proper nutritional advice. Never disregard professional medical advice or delay in seeking it because of something you have watched in a video or read on this website.