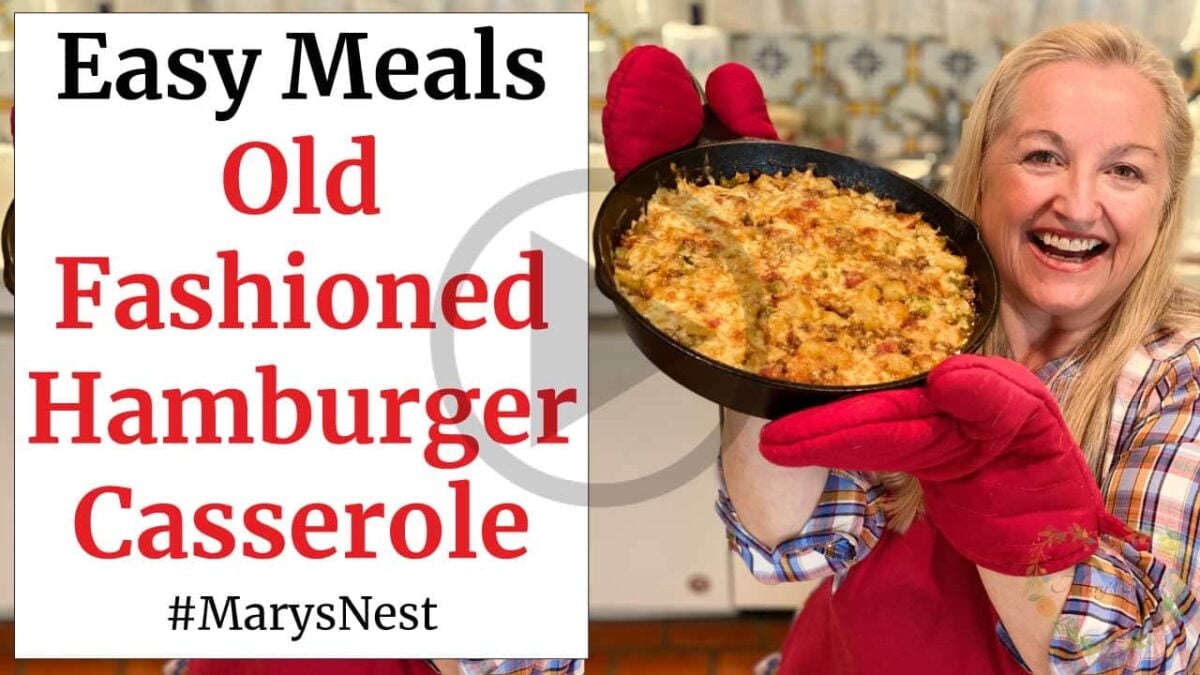 Learn how to make an Old Fashioned Hamburger Casserole that is easy, tasty, and affordable. This recipe makes the perfect weeknight supper and is home and country cooking at its best!
Long before the advent of boxed meals you could purchase from your grocery store and cook up by adding ground beef to their packaged ingredients, home cooks of the 1930s were making their own homemade versions of hamburger casseroles. They would make these casseroles with leftover meat they chopped up, ground beef, or ground pork. So you have a few options when making this casserole in your own kitchen.
Hamburger Casserole for a Busy Weeknight Supper
If you need to create a dinner in 30 minutes, this delicious Hamburger Casserole recipe is for you! This casserole is also an ideal place to hide lots of veggies.
This recipe includes the basic potatoes and onions for vegetables, but I also add in green bell peppers and tomatoes. Want more or different types of vegetables? The possibilities are endless. This meal can help you clean out the crisper!
You can add any of these vegetables to your casserole:
Carrots
Cauliflower
Corn
Green onions
Sweet red bell peppers or Pimentos
And more!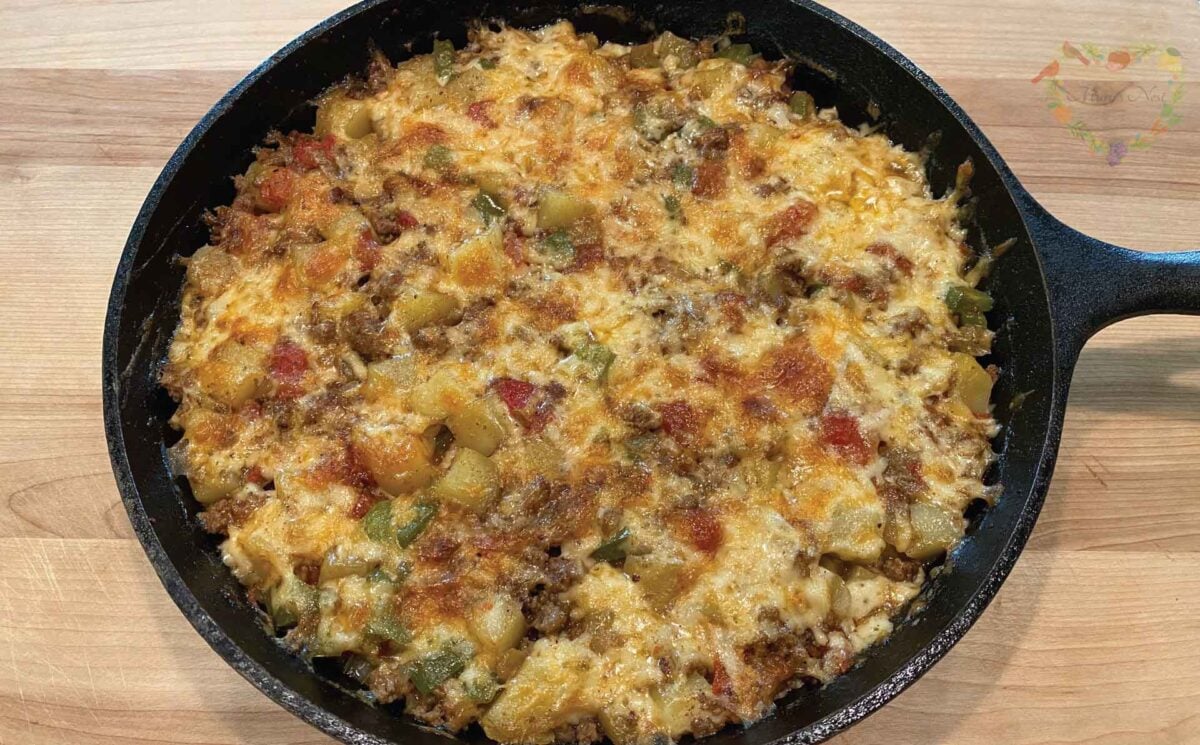 Easy Substitutions for this Hamburger Casserole
The nice thing about this Hamburger Casserole is that you have so many options when it comes to what ingredients to use. As I mentioned earlier, you have a lot of flexibility about what veggies to add in, but you can also customize your:
Meat to brown
Liquid to add
Cheese to top
Meat to Brown
Even though this is called a hamburger casserole, you can use any ground meat to make this recipe, including ground turkey or ground chicken. In my recipe, I used 85%/15% ground beef from my local grocery store.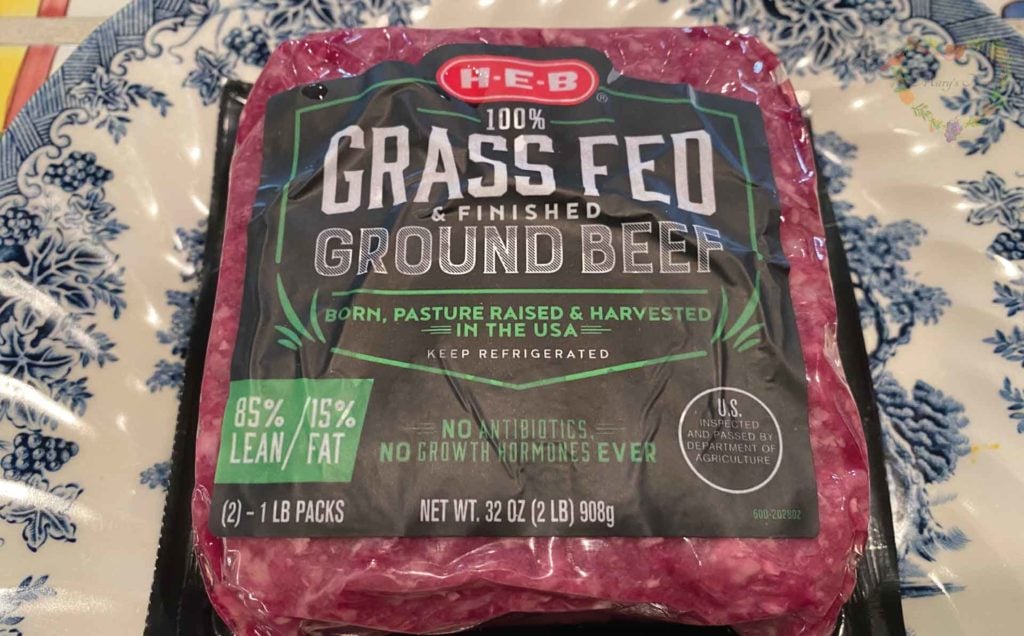 Just remember, if you use leaner meats, like turkey or chicken, you'll want to add a bit of extra fat, like butter or olive oil, to your skillet when you brown the meat.
Liquid to Add
When it comes to liquids to add to your casserole, you can use chicken or beef bone broth or just a simple broth. In my video and printable recipe, I use chicken bone broth.
If you don't have either of those on hand, you can always use water. And if you like a creamy texture to your hamburger casserole, you can even use milk or half-and-half.
Cheese to Top
And when it comes to topping your casserole with cheese, any cheese will do as long as it is a nice melting cheese. I used Monterey Jack, but cheddar, provolone, Colby, or even mozzarella would work great.
As you can see, with so many variations, you will never get tired of this hamburger casserole because you can make it different every time!
A Simply Seasoned Hamburger Casserole
In my recipe for this casserole, I use very simple seasonings:
Salt
Pepper
Red pepper flakes for spice (Just a bit!)
But you are not limited to a simple seasoning when making this hamburger casserole. You have so many options to choose from, including all my homemade seasonings. So to let your creative juices fly!
For example, you could make a delicious Italian version of this casserole using Italian seasoning and then top your casserole with mozzarella cheese. If you'd like to go more in the Tex-Mex direction, add some Tex-Mex seasoning, chopped jalapeños, and then top your casserole with some spicy cheese! Yum! 😊
Why I Like the Magic Whisk
Many years ago, I watched an episode of one of Nigella Lawson's cooking shows where she used a Magic Whisk. While using the whisk, she raved about how much she loved it and couldn't believe how such a little thing could do a better job at whisking than the larger whisks she had tried.
I decided that I had to try this little device too! And given how reasonably priced they are, I quickly purchased one. How right Nigella was! Whenever I have to whisk something, the first thing I reach for is my Magic Whisk. (Now they even make a silicon version for use with non-stick cookware.)
As I show you in my recipe video, I whisk corn starch into my bone broth before adding the liquid into my hamburger casserole. With the magic whisk, I've created my mixture in seconds, and there are no lumps or residue left on the bottom of my glass measuring cup!
Save Your Scraps to Make Bone Broth
Never throw out your vegetable scraps! And this includes onion skins, potato peelings, pepper ribs, carrot peelings, and other bits and bobs of scraps that you may accumulate when cooking.
As I mention in my hamburger casserole video, creating an ongoing scrap bag is easy:
Simply throw all your scraps into your scrap bag. (Use your existing scrap bag or create a new one.)
Store the scrap bag in your freezer.
The next time you are ready to make broth, stock, or bone broth, add the scraps to your stockpot. Your carefully saved vegetable scraps will add flavor and nutrition to whatever liquid you are making.
Customize the Seasonings for Your Hamburger Casserole
When it comes to making a Hamburger Casserole—or any casserole for that matter—it's helpful to have an array of different seasoning blends at your disposal. These seasonings will add a variety of flavors to whatever you are making.
In the following videos, I show you how to make 10 different homemade seasoning blends, plus a nutrient-dense seasoning mix that will add a real boost of nutrition to any recipe.
More Home Cooking Recipes
For more ideas on how to create tasty home-cooked meals, check out these delicious recipe videos, including the Best Ever Homemade Meatloaf and Best Beef Stew recipes.
Looking for Grass-Fed Beef or Beef Bones?
If you can't find grass-fed beef or beef bones in your neighborhood supermarket or farmer's market, check out US Wellness Meats.
Use discount code MARYNEST and my link to save 15% off regular-priced items on your US Wellness Meats order. You can shop for a variety of products, including:
This post is not sponsored. I'm a long-time customer of US Wellness Meats because I have always been impressed by the quality of their products. Check out my US Wellness Meats unboxing video to see the types of products you can get, including bones for beef bone broth!
Download Your Free 36-Page Pantry List
As you start to make more homemade meals and transition away from processed foods, be sure to download my FREE Essential Traditional Foods Pantry List. This comprehensive eBook will help you know what to stock in your pantry, plus how to use what you stock to prepare nutritious and delicious meals.
The Modern Pioneer Cookbook
And if you're looking for a printed book full of my traditional foods recipes and that shows you how to create a traditional foods kitchen, be sure to preorder your copy of my new book, The Modern Pioneer Cookbook.
Kitchen Academy Videos
Are you looking for more traditional foods videos? If so, I invite you to join the Traditional Foods Kitchen Academy. Members of this optional paid YouTube community get access to exclusive videos, live streams, and other members-only perks. Plus, your YouTube comments include a special members-only badge.
In the following members-only video, I talk about how to Mix and Match for Easy Weeknight Meals.
Stay in Touch with Mary's Nest
Subscribe to My YouTube Channel for Traditional Foods Videos (Free) - When you subscribe, be sure to click on the notification bell that will let you know each time I upload a new video.
Subscribe to Mary's Traditional Foods Newsletter (Free) - Get a free 36-page eBook for signing up: How to Stock Your Essential Traditional Foods Four-Corners Pantry.
Join the Traditional Foods Kitchen Academy (Optional Paid) - For more detailed videos, live streams, and exclusive members-only perks, join my YouTube membership community.
Order The Modern Pioneer Cookbook (Optional Paid) - Get a printed book of Mary's nourishing recipes from a Traditional Foods Kitchen. This bestselling cookbook is published by Penguin Random House with their DK imprint.
I look forward to having you join me in my Texas Hill Country Kitchen!
Shop for items used in this blog post or video
Favorite Kitchen Supplies
More Kitchen Supplies with Discount Codes
Use my Mockmill affiliate link for a special one-time 5% discount on Mockmill Stone Grain Mill products, including the new Flake Lover's Flaker. (The Mockmill discount will appear when you checkout.)
Use promo code MARYSNST for a one-time 15% off Masontops and Breadsmart products on Amazon.com.
Amazon Shop and Shopping Guide
Visit my Shopping Guide page
Get up to 15% off for stocking your Traditional Foods Pantry and equipping your Modern Pioneer Kitchen, including discounts from Lehman's, Mockmill Grain Mill, Masontops, Cultures for Health, Survival Garden Seeds, Redmond Real Salt, Plan to Eat, US Wellness Meats, and More!
Recommended Reading
**Disclaimer: I am not a medical doctor, a medical professional, a dietician, or a nutritionist. All content found on the MarysNest.com website, including text, images, videos, eBooks or eGuides, social media, or other formats, were created solely for informational purposes only. The content is not intended to be a substitute for professional medical advice, diagnosis, or treatment. Always seek the advice of your physician or other qualified healthcare provider with any questions you may have regarding a medical condition or proper nutritional advice. Never disregard professional medical advice or delay in seeking it because of something you have watched in a video or read on this website. Use caution when following the recipe in this video. The creator and publisher of this video and website will not be held responsible for any adverse effects that may arise from the use of this recipe and method or any other recipe and method on this website or corresponding video channel.