Learn how to make sauerkraut with oranges for a vitamin C boost! Cabbage contains vitamin C, and when you ferment it, the vitamin C increases exponentially and becomes easier for us to digest and absorb.
Next, by adding fresh oranges to our fermenting cabbage, we give our sauerkraut an added boost of vitamin C, making this recipe the perfect fermented food to increase the good bacteria in our digestive system and gain all the benefits of this helpful vitamin.
How to Make Sauerkraut with Oranges
If you're new to making ferments, it's easy to make sauerkraut with oranges because it is similar to making regular sauerkraut. At a high level, all you need to do is:
Shred some cabbage.
Mix it with salt.
Add a purée of oranges.
Pack everything into a clean jar.
Let the mixture ferment for a few days at room temperature.
My recipe provides you with the complete list of ingredients and step-by-step instructions, and I also include a special ingredient that gives you an insurance policy for a successful ferment!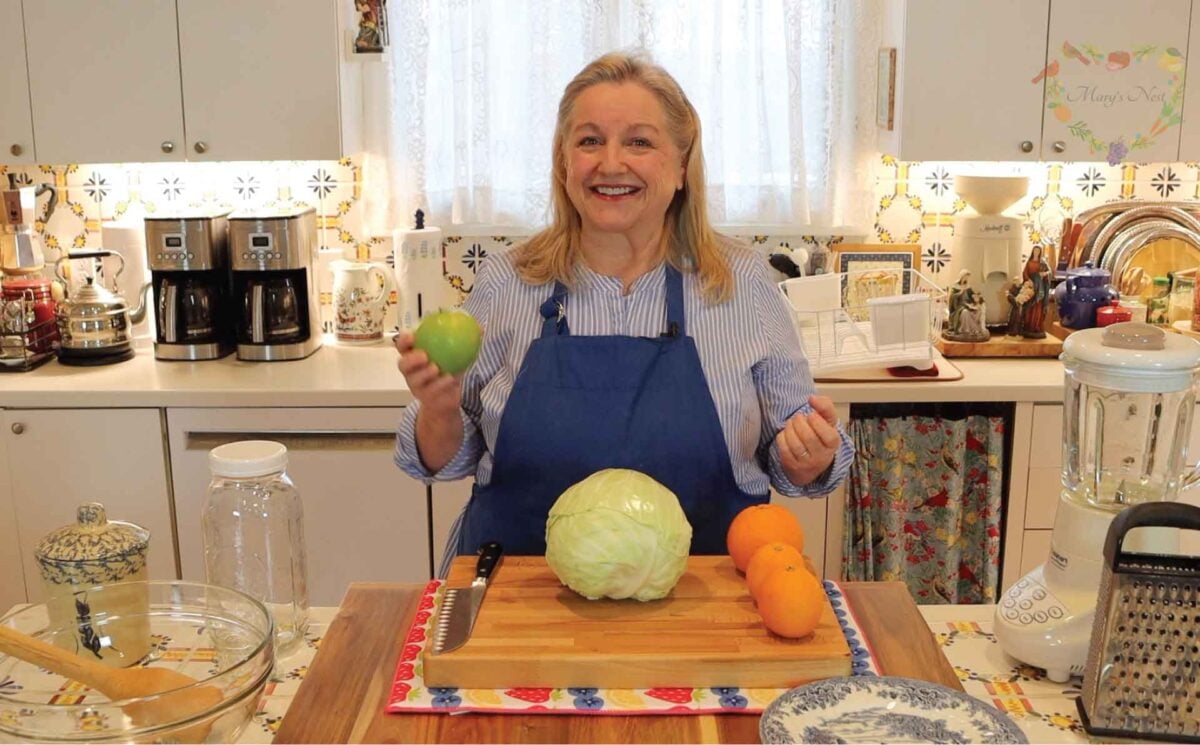 How to Make Sauerkraut with a Secret Ingredient
As I have shared with you in the past, ferments can be persnickety, especially vegetable ferments! So you want to do everything you can to ensure your ferment will be successful. That is where my secret ingredient—or insurance policy—comes in. And what is this ingredient? Something I am confident that you have on hand. It's an apple! It doesn't matter what type of apple it is. Any apple will do.
Apples contain pectin, which is considered a pre-biotic. Good bacteria—or pro-biotics—love to eat the prebiotic pectin. So by giving the good bacteria what it likes to eat, the better the chances are that they will proliferate and overtake the potential development of bad bacteria. Once the good bacteria get a strong foothold in your ferment, you are on the road to success!
Making Sauerkraut with an Apple Adds Extra Benefits
Adding an apple to your grated cabbage when making sauerkraut adds an extra benefit. Yes, it provides food for the good bacteria to munch on, but the apple skin also provides food for an exceptional good bacteria known as a super probiotic.
This super probiotic is Akkermansia Muciniphila, which is a powerful bacteria that can help with the following:
Weight Control
Blood Sugar
Gut Barrier Strength
To learn more about this amazing probiotic and how to make a whole host of cultured foods, visit the Cultured Food Life website. You can also read two helpful books on the subject by Donna Schwenk:
And for an even more in-depth exploration into fermented foods, be sure to read both of Sander Katz's books on the subject. Sandor is considered the "father" of the modern-day fermentation movement, and his books are invaluable resources.
Use Real Salt for a Successful Ferment
When it comes to making vegetable ferments, it's important to use plain salt. You do not want salt that contains any chemicals often labeled in the ingredients as anti-caking agents. These additives will only serve to interfere with the fermentation process.
When making ferments, including sauerkraut with oranges, we want to do everything in our power to be successful. And using a simple plain salt will provide us with the best result. These plain salts include options like Celtic grey salt and Redmond Real Salt.
In the following video, I show you the essential salts to stock in your Prepper Pantry and use in your ferments with the least microplastics.
Try Redmond Real Salt with a 15% Discount
When it comes to using salt in my recipes, I always like to use a real salt that has not been processed and does not contain any extra added chemicals or anti-caking agents. Redmond real salt is perfect! And if you'd like to order Redmond Real Salt from their website, be sure to check out my Shopping Guide for a discount coupon code.
My Ferment is Too Salty
In the following video, I also answer a common question that I receive from many viewers about fermentation: Why does my ferment taste so salty? I'll explain why and what you can do.
What is Kahm Yeast?
If you are new to making ferments and you happen to encounter Kahm yeast at the top of your ferment, you might be worried that it's mold and that your ferment is ruined. Take heart! Chances are, if it looks like a spider web and it's not fuzzy (like mold tends to be), your ferment is fine.
Simply use a clean spoon to remove the layer of Kahm yeast and allow your ferment to continue on its fermentation journey. The Kahm yeast may return, but just spoon it off once again and carry on. Once your ferment is refrigerated, the Kahm yeast should no longer be a problem.
You can learn more about Kahm yeast and other scary traditional foods in the following blog post.
Save Those Scraps
If you have orange peels, save them to make homemade digestive bitters, or if you have apple scraps, save them to make apple cider vinegar. (And vegetable scraps always come in handy for making bone broth. I like to save my vegetable scrap bag for bone broth in a plastic bag that I store in a plastic container in my freezer.)
A Delicious Golden Sauerkraut Recipe
Are you looking for more sauerkraut recipes? Many of you know my sweet friend Michele over at Chocolate Box Cottage. Well, you are in for a real treat because Michele shares her delicious Golden Sauerkraut recipe with a video and recipe on her website.
And while you are over there, spend some time looking through Michele's "Recipe Box," where she shares a whole host of traditional recipes, including a recipe for fluffy homemade egg noodles passed down to her from her grandmother.
More Recipes with Cabbage
If you're looking for a simple sauerkraut, traditional red cabbage, or a fried cabbage recipe, I've got you covered. Watch the videos below, where I provide step-by-step instructions for making each recipe. (And the homemade sauerkraut video has over 2.5 million views on YouTube!)
Masontops Mason Jar Fermentation Kit Discount Coupon
Although you don't need any special equipment to start making ferments, the Masontops kit can help you simplify the process and enable you to create your ferment successfully. In my Masontops unboxing video, I show you my Masontops Complete Mason Jar Fermentation Kit and go over everything the kit includes.
Download Your Free 36-Page Pantry List
For an extensive list of the traditional foods you can make and purchase to stock your pantry, be sure to download my free 36-page Traditional Foods Pantry List. This comprehensive eBook is full of links to recipe videos, helpful articles, and more!
Kitchen Academy Videos
Are you looking for more traditional foods videos? If so, I invite you to join the Traditional Foods Kitchen Academy. Members of this optional paid YouTube community get access to exclusive videos, live streams, and other members-only perks. Plus, your YouTube comments include a special members-only badge.
In the following replay of my members-only live stream, I talk about cultured dairy, among other traditional food topics.
Stay in Touch with Mary's Nest
Subscribe to My YouTube Channel for Traditional Foods Videos (Free) - When you subscribe, be sure to click on the notification bell that will let you know each time I upload a new video.
Subscribe to Mary's Traditional Foods Newsletter (Free) - Get a free 36-page eBook for signing up: How to Stock Your Essential Traditional Foods Four-Corners Pantry.
Join the Traditional Foods Kitchen Academy (Optional Paid) - For more detailed videos, live streams, and exclusive members-only perks, join my YouTube membership community.
Order The Modern Pioneer Cookbook (Optional Paid) - Get a printed book of Mary's nourishing recipes from a Traditional Foods Kitchen. This bestselling cookbook is published by Penguin Random House with their DK imprint.
I look forward to having you join me in my Texas Hill Country Kitchen!
Shop for items used in this blog post or video
Favorite Fermentation Supplies
Use promo code MARYSNST for a one-time 15% off Masontops and Breadsmart products on Amazon.com.
Favorite Kitchen Supplies
Use my Mockmill affiliate link for a special one-time 5% discount on Mockmill Stone Grain Mill products, including the new Flake Lover's Flaker. (The Mockmill discount will appear when you checkout.)
Amazon Shop and Shopping Guide
Visit my Shopping Guide page
Get up to 15% off for stocking your Traditional Foods Pantry and equipping your Modern Pioneer Kitchen, including discounts from Lehman's, Mockmill Grain Mill, Masontops, Cultures for Health, Survival Garden Seeds, Redmond Real Salt, Plan to Eat, US Wellness Meats, and More!
Recommended Reading
**Disclaimer: I am not a medical doctor, a medical professional, a dietician, or a nutritionist. All content found on the MarysNest.com website, including text, images, videos, eBooks or eGuides, social media, or other formats, were created solely for informational purposes only. The content is not intended to be a substitute for professional medical advice, diagnosis, or treatment. Always seek the advice of your physician or other qualified healthcare provider with any questions you may have regarding a medical condition or proper nutritional advice. Never disregard professional medical advice or delay in seeking it because of something you have watched in a video or read on this website. Use caution when following the recipe in this video. The creator and publisher of this video and website will not be held responsible for any adverse effects that may arise from the use of this recipe and method or any other recipe and method on this website or corresponding video channel.