Homemade Gift Ideas and 10 Gifts for Under $25 for Your Traditional Foods Cook
Are you looking for some last-minute gift ideas for the Traditional Foods Cook in your life (or for yourself!)? Check out my list of homemade gifts that you can make yourself for just a few dollars. I also recommend some kitchen gadgets that any home cook would enjoy from my list of 10 gifts for under $25.
Gifts You Can Make Yourself
Make Homemade Flavored Extracts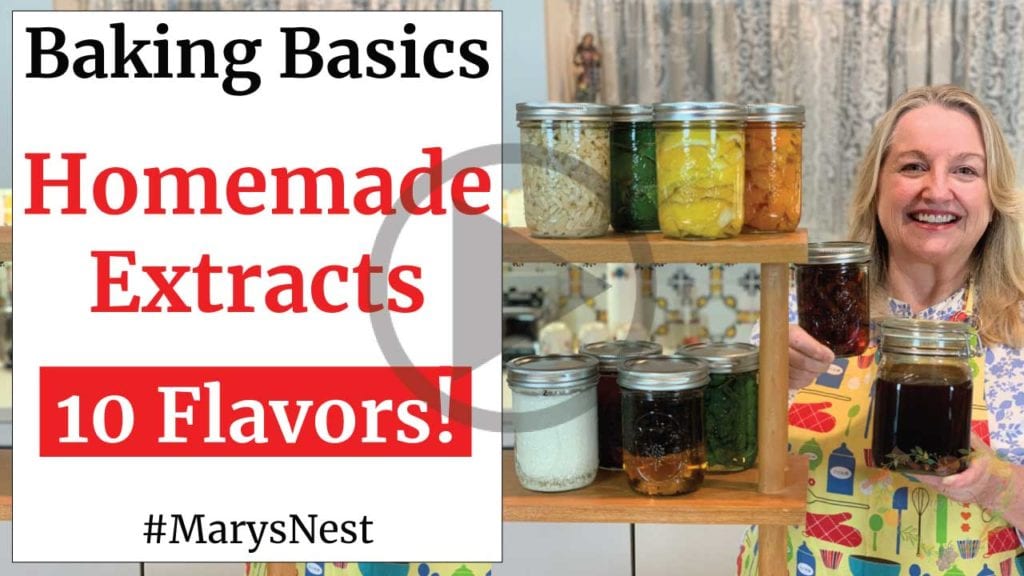 Learn how to make a homemade flavored extract that will be perfect for your favorite baker. For just a few dollars, I'll show you how to create one of these flavored extracts that you can package up as a gift: Almond, Chocolate, Cinnamon, Coconut, Coffee, Lemon, Lime, Mint, Orange, and Vanilla.
Be sure to make an extract for yourself too!
Make Preserved Citrus
Learn how to easily make preserved lemons, limes, and mandarin oranges for a tasty and versatile condiment for your favorite cook's traditional foods pantry. Over time, these lacto-fermented citruses will release their juices and create a tender rind that is perfect for a variety of recipes.
Find Gifts Online
Here are some great ideas for your favorite cook who likes to make bone broth and ferments, and each of these gifts is under $25. And no gift list would be complete without some special stocking stuffers for the traditional cook who loves the Instant Pot (or will be getting one soon)!
Gifts for the Bone Broth Maker
No Bone Broth making kitchen would be complete without one of the most asked for items that I use…The Fat Separator! I have had so many questions about this kitchen tool. I love it and can't imagine making a clarified bone broth without it. And from all the comments I receive asking where to find one, you feel the same way!
| | |
| --- | --- |
| | This is an excellent gift for bone broth makers to help them save time from needing to wait to chill their broth to separate the fat. |
Here are more great gifts for bone broth makers:
| | |
| --- | --- |
| | If you or the cook in your life is just starting to make bone broth, this reasonably priced stock pot can be a great addition to the kitchen for beginners. |
| | | |
| --- | --- | --- |
| | | If you're like me and you like a beautifully clarified bone broth, these two accessories are must-haves. With this strainer that's lined with a flour sack towel, your broth will be clear and free of any little bits and bobs floating around in your liquid gold! |
| | |
| --- | --- |
| | When it comes to storing my bone broth, I prefer glass. Along using plastic lids, I have always had success putting filled jars in the freezer without any problems. |
Gifts for the Fermenter
When it comes to making ferments, there is one particular piece of equipment that I get asked about the most.  And that's the Pickle Pipes! With these clever little silicone tops, you no longer need to worry about always having to "burp" your ferments.
Masontops makes the Pickle Pipes, and they've given me a discount code to give to you! For the Masontops products below, use promo code MARYSNST for a one-time 15% off Masontops products on Amazon.com.
| | |
| --- | --- |
| | These tops have revolutionized the fermentation process! |
| | |
| --- | --- |
| | The Pickle Packer will guarantee you get every little last bit of air out of your jar. |
| | |
| --- | --- |
| | Pickle Pebbles will keep air out your jars to help you create an environment for the perfect ferment. |
| | |
| --- | --- |
| | BONUS IDEA: The entire Masontops kit is over $25, but it's a great splurge for someone just starting out on their fermentation journey! |
Gifts for the Instant Pot Cook
The Instant Pot has become a staple in so many kitchens, and many of you have shared with me that you've gone full steam ahead using it almost every day.
But oh how those cooking odors can linger in the sealing ring!  Not to worry. These three colored-coded rings will come to the rescue.  You can change them out depending on what you are cooking. Now your cheesecake will no longer smell…or taste…like your lasagna!
| | | |
| --- | --- | --- |
| | | Silicone Sealing Rings for the Instant Pot (available for the 6 and 8-quart models): |
I love this steamer basket because, as the name implies, it's sturdy! Unlike the mesh strainer inserts, food stays contained in the strainer and not stuck in the mesh. This steamer is a versatile Instant Pot accessory and is great for cooking vegetables, fruits, and eggs.
| | | |
| --- | --- | --- |
| | | Sturdy Steamer Baskets for the Instant Pot (available for the 6 and 8-quart models): |
Wonderful Memories and Delicious Meals
Whether you make or buy a gift for your favorite traditional foods cook, I hope that your gift brings you and your loved ones wonderful memories and delicious meals!
Wishing you a very Merry Christmas and a Happy, Healthy, and Blessed New Year!
Love,
Mary
♥
Shop for items used in this blog post or video
Visit my Shopping Guide page
Learn where I buy my Beef Bones, Wild-Caught Fish, Sprouted Grains, and more...and learn about Special Discounts for Mary's Nest visitors, including from US Wellness Meats, Vital Choice, Masontops, and Breadsmart.
***
*A Note About Affiliates: My videos, video descriptions, and blog posts may contain affiliate links to various products. As an Amazon Associate I earn from qualifying purchases. If you click through and make a purchase, I'll receive a small commission. It does not affect the price you pay.
**Disclaimer: I am not a medical doctor, a medical professional, a dietician, or a nutritionist. All content found on the MarysNest.com website, including text, images, videos, eBooks or eGuides, social media, or other formats, were created solely for informational purposes only. The content is not intended to be a substitute for professional medical advice, diagnosis, or treatment. Always seek the advice of your physician or other qualified healthcare provider with any questions you may have regarding a medical condition or proper nutritional advice. Never disregard professional medical advice or delay in seeking it because of something you have watched in a video or read on this website.