Affiliates note: As an Amazon Associate I earn from qualifying purchases. My content may contain affiliate links to products and services. If you click through and make a purchase, I'll receive a small commission. It does not affect the price you pay.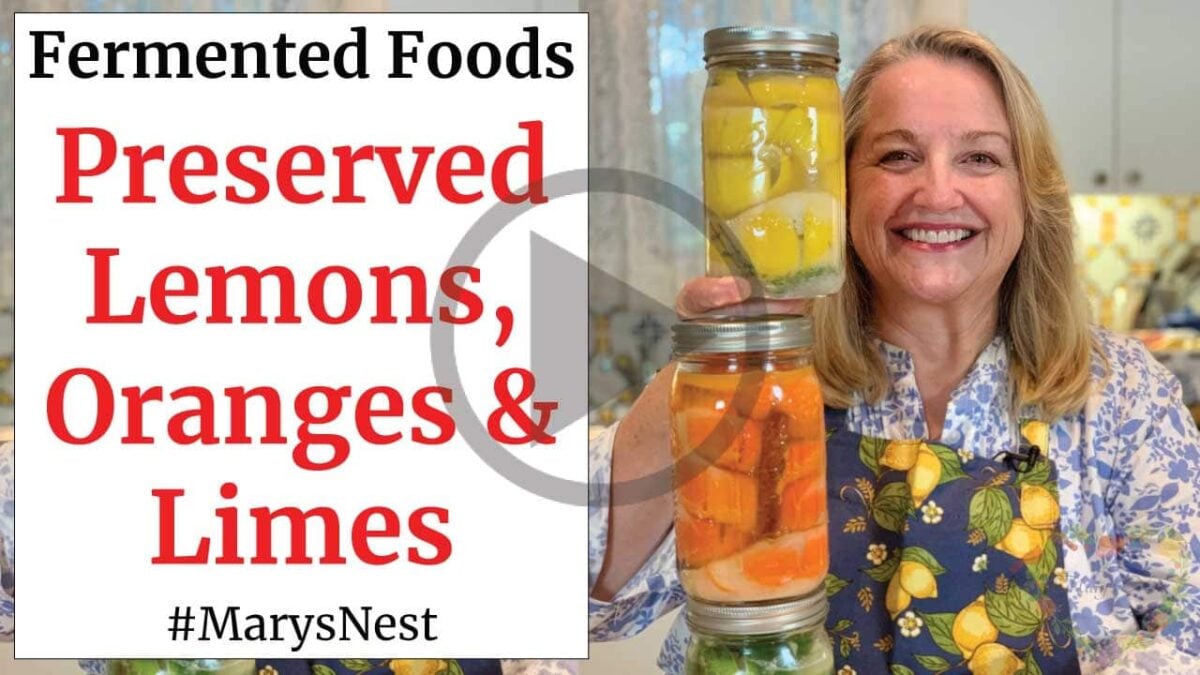 Today, I am sharing with you How to Make Easy Preserved Lemons, Limes, and Mandarin Oranges. This preserved citrus makes a tasty and versatile condiment that's perfect for your Traditional Foods Pantry.
What is Preserved Citrus?
Preserved lemons are often referred to as Moroccan preserved lemons, as they are frequently used in the preparation of foods from that region of the world. These lemons are packed in salt, which allows them to be shelf-stable and not spoil. They are basically lacto-fermented or cured lemons.
But rather than just using a tablespoon or two of salt, as when making other common ferments, these preserved lemons are packed in salt. Over time, these salt-packed lemons release their juices and create a tender rind that is no longer bitter and is perfect for a variety of recipes. Plus, you can use this technique to make other preserved citrus.
How to Use Preserved Lemons, Limes, and Oranges
The nice thing about citrus preserved in salt is that any bitter flavor from the rind is diminished. And after giving the salted citrus a good rinse under running water, the salty taste dissipates as well. You can use the rind in stovetop dishes, as well as baked goods. You can also stuff a chicken or any poultry with the entire citrus.
If you are just using the rind, you can save the pulp to add to smoothies or other dishes that call for a bit of citrus flavor. Plus, if you make bone broth, a bit of citrus pulp can help to acidulate the water to help extract the collagen!
More Fermented Foods
Now that you've learned how to make preserved lemons, limes, and oranges, be sure to try your hand at making other probiotic-rich homemade fermented condiments including:
Team cabbage and oranges up for an amazing boost of this helpful vitamin.
This probiotic-rich recipe is a tasty way to boost your immune system.
Watch the live stream replay and learn how to ferment vegetables and make water kefir.
Stay in Touch with Mary's Nest
Subscribe to My YouTube Channel for Traditional Foods Videos (Free) - When you subscribe, be sure to click on the notification bell that will let you know each time I upload a new video.
Subscribe to Mary's Traditional Foods Newsletter (Free) - Get a free 36-page eBook for signing up: How to Stock Your Essential Traditional Foods Four-Corners Pantry.
Join the Traditional Foods Kitchen Academy (Optional Paid) - For more detailed videos, live streams, and exclusive members-only perks, join my YouTube membership community.
Order The Modern Pioneer Cookbook (Optional Paid) - Get a printed book of Mary's nourishing recipes from a Traditional Foods Kitchen. This bestselling cookbook is published by Penguin Random House with their DK imprint.
I look forward to having you join me in my Texas Hill Country Kitchen!
Preserved Lemons, Limes, and Oranges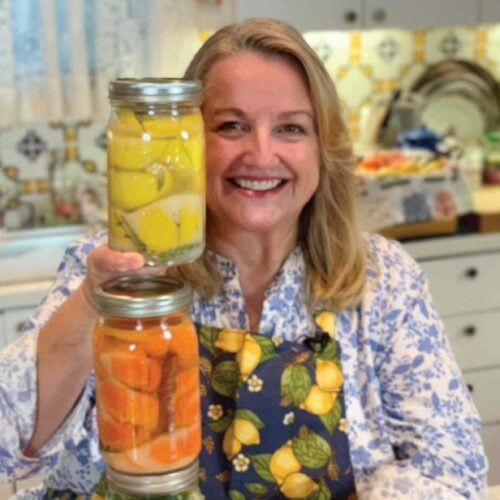 This preserved citrus makes a tasty and versatile condiment that's perfect for your Traditional Foods Patnry.
Equipment
3-Quart sized jars with lids
Ingredients
Lemons

Limes

Mandarin oranges

Fine ground sea salt

or Kosher salt

Herbs and spices

optional
Instructions
First, cut off the stem and tail of each piece of citrus.

Next, slice each piece of citrus twice, 3/4 of the way down from the tops making an X. Do not cut all the way through. (Watch the video to see how to make the slices.)

Take the first jar, and sprinkle about a tablespoon of salt on the bottom.

If you want to add any herbs or spices, place them at the bottom of the jar. (Watch the video for an example.)

Starting with the lemons, fill the cavity of each lemon, one at a time, with salt, and then place the lemon to form a layer into the first jar. After each layer of lemons is placed into the jar, squeeze them in as tight as possible and sprinkle them with salt before proceeding to add the next level of lemons. Repeat the process until you can fit as many lemons as possible in the jar. Be sure to press down on each layer of lemons as you fill the jar. After you have completed filling the jar with lemons, put a lid on the jar.

While you were packing the jar, the lemons should be releasing juice to be covered with lemon juice. If they are not completely covered, wait a few days. When you check on them, if they are not yet covered with lemon juice, you can add additional lemon juice to make sure all the lemons are submerged under the juice.

Store jar in a pantry or cupboard, out of direct sunlight, for 30 days.

Repeat this process with the limes and the mandarin oranges.

After 30 days, transfer preserved citrus jars to the refrigerator. The preserved citrus will last up to six months while refrigerated.
Notes
Find this recipe and video at https://marysnest.com/how-to-make-easy-preserved-lemons-limes-oranges/
Copyright © 2019 Mary's Nest, LLC, All Rights Reserved
Watch Mary's Nest on YouTube
Shop for items used in this blog post or video
Visit my Shopping Guide page
Get up to 15% off for Stocking your Traditional Foods Pantry and Equipping your Modern Pioneer Kitchen, including discounts from US Wellness Meats, Mockmill Grain Mill, Masontops, Cultures for Health, Survival Garden Seeds, Redmond Real Salt, Plan to Eat, and more!
Favorite Preserved Citrus Supplies
**Disclaimer: I am not a medical doctor, a medical professional, a dietician, or a nutritionist. All content found on the MarysNest.com website, including text, images, videos, eBooks or eGuides, social media, or other formats, were created solely for informational purposes only. The content is not intended to be a substitute for professional medical advice, diagnosis, or treatment. Always seek the advice of your physician or other qualified healthcare provider with any questions you may have regarding a medical condition or proper nutritional advice. Never disregard professional medical advice or delay in seeking it because of something you have watched in a video or read on this website. Use caution when following the recipe in this video. The creator and publisher of this video and website will not be held responsible for any adverse effects that may arise from the use of this recipe and method or any other recipe and method on this website or corresponding video channel.