Affiliates note: As an Amazon Associate I earn from qualifying purchases. My content may contain affiliate links to products and services. If you click through and make a purchase, I'll receive a small commission. It does not affect the price you pay.
I want to wish you a Happy Mother's Day this weekend, whether you're celebrating yourself, your mom, or the women in your life who have been wonderful moms to you!
As I've shared with you, I had my son Ben in my early 40s. Before then, I worked in the business world in New York and Washington, DC, so I didn't know what to expect when we brought Ben home. I've talked about the many family adventures that we've had, including homeschooling him up until high school.
While homeschooling, he loved listening to me read books that are also known as Living Books, such as Pagoo, and Read Alouds, such as The Box Car Children. I talk about these books and more in my What Charlotte Mason Taught Me About Traditional Foods and Homeschooling video.
Mother's Day in the Kitchen
On Mother's Day, I think of the many fun times I enjoyed with my son in the kitchen. He helped me prepare numerous dishes, including dinners we enjoyed as a family when my husband Ted came home from work. (They didn't have telecommuting back then!)
Mother's Day in the Garden
I also think of the times we spent in the garden. He had such a love of nature, digging in the dirt, planting seeds, and harvesting crops. We had a terrarium with crickets, millipedes, rolly-pollies (pill bugs), and a praying mantis with which Ben would spend hours studying.
If you have young children or if you are young at heart, I encourage you to spend some time outside to enjoy nature and the garden too. You can't go wrong planting vegetables since you can always use them in recipes, and you can also grow herbs that you can use for culinary or medicinal purposes. (Your child or child at heart may also find fascinating insects or earthworms to study too!)
Here are two videos on the best medicinal herbs to grow. Choose a few to plant in your garden!
So on this Mother's Day weekend, I hope you'll enjoy old memories and make new ones by spending time with your family, which may include Mother Nature too! 😊
Survival Garden Seeds
If you're looking for high-quality vegetable and herb seeds, be sure to check out Survival Garden Seeds and their extensive collection of heirloom seeds. If you decide to get their open-pollinated, non-GMO, and non-hybrid garden seeds, be sure to use my special MARYSNEST discount code for 10% off any of the three following products: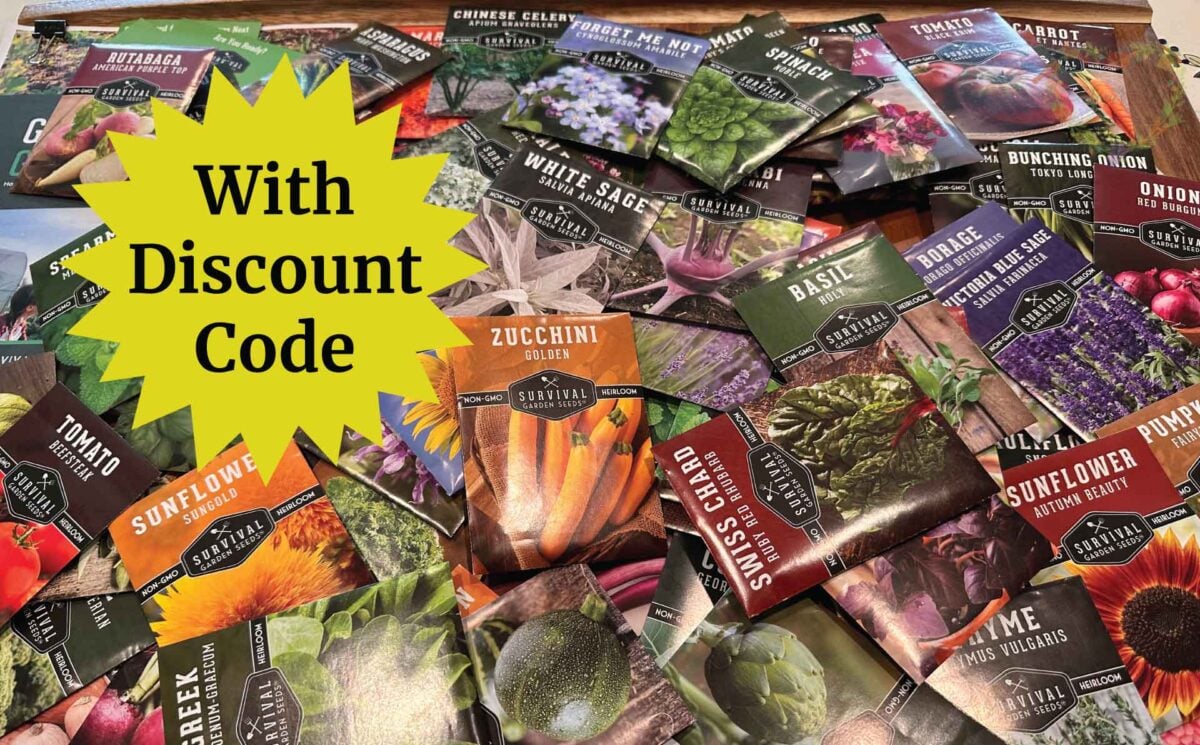 Stay in Touch with Mary's Nest
Subscribe to My YouTube Channel for Traditional Foods Videos (Free) - When you subscribe, be sure to click on the notification bell that will let you know each time I upload a new video.
Subscribe to Mary's Traditional Foods Newsletter (Free) - Get a free 36-page eBook for signing up: How to Stock Your Essential Traditional Foods Four-Corners Pantry.
Join the Traditional Foods Kitchen Academy (Optional Paid) - For more detailed videos, live streams, and exclusive members-only perks, join my YouTube membership community.
Order The Modern Pioneer Cookbook (Optional Paid) - Get a printed book of Mary's nourishing recipes from a Traditional Foods Kitchen. This bestselling cookbook is published by Penguin Random House with their DK imprint.
I look forward to having you join me in my Texas Hill Country Kitchen!
Amazon Shop and Shopping Guide
Visit my Shopping Guide page
Get up to 15% off for stocking your Traditional Foods Pantry and equipping your Modern Pioneer Kitchen, including discounts from US Wellness Meats, Farmhouse Teas, Lehman's, Masontops, Cultures for Health, Survival Garden Seeds, Redmond Real Salt, Plan to Eat, and More!