Affiliates note: As an Amazon Associate I earn from qualifying purchases. My content may contain affiliate links to products and services. If you click through and make a purchase, I'll receive a small commission. It does not affect the price you pay.
As my Mary's Nest YouTube channel has grown to almost one million subscribers and over 50 million views, different media outlets have interviewed me about my channel and how I serve my viewers. They also ask what advice I would give other creators who want to start a successful YouTube Channel.
I'm happy to share my seven tips to help future creators start a YouTube channel that will be meaningful to them and help to serve their viewers. In addition, each of the seven steps includes a section on how you can take action if you want to start a YouTube channel yourself!
Update: Watch I was invited on Studio 512 with Rosie Newberry and her KXAN TV audience to share tips for starting your YouTube channel. (I discuss five tips in my Studio 512 interview and expand them to seven tips in this blog post.)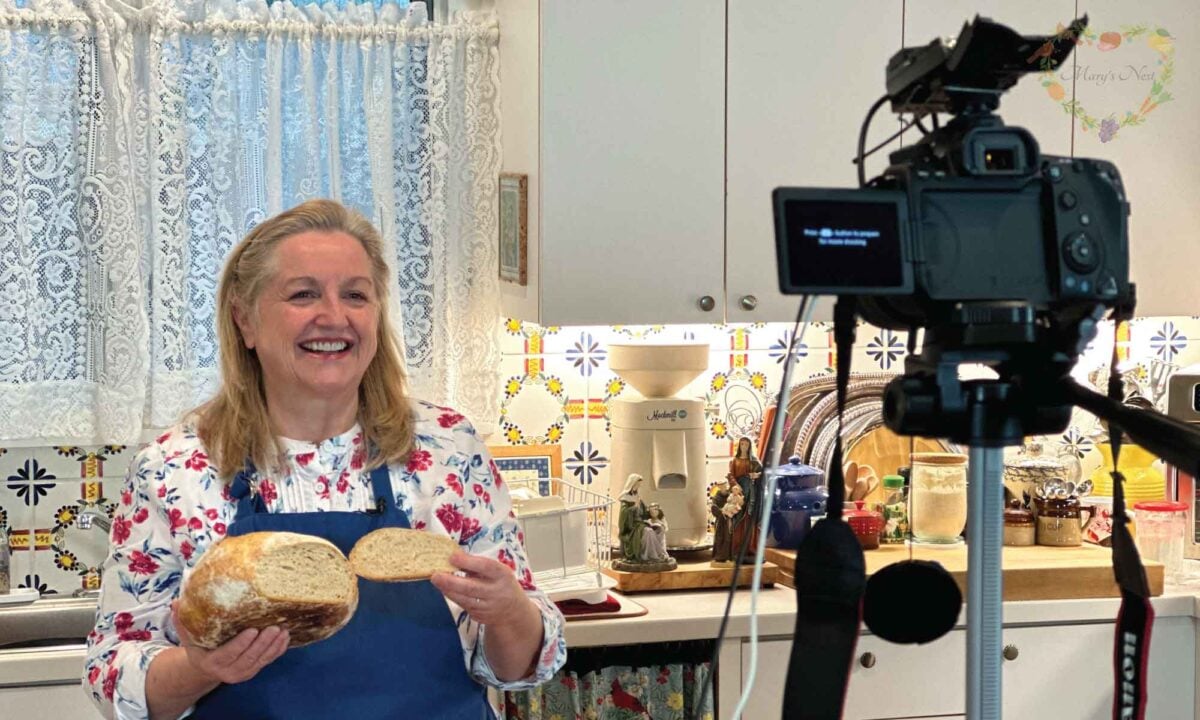 1. EDUCATE Yourself
In 2017, I began researching on YouTube how to start a YouTube channel and watched multiple videos on the subject. One creator stood out to me as providing excellent information, so I took the online course he offered to understand the basics of starting a YouTube channel in greater detail. As a result, I learned that how-to channels providing substantial value to the viewer had the potential to be successful and grow steadily on YouTube.
Take Action: You can find many free resources on the Internet to help you learn the basics of starting a channel, filming videos, creating thumbnail graphics, etc. However, if you want to take a structured course, the creator that I learned from, Sean Cannell, is still making free and paid videos with his ThinkMedia team today.
2. Determine what VALUE your channel will offer
I determined what my channel would be about and what value it would offer to prospective viewers. When creating a YouTube channel, you must always focus on the value you will provide the viewer. For example, how-to channels on YouTube are very popular because they help to answer questions viewers are looking for. If you satisfactorily answer their question, they will watch your other videos and potentially subscribe to your channel.
Take Action: I love traditional foods cooking, so I wanted to provide value to my viewers by publishing in-depth recipe videos on how to make bone broth, sourdough bread, cultured dairy, ferments, and more. If you want to create a YouTube channel, think about how you can help your viewers learn more skills or accomplish their tasks.
3. DESIGN your YouTube Home Page
In July 2018, I created my YouTube home page banner to make it clear to a visitor or viewer what my channel was about. I learned that your tagline is more important than the channel's name. For example, the name of my channel is Mary's Nest, but my tagline is "Traditional Cooking for the Modern Pioneer – Bone Broth, Ferments, Sourdough, and More!" This banner lets viewers know that the videos presented on my channel will teach them how to make traditional foods.
Take Action: When creating your channel content, make sure the words and graphics on your masthead are clear so potential viewers can see what you're channel is all about. If it looks like what they're interested in, they'll likely read your channel's description and watch your welcome video next before clicking on the Subscribe button.
4. When setting your filming goals, create a reasonable schedule but determine to be CONSISTENT
I set an initial goal for myself to start my channel with a series of 15 videos that would introduce viewers to the basics of traditional foods cooking. At the end of July 2018, I made three videos to begin seeding my channel and uploaded them at the same time. After that, I determined that based on my personal schedule, I could film and release two videos per week: one on Wednesday morning and one on Saturday morning.
Over the years, I have adjusted this filming and upload schedule when necessary, such as to account for holidays, but I have tried to consistently upload at least one video per week. After providing value for your viewer, consistency is the next most important thing when building a YouTube channel.
Take Action: When you're ready to launch your channel, make sure you have a set of videos ready to go live at the same time to give your viewers a good idea of what you have to offer. After that, you always want to publish your videos consistently on the same day and time of the week so your viewers can know when to look forward to your content.
5. Read and RESPOND to viewers' comments by creating content they want to watch
In the beginning, I made sure to read and answer ALL the comments from my viewers. I made extensive notes and incorporated my viewers' requests into the videos I made going forward after I completed my initial 15-video series. As my channel has grown, I, unfortunately, am not able to answer all the comments I receive, but I do my best and try to scan most of the comments, respond when I can, and honor the requests from my viewers as to videos that would like to see me make.
Take Action: Your viewers are your best guide to the content that you should make. You can always consider and film additional content that you think your viewers may like, but be sure to stay within the theme of your channel. If you publish content that doesn't fit with what your viewers expect, you may confuse them and the YouTube algorithm, making it harder for you to retain or attract new viewers.
6. Be your AUTHENTIC self, and do not try to copy other creators' styles
Viewers who subscribe to a channel have done so because they feel a connection with that particular YouTube creator. Do not fall into the trap of copying the style of other creators. Instead, be your genuine, authentic self, and viewers who connect with your sincerity will become loyal subscribers to your channel. Channel growth and success will be based on meeting the needs of your viewers in a way that only you can.
Take Action: It can be tempting to try to copy the style, mannerisms, or presentation of successful YouTube creators who may have millions of subscribers or views, but remember that they're typically successful because they are themselves and they are serving their audience. By being true to yourself and serving your audience, you'll be able to find success in your niche.
7. Be REALISTIC as to growth, and don't expect your videos to go viral overnight
I have never had a video go viral in the sense of overnight success, but my videos, which contain evergreen content, have grown steadily over the last 4 1/2 years, with a number of them reaching over 1 million views. Following a realistic strategy and providing valuable content for my viewers, I reached 10,000 subscribers in 10 months and 100,000 subscribers in approximately a year and a half, when YouTube awarded me with their Silver Play Button.
In July 2023, my channel will be five years old, and I am on track to reach 1 million subscribers and over 50 million views later this year. I attribute this success to always putting my viewers' interest first by providing quality content that they wanted to see presented in my unique way.
Take Action: When you decide to create your YouTube channel, dedicate yourself to the long haul and be prepared to weather ups and downs. You'll eventually find your audience and have a splendid relationship with them. And you'll find wonderful opportunities that you didn't expect too, as I did with Penguin Random House contacting me to write my first book, The Modern Pioneer Cookbook.
Next Steps
If you're thinking about starting a YouTube channel, I hope these tips have been helpful to you. If you already have a YouTube channel and have tips you'd like to share with others, please feel free to do so in the comment area below. Thank you!
I share the why and how I decided to create my Mary's Nest YouTube channel in 2018.
Thank you to all my Sweet Friends for joining me on this Traditional Foods Journey!
Stay in Touch with Mary's Nest
Subscribe to My YouTube Channel for Traditional Foods Videos (Free) - When you subscribe, be sure to click on the notification bell that will let you know each time I upload a new video.
Subscribe to Mary's Traditional Foods Newsletter (Free) - Get a free 36-page eBook for signing up: How to Stock Your Essential Traditional Foods Four-Corners Pantry.
Join the Traditional Foods Kitchen Academy (Optional Paid) - For more detailed videos, live streams, and exclusive members-only perks, join my YouTube membership community.
Order The Modern Pioneer Cookbook (Optional Paid) - Get a printed book of Mary's nourishing recipes from a Traditional Foods Kitchen. This bestselling cookbook is published by Penguin Random House with their DK imprint.
I look forward to having you join me in my Texas Hill Country Kitchen!