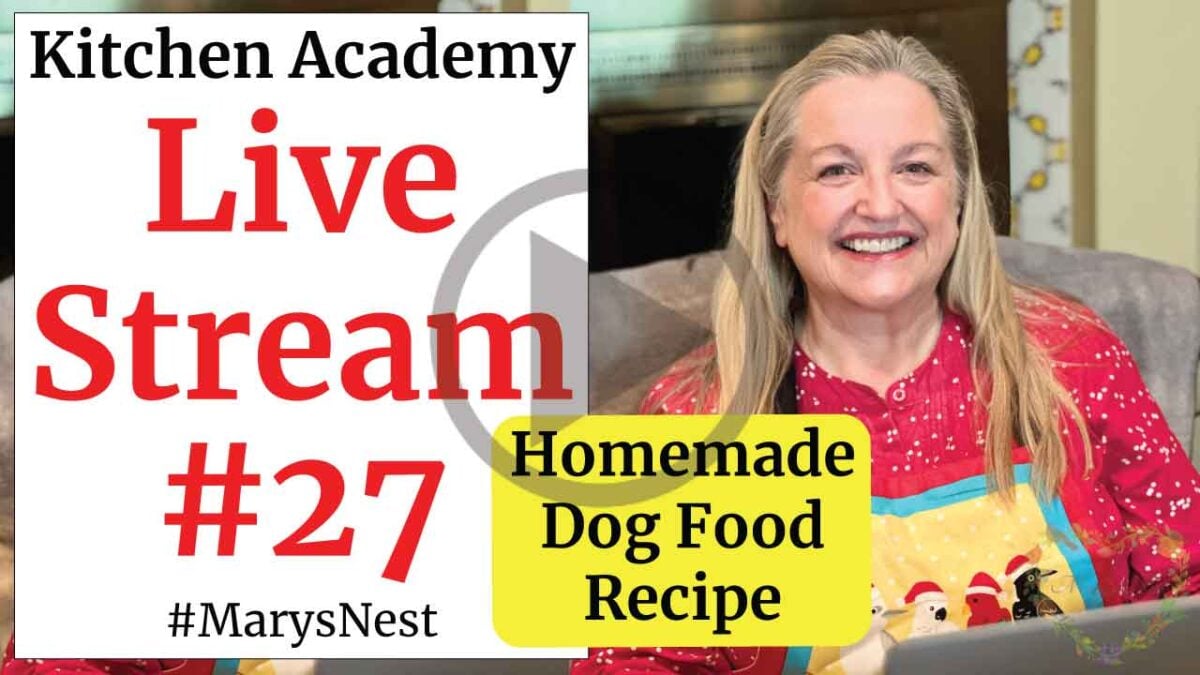 I was happy to chat with my sweet Kitchen Pioneers during November's live stream on November 29, 2022. Among the topics we talked about was how to make homemade dog food. (You can get to my printable recipe later in this public blog post.)
Plus, I was so happy to share the adorable apron I received from my sweet friend Rachel from Australia. (Thanks, Rachel!)
This live stream replay is available to Kitchen Pioneers who have joined my YouTube membership community—The Traditional Foods Kitchen Academy.
*Affiliates note: As an Amazon Associate I earn from qualifying purchases. My videos and blog posts may contain affiliate links to products and services. If you click through and make a purchase, I'll receive a small commission. It does not affect the price you pay.
Why My Pup Needs Homemade Dog Food
When it comes to making homemade dog food, I am no expert, but I was desperate to find a solution to help my sweet yellow lab pup Indy who was diagnosed with a chicken allergy. Generally, he is a very healthy pup, but he started to develop little bumps between his webbed toes as well as some hot spots around his elbows and ankles.
And sorry if this is a bit of too much information (TMI), but I know you dog moms and dads will understand. Indy developed regular bouts of very loose stool. Our vet diagnosed it as a chicken allergy and recommended a special dog food.
Poor pup! Chicken is so tasty, but it has been off-limits for him for a while now. And I also found that Indy didn't do great on beef either.
Why I Avoided Specialty Dog Food
Now, I think you know I would do anything for my sweet dog, but the food that the vet recommended was $135 per bag! And I was equally shocked when I learned of one of the main ingredients: powdered cellulose.
Guess what that is? It's basically refined wood pulp. They threw in potatoes and some fish meal for good measure, but I figured I could do better than that—and for a lot less!
Personally, I don't think Indy's allergies will last forever. I wonder if he was the runt of the litter and possibly didn't get a thorough probiotic wash from his birth mom.
My goal is to build up his gut health to help him overcome his allergies and eventually be able to reintroduce chicken and beef back into his diet. And I have been doing this by creating a homemade dog food for him that provides good bacteria probiotics and also includes prebiotics to help feed the probiotics.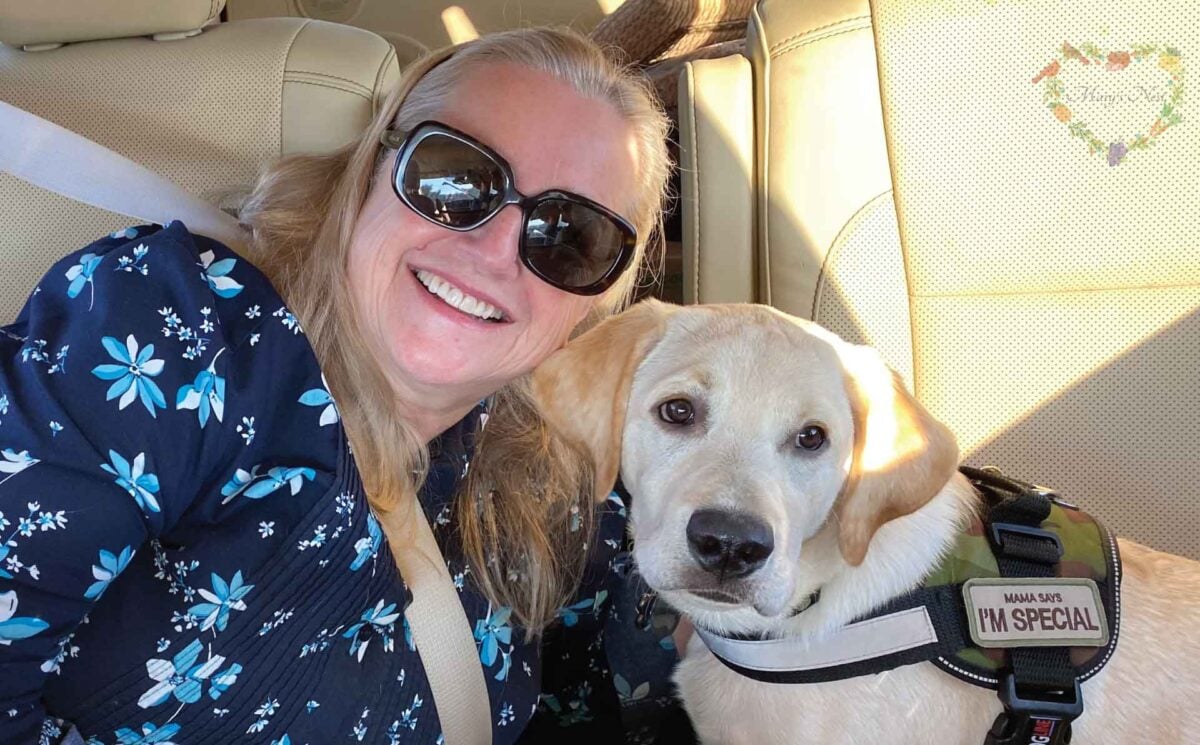 Homemade Dog Food for a Dog's Chicken Allergy
Here's the homemade dog food recipe I found works the best to help our dog with the symptoms of his chicken allergy. It serves one meal for our dog, Indy, who is a 100-pound Labrador Retriever.
The good news is that with this diet, Indy's symptoms have cleared up, and his stool has returned to a firm, healthy consistency. That's an excellent sign his gut health is improving!
Dehydrating Ingredients for Homemade Dog Food
You can find some of the recipe ingredients I use in my supplies section, but it may be easier and cheaper for you to dehydrate your own vegetables at home. (I do that for several of my homemade dog food ingredients.)
In the following videos, I show you how to dehydrate vegetables the easy way. I also have a video on how to dehydrate homemade vegetable bouillon that also provides you with a dehydrating 101 guide.
Traditional Foods Kitchen Academy Live Stream
These live streams and live stream replays are available to members of the Traditional Foods Kitchen Academy, who we call Kitchen Pioneers. You can learn more about my optional YouTube membership community, including members-only videos and exclusive perks.
This membership community is optional. I'm still publishing my weekly detailed instructional cooking videos on my public YouTube channel that you can watch for free. (Thanks so much for being a Sweet Friend and subscriber!)
In addition to links to the latest Kitchen Academy vodcasts, this blog post lists some of the public videos that I talk about in my live stream.
Join My Next Traditional Foods Live Stream
These live streams are a lot of fun, and I enjoy getting to know more about you, my wonderful Kitchen Pioneers. 😊
Be sure to bring your questions for me to our live streams. You can also get to know the other members in our Kitchen Pioneers community. You'll find a lot of fellow Kitchen Pioneers who are working on sourdough starters, ferments, and more traditional foods recipes, just like you!
Remember that you're always welcome to post questions and comments on my videos at any time, and I'm glad to reply.
More Kitchen Pioneer Videos
In addition to live streams, I publish exclusive videos for my membership community. In case you have missed any of my past videos, be sure to catch up with the videos below.
Here are a few of my previous member videos. (If you enjoy dogs and making homemade dog food, the following videos will introduce you to the dogs our family loves, including our current pup Indy.)
Trending Posts on Mary's Nest
Stay in Touch with Mary's Nest
Subscribe to My YouTube Channel for Traditional Foods Videos (Free) - When you subscribe, be sure to click on the notification bell that will let you know each time I upload a new video.


Subscribe to Mary's Traditional Foods Newsletter (Free) - Get a free eBook for signing up: How to Stock Your Essential Traditional Foods Four-Corners Pantry.


Join the Traditional Foods Kitchen Academy (Optional Paid) - For more detailed videos, live streams, and exclusive members-only perks, join my YouTube membership community.
I look forward to having you join me in my Texas Hill Country Kitchen!
Love,
Mary
♥
---
Shop for items used in this blog post or video
Favorite Supplies for Homemade Dog Food
Note it may be cheaper for you to dehydrate vegetables the easy way to make the ingredients for your homemade dog food.
Favorite Kitchen Supplies
More Kitchen Supplies with Promo Codes
Use my Mockmill affiliate link for a special one-time 5% discount on Mockmill Stone Grain Mill products, including Ancient Grains, like Einkorn, Emmer, and Spelt. (The Mockmill discount will appear when you checkout.)
Use promo code MARYSNST for a one-time 15% off Masontops and Breadsmart products on Amazon.com.
Amazon Shop and Shopping Guide
Recommended Reading
**Disclaimer: I am not a medical doctor, a medical professional, a dietician, or a nutritionist. All content found on the MarysNest.com website, including text, images, videos, eBooks or eGuides, social media, or other formats, were created solely for informational purposes only. The content is not intended to be a substitute for professional medical advice, diagnosis, or treatment. Always seek the advice of your physician or other qualified healthcare provider with any questions you may have regarding a medical condition or proper nutritional advice. Never disregard professional medical advice or delay in seeking it because of something you have watched in a video or read on this website. Use caution when following the recipe in this video. The creator and publisher of this video and website will not be held responsible for any adverse effects that may arise from the use of this recipe and method or any other recipe and method on this website or corresponding video channel.