Affiliates note: As an Amazon Associate I earn from qualifying purchases. My content may contain affiliate links to products and services. If you click through and make a purchase, I'll receive a small commission. It does not affect the price you pay.
I was happy to chat with my sweet Kitchen Pioneers during this month's live stream on October 27, 2022. Among the topics we talked about was how to find space to create a Prepper Pantry.
This live stream replay is available to Kitchen Pioneers who have joined my YouTube membership community—The Traditional Foods Kitchen Academy.
*Affiliates note: As an Amazon Associate I earn from qualifying purchases. My content may contain affiliate links to products and services. If you click through and make a purchase, I'll receive a small commission. It does not affect the price you pay.
Finding the Best Place for a Prepper Pantry
As I shared with you during the live stream, I originally didn't have a place designated for storing my extra food and supplies separate from my working pantry. But I wasn't too worried about it. What could possibly happen to keep me from getting to the grocery store?
Then in 2014, there was the threat of an Ebola outbreak here in the United States, and my husband asked me if we had enough food and water on hand if things got serious and we could not go to the grocery store. I have always had a well-stocked Working Pantry, so I knew we would have enough food on hand for months. But my husband's question got me thinking about the additional supplies we might need, such as water, first aid items, an emergency radio, and more.
As I shared, my son Ben and I quickly got to work scouring the house in search of a place we could designate as our Prepper Pantry. And we found it! A small area under our stairs turned out to be perfect. Yes, we would have to crouch down a bit, but it was the ideal place for our long-term supplies. So we put in some low-rise shelves and started adding items to our extended pantry each week until it was well stocked.
Here's a recent video where I give you a tour of my working pantry along with a behind-the-scenes look for my Kitchen Academy members.
The Prepper Pantry to the Rescue in 2020
As time went on, we expanded our Prepper Pantry to include essential supplies to get us through whatever would come our way. We made sure to have extra water, candles, and blankets. The worse we thought that might happen was having to shelter in place in the event our area was hit with a weakening hurricane, tropical storm, or tornado.
We never expected what happened in March 2020. A pandemic! But we weathered it well thanks to our Prepper Pantry. We had food, water, and medical supplies for minor emergencies, and we were able to hunker down in our home with everything we needed.
Here's a video where I share with you how to build a two-week emergency food supply. Be sure to download the free printable checklist and meal plan too!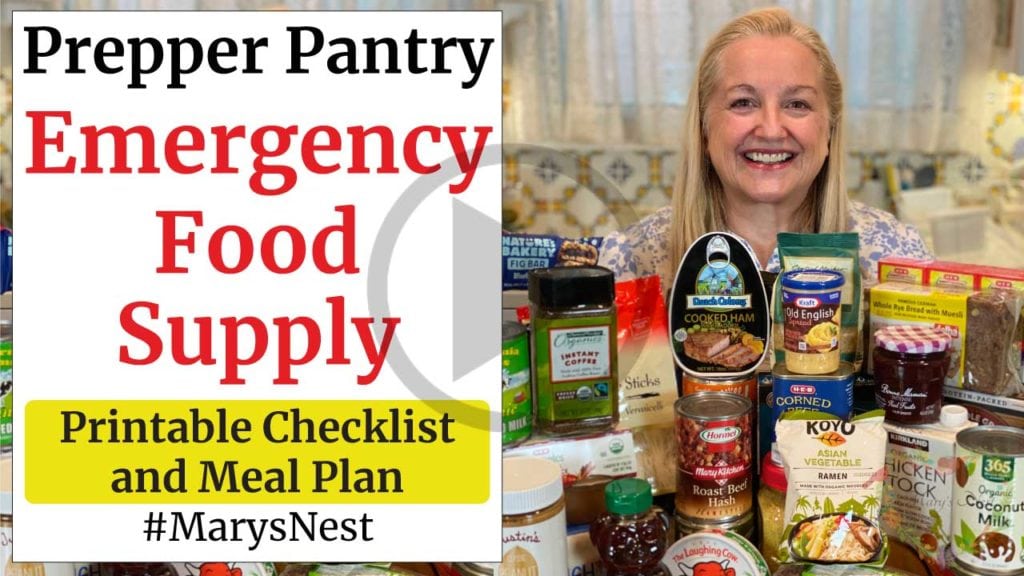 And Then Came 2021!
Just when we thought we were in the clear and things were returning to normal, we were hit with a once-in-a-100-year ice and snow storm in Texas.
Again, we were able to get through the subfreezing weather without reliable power or the ability to drive on icy roads. And thanks to our preparedness, we could share water and firewood with our friends and neighbors in need.
Any Extra Space for a Prepper Pantry Will Do
So as we all agreed during the live stream, finding any little space in your home, whether under the stairs or the bed, will do when it comes to creating your Prepper Pantry. Because what matters in the end is that if you have to shelter in place during any type of local or national emergency, you'll be prepared with what you need to manage until you can get out and about again.
Traditional Foods Kitchen Academy Live Stream
These live streams and live stream replays are available to members of the Traditional Foods Kitchen Academy, who we call Kitchen Pioneers. You can learn more about my optional YouTube membership community, including members-only videos and exclusive perks.
This membership community is optional. I'm still publishing my weekly detailed instructional cooking videos on my public YouTube channel that you can watch for free. (Thanks so much for being a Sweet Friend and subscriber!)
In addition to links to the latest Kitchen Academy vodcasts, this blog post lists some of the public videos that I talk about in my live stream.
Join My Next Traditional Foods Live Stream
These live streams are a lot of fun, and I enjoy getting to know more about you, my wonderful Kitchen Pioneers. 😊
Be sure to bring your questions for me to our live streams. You can also get to know the other members in our Kitchen Pioneers community. You'll find a lot of fellow Kitchen Pioneers who are working on sourdough starters, ferments, and more traditional foods recipes, just like you!
Remember that you're always welcome to post questions and comments on my videos at any time, and I'm glad to reply.
More Kitchen Pioneer Videos
In addition to live streams, I publish exclusive videos for my membership community. In case you have missed any of my past videos, be sure to catch up with the videos below.
Here are a few of my previous member videos:
Trending Posts on Mary's Nest
Stay in Touch with Mary's Nest
Subscribe to My YouTube Channel for Traditional Foods Videos (Free) - When you subscribe, be sure to click on the notification bell that will let you know each time I upload a new video.
Subscribe to Mary's Traditional Foods Newsletter (Free) - Get a free 36-page eBook for signing up: How to Stock Your Essential Traditional Foods Four-Corners Pantry.
Join the Traditional Foods Kitchen Academy (Optional Paid) - For more detailed videos, live streams, and exclusive members-only perks, join my YouTube membership community.
Preorder The Modern Pioneer Cookbook (Optional Paid) - Get a printed book of Mary's nourishing recipes from a Traditional Foods Kitchen. This cookbook will be published by Penguin Random House with their DK imprint.
I look forward to having you join me in my Texas Hill Country Kitchen!
---
Shop for items used in this blog post or video
Favorite Kitchen Supplies
More Kitchen Supplies with Promo Codes
Use my Mockmill affiliate link for a special one-time 5% discount on Mockmill Stone Grain Mill products, including the new Flake Lover's Flaker. (The Mockmill discount will appear when you checkout.)
Use promo code MARYSNST for a one-time 15% off Masontops and Breadsmart products on Amazon.com.
Amazon Shop and Shopping Guide
Recommended Reading
**Disclaimer: I am not a medical doctor, a medical professional, a dietician, or a nutritionist. All content found on the MarysNest.com website, including text, images, videos, eBooks or eGuides, social media, or other formats, were created solely for informational purposes only. The content is not intended to be a substitute for professional medical advice, diagnosis, or treatment. Always seek the advice of your physician or other qualified healthcare provider with any questions you may have regarding a medical condition or proper nutritional advice. Never disregard professional medical advice or delay in seeking it because of something you have watched in a video or read on this website. Use caution when following the recipe in this video. The creator and publisher of this video and website will not be held responsible for any adverse effects that may arise from the use of this recipe and method or any other recipe and method on this website or corresponding video channel.