I was happy to chat with my sweet Kitchen Pioneers during last month's live stream on September 29, 2022. Among the topics we talked about were old-fashioned homemade soups and how to make perpetual bone broth.
This live stream replay is available to Kitchen Pioneers who have joined my YouTube membership community—The Traditional Foods Kitchen Academy.
*Affiliates note: As an Amazon Associate I earn from qualifying purchases. My videos and blog posts may contain affiliate links to products and services. If you click through and make a purchase, I'll receive a small commission. It does not affect the price you pay.
What is Perpetual Bone Broth?
If you have been with me for a while, you've heard me talk about and seen me make what I call perpetual bone broth. Now, I say that a bit tongue-in-cheek, but there really is something to this concept. Perpetual bone broth is a combination of bones, water, and aromatics that are left to simmer for a long time, with some broth being ladled out every day and fresh water being added to the stockpot that continues to simmer.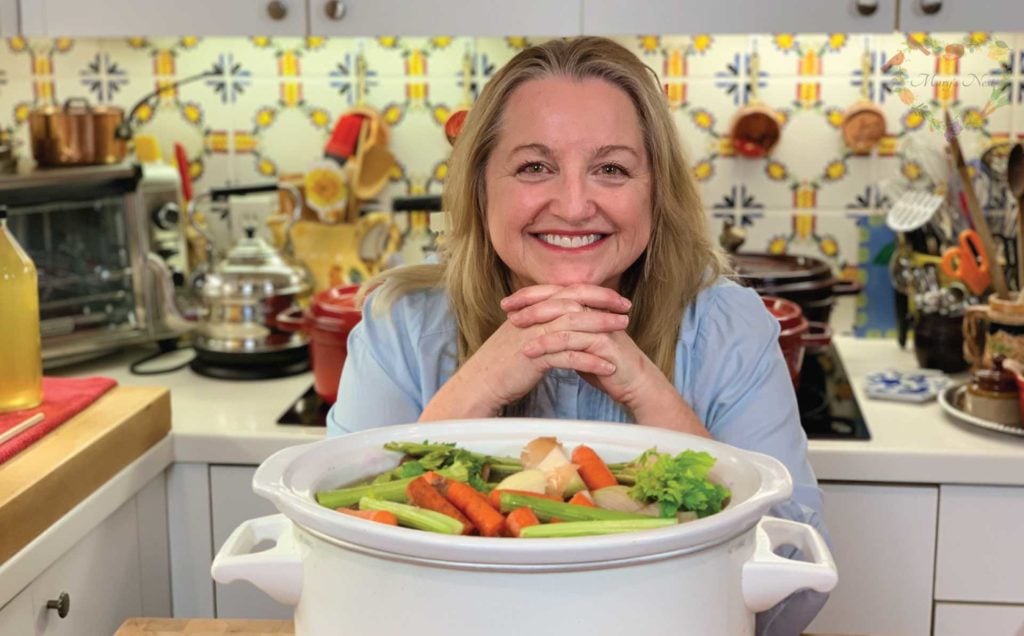 Some home cooks will say they can get 12 batches of perpetual bone broth from one set of bones, with each batch being as gelatinous as the last! Alas, I have not been able to get as many batches. However, I have been able to get at least three batches of gelatinous bone broth from one set of bones. I must say that I am quite pleased with that, especially when I am using some of the more costly beef bones, such as oxtails and beef shanks!
To learn more about how to make perpetual bone broth, be sure to enjoy my perpetual bone broth video playlist, where I show you how to make your first batch of bone broth along with two updates. Here's the first video in the series:
What's the Difference Between Broth, Stock, and Bone Broth?
When it comes to making bone broth, do you ever get confused over the different names for this liquid that get bandied around? The terms can get confusing. I have a video that helps you learn about the differences between broth, stock, and bone broth, but here is a simple definition:
Broth is made with meaty bones
Stock is made with scraped bones that have little or no meat on them
Bone Broth is made with a combination of meaty bones, scraped bones, and high-cartilage bones
This combination of bones gives bone broth its distinct flavor and gelatinous consistency.
To learn more, watch my video about broth, stock, and bone broth.
And when you're ready to make beef stock, chicken bone broth, or beef bone broth, watch the following recipe videos.
Traditional Foods Kitchen Academy Live Stream
These live streams and live stream replays are available to members of the Traditional Foods Kitchen Academy, who we call Kitchen Pioneers. You can learn more about my optional YouTube membership community, including members-only videos and exclusive perks.
This membership community is optional. I'm still publishing my weekly detailed instructional cooking videos on my public YouTube channel that you can watch for free. (Thanks so much for being a Sweet Friend and subscriber!)
In addition to links to the latest Kitchen Academy vodcasts, this blog post lists some of the public videos that I talk about in my live stream.
Join My Next Traditional Foods Live Stream
These live streams are a lot of fun, and I enjoy getting to know more about you, my wonderful Kitchen Pioneers. 😊
Be sure to bring your questions for me to our live streams. You can also get to know the other members in our Kitchen Pioneers community. You'll find a lot of fellow Kitchen Pioneers who are working on sourdough starters, ferments, and more traditional foods recipes, just like you!
Remember that you're always welcome to post questions and comments on my videos at any time, and I'm glad to reply.
More Kitchen Pioneer Videos
In addition to live streams, I publish exclusive videos for my membership community. In case you have missed any of my past videos, be sure to catch up with the videos below.
Here are a few of my previous member videos:
Trending Posts on Mary's Nest
Stay in Touch with Mary's Nest
Subscribe to My YouTube Channel for Traditional Foods Videos (Free) - When you subscribe, be sure to click on the notification bell that will let you know each time I upload a new video.


Subscribe to Mary's Traditional Foods Newsletter (Free) - Get a free eBook for signing up: How to Stock Your Essential Traditional Foods Four-Corners Pantry.


Join the Traditional Foods Kitchen Academy (Optional Paid) - For more detailed videos, live streams, and exclusive members-only perks, join my YouTube membership community.
I look forward to having you join me in my Texas Hill Country Kitchen!
Love,
Mary
♥
---
Shop for items used in this blog post or video
Favorite Kitchen Supplies
More Kitchen Supplies with Promo Codes
Use my Mockmill affiliate link for a special one-time 5% discount on Mockmill Stone Grain Mill products, including Ancient Grains, like Einkorn, Emmer, and Spelt. (The Mockmill discount will appear when you checkout.)
Use promo code MARYSNST for a one-time 15% off Masontops and Breadsmart products on Amazon.com.
Amazon Shop and Shopping Guide
Visit my Shopping Guide page
Learn where I buy my beef bones, electric grain mills, sprouted grains, and more…and get special discounts for Mary's Nest visitors, including from US Wellness Meats, Mockmill, Masontops, and Cultures for Health.
Recommended Reading