Talking Back to Cookbooks and More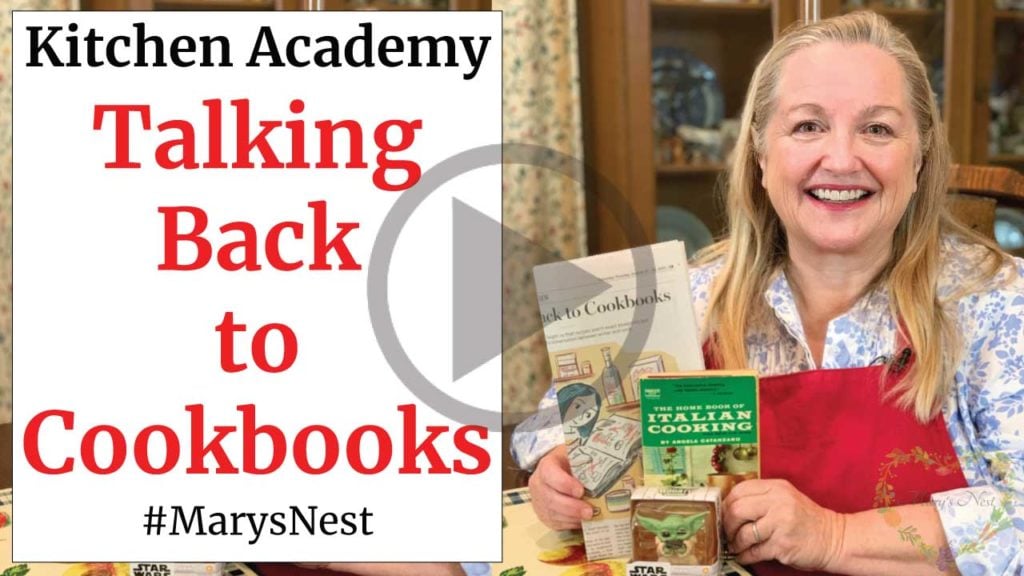 In my latest vodcast, I discuss the "Talking Back to Cookbooks" newspaper article and how we interact with cookbooks. Oh, and I also talk about "The Child" and Bone Broth in the Mandalorian TV series.
This vodcast is available to the Kitchen Pioneers who have joined my YouTube membership community—The Traditional Foods Kitchen Academy.
Traditional Foods Kitchen Academy
My conversational vodcasts are exclusively available to members of the Traditional Foods Kitchen Academy, who we call Kitchen Pioneers. You can learn more about my optional YouTube membership community, including members-only videos and exclusive perks.
This membership community is optional. I'm still publishing my weekly detailed instructional cooking videos on my public YouTube channel that you can watch for free. (Thanks so much for being a Sweet Friend and subscriber!)
Talking Back to Cookbooks
I wanted to share this Wall Street Journal article with you because it really spoke to me. The article talks about how people like to write in their cookbooks by expanding on directions, changing ingredients, and more. I thought this practice was commonplace since I am one of those people who write in my cookbooks all the time.
But apparently, it was not as common as I thought. However, during the events of recent times, many people have turned to their cookbooks as there is more home cooking taking place. And guess what? Everyone is making notes in their cookbooks, or as the newspaper article puts it, they're "talking back to cookbooks!"
See my Recommended Reading section for some of the books that I talk about (and talk back to) in my vodcast.
Bone Broth and The Mandalorian
It's no secret that my family is a big fan of Star Wars. (Our son named our dog Obi-Wan or Obi for short.) In my latest vodcast, I talk about how much I enjoyed The Mandalorian TV series on Disney+ last year since it introduced a whole new audience to bone broth and to enjoy sipping bone broth in the same way that The Child did in the TV series.
Here are a few of the figures that my husband got for me. The figures are ordered from the smallest to the largest in size, and they all keep me company in my kitchen.
Season 2 of The Mandalorian starts on October 30, 2020, so you'll know where I'll be on that Friday!
More Kitchen Pioneer Videos
Here are some of the recent videos in our membership community:
Stay in Touch with Mary's Nest
Subscribe to My YouTube Channel for Traditional Foods Videos (Free) - When you subscribe, be sure to click on the notification bell that will let you know each time I upload a new video.


Subscribe to Mary's Traditional Foods Newsletter (Free) - Get a free eBook for signing up: How to Stock Your Essential Traditional Foods Four-Corners Pantry.


Join the Traditional Foods Kitchen Academy (Optional Paid) - For more detailed videos, live streams, and exclusive members-only perks, join my YouTube membership community.
I look forward to having you join me in my Texas Hill Country Kitchen!
Love,
Mary
♥
---
Shop for items used in this blog post or video
Favorite Kitchen Supplies
Favorite Cooking Vessels
Recommended Reading
Amazon Shop and Shopping Guide
*Affiliates note: As an Amazon Associate I earn from qualifying purchases. My videos and blog posts may contain affiliate links to products and services. If you click through and make a purchase, I'll receive a small commission. It does not affect the price you pay.
**Disclaimer: I am not a medical doctor, a medical professional, a dietician, or a nutritionist. All content found on the MarysNest.com website, including text, images, videos, eBooks or eGuides, social media, or other formats, were created solely for informational purposes only. The content is not intended to be a substitute for professional medical advice, diagnosis, or treatment. Always seek the advice of your physician or other qualified healthcare provider with any questions you may have regarding a medical condition or proper nutritional advice. Never disregard professional medical advice or delay in seeking it because of something you have watched in a video or read on this website. Use caution when following the recipe in this video. The creator and publisher of this video and website will not be held responsible for any adverse effects that may arise from the use of this recipe and method or any other recipe and method on this website or corresponding video channel.