Hi Sweet Friends,
I have good news and sad news to share with you today about Mockmill.
First, the sad news. Mockmill is changing its affiliate program and will no longer provide affiliates like me with a future discount for their audiences.
The good news is that my current 5% discount on Mockmill Grain Mills is still available to you through October 31, 2023, so if you've been thinking about getting an electric grain mill, now is the time for you to make a purchase and get a good savings! (Note: Even if a product is out of stock, you can still use my discount to preorder it before October 31, 2023, and have the item shipped to you when Mockmill has it back in stock later this year.)
If you have any questions on how to receive the one-time discount or which products are covered, see the sections below. (And if you're looking for other discount codes or recommended products, visit my Shopping Guide.)
*Affiliates note: As an Amazon Associate I earn from qualifying purchases. My content may contain affiliate links to products and services. If you click through and make a purchase, I'll receive a small commission. It does not affect the price you pay.
How do I get the Mockmill 5% discount?
Click on the "Get 5% off your Mockmill purchase with this link" link, which takes you to the Mockmill website.
On the Mockmill website, go to their shop and add the products you want to your shopping cart. For example, you can add the "Mockmill 100 Stone Grain Mill" to your shopping cart. (That's the Mockmill I purchased and use in my recipe videos.) You can also put additional products, like the "Flake Lover's Flaker", into your cart.
View your Mockmill cart to see the 5% discount applied to your order. Here's how it looks in this example shopping cart:
I tried your Mockmill link last week, but I didn't see the discount in my Mockmill cart. Will it work now?
Sorry, but yes, there was a problem with my Mockmill link earlier in October. The Mockmill team helped fix it for me, and it should be working wonderfully now.
If you run into any problems getting the discount through October 31, 2023, please send me a message through my Contact page.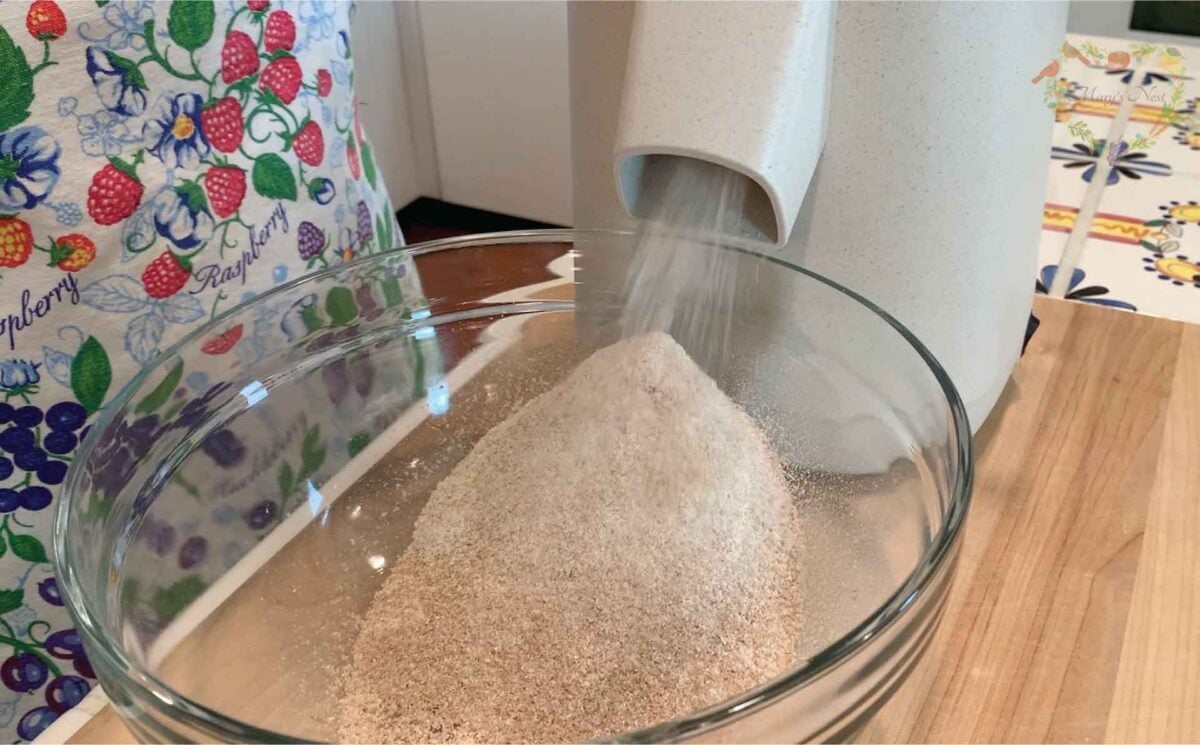 Will the discount apply to preorders?
The good news is you can apply my 5% discount to preorders that you make by October 31, 2023, so take advantage of this savings on both currently in-stock and preorder electric grain mills.
As you can see on the Mockmill website, many of their grain grinders are sold out, but they are restocking them soon with an estimated arrival time of November 2023. You can use my discount to preorder many of their currently sold out products, including the Mockmill 100 Stone Grain Mill, and get them shipped to you when they arrive at the Mockmill warehouse.
Does this discount apply to the Flake Lover's Flaker or whole grains?
Yes! You can use this discount on the Flake Lover's Flaker from Mockmill. This electric flaker helps you quickly flake whole oats and other whole grains that you can use for recipes.
Unfortunately, this discount does not apply to the whole grains sold on the Mockmill site. This discount can only be applied to grain grinders and the flaker.
If you're looking for whole grains, especially Ancient Grains, I list several you can get from Einkorn to Kamut on my Wheat Berries FAQs post.
Do you have videos that show the Mockmill in action?
I love using my Mockmill grain grinder to make fresh flour for baking, and here are a few of my recipe videos where I unbox and use my Mockmill electric grain grinder and Flake Lover's Flaker.
If you decide to get a Mockmill electric grain mill, I hope you'll enjoy grinding your own grain to make fresh flour and baking some of the best bread you've ever had!