How to Make Slow-Roasted Candied Tomatoes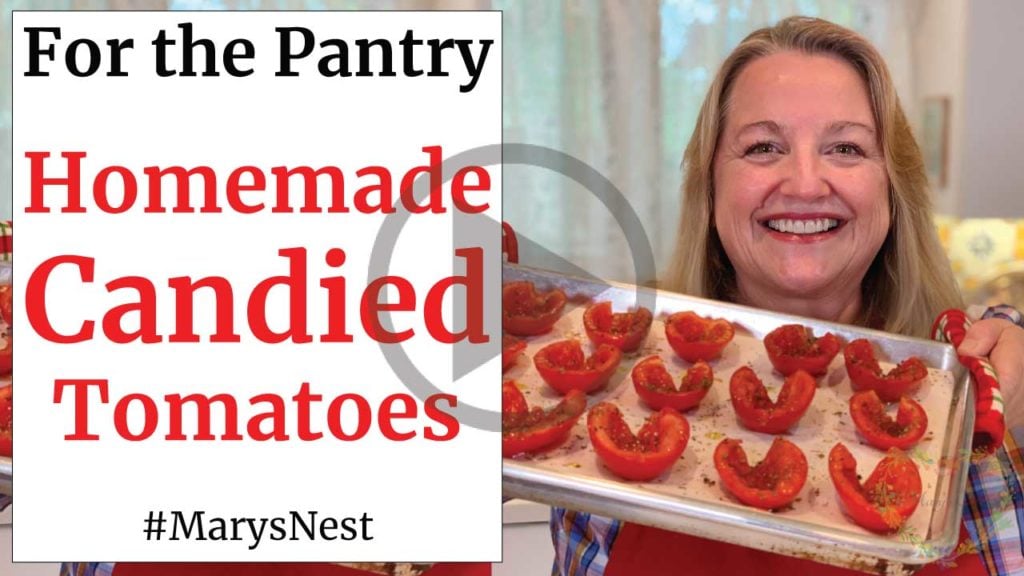 Hi Sweet Friends,
Today, I am sharing with you How to Make Slow-Roasted Candied Tomatoes that are so much better than tough sun-dried tomatoes. They are soft, tender, and absolutely scrumptious!

These Candied Tomatoes are amazing and make a wonderful sweet addition to any antipasto platter, are enjoyable as a quick snack, or give a tasty bit of added flavor to chicken and fish dishes.
You'll love them and will want to make batch after batch…which is a great idea if you ever have a bumper crop of tomatoes either from your own garden or the farmer's market.
Related Videos
Subscribe to my channel for more easy recipes
And while you're visiting my Mary's Nest YouTube channel, be sure to subscribe and click on the notification bell that will let you know each time I upload a new video.
I look forward to having you join me in my Texas Hill Country Kitchen!
Love,
Mary
♥
You can print the recipe below.
9

Italian plum tomatoes

sliced lengthwise with core removed

1/4

cup

Extra virgin olive oil

Coarse ground Celtic sea salt

Dried oregano
9

Italian plum tomatoes

sliced lengthwise with core removed

1/4

cup

Extra virgin olive oil

Coarse ground Celtic sea salt

Dried oregano
Preheat the oven to 325 degrees Fahrenheit.

Line a baking sheet with parchment paper.

Place sliced tomatoes, cut side up onto parchment-lined baking sheet.

Drizzle olive oil over tomatoes.

Sprinkle with a bit of sea salt and dried oregano

Roast in the oven for approximately 2 hours or until tomatoes are quite soft and slightly caramelized. Remove from oven and allow to cool.

Store tomatoes layered in jar and covered with olive oil.
These tomatoes will stay fresh, refrigerated for 6 months.
Find this recipe and video at https://marysnest.com/recipe/how-to-make-slow-roasted-candied-tomatoes/
Copyright © 2019 Mary's Nest, LLC, All Rights Reserved
Shop for items used in this blog post or video
Favorite Candied Tomato Making Supplies:
***
*A Note About Affiliates: My videos, video descriptions, and blog posts may contain affiliate links to various products. As an Amazon Associate I earn from qualifying purchases. If you click through and make a purchase, I'll receive a small commission. It does not affect the price you pay.
**Disclaimer: I am not a medical doctor, a medical professional, a dietician, or a nutritionist. All content found on the MarysNest.com website, including text, images, videos, eBooks or eGuides, social media, or other formats, were created solely for informational purposes only. The content is not intended to be a substitute for professional medical advice, diagnosis, or treatment. Always seek the advice of your physician or other qualified healthcare provider with any questions you may have regarding a medical condition or proper nutritional advice. Never disregard professional medical advice or delay in seeking it because of something you have watched in a video or read on this website.