Affiliates note: As an Amazon Associate I earn from qualifying purchases. My content may contain affiliate links to products and services. If you click through and make a purchase, I'll receive a small commission. It does not affect the price you pay.
FREE 7-Day Traditional Foods Winter Menu Plan
I am so excited to share this 7-Day Traditional Foods Winter Menu Plan with you! Now that you have learned how to make all sorts of traditional foods, including bone broth, ferments, sourdough, and more, this menu plan will help you incorporate all those traditional foods into delicious and nutrient-dense meals.
*Affiliates note: As an Amazon Associate I earn from qualifying purchases. My content may contain affiliate links to products and services. If you click through and make a purchase, I'll receive a small commission. It does not affect the price you pay.
Get Your Free Winter Menu Plan
To get your Free 7-Day Traditional Foods Winter Menu Plan eBook, fill in your email address in the form below and then check your email because I will send you an email confirmation to the email address you provide. Once you confirm your email address, I'll send you a welcome email with a link to download your free Winter Menu Plan.
But don't worry. You don't have to receive any other emails from me. However, if you want to receive future email newsletters from me about traditional foods and get notifications about future eBooks, be sure to check the "Please send me traditional foods resources" box in the form. (I will never sell your email address, and my newsletters are always free!)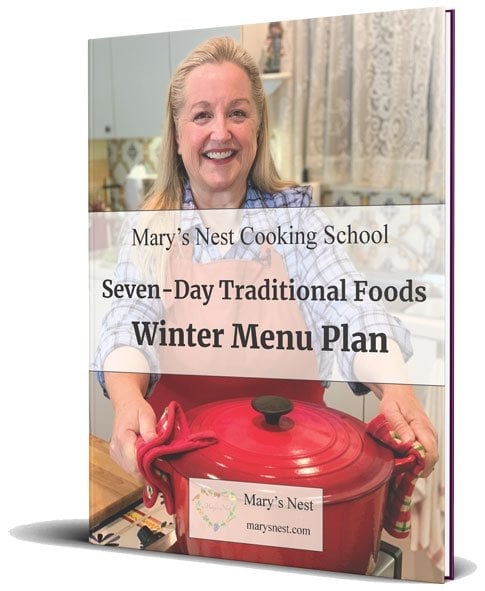 To review—After you submit the sign-up form:
You'll receive an email asking you to confirm your subscription.
Press the button in the email to confirm your subscription.
After you confirm your subscription, you'll receive a welcome email with the links to your free eBooks.
More than one free eBook? That's right! As a Mary's Nest newsletter subscriber, you'll be able to download three eBooks:
Seven-Day Traditional Foods Winter Menu Plan (this 28-page Winter Menu Plan)
How to Stock Your Essential Traditional Foods Four-Corners Pantry (Bonus 36-page download)
The 10 Best Books for Your Traditional Foods Journey (Bonus download)
That's three FREE eBooks! 😊
Are You Already a Mary's Nest Newsletter Subscriber?
If you already subscribe to my email newsletter, you don't need to subscribe again. I'm sending out an email to all my subscribers today with directions on how you can download this free Winter Menu Plan eBook. (And thank you so much for being a Mary's Nest newsletter subscriber!)
Read the Winter Menu Plan eBook on Your Kindle
Do you have a Kindle? You can send my eBook files to your Kindle devices, Kindle reading applications, and your Kindle Library by emailing the PDF file to your Send-to-Kindle e-mail address.
What's Inside this 28-Page Menu Plan
If you have been with me for a while, you know that when I create an ebook, it is VERY thorough! And this 7-Day Winter Menu Plan is no exception. Yes, it's 28-pages long because, in addition to laying out a weekly menu for you with specific meals for breakfast, lunch, and dinner, I also provide lots of substitutions that let you make this menu plan as flexible as possible for you and your family.
I'm always bothered by rigid menu plans. These types of menu plans don't allow substitutions if you don't like a particular food. That's not the case with my menu plan!
In addition to providing specific meals with links to accompanying videos and printable recipes, I also offer various options to replace my suggestions. These options also include accompanying videos and printable recipes. With my recommended and optional recipes, you have everything you need in one place to make your weekly menu plan.
Daily Themes for the Winter Menu Plan
When it comes to menu planning, I have found it extremely helpful to assign a theme to each day of the week. I can't take credit for this clever idea, but I certainly embrace it. A delightful woman named The Food Nanny created this concept. Her actual name is Liz Edmonds, and she is the author of two excellent cookbooks:
In her cookbooks, Liz shares very simple recipes for getting a delicious dinner on the table every night of the week in record time. But her secret, which is really the most valuable nugget in both of her cookbooks, is the idea of using a simple theme for each dinner to make meal prep easy.
Liz recommends keeping your daily dinner theme as simple as something she calls Chicken Night. So when she knows that the next day's dinner is under the banner of chicken night, all she has to do the night before is defrost some chicken—any chicken—a whole chicken, chicken breasts, etc. It doesn't matter.
So when dinner rolls around the next day, you have your chicken already defrosted. And depending on which type of chicken you have, you can look up an easy recipe (or use a favorite one that you remember and enjoy making), and dinner is on its way!
Winter Menu Plan Preparations
In this Winter Menu Plan, I also include the actions you need to take to prep each night so that your ingredients are ready for the meals that you have planned for the next day. There's lots of wiggle room here, just like there is for the meals you are planning on preparing. For example, if you're not planning on serving beans the next day, no problem. Skip that prep.
Start Your Kitchen Journal
Some of you have told me that you like to keep everything electronically, either on your computer, tablet, or phone. And that is certainly handy! But others of you have shared with me that you enjoy printing out recipes and other kitchen information and keeping all your printed material organized in a notebook or binder. The printed material is nicer to flip through when you're taking a break from your electronic devices.
If you fall into the latter category, be sure to check out my video where I share my Kitchen Journal and what I like to keep in it. After you download your copy of the 7-Day Winter Menu Plan, you can print it out on your home printer. The printed Menu Plan is the perfect addition to your Kitchen Journal.
Get to Know Your Free 36-Page Pantry List
As a bonus download in your welcome email, you'll also receive a link to my 36-Page Pantry List. This additional eBook is an invaluable resource for the Traditional Foods Kitchen. And it is especially helpful to those of you who are at the beginning of your traditional foods journey and want to know how you should be stocking your pantry.
And I cover all Four Corners of the pantry, including:
The Working Pantry (main pantry you access on a daily basis)
The Refrigerator
The Freezer
The Extended Pantry (also known as the Prepper Pantry)
This extensive pantry list also includes links to videos and printable recipes to help you learn how to make these traditional foods and incorporate them into your daily meals.
Stay in Touch with Mary's Nest
Subscribe to My YouTube Channel for Traditional Foods Videos (Free) - When you subscribe, be sure to click on the notification bell that will let you know each time I upload a new video.
Subscribe to Mary's Traditional Foods Newsletter (Free) - Get a free 36-page eBook for signing up: How to Stock Your Essential Traditional Foods Four-Corners Pantry.
Join the Traditional Foods Kitchen Academy (Optional Paid) - For more detailed videos, live streams, and exclusive members-only perks, join my YouTube membership community.
Order The Modern Pioneer Cookbook (Optional Paid) - Get a printed book of Mary's nourishing recipes from a Traditional Foods Kitchen. This bestselling cookbook is published by Penguin Random House with their DK imprint.
I look forward to having you join me in my Texas Hill Country Kitchen!
---
Shop for items used in this blog post or video
Favorite Kitchen Supplies
Use promo code MARYSNST for a one-time 15% off Masontops and Breadsmart products on Amazon.com.
Use my Mockmill affiliate link for a special one-time 5% discount on Mockmill Stone Grain Mill products, including the new Flake Lover's Flaker. (The Mockmill discount will appear when you checkout.)
Amazon Shop and Shopping Guide
Visit my Shopping Guide page
Get up to 15% off for stocking your Traditional Foods Pantry and equipping your Modern Pioneer Kitchen, including discounts from Lehman's, Mockmill Grain Mill, Masontops, Cultures for Health, Survival Garden Seeds, Redmond Real Salt, Plan to Eat, US Wellness Meats, and More!
Recommended Reading
**Disclaimer: I am not a medical doctor, a medical professional, a dietician, or a nutritionist. All content found on the MarysNest.com website, including text, images, videos, eBooks or eGuides, social media, or other formats, were created solely for informational purposes only. The content is not intended to be a substitute for professional medical advice, diagnosis, or treatment. Always seek the advice of your physician or other qualified healthcare provider with any questions you may have regarding a medical condition or proper nutritional advice. Never disregard professional medical advice or delay in seeking it because of something you have watched in a video or read on this website. Use caution when following the recipe in this video. The creator and publisher of this video and website will not be held responsible for any adverse effects that may arise from the use of this recipe and method or any other recipe and method on this website or corresponding video channel.