How to Make Medicinal Herbal Oils and Herbal Salves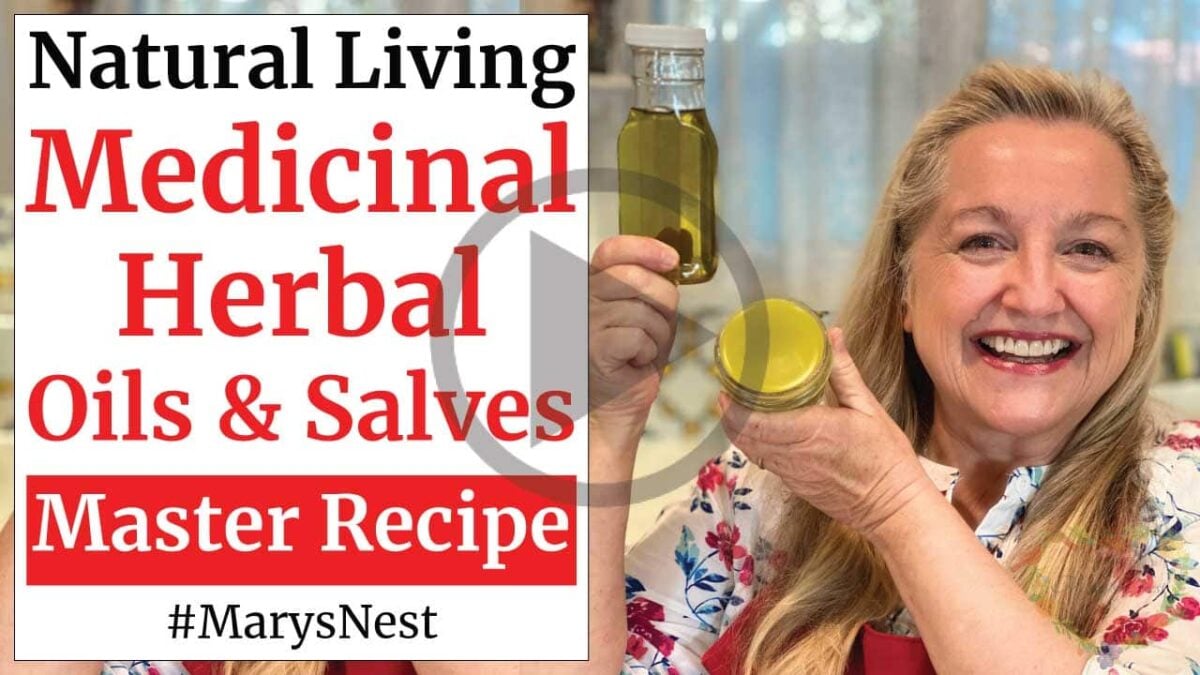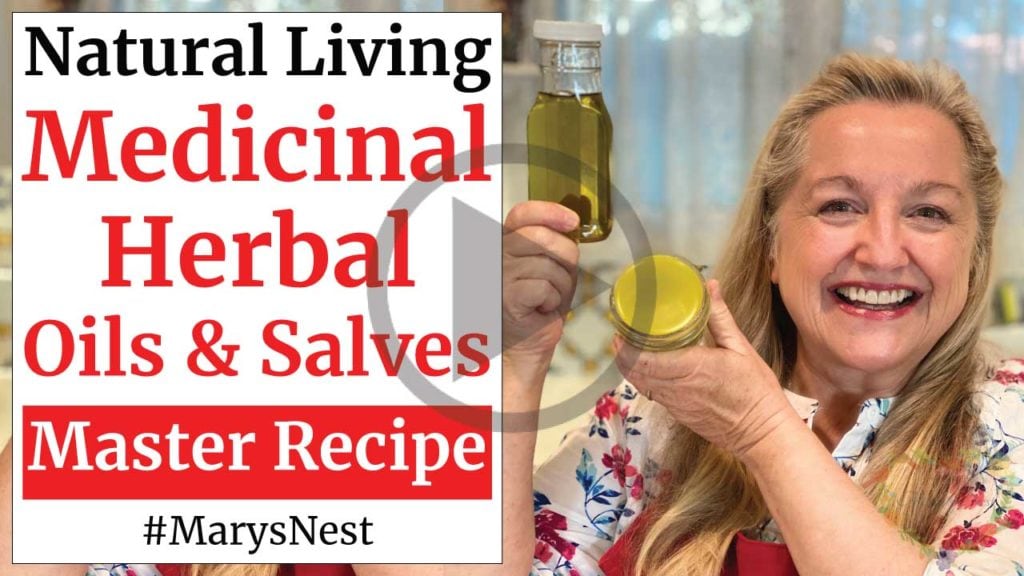 Discover this master recipe to learn how to make medicinal herbal oils and herbal salves using any herb. This video is part of my Master Recipes for Making Herbal Remedies Series playlist.
Note: Always be sure to consult your medical professional before using any type of medicinal herb.
*Affiliates note: As an Amazon Associate I earn from qualifying purchases. My content may contain affiliate links to products and services. If you click through and make a purchase, I'll receive a small commission. It does not affect the price you pay.
Master Recipe for Medicinal Herbal Oils and Salves
A master recipe is a special kind of recipe that outlines the standard ingredients and basic steps to make whatever the recipe calls for. With these herbal master recipes, I show you step-by-step how to make each remedy using standard ingredients, such as water and olive oil. However, you have the flexibility to decide which herbs you want to use to customize the master recipe and make it your own.
A Word of Caution as to Medicinal Herbs
Although we may think of herbs as just ingredients that we add to our pasta sauce, many herbs have potent medicinal properties and have been used as medicine for centuries. With this in mind, you need to approach herbs with knowledge and caution.
If you are pregnant, nursing, taking medication (over the counter or prescription), having allergies, or thinking of using medicinal herbs with children, make sure you first talk to your doctor, pediatrician, or other health care professional. You want to ensure that the herbs you plan to use will not adversely affect you or your children. I can't stress this enough! Herbs are medicine. Never be casual or negligent in their use.
Now, let's get started learning about how to make medicinal herbal oils and salves.
How to Make Medicinal Herbal Oils
First, I'll cover how to make medicinal herbal oils, and then we'll move on to using that oil to make an herbal medicinal salve.
Under the medicinal herbal oil master recipe umbrella, you can choose from three different methods for making this type of oil:
Method 1: The Sun Method
The Sun Method is my favorite way to make medicinal herbal oils. Since this method is the most gentle, it protects the delicate essential oils in the herbs. But the process takes time:
Fill a jar with the herbs of your choice.
Cover them with olive oil.
Set the jar in a warm place.
To use this method, you will need to allow at least two weeks for your herbs to steep in the oil before straining. After straining the oil, you can use the oil to make a medicinal herbal salve.
Method 2: The Stovetop Method
If you are in a hurry, the Stovetop Method can be a great time saver for making medicinal herbal oils. You just need to remember that low and slow are your best friends. You want to warm your herbs in oil, preferably in a double boiler, and on the lowest setting on your stovetop.
The herbs will simmer in the olive oil for about an hour, and then they will be ready to strain and decant. Your medicinal herbal oil will be ready to use as-is, or you can use the oil to make a healing medicinal herbal salve.
Method 3: The Oven Method
This Oven Method is my least favorite for making medicinal herbal oils. I don't use this method, but I wanted to share it with you since you might see this method popping up on the Internet when you search for how to make an herbal medicinal oil.
Most modern ovens can not be set any lower than 200°F, which is higher than many herbalists recommend for making medicinal herbal oils. Medicinal herbal oils are best made when only heated to between 95°F and 110°F. That being said, you may find that simply leaving the herbs in oil in your turned-off oven with nothing more than the pilot light or the electric light on might be a better option.
However, even if you are able to maintain a lower heat setting in your oven, this method does require some babysitting. The Oven Method can take as little as 30 minutes or as long as six hours. (There is little consensus among herbalists on the time period.) You'll need to check your herbs about every 30 minutes, move them around a bit, and then remove them from the oven once they become fragrant.
How to Make Medicinal Herbal Salves
Once you learn how to make medicinal herbal oils, you can use those oils to create medicinal herbal salves. The only additional ingredient you will need is beeswax. You'll warm the medicinal herbal oil with the beeswax and then transfer the mixture into a small container to cool and harden. It's that simple! Now, you have a healing salve ready whenever you need it!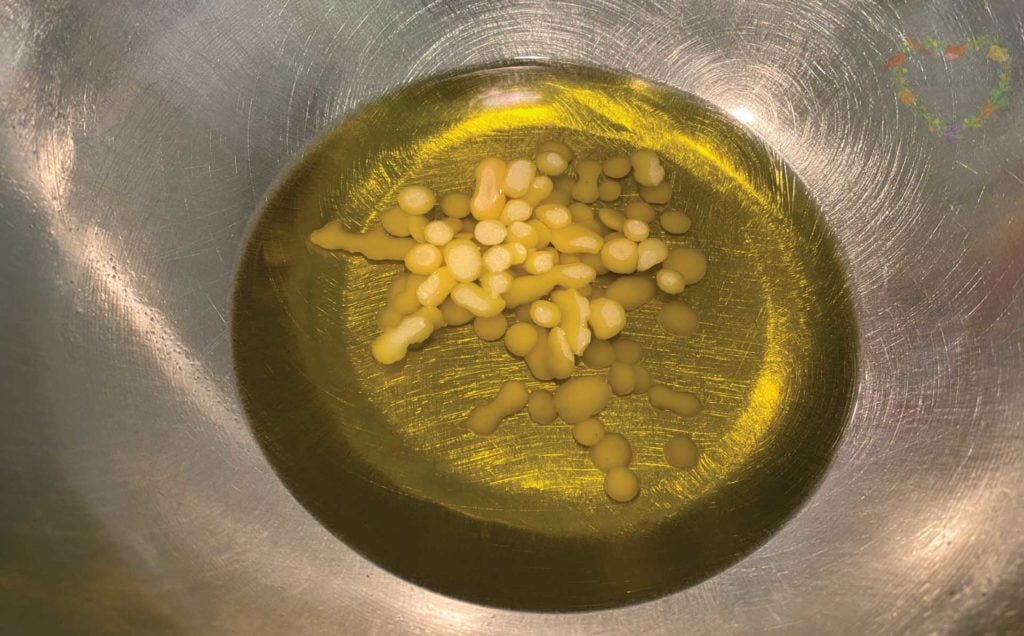 If you choose to add essential oils to your homemade medicinal herbal salves, I recommend starting with a small amount. Essential oils are very strong both in fragrance and in skin application. Use a ratio of 10 drops of essential oil to 1/2 cup of medicinal herbal oil when making an herbal salve.
Medicinal Herbs to Grow for Making Home Remedies
You can certainly buy dried herbs for making medicinal herbal oils as well as other herbal remedies. But how much better if you can learn to grow your own! A garden is great, but even a sunny window sill will do. In the videos below, I share with you the essential medicinal herbs to grow and how best to grow them. The two videos cover 15 of my favorite and recommended herbs!
After you grow your herbs, you can dry them too. As I show you in my video, it's an easy process, and you don't need any special equipment.
Herbal Master Recipes Series
If you have enjoyed learning how to make this master recipe for medicinal herbal oils and salves, be sure to watch my entire series on making medicinal herbal remedies in the following videos.
Mountain Rose Herbs
If you need dried herbs to create a medicinal herb tea or seeds to plant medicinal herbs, Mountain Rose Herbs is a high-quality organic resource.
This is not a sponsored blog post. I'm a long-time customer of Mountain Rose Herbs because their products' quality is far superior to anything else I have ever found. Plus, their website provides helpful information about the herbs they offer, including recipes for using herbs in culinary and medicinal ways.
Gardening Videos
Would you like to learn more about growing herbs and creating a kitchen garden? Come join me for a tour of my kitchen garden. You'll be surprised at how much has grown between my two videos.
Homemade Cream and Balm Videos
If you want to learn how to make your own homemade creams and balms using herbal essential oils, be sure to watch the following videos.
Kitchen Academy Videos
Are you looking for more traditional foods videos? I invite you to join the Traditional Foods Kitchen Academy. Members of this optional paid YouTube community get access to exclusive videos, live streams, and other members-only perks.
In the following members-only video, I talk about the Importance of Cooking with Traditional Fats: Cooking Oils.
Stay in Touch with Mary's Nest
Subscribe to My YouTube Channel for Traditional Foods Videos (Free) - When you subscribe, be sure to click on the notification bell that will let you know each time I upload a new video.
Subscribe to Mary's Traditional Foods Newsletter (Free) - Get a free 36-page eBook for signing up: How to Stock Your Essential Traditional Foods Four-Corners Pantry.
Join the Traditional Foods Kitchen Academy (Optional Paid) - For more detailed videos, live streams, and exclusive members-only perks, join my YouTube membership community.
Order The Modern Pioneer Cookbook (Optional Paid) - Get a printed book of Mary's nourishing recipes from a Traditional Foods Kitchen. This bestselling cookbook is published by Penguin Random House with their DK imprint.
I look forward to having you join me in my Texas Hill Country Kitchen!
Shop for items used in this blog post or video
Favorite Mountain Rose Herbs Supplies
Favorite Herbal Supplies
Favorite Kitchen Supplies
Use promo code MARYSNST for a one-time 15% off Masontops and Breadsmart products on Amazon.com.
Use my Mockmill affiliate link for a special one-time 5% discount on Mockmill Stone Grain Mill products, including the new Flake Lover's Flaker. (The Mockmill discount will appear when you checkout.)
Amazon Shop and Shopping Guide
Recommended Reading
**Disclaimer: I am not a medical doctor, a medical professional, a dietician, or a nutritionist. All content found on the MarysNest.com website, including text, images, videos, eBooks or eGuides, social media, or other formats, were created solely for informational purposes only. The content is not intended to be a substitute for professional medical advice, diagnosis, or treatment. Always seek the advice of your physician or other qualified healthcare provider with any questions you may have regarding a medical condition or proper nutritional advice. Never disregard professional medical advice or delay in seeking it because of something you have watched in a video or read on this website. Use caution when following the recipe in this video. The creator and publisher of this video and website will not be held responsible for any adverse effects that may arise from the use of this recipe and method or any other recipe and method on this website or corresponding video channel.