How to Make Medicinal Herbal Syrups Using Any Herb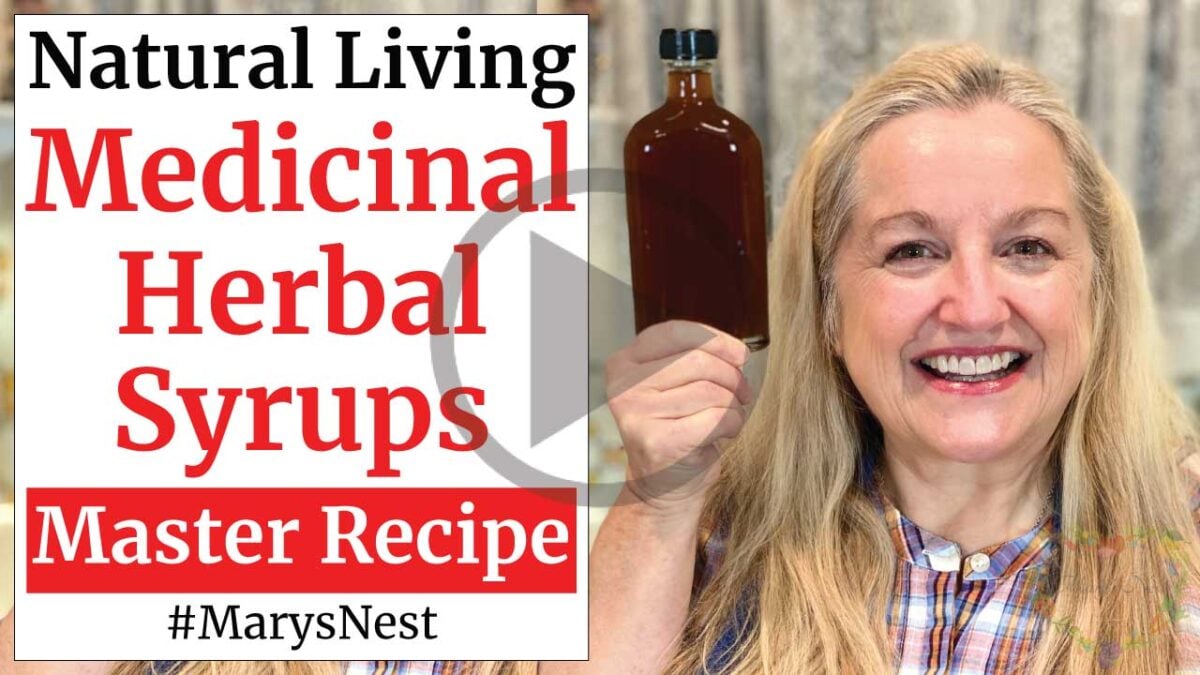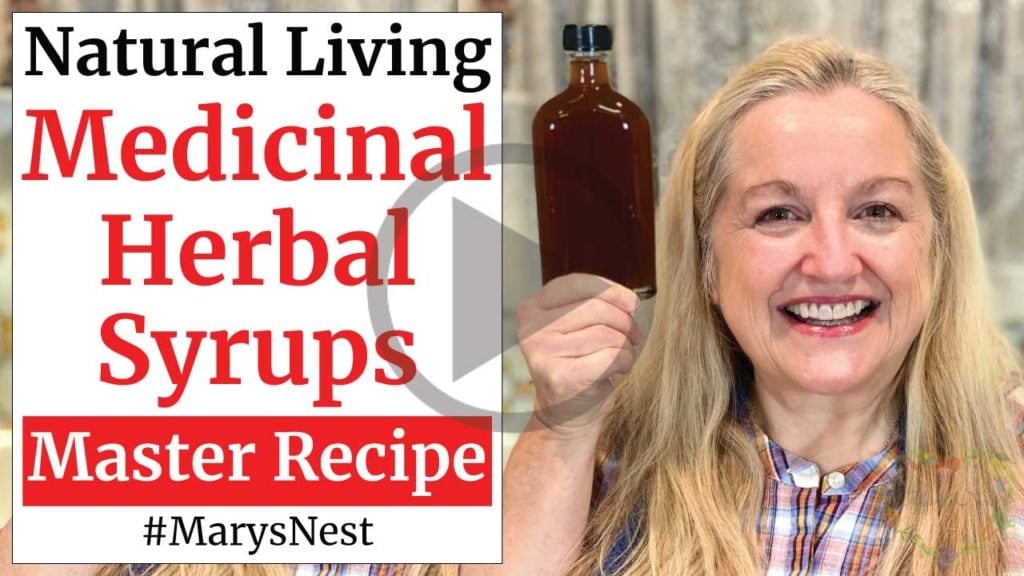 Learn how to make medicinal herbal syrups using any herb. You can tailor the herbal syrup to your exact needs, and in my master recipe video, I show you how to make a thyme herb syrup to help you naturally soothe a sore throat and a cough.
This video is part of my Master Recipes for Making Herbal Remedies Series playlist. (And be sure to consult your medical professional before using any type of medicinal herb.)
*Affiliates note: As an Amazon Associate I earn from qualifying purchases. My content may contain affiliate links to products and services. If you click through and make a purchase, I'll receive a small commission. It does not affect the price you pay.
A Word of Caution as to Medicinal Herbs
Although we may think of herbs as just ingredients that we add to our pasta sauce, many herbs have potent medicinal properties and have been used as medicine for centuries. With this in mind, you need to approach herbs with knowledge and caution.
If you are pregnant, nursing, taking medication (over the counter or prescription), having allergies, or thinking of using medicinal herbs with children, make sure you first talk to your doctor, pediatrician, or other health care professional. You want to ensure that the herbs you plan to use will not adversely affect you or your children. I can't stress this enough! Herbs are medicine. Never be casual or negligent in their use.
I am not a doctor or medical professional. If you are not feeling well, please seek professional medical attention and medicine. And if you are thinking of supplementing your treatment with home remedies, be sure to talk to your medical professional about them. It's important that you get the medicine and treatments you need to get back to good health.
Now, let's start learning about how to make medicinal herbal syrups.
An Introduction to Medicinal Herbal Syrups
Herbal Syrups are the perfect way to introduce yourself and your family to herbal home remedies. The syrups are sweet and soothing and, dare I say, almost tasty. You and your family will be glad you made this home remedy.
An Easy Home Remedy with Herbs
When it comes to using any home remedy made with herbs, herb teas (also called tisanes) are often one of the most gentle ways to start using herbal remedies. You can learn how to make a tisane with my How to Make a Great Night's Sleep Herb Tea recipe video.
Medicinal herbal syrups are the next easiest herbal home remedy to make, and I'll show you how in today's recipe video.
What is a Master Recipe?
If you are new to my Master Recipe Medicinal Herbal Series, you might wonder what I mean when I use the term Master Recipe. A Master Recipe is any recipe that provides you with a blueprint of how to make something, but with the flexibility of modifying the ingredients to fit your needs.
In the case of master recipes for making various medicinal herbal remedies, I share the basic amounts you need for ingredients, such as:
Beeswax
Herbs
Oil
Sweeteners
Water
Since it's a master recipe, you have the flexibility to select the herbs you want to use to meet your particular health need. And in the case of making an herbal syrup, you have can choose from a variety of sweeteners that you like. I explain this in more detail in the printable recipe.
What is a Medicinal Herb?
If you are new to making medicinal herbal remedies, you might wonder what the difference is between medicinal herbs and culinary herbs. In most cases, medicinal herbs and culinary herbs are one and the same.
Here are just a few herbs that you commonly use in cooking, but you can also use them to make herbal remedies:
Herbs are loaded with anti-microbial, anti-inflammatory, and anti-viral compounds that bring outstanding healing properties to both culinary creations and herbal preparations.
Generally, the big difference between using an herb for culinary purposes versus medicinal purposes is that the herbal properties are more concentrated when you make a home remedy using herbs.
A Note About Strong or Pungent Herbs
When making an herbal syrup, always keep in mind that less is more when working with strongly-flavored or pungent herbs, such as rosemary and nettle.
For example, if you make an herbal syrup with rosemary, you will want to mix this herb with other herbs that are complementary and appropriate for your particular needs.
The other mild-flavored herbs you choose will help tamp down the strong flavor of the rosemary that, in large quantities, can have an off-putting taste, including a somewhat "soapy" flavor.
Herbal Syrups Are Quick to Make
One of the best things about making herbal syrups is that they are quick and easy to make and generally just require three ingredients:
Herbs
Sweetener, like honey
Water
So if you have not had time to prepare an herbal tincture or other healing home remedy, such as fire cider, but you find that you quickly need something to soothe a cough, sore throat, or other symptoms that often accompany colds and flu at this time of year, an herbal syrup is just what you need.
Uses for Herbal Syrups
So far, I have focused on using herbal syrups to soothe the symptoms that often accompany a cold or flu, but there are a variety of herbal syrups that you can make for various problems.
In my Medicinal Herbal Syrups video, I share what I call a master recipe because you can tailor the herbs you use to make your herbal syrup to help you with a variety of ailments.
Herbal syrups have been used throughout history to help with:
Getting a good night's sleep
Settling an upset stomach, including nausea and vomiting
Quieting acid reflux
And more!
What Herbs Can You Use in Herbal Syrups?
In my master recipe video, I show you how to make an herbal syrup with lemon thyme, but there are many other herbs you can consider using too.
Chamomile
Herbs like chamomile are excellent for incorporating into herbal syrups to help with various problems. Famous for its properties to help induce sleep, chamomile also helps to calm an aggravated digestive track.
Plantain
Are you bothered by acid reflux? If so, try making an herbal syrup using an herb called plantain.
If you are not familiar with plantain, the good news is that it is probably one of the easiest herbs to grow. Gardners often joke that you just need to loosen a bit of soil. Before you know it, you'll see plantain growing there!
Other Herbs
Do you want to learn more about herbs, their medicinal properties, and which combinations might work well when making an herbal syrup? If so, be sure to read the following books by Rosemary Gladstar.
Those of you who have been with me for a while have often heard me refer to Sandor Katz, who wrote the book Wild Fermentation, as the father of the modern-day fermentation movement. Well, when it comes to herbs, Rosemary is genuinely the mother of the modern-day medicinal herbal remedy movement.
And if you are specifically interested in learning more about fire cider which I discussed earlier, be sure to check out Rosemary's Fire Cider: 101 Zesty Recipes book. This is the most exhaustive resource I have ever seen on how to make fire cider!
What Sweeteners Can You Use in Herbal Syrups?
When it comes to making an herbal syrup, you can choose from a variety of whole sweeteners, such as:
Coconut Sugar
Coconut Syrup
Date Sugar
Date Syrup
Honey*
Maple Sugar
Maple Syrup
Sucanat (dried sugar can juice)
But if you are just starting out on your journey transitioning from a processed foods kitchen to a traditional foods kitchen, and all you have is white sugar, you can certainly use that.
*Please be advised that you should never give honey to an infant under the age of one year. And if you decide to introduce honey into your toddler's diet after they pass the age of one year, be sure to check with your pediatrician before proceeding.
A Note for Those With Diabetes
If you have diabetes and must avoid all forms of sugars, you may wonder if you can use alternative sweeteners instead of the whole sweeteners I listed earlier. (These alternative sweeteners include those that are natural, such as stevia, or are manmade.) Unfortunately, the answer is generally no.
Alternative sweeteners do not work well when making herbal syrups. However, don't give up on medicinal herbal remedies. Herbal teas and herbal tinctures can make excellent alternative options for you.
Just be sure to check with your doctor first before you proceed with any herbal or home remedy.
Which Sweetener is the Best for Herbal Syrups?
In my Which Sugar is the Best video, I review a large selection of natural sweeteners. Some of these sugars are very common and easy to find at your local grocery store. But others are a bit more unique, and you might need to visit an ethnic market or go online to find them.
When it comes to choosing a sweetener for making herbal syrups, my main choices are those that I listed earlier. Most of the sweeteners in my list impart a similar and relatively mild flavor that balances out nicely with most herbs. These sugars will please most palates.
Date Sugar and Date Syrup
However, that said, there is one exception. Although I am a big fan of date sugar and date syrup, they both have a stronger flavor that might be a bit off-putting to some.
But if you still want to use date sugar or date syrup in your herbal syrup, I recommend that you first use some of the more mild-tasting sweeteners. Then, you can work your way up to using the date sweeteners as you move farther along your traditional foods journey.
Herbal Master Recipes Series
If you have enjoyed learning how to make medicinal herbal syrups, be sure to watch my entire series on making additional medicinal herbal remedies, covering master recipes on how to make medicinal:
These videos are part of my Master Recipes for Making Herbal Remedies Series playlist.
Grow Medicinal Herbs for Making Home Remedies
With spring just around the corner, consider learning how to grow your own herbs for culinary and medicinal purposes. Herbs are some of the easiest things to grow, and many would say they grow like weeds! (Some even consider them weeds, but we are smarter than that! 😊)
You can grow herbs in pots on a windowsill, on a balcony, or in a garden among your vegetables and fruit trees. And as a nice side benefit, they often help keep pests away.
In the following videos, I share in-depth information about my favorite herbs and how to identify, grow, and use them to make medicinal remedies.
Once you start growing your herbs, I show you how easy it is to dry them. And if you don't have a chance to grow them, you can use the same technique to dehydrate the herbs you buy from the farmer's market or your local grocery store.
More Medicinal and Herbal Recipes
Do you ever have trouble sleeping? Who doesn't these days! Then be sure to try making one of my all-time favorite herbal remedies, which I call a Great Night's Sleep Tea.
This herbal tea is easy to make and quite tasty. And after a few sips, you'll be drifting off to dreamland before you know it!
Whether you grow your own elderberries or buy them, you definitely want to learn how to make your own Elderberry Syrup. This mighty immune booster will do its best to protect you from colds and flu.
If you ever get a nagging cough that simply won't let up, and you need something stronger than a simple thyme herbal syrup, be sure to make my super soothing homemade cough syrup. This recipe is very easy for beginners with a two-part series that walks you through the entire process step-by-step.
Looking for Amber Bottles?
I like to store many of my homemade herbal remedies in amber-colored glass bottles, especially herbal syrups and tinctures. But they can be pricey to purchase, so I always try to recycle any that I can get my hands on.
If you want to know where I look for my glass bottles, watch the video below where I share some of the surprising places I have found amber-colored glass bottles! 😉
In case you enjoyed my Kitchen Treasures from the Garbage video, I'm confident you'll love the video below where I share some of the unusual places I have found treasures for my garden.
Have More Time to Make a Home Remedy?
When you have more time, be sure to consider making the following home remedy immune booster. Creating a fire cider tonic is a wonderful way to help protect yourself from colds and flu.
Apple Cider Vinegar is an essential ingredient in many home remedies and culinary recipes, so if you haven't made this homemade recipe, I'll show you how, step-by-step in my three-part series for beginners.
Download Your Free 36-Page Pantry List
No matter where you are on your traditional foods journey, you do not want to be without my FREE 36-Page Essential Traditional Foods Four Corners Pantry List! In my comprehensive eBook, I share everything you need to stock in your:
Working Pantry
Refrigerator
Freezer
Extended or Prepper Pantry
Plus, I give you lots more than just lists. I include links to many foods you can make homemade and recipes for how to use everything you stock to create delicious and nutritious nutrient-dense meals.
So don't delay! Get your pantry list today.
Kitchen Academy Videos
Are you looking for more traditional foods videos? If so, I invite you to join the Traditional Foods Kitchen Academy. Members of this optional paid YouTube community get access to exclusive videos, live streams, and other members-only perks. Plus, your YouTube comments include a special members-only badge.
The following members-only video shows the live stream replay where we Chat about Herb Gardening, Milk Kefir, and More.
Stay in Touch with Mary's Nest
Subscribe to My YouTube Channel for Traditional Foods Videos (Free) - When you subscribe, be sure to click on the notification bell that will let you know each time I upload a new video.
Subscribe to Mary's Traditional Foods Newsletter (Free) - Get a free 36-page eBook for signing up: How to Stock Your Essential Traditional Foods Four-Corners Pantry.
Join the Traditional Foods Kitchen Academy (Optional Paid) - For more detailed videos, live streams, and exclusive members-only perks, join my YouTube membership community.
Order The Modern Pioneer Cookbook (Optional Paid) - Get a printed book of Mary's nourishing recipes from a Traditional Foods Kitchen. This bestselling cookbook is published by Penguin Random House with their DK imprint.
I look forward to having you join me in my Texas Hill Country Kitchen!
Trending Posts on Mary's Nest
Shop for items used in this blog post or video
Favorite Home Remedy Making Supplies
More Kitchen Supplies with Discount Codes
Learn more about Mockmill electric grain mills for making fresh flour and their Flake Lover's Flaker that flakes whole grain in minutes.
Use promo code MARYSNST for a one-time 15% off Masontops and Breadsmart products on Amazon.com.
Amazon Shop and Shopping Guide
Visit my Shopping Guide page
Get up to 15% off for stocking your Traditional Foods Pantry and equipping your Modern Pioneer Kitchen, including discounts from US Wellness Meats, Farmhouse Teas, Lehman's, Masontops, Cultures for Health, Survival Garden Seeds, Redmond Real Salt, Plan to Eat, and More!
Recommended Reading
**Disclaimer: I am not a medical doctor, a medical professional, a dietician, or a nutritionist. All content found on the MarysNest.com website, including text, images, videos, eBooks or eGuides, social media, or other formats, were created solely for informational purposes only. The content is not intended to be a substitute for professional medical advice, diagnosis, or treatment. Always seek the advice of your physician or other qualified healthcare provider with any questions you may have regarding a medical condition or proper nutritional advice. Never disregard professional medical advice or delay in seeking it because of something you have watched in a video or read on this website. Use caution when following the recipe in this video. The creator and publisher of this video and website will not be held responsible for any adverse effects that may arise from the use of this recipe and method or any other recipe and method on this website or corresponding video channel.