How to Make a Great Night's Sleep Herb Tea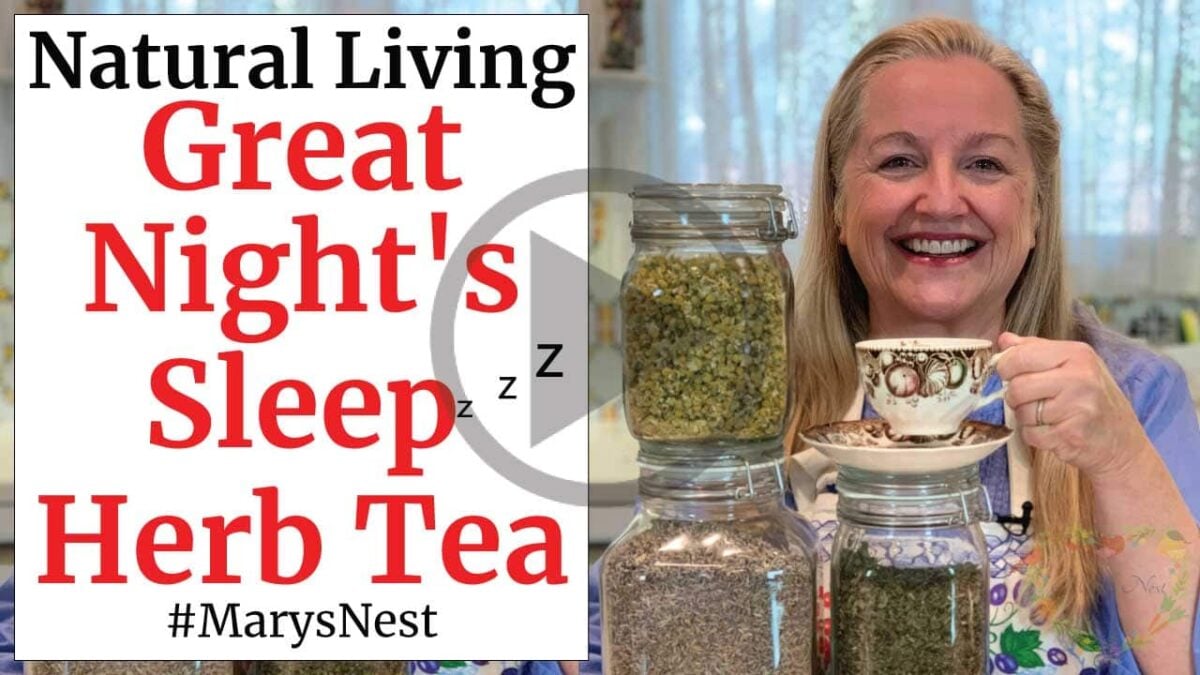 Here is a quick and easy recipe for making a great night's sleep herb tea. I talk about each of the following ingredients that are part of this homemade medicinal herbal tea recipe:
And remember to be sure to consult your medical professional before using any type of medicinal herb.
*Affiliates note: As an Amazon Associate I earn from qualifying purchases. My content may contain affiliate links to products and services. If you click through and make a purchase, I'll receive a small commission. It does not affect the price you pay.
A Word of Caution as to Medicinal Herbs
Although we may think of herbs as just ingredients that we add to our pasta sauce, many herbs have potent medicinal properties and have been used as medicine for centuries. With this in mind, you need to approach herbs with knowledge and caution.
If you are pregnant, nursing, taking medication (over the counter or prescription), having allergies, or thinking of using medicinal herbs with children, make sure you first talk to your doctor, pediatrician, or other health care professional. You want to ensure that the herbs you plan to use will not adversely affect you or your children. I can't stress this enough! Herbs are medicine. Never be casual or negligent in their use.
Ok, let's start going over the herbs that will help you make a wonderful herb tea for a great night's sleep.
Best Herb Tea for Sleep
When it comes to making an herb tea to help you sleep, there are definitely certain herbs you want to turn to. Just look at the ingredients of any sleep tea at your local grocery store. Chance are, one of the first ingredients is going to be Chamomile. So let's start there.
Chamomile for Making Sleep Herb Tea
Most of us who have enjoyed Chamomile tea would agree that it definitely has sedative effects on the human body, but why is that? Scientists have studied Chamomile extensively, and they have found that this plant contains the flavonoid apigenin. These researchers theorize that this flavonoid binds to certain receptors in the brain, which leads to drowsiness. Learn more with the following research study:
Generally, you will use between a total of 4-5 tablespoons of dried herbs when making a quart of herb tea. If you are using a mix of stronger herbs, you might lean to the lower side of the range. However, if you are using a blend of more mild-flavored herbs, you can definitely tilt toward the higher end of the range.
For this sleep herb tea blend, we will be mixing together 5 tablespoons of dried herbs, and I find that the perfect amount of Chamomile flowers to add to our brew is 3 tablespoons. This proportion gives us room for an additional 2 tablespoons of herbs to add to our mixture.
Lemon Balm for Making Sleep Herb Tea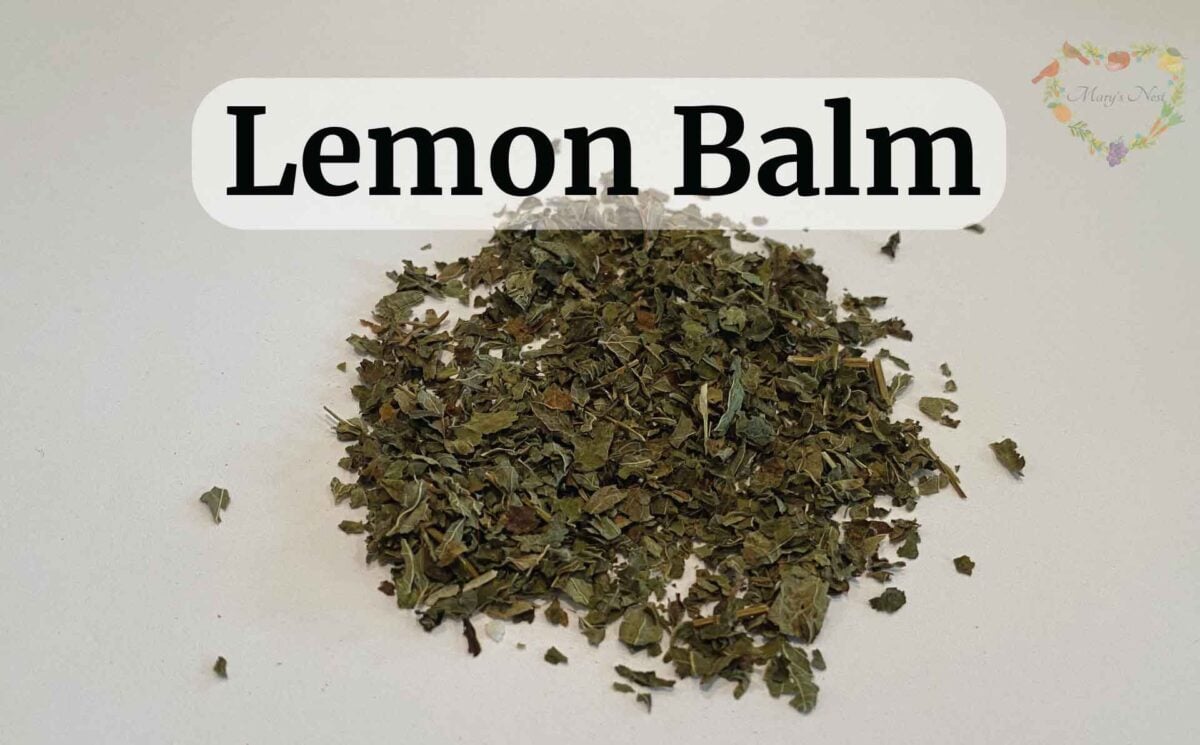 If mild anxiety is keeping you awake, Lemon Balm may be able to help. Scientists studied this herb and discovered it contained three key compounds:
Rosmarinic acid
Ursolic acid
Oleanolic acid
As described in the following research study, these three substances interact with neurotransmitters in the brain to assist in calming anxiety, which helps a person to fall off into a state of restful sleep.
Our first ingredient, Chamomile, has a very mild flavor, so to improve the overall taste of your sleep herb tea, I highly recommend adding about a tablespoon of Lemon Balm to your tea mixture. Lemon Balm has a wonderful lemony flavor, and as described in the referenced study, this herb may help to calm anxiety.
Lavender for Making Sleep Herb Tea
Next, you can't beat Lavender when it comes to helping with sleep. Lavender has a profound sedative effect on the brain, especially when you inhale the fragrance. This herb affects our limbic system that controls our fight or flight response, representing the choices that our ancient ancestors had when faced with danger. They could fight to defend themselves, or they could flee for safety. In either case, the physical and mental response to stress prepares the body to react to danger.
The problem today for people living in the modern world is that often stress can cause these responses attributed to the fight or flight response, and it's those responses that can make it almost impossible to fall asleep. To help your alleviate stress, the following research study discusses Lavender's effect on the nervous system.
So if you have a very overactive mind due to stress—and it leads to insomnia—adding some lavender to your sleep herb tea can help tremendously. And be sure to inhale its fragrant scent as you sip your tea!
For your herb sleep tea preparation, all you need is about 1 tablespoon of the dried Lavender herb, preferably the flowers. The fragrance alone, wafting off a cup of tea, may be enough to send you into dreamland. As described in the research study, scientists believe Lavender is especially helpful to those who suffer from insomnia.
Methods to Make Herb Tea
You have a few methods to choose from when making herb tea.
Decoction Method
Some herbs, including their roots and stems, are best turned into herb teas using the decoction method. This method involves simmering the tough roots and stems in hot water for a specified period of time to help extract the nutrients from them. Once simmered, you can strain out the roots and stems and enjoy the herb tea.
Infusion Method
When it comes to making an herb tea with the more tender parts of the plant, including the leaves and flowers, you'll want to use the infusion method, and there are a few ways to make an infusion.
Infusing by Pouring Boiling Water and Steeping Overnight
When you have time, you can simply put your herbs in a heatproof jar and pour boiled water over them that has cooled to about 200°F. Cover the jar and allow the herbs to steep anywhere from four hours up to overnight.
This long infusion method is very easy to do because if you are also using roots and stems to make your sleep herb tea, but don't want to deal with the decoction method, the roots, stems, leaves, and flowers can all be treated the same way. Everything goes into the jar together and is allowed to steep for an extended period of time. When roots and stems are included in an infusion, they often do best when allowed to steep overnight.
Infusing using the Stovetop
But what if you want to speed up the process for making a homemade herb tea? You're in luck! Another variation on the infusion method comes in handy when you need your herb tea right away, especially if you are having trouble falling asleep. You don't want to have to wait—awake—all night for your herb tea to steep! 😉
Since we are making a sleep herb tea that uses just leaves and flowers—and no roots and stems—we do not need to worry about starting with the decoction method. As I show in my sleep herb tea recipe video, we can go right into using the stovetop infusion method.
When it comes to making an herb tea using leaves and flowers, I like to maintain the infusion at a constant low temperature. There are different opinions about this, and I will share both ways to make an infusion. Be sure to research this topic and proceed with the method you prefer.
How to Prepare a Sleep Herb Tea Infusion on the Stovetop
The first thing you'll need to do to make this herb tea is to take a medium-sized saucepan or pot, place it on your stovetop, and fill it with 4 1/2 cups of water. You'll turn the heat to high and bring the water up to a boil. Once the water comes up to a boil, you have two options:
You can turn the heat off completely, or
You can turn the heat down to its lowest setting.
Once you have either turned the heat off or turned the heat down to its lowest setting, and the water shows no activity—no water bubbling—add your leaves and flowers. It is very important that if you keep the water on a low heat setting, you'll want to make sure the water is simply being kept warm and there is no water bubbling at all.
Next, place the lid onto your saucepan or pot and allow the herbs to steep for 5-15 minutes, depending on the strength of herb tea that you would like. A five-minute steep will create a more mild-flavored tea with less potency. You may want to start with this steeping duration if you are new to making and drinking herb teas.
If you decide to keep the heat on its lowest setting, the herb infusion will be kept warm at a constant temperature. As shared by the Simply Loose Leaf Tea Company, simmering herbs on low at a constant temperature will help to enhance the flavor of the herb tea.
Choosing Stovetop Infusion with Low Heat or No Heat
Herb leaves and flowers are very tender, so the key to a successful infusion is to make sure that the nutrients (the volatile or essential oils) in these herb parts are not damaged by high heat. Generally, the temperature of the lowest setting on a stovetop is 195°F (90.5°C). This temperature is under the 200-210°F (93.3-98.8°C) generally recommended for brewing or infusing herb leaves and flowers. So be sure that you have your stovetop set to its lowest setting, and you don't see bubbling in the water before adding your leaves and flowers.
If you are concerned about extracting too much of the volatile oils while the herb leaves and flowers are kept at a constant warm temperature, keep in mind that you are only steeping for 5-15 minutes and not the 48-72 hours that is recommended for a more significant extraction of the volatile oils.
However, if you are uneasy about extracting too much of the volatile oils, then definitely choose to turn the stovetop heat off completely and allow your herb leaves and flowers to steep without any constant level of heat.
Master Recipe for Making Medicinal Herb Teas
In the following video, I share a Master Recipe you can use to make any type of herb tea, both infusions and decoctions.
If you have enjoyed learning how to make this master recipe for medicinal herb teas, be sure to watch my entire series on making medicinal herbal remedies in the following videos.
Mountain Rose Herbs
If you need dried herbs to create a medicinal herb tea or seeds to plant medicinal herbs, Mountain Rose Herbs is a high-quality organic resource. This is not a sponsored blog post. I'm a long-time customer of Mountain Rose Herbs because their products' quality is far superior to anything else I have ever found. Plus, their website provides helpful information about the herbs they offer, including recipes for using herbs in culinary and medicinal ways.
Medicinal Herbs to Grow for Making Home Remedies
In the following two videos, I share my 15 (10+5) essential medicinal herbs to grow in your kitchen garden. And don't worry if you don't have an actual garden yet. Many of these herbs can be grown in pots on a sunny windowsill.
Gardening Videos
Come join me in my kitchen garden as I share how I am redesigning it and replanting it after the Texas Storms. And be sure to subscribe to my Mary's Nest YouTube Channel so you don't miss a thing, because I will be following this video up with Part 2!
Do you like the idea of starting a kitchen garden but want to start small with little expense? Then I have the perfect solution for you. Start to grow your own vegetables from nothing more than kitchen scraps! And the good news…many of these can be grown in pots.
More Tea Recipes
If you enjoy making medicinal teas from natural ingredients, be sure to try out making turmeric tea. Not only is it delicious, it's also a strong immune booster!
More Herb Recipes
Once you start growing your own herbs, you'll want to dry them so that you can store them a way for when you need them later. In my drying herbs tutorial video, I show you how easy it is to do, and you don't even need any special equipment!
Whether fresh or dry, you can't beat herb salts for adding delicious flavor and nutrition to any dish. So be sure to watch the video below to learn how easy it is to make these wonderful nutrient-rich herb salts.
Kitchen Academy Videos
Are you looking for more traditional foods videos? I invite you to join the Traditional Foods Kitchen Academy. Members of this optional paid YouTube community get access to exclusive videos, live streams, and other members-only perks.
In the following members-only video, I talk about Time Saving Kitchen Tips for Your Traditional Foods Kitchen.
Stay in Touch with Mary's Nest
Subscribe to My YouTube Channel for Traditional Foods Videos (Free) - When you subscribe, be sure to click on the notification bell that will let you know each time I upload a new video.
Subscribe to Mary's Traditional Foods Newsletter (Free) - Get a free 36-page eBook for signing up: How to Stock Your Essential Traditional Foods Four-Corners Pantry.
Join the Traditional Foods Kitchen Academy (Optional Paid) - For more detailed videos, live streams, and exclusive members-only perks, join my YouTube membership community.
Order The Modern Pioneer Cookbook (Optional Paid) - Get a printed book of Mary's nourishing recipes from a Traditional Foods Kitchen. This bestselling cookbook is published by Penguin Random House with their DK imprint.
I look forward to having you join me in my Texas Hill Country Kitchen!
Shop for items used in this blog post or video
Favorite Mountain Rose Herbs Supplies
Chamomile, German (Matricaria recutita)
Lavender, English (Lavandula angustifolia)
Lemon Balm (Melissa officinalis)
Favorite Herb Growing and Storing Supplies
Favorite Kitchen Supplies
Use promo code MARYSNST for a one-time 15% off Masontops and Breadsmart products on Amazon.com.
Learn more about Mockmill electric grain mills for making fresh flour and their Flake Lover's Flaker that flakes whole grain in minutes.
Amazon Shop and Shopping Guide
Visit my Shopping Guide page
Get up to 15% off for stocking your Traditional Foods Pantry and equipping your Modern Pioneer Kitchen, including discounts from US Wellness Meats, Farmhouse Teas, Lehman's, Masontops, Cultures for Health, Survival Garden Seeds, Redmond Real Salt, Plan to Eat, and More!
Recommended Reading
**Disclaimer: I am not a medical doctor, a medical professional, a dietician, or a nutritionist. All content found on the MarysNest.com website, including text, images, videos, eBooks or eGuides, social media, or other formats, were created solely for informational purposes only. The content is not intended to be a substitute for professional medical advice, diagnosis, or treatment. Always seek the advice of your physician or other qualified healthcare provider with any questions you may have regarding a medical condition or proper nutritional advice. Never disregard professional medical advice or delay in seeking it because of something you have watched in a video or read on this website. Use caution when following the recipe in this video. The creator and publisher of this video and website will not be held responsible for any adverse effects that may arise from the use of this recipe and method or any other recipe and method on this website or corresponding video channel.