Affiliates note: As an Amazon Associate I earn from qualifying purchases. My content may contain affiliate links to products and services. If you click through and make a purchase, I'll receive a small commission. It does not affect the price you pay.
I was happy to chat with my sweet Kitchen Pioneers during this month's live stream on April 4, 2022. Among our various traditional foods topics, we talked about super cultured dairy and the benefits of clabbering raw milk.
This live stream replay is available to Kitchen Pioneers who have joined my YouTube membership community—The Traditional Foods Kitchen Academy.
Why We Want to Culture Dairy
As I share in my Super Cultured Dairy video and as we discussed in detail during our members-only live stream, there is a whole world out there of cultured dairy beyond yogurt and kefir. An exciting trend has started where we can culture milk or cream with targeted good bacteria, which in turn can help us with various health issues.
Dr. Davis and Super Cultured Dairy
This idea of creating what is often referred to as super cultured dairy was popularized by Dr. William Davis, MD, in his book aptly titled Super Gut. Dr. Davis and his research team discovered that if you culture milk or cream for 36 hours, you can exponentially increase the good bacteria count.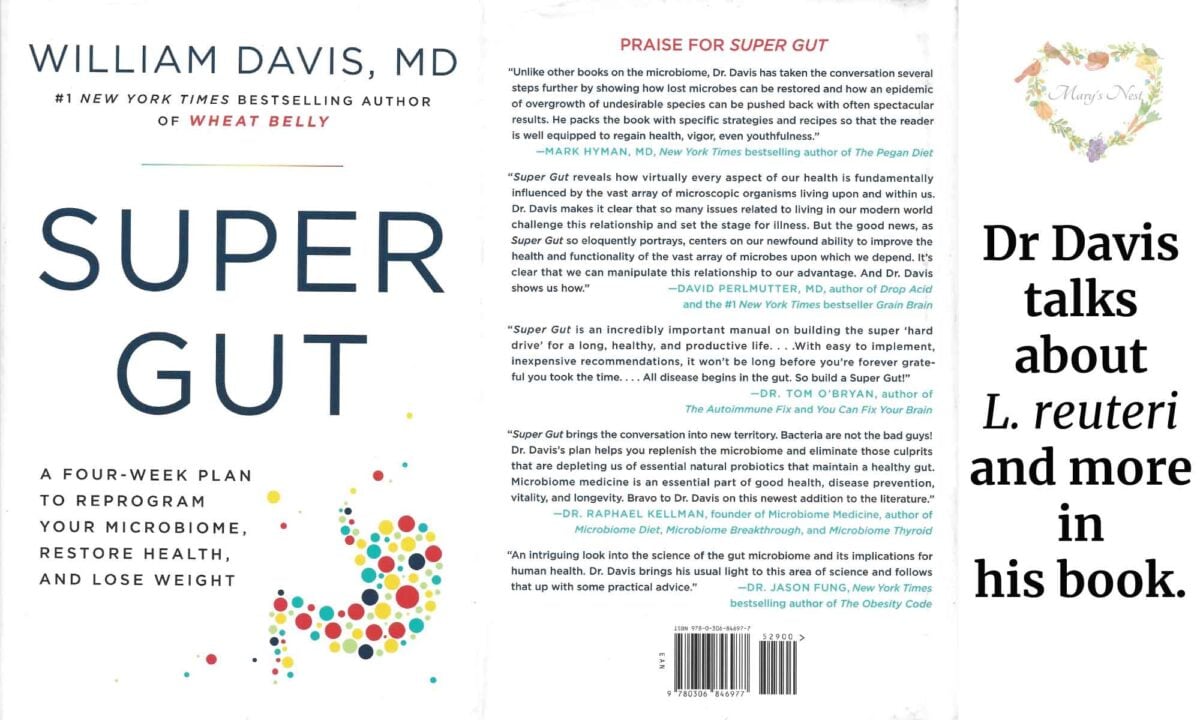 Dr. Davis uses lactobacillus reuteri, also known as L. reuteri (pronounced root-awry), in his cultured dairy. This good bacteria can help us sleep better, relieve aches and pains, and even become more empathetic toward others. Definitely check out Dr. Davis' book. It is a keeper that should be on your kitchen bookshelf next to Nourishing Traditions!
And if you're not familiar with Sally Fallon's book, Nourishing Traditions, I talk about how important this book is to the traditional foods movement in the following video.
Should We Culture Raw Milk?
I am often asked how to make yogurt using raw milk. To be honest with you, I am not a fan of doing this. Since raw milk is already so rich in good bacteria, it's a shame to make that good bacteria compete for space to thrive with yogurt bacteria. So instead, the simplest way to culture raw milk is to simply let it clabber.
If clabber is a new term for you, it means to allow raw milk to sit at room temperature until it separates into curds and whey. Then, you can drink the whey and spoon out the curds to enjoy just like yogurt. Or you can mix the curds and whey back together, and you will have a deliciously tart drinkable yogurt. Yum!
Learn more about Limosilactobacillus reuteri as I answer questions from my viewers about this super yogurt.
During this month's members-only live stream, we talked about a variety of topics, including a preview of upcoming videos.
Learn how to make this rich, creamy, and thick super yogurt in your Instant Pot.
Traditional Foods Kitchen Academy Live Stream
These live streams and live stream replays are available to members of the Traditional Foods Kitchen Academy, who we call Kitchen Pioneers. You can learn more about my optional YouTube membership community, including members-only videos and exclusive perks.
This membership community is optional. I'm still publishing my weekly detailed instructional cooking videos on my public YouTube channel that you can watch for free. (Thanks so much for being a Sweet Friend and subscriber!)
In addition to links to the latest Kitchen Academy vodcasts, this blog post lists some of the public videos that I talk about in my live stream.
Join My Next Traditional Foods Live Stream
These live streams are a lot of fun, and I enjoy getting to know more about you, my wonderful Kitchen Pioneers. 😊
Be sure to bring your questions for me to our live streams. You can also get to know the other members in our Kitchen Pioneers community. You'll find a lot of fellow Kitchen Pioneers who are working on sourdough starters, ferments, and more traditional foods recipes, just like you!
Remember that you're always welcome to post questions and comments on my videos at any time, and I'm glad to reply.
More Kitchen Pioneer Videos
In addition to live streams, I publish exclusive videos for my membership community. In case you have missed any of my past videos, be sure to catch up with the videos below.
Here are a few of my previous member videos:
I chat about why it was important for me to create this comprehensive curriculum for students in grades K-12.
I share upcoming recipes and what I have planned for my Mary's Nest YouTube channel in 2024.
I talk about the people I met at this year's conference and share some behind-the-scenes of my new cookbook.

Stay in Touch with Mary's Nest
Subscribe to My YouTube Channel for Traditional Foods Videos (Free) - When you subscribe, be sure to click on the notification bell that will let you know each time I upload a new video.
Subscribe to Mary's Traditional Foods Newsletter (Free) - Get a free 36-page eBook for signing up: How to Stock Your Essential Traditional Foods Four-Corners Pantry.
Join the Traditional Foods Kitchen Academy (Optional Paid) - For more detailed videos, live streams, and exclusive members-only perks, join my YouTube membership community.
Order The Modern Pioneer Cookbook (Optional Paid) - Get a printed book of Mary's nourishing recipes from a Traditional Foods Kitchen. This bestselling cookbook is published by Penguin Random House with their DK imprint.
I look forward to having you join me in my Texas Hill Country Kitchen!
---
Shop for items used in this blog post or video
Favorite Kitchen Supplies
More Kitchen Supplies with Promo Codes
Learn more about Mockmill electric grain mills for making fresh flour and their Flake Lover's Flaker that flakes whole grain in minutes.
Use promo code MARYSNST for a one-time 15% off Masontops and Breadsmart products on Amazon.com.
Amazon Shop and Shopping Guide
Recommended Reading
Super Gut: A Four-Week Plan to Reprogram Your Microbiome, Restore Health, and Lose Weight
**Disclaimer: I am not a medical doctor, a medical professional, a dietician, or a nutritionist. All content found on the MarysNest.com website, including text, images, videos, eBooks or eGuides, social media, or other formats, were created solely for informational purposes only. The content is not intended to be a substitute for professional medical advice, diagnosis, or treatment. Always seek the advice of your physician or other qualified healthcare provider with any questions you may have regarding a medical condition or proper nutritional advice. Never disregard professional medical advice or delay in seeking it because of something you have watched in a video or read on this website. Use caution when following the recipe in this video. The creator and publisher of this video and website will not be held responsible for any adverse effects that may arise from the use of this recipe and method or any other recipe and method on this website or corresponding video channel.