This Healthy Simple Syrup Recipe is perfect for sweetening beverages, cold and flu tonics, and more! Plus, you can infuse this Simple Syrup with herbs and spices to boost its health-giving properties!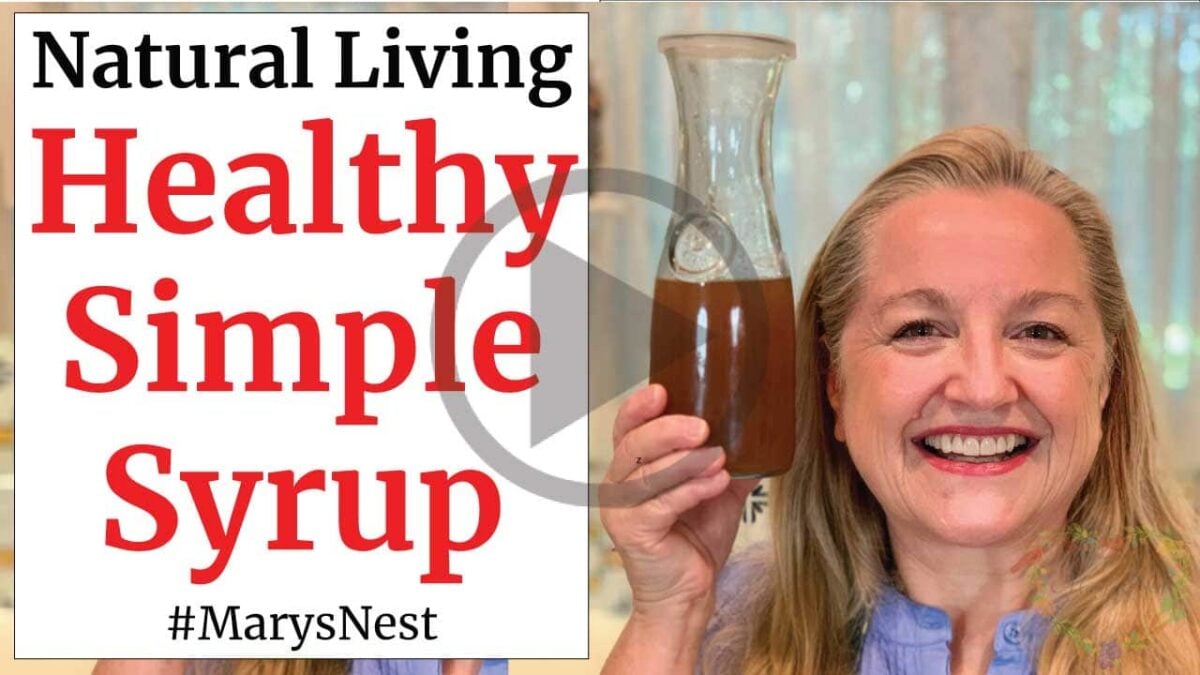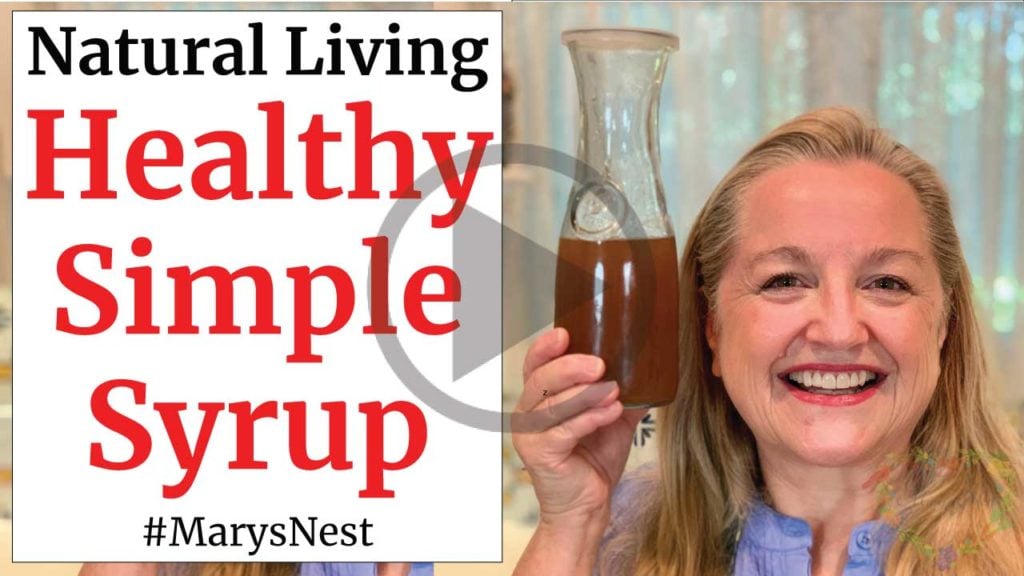 Why Make Simple Syrup?
You may have heard of simple syrups when it comes to making fancy cocktails, but did you know that you can use simple syrups for so much more? Most importantly, for the traditional foods kitchen, you can infuse simple syrups with herbs and spices, and this infused combination is the perfect ingredient for all sorts of healthful tonics.
Infuse Simple Syrups with Herbs and Spices
When it comes to making healthful tonics, simple syrups come to the rescue. For example, when you make a healthy simple syrup with honey and water, instead of white sugar and water, you can enhance your syrup's health-giving properties by infusing it with herbs and spices, including:
Citrus Zest
Ginger
Mint
Thyme
Turmeric
And more!
In my recipe video, I show you how to make a healthy simple syrup and infuse it with ginger. Follow my simple syrup recipe to start making this infused syrup today since we'll be using it in a future video to make a Lemon Hot Toddy.
In addition to ginger, you can also try out different combinations, such as thyme and lemon zest, which works wonders for soothing a sore throat or cough.
The Benefits of Integrative Medicine
If you have been with me for a while and watched my various videos where I make an assortment of natural remedies, you may recall me speaking about Integrative Medicine. I find this area of medicine fascinating because it addresses the full range of a patient's care.
Integrative Medicine takes advantage of what modern Western medicine has to offer, but there's also room for traditional recipes from our grandmothers, including garlic-infused chicken soup, elderberry syrup, raw honey simple syrup, and plenty of clean, fresh air and sunshine!
Dr. Andrew Weil, a Harvard-educated medical doctor, popularized integrative medicine. Dr. Weil focuses on the physical, emotional, mental, social, spiritual, and environmental influences—including what we eat—that affect a patient's state of health, especially the patient's healing process.
If this subject interests you, I highly recommend reading Dr. Weil's books. He's authored excellent cookbooks, but one of my favorite books by him is Spontaneous Healing. If you struggle with any illness, it's worth a read.
But most importantly, whenever you feel under the weather, always be sure to check with your doctor to find out the best care for your illness. And for a little bit of additional comfort, you can always have some chicken bone broth brewing on your stove!
Disclaimer
I am not a doctor or medical professional. If you are not feeling well, please seek professional medical attention and medicine. And if you are thinking of supplementing your treatment with home remedies, be sure to talk to your medical professional about them. It's important that you get the medicine and treatments you need to get back to good health.
Simple Syrup Related Recipe Videos
Speaking of Grandma's elderberry syrup, here is my recipe for this all-purpose, immune-boosting tonic.
Colds and flu can often be accompanied with a nagging cough. This Honey and Thyme Cough Syrup will be sure to help.
And one of my favorite tonics to get me through cold and flu season is this Ginger Honey. It's tasty and invigorating with a boost of anti-inflammatory properties.
When I was a child, my mother always had a jar of this home remedy in the fridge. At the first sign of the sniffles, she'd serve up a spoonful of this easy four-ingredient cold and flu remedy to help me feel better.
Are you looking for an everyday tonic that you can take to give your immune system a boost to ward off germs during the fall and winter seasons? This Fire Cider recipe works wonders. It has a kick that puts the "fire" in the cider, but you can always dilute it with a bit of water and a dash of honey. However you take it, you will certainly chase the germs away!
Stay in Touch with Mary's Nest
Subscribe to My YouTube Channel for Traditional Foods Videos (Free) - When you subscribe, be sure to click on the notification bell that will let you know each time I upload a new video.
Subscribe to Mary's Traditional Foods Newsletter (Free) - Get a free 36-page eBook for signing up: How to Stock Your Essential Traditional Foods Four-Corners Pantry.
Join the Traditional Foods Kitchen Academy (Optional Paid) - For more detailed videos, live streams, and exclusive members-only perks, join my YouTube membership community.
Order The Modern Pioneer Cookbook (Optional Paid) - Get a printed book of Mary's nourishing recipes from a Traditional Foods Kitchen. This bestselling cookbook is published by Penguin Random House with their DK imprint.
I look forward to having you join me in my Texas Hill Country Kitchen!
Shop for items used in this blog post or video
Favorite Simple Syrup Making Supplies
Amazon Shop and Shopping Guide
Visit my Shopping Guide page
Get up to 15% off for stocking your Traditional Foods Pantry and equipping your Modern Pioneer Kitchen, including discounts from US Wellness Meats, Farmhouse Teas, Lehman's, Masontops, Cultures for Health, Survival Garden Seeds, Redmond Real Salt, Plan to Eat, and More!
Recommended Reading
**Disclaimer: I am not a medical doctor, a medical professional, a dietician, or a nutritionist. All content found on the MarysNest.com website, including text, images, videos, eBooks or eGuides, social media, or other formats, were created solely for informational purposes only. The content is not intended to be a substitute for professional medical advice, diagnosis, or treatment. Always seek the advice of your physician or other qualified healthcare provider with any questions you may have regarding a medical condition or proper nutritional advice. Never disregard professional medical advice or delay in seeking it because of something you have watched in a video or read on this website. Use caution when following the recipe in this video. The creator and publisher of this video and website will not be held responsible for any adverse effects that may arise from the use of this recipe and method or any other recipe and method on this website or corresponding video channel.