Affiliates note: As an Amazon Associate I earn from qualifying purchases. My content may contain affiliate links to products and services. If you click through and make a purchase, I'll receive a small commission. It does not affect the price you pay.
How to Make Authentic English Scones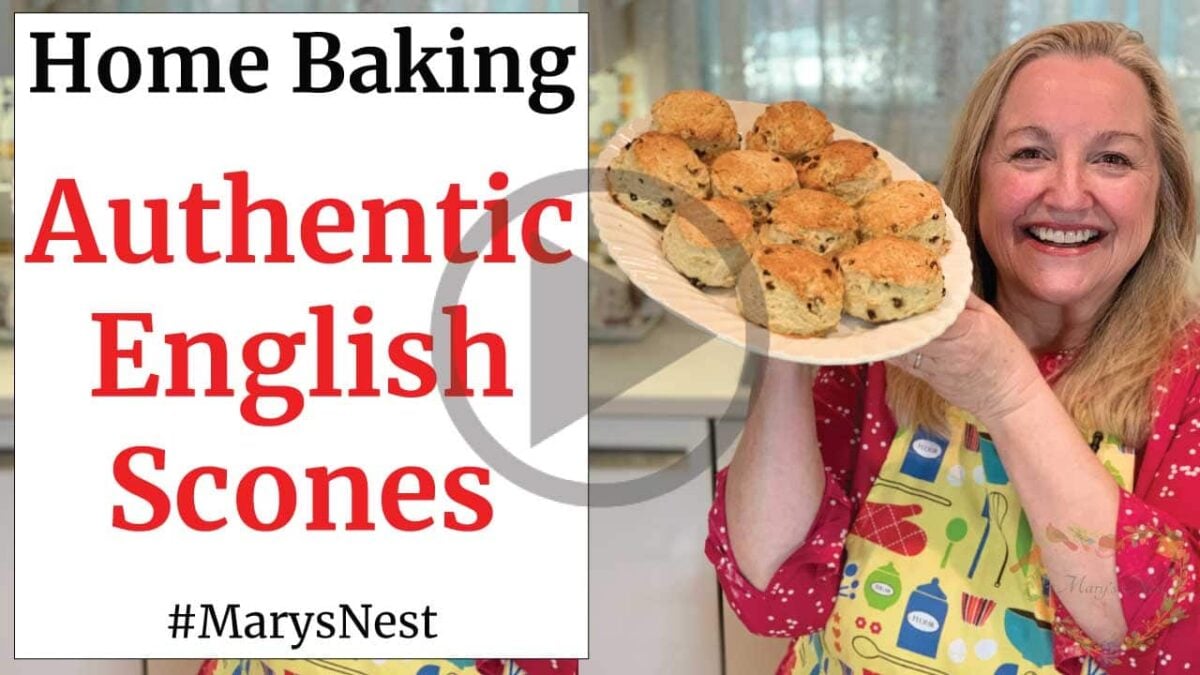 In my video and recipe, I'll show you How to Make Authentic English Scones using this Easy Traditional Recipe. These baked delights are so tasty and so similar to what you might find in England, that when you bite into one, you'll think you're enjoying afternoon tea in London!
Imperial War Museum Scones? Yes!
The last time my husband, son, and I were in London, we visited the Imperial War Museum (IWM). This museum gives visitors such a rich and amazing history, but we also discovered something very unexpected. You can enjoy a gloriously gourmet meal at the IWM cafe! And the highlight of our meal? The scones! (I share pictures of the museum and my cafe treat in my scones recipe video.)
My Love of Scones
I have always loved scones, and so has my mom. Even though she is Italian, she loved touring England, Ireland, and Scotland with my Irish father enjoying scones and tea at every chance she got! So I certainly inherited my love of this baking treat from her…and I bet my English great-grandmother had something to do with it!
Thanks to My Friends from "Across the Pond"
I have to extend many thanks to my British friends who were kind to share with me what they consider the quintessential English scones recipe. And I must say…these came pretty darn close to those delicious morsels we enjoyed in London!
Now, I have to warn you…this recipe is VERY generous! It calls for 8 cups of flour! But don't worry. You can easily split this recipe in half, but to be honest with you, I would recommend making the entire batch, which depending on what sized biscuit cutter you use, will yield somewhere between 18-24 scones.
You might be saying…24 scones! Saints preserve us! But trust me, these baked delights are so delicious that they are going to disappear fast. Since these scones are an occasional treat in our kitchen, we make the most of them when they make their appearance! 😉
However, if you want to savor them over an extended period, the scones freeze beautifully for up to three months. Once defrosted, they are almost as good as the day they were baked!
Scones Couldn't Be Easier
Be sure to watch the scones recipe video and print out the recipe, so you can start baking your own authentic English scones and enjoy a delightful afternoon teatime treat! And keep an eye out for a future video where I'll share how to make another English teatime classic—clotted cream! In the meantime, you can make this very tasty low-sugar strawberry jam to top your scones!
More Baking Videos
Now that you've mastered the art of making traditional English scones, be sure to try your hand at Lemon Tea Cake, which is also perfect for your afternoon tea! And for some quintessential American baked goods, be sure to make Super Soft Sandwich Bread, both white and whole wheat, and a High Rising Banana Bread. You can even learn water bath canning by making the low-sugar strawberry jam that I mentioned earlier. Enjoy!!
Update: Learn How to Make English Clotted Cream with this easy recipe that is perfect for topping Homemade Authentic English Scones.
Stay in Touch with Mary's Nest
Subscribe to My YouTube Channel for Traditional Foods Videos (Free) - When you subscribe, be sure to click on the notification bell that will let you know each time I upload a new video.
Subscribe to Mary's Traditional Foods Newsletter (Free) - Get a free 36-page eBook for signing up: How to Stock Your Essential Traditional Foods Four-Corners Pantry.
Join the Traditional Foods Kitchen Academy (Optional Paid) - For more detailed videos, live streams, and exclusive members-only perks, join my YouTube membership community.
Order The Modern Pioneer Cookbook (Optional Paid) - Get a printed book of Mary's nourishing recipes from a Traditional Foods Kitchen. This bestselling cookbook is published by Penguin Random House with their DK imprint.
I look forward to having you join me in my Texas Hill Country Kitchen!
Authentic English Scones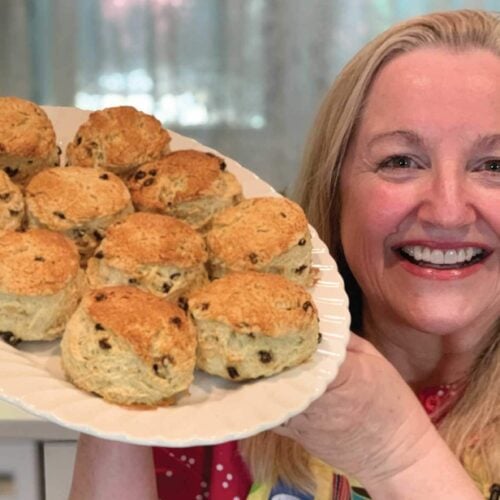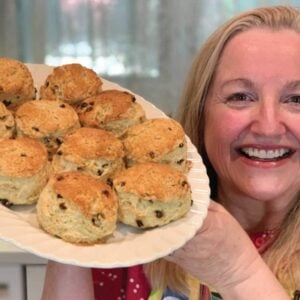 Learn how to make this quintessential afternoon teatime treat!
Equipment
Baking sheet, parchment lined or buttered

Biscuit cutter, preferably fluted, approximately 2 1/4 inches to 2 1/2 inches in diameter.
Ingredients
8

cups

Self-rising flour

All-purpose or "plain" flour can be made into self-rising flour and substituted for store-bought self-rising flour in this recipe. See Recipe Notes below for how to make proper adjustments.

1

cup

Butter, unsalted and softened to room temperature

1

tablespoon

Baking powder

1/2

teaspoon

Salt

1

cup

Raisins, currants, or other small dried fruit

1 3/4

cup

Milk, preferably full-fat

Low-fat or fat-free kinds of milks can be substituted, however, the consistency of the scone will not be as rich.

1

cup

Sugar

1

Egg

When dividing this recipe in half, do not divide the egg. You will be adding one egg, even though you will be cutting all the other ingredients in half.

1

tablespoon

Vanilla extract
Instructions
Preheat your oven to 350°F.

In a large bowl, mix flour, baking powder, and salt together. Add in butter and work the butter into the flour mixture until it resembles sand. (See video.)

In a measuring cup or bowl, mix the milk, sugar, egg, and vanilla together and whisk well until fully incorporated.

Make a well in the center of the dry ingredients and add the milk mixture to the dry ingredients, reserving a few tablespoons of the milk mixture that you will later use to brush the scones.

Mix the wet and dry ingredients together until the dry ingredients are completely coated with the wet ingredients, and the wet ingredients have been completely absorbed by the dry ingredients. The mixture will resemble coarse crumbs.

Dump the mixture out onto a flat surface and knead the dough together into a ball, but do not overwork the dough. Once the dough comes together, stop kneading. This process generally takes about 20 turns.

Flour your work surface and a rolling pin, and roll the dough out to about a 1-inch thickness.

Use a fluted biscuit cutter that is approximately 2 1/4 inches to 2 1/2 inches in diameter to cut out your scones. (If you do not have a fluted biscuit cutter, you can use a plain sided biscuit cutter or the rim of a glass turned upside down.) Place cut-out scones on a parchment-lined baking sheet or a baking sheet that has been greased with butter. Reroll scraps of dough and continue to cut-out scones until all the dough has been cut into scones.

After you've transferred the cut-out scones to the baking sheet, brush each scone with the remaining milk, sugar, and egg mixture.

Place the baking sheet into the preheated oven and bake scones for approximately 8 minutes.

After 8 minutes, rotate the baking sheet and continue to bake scones for another 8 minutes until the scones are golden brown on top.

When the scones are done, remove the baking sheet from the oven and transfer the scones to a wire cooling rack and allow them to cool completely. Once cooled, the scones can be sliced in half and topped with clotted cream and strawberry jam for a delightful afternoon teatime treat. Enjoy!
Notes
How to Make Self-Rising Flour:  To make 8 cups of self-rising flour, take 7 3/4 cups of all-purpose flour and add 12 teaspoons of baking powder and 2 teaspoons salt (fine salt).  Sift this mixture together very well and proceed with recipe.
Find this recipe and video at https://marysnest.com/how-to-make-authentic-english-scones/
Copyright © 2020 Mary's Nest, LLC, All Rights Reserved
Watch Mary's Nest on YouTube
Favorite Bread Making Supplies
Favorite Bread Making Supplies
Favorite Baking Yeast Supplies
Recommended Reading
Amazon Shop and Shopping Guide
Visit my Shopping Guide page
Get up to 15% off for stocking your Traditional Foods Pantry and equipping your Modern Pioneer Kitchen, including discounts from US Wellness Meats, Farmhouse Teas, Lehman's, Masontops, Cultures for Health, Survival Garden Seeds, Redmond Real Salt, Plan to Eat, and More!
*Affiliates note: As an Amazon Associate I earn from qualifying purchases. My content may contain affiliate links to products and services. If you click through and make a purchase, I'll receive a small commission. It does not affect the price you pay.
**Disclaimer: I am not a medical doctor, a medical professional, a dietician, or a nutritionist. All content found on the MarysNest.com website, including text, images, videos, eBooks or eGuides, social media, or other formats, were created solely for informational purposes only. The content is not intended to be a substitute for professional medical advice, diagnosis, or treatment. Always seek the advice of your physician or other qualified healthcare provider with any questions you may have regarding a medical condition or proper nutritional advice. Never disregard professional medical advice or delay in seeking it because of something you have watched in a video or read on this website. Use caution when following the recipe in this video. The creator and publisher of this video and website will not be held responsible for any adverse effects that may arise from the use of this recipe and method or any other recipe and method on this website or corresponding video channel.